Case Study, AI Assistants | 4 minute read
How Unit4 scaled their lead engagement by 10x and generated 324 enterprise sales opportunities within 6 months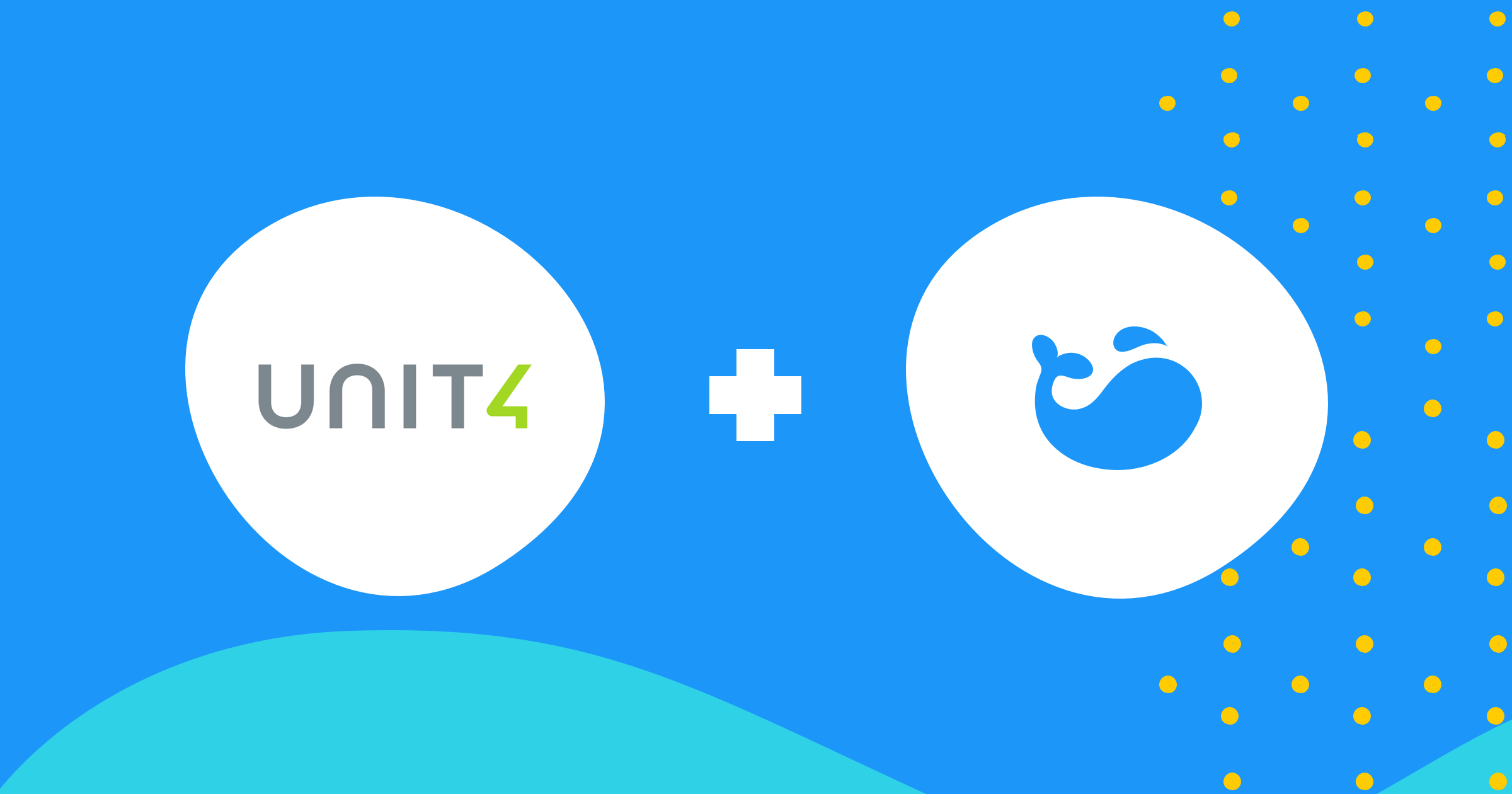 Learn how Saleswhale helped Unit4's APAC marketing team increase their lead engagement and deliver more qualified leads to sales consistently, despite their lean team size.
Watch the full 3 min. customer video here:
The client
Unit4
Unit4 designs and sells enterprise software solutions to service-oriented organizations.These include: professional services, public service providers, higher education institutes, and nonprofits. Since it began in 1980, Unit4 has expanded its office and partner location networks across five continents.
Elena Sanchez Klett is the Head of Marketing at Unit4.
Her team consists of herself, two marketing managers, one marketing operations manager, and four business development representatives (BDRs). And they work closely with several account managers (like Abigail in the video above).
The challenge
Inefficient lead qualification process and low output of sales-ready leads
The team generates thousands of leads a month from various sources, such as events, webinars, and content marketing. So many leads, in fact, that their BDRs had trouble sifting through leads and qualifying them for their account managers to close.

While their lead scoring system did bring MQL numbers down slightly, they were faced with two issues:
BDRs were cherry picking leads subjectively and missing good opportunities.
Only their A-tier leads were being worked on. All other leads were left to marketing automation to passively nurture.
Elena wanted to improve the efficiency and output of her team's lead engagement and qualification processes. As she puts it:"Our main goal is to create a pipeline of good quality leads for the sales team"
The solution
Use Saleswhale AI Assistants to identify and deliver more qualified leads
When Elena met the Saleswhale team, she was intrigued by the Saleswhale AI Assistant's ability to hold email conversations with leads. She decided to work with Saleswhale to scale her team's lead engagement and qualification processes.
First, Saleswhale set up two AI Assistants for Unit4, each covering different regions. Both AI Assistants get names, designations, and Unit4 corporate emails.
Before deployment, Saleswhale and Unit4 planned the email conversations that the AI Assistants would have. This depended on the type of product, and the segment of leads that Unit4 wanted to target. Some conversations began with the AI Assistant reaching out to leads with a relevant case study. Others aimed to reconnect and follow up with leads that Unit4 acquired through events marketing.
Next, Unit4's AI sales assistants began engaging leads at scale. They read every reply they get from leads. They can also understand each lead's buying intent (not interested, try again next quarter, speak to my colleague instead, etc.) and respond accordingly.
All conversations had the same end goal: identify the leads who are interested in a sales conversation. The AI sales assistants hand these hand-raisers over to a (human) Unit4 salesperson, thus increasing marketing's contribution to pipeline created.
The results
Marketing improves pre-MQL and MQL engagement by 10x and delivers 324 more sales opportunities
Today, Unit4's AI sales assistants are in charge of following up with the company's underserved leads.
Elena's team now engages at least 1,600 leads per month. Prior to using AI sales assistants, their BDRs only managed to reach and engage about 150 leads a month.
What's more, the team no longer worries about leads slipping through the cracks and losing sales opportunities. The AI Assistants follow up with every lead and qualify them without exception.
According to Elena, because of the extra "virtual headcount" added to their BDR team, not only are they able to manage their queue of inbound leads, it has also freed up time for their human reps to do more outbound prospecting as well.

Within half a year of their deployment, Saleswhale's AI Assistants have helped the Unit4 APAC marketing team deliver 324 additional qualified enterprise-level opportunities, equating to tens of millions of dollars in attributable sales pipeline.
Unit4's sales team is also impressed with the qualified leads they've received from marketing. For account manager Abigail Jacqueline Anthony, she loves coming to work to find hot leads in her email inbox:
"When we do cold calls, for example, the call is not so cold as we're following up on the conversations started by Saleswhale's bots. We can say, "hey, you remember that email my colleague sent you?" Of course, it was our AI Assistant that actually sent the email."
Looking ahead
What's next for Unit4
Elena and her team can now focus on developing highly-targeted marketing campaigns. She is certain that Saleswhale's AI Assistants would continue to play a key role in her marketing:
"We have generated quite a number of quality business opportunities so far. The tool has an intuitive interface and the overall service and support from Saleswhale is superb, the team is super friendly and they are willing to help with anything. We have monthly reviews with the Saleswhale team and go through the performance of our AI Assistants with complete and insightful reports."
To learn more about AI Assistants for B2B marketing, check out: "The Top Four Demand Gen Challenges that AI Assistants Solve for B2B Companies"
We do a deep dive on the top 4 biggest challenges with converting marketing generated leads into more qualified pipeline and share how other B2B demand gen teams are using AI Assistants to overcome them.
Check it out here now.