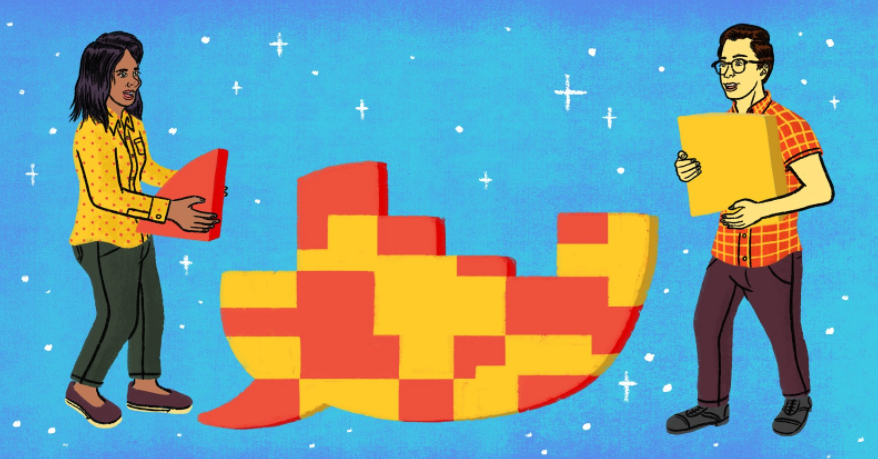 At Saleswhale, we oversee plenty of back-and-forth emails between our AI sales assistants and our clients' leads.
More than 1,100,000 emails to date, in fact!
Our AI sales assistants reach out to leads over email and qualify them at scale. When a lead is ready for a sales conversation, our AI sales assistants hand them off to a (human) salesperson.
But how does our AI assistant know what to say, in order to keep leads engaged in an email conversation?
This is where our Customer Success team shines. They work with our clients to design their AI sales assistants' lead engagement and qualification journeys. What should the first email to the leads say? What are the kinds of responses leads might give? How should the AI sales assistant reply? The result is a decision tree that the AI sales assistant uses to guide leads down the client's desired qualification path: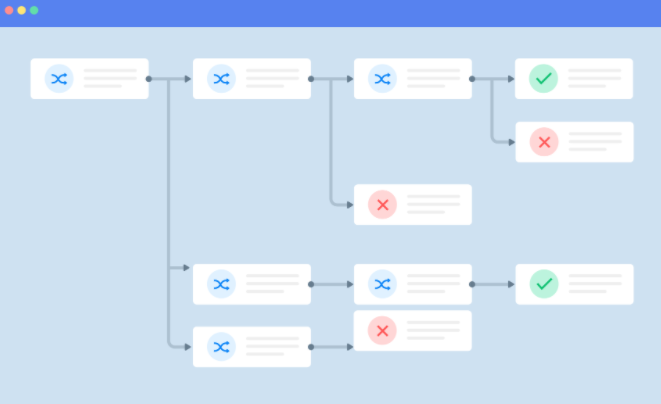 Over the years, we've gotten good at mapping out effective email strategies. The emails that our AI sales assistants send don't just get opened. They lead to back-and-forth conversations that end when a lead decides that they are ready to speak to a salesperson.
In this guide, we share our top five conversational email tactics. Garnered from over two years of doing conversational marketing for more than a hundred mid-market and enterprise clients.
This is for everyone who wants to use email to start conversations with leads, build relationships with them, and help them decide if they are ready to take the next step in their buyers' journey.
---
---
Tip 1: Be human in your emails
Have a look at this sample email: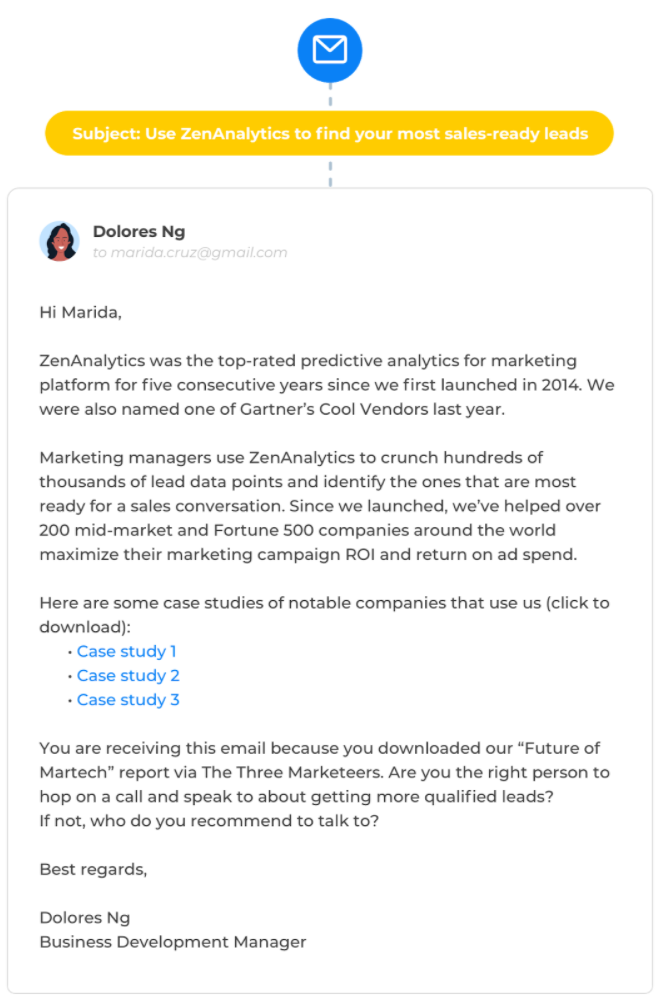 Chances are, you wouldn't respond to an email like that. For one thing, it sounds like an email blast to everyone who downloaded the aforementioned report. It's also long-winded, cold, and impersonal.
Here's what Beaurhys Tan, our Customer Success Manager, recommends to improve it:
"Be professional yet friendly. Put yourself in the shoes of the lead receiving the email: what would you like to read?
If done right, your email should invite a two-way conversation."
Humans are more willing to respond to other humans. Not email blasts. Sounding human is especially important for the first email, as it sets the tone for the rest of the conversation.
So, avoid overt sales pitches, or a tone that is too stiff. But don't be too casual or friendly either. These tend to put people off from responding.
Also avoid too many links in your email or too many pictures, as these scream "email newsletter". You want your first email to be plain and simple, like something you'd send to a colleague.
Tip 2: Personalize your email subject lines and content
Personalized emails yield far better response rates than those without personalization.
We found that mentioning the lead's name in the subject line helps a lot. Here are some actual subject lines we used that got high open rates:
Hi (name), I found you on (platform) (80% open rate)
(Name), (company) keeping in touch (72% open rate)
Hey (name), (bot name) from (company) (84% open rate)
But don't just personalize your email subject lines. Make sure your email content is relevant to the receiver. You can do this by segmenting your emails by industry or persona, and making sure your emails speak to the needs of each segment.
Here's an example of a personalized email, which was based on an actual email that got good open rates.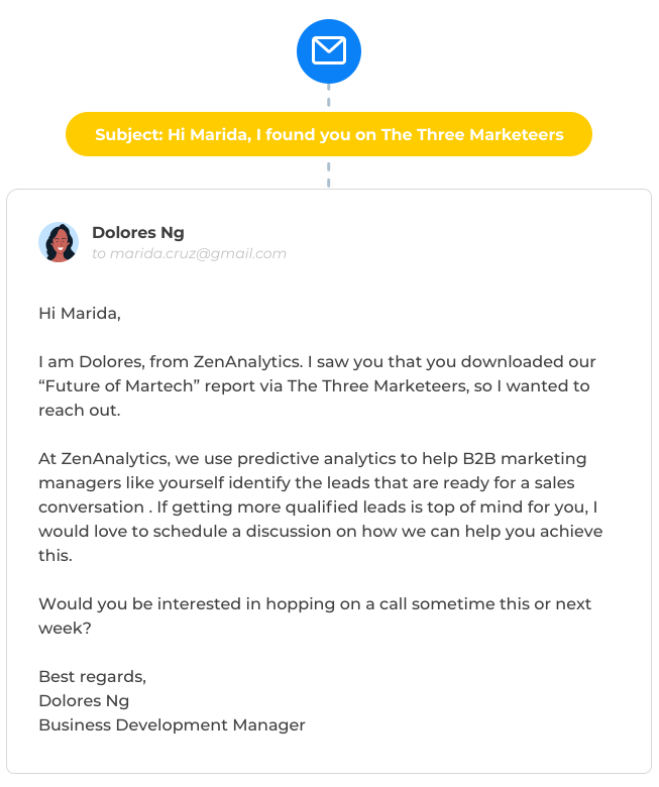 Notice how the email relates to the receiver, using phrases such as "help B2B marketing managers like yourself" and "if getting more qualified leads is top of mind for you." And, yes, what a contrast to the earlier email example!
Tip 3: ONE clear call-to-action
Back to the "bad" email example.
This email contains three calls-to-action: download the case studies, hop on a call, and recommend the right person.
Don't do this. We find that leads tend to respond to just one call-to-action if you give them too many. Or, they might say something like "not interested", without indicating what they are not interested in.
To improve the "bad" email, end it with a call to action to hop on a call. If the lead is the wrong person to speak to, they would say so and refer you to the right person. The case studies can be introduced later in the conversation, if the lead requests for more information.
So, be clear on what you want the lead to do after they read your email. Some polite ways of inviting the lead to take action include:
"Let me know if you are interested"
"Would you like to see a demo of our software?"
"Let's hop on a 30 min call to better understand your needs. How does this week sound?" etc.
Tip 4: Clear, concise, precise
Put yourself in your lead's shoes.
You are busy. You get hundreds of emails a day. You have neither the time nor inclination to plow through long and wordy emails.
So, get to the point fast. We encourage our clients to follow these three rules when writing emails:
CLEAR in intentions: Who are you and what do you want? Make that clear in your introductory paragraph.
CONCISE in presentation: Describe what your business does and what you offer in a succinct way. No walls of text or stuffing too much information into one paragraph!
PRECISE in call-to-action: What do you want the lead to do? Remember, one thing only!
Pro tip: Avoid using passive language in your writing, as it tends to sound clunky and long-winded. See for yourself:
"The knight slew the monster." (active language)
versus
"The monster was slain by the knight." (passive language)
Tip 5: Persistent yet polite follow ups
Life happens, people get preoccupied with various commitments.
We find that leads typically need about two or three email follow ups before they respond. Deciding if they are ready for a sales conversation also takes a while. Some conversations can take up to eleven email exchanges, spread over several months, before the lead makes a decision.
But how do you follow up without sounding desperate or annoying? Here's what works for many of our clients, feel free to swipe them:
"Just bumping this up to the top of your inbox in case you missed it earlier."
"I understand you are busy…Please let me know if there is a good time for us to speak."
"Just following up on my previous email. Would you like to receive more information on our product?"
"Have you had time to review the document I sent? Let me know if you are keen to jump on a call."
"I understand you must be busy! Hope this last attempt to reach out might stir some interest in our product. Would you be interested to know more?"
Polite persistence definitely pays off. We have had leads who responded thanking our AI for its persistence and offering to set up meetings.
Conclusion
At Saleswhale, we take great care to ensure that our AI sales assistants' emails are as human and helpful as possible. Wilson Lim, our Operations Manager who oversees many email conversations every day, puts it well:
"Think of (the) AI as a force multiplier. It can help magnify and amplify a good solid conversation... but it can also magnify the implications of a poorly-worded conversation.
Spend time crafting a good conversation and let the AI bot help you reap the benefits."
So, yes, it's possible to have great customer relationships at scale. We hope these five conversational email tips help you get more qualified leads. If you need more advice on getting your conversational email marketing strategy up and running, we've got your back!
Request a demo to see how we use AI to help marketers get more qualified leads.