AI Assistants | 4 minute read
How AI assistants help B2B tech companies get more qualified sales meetings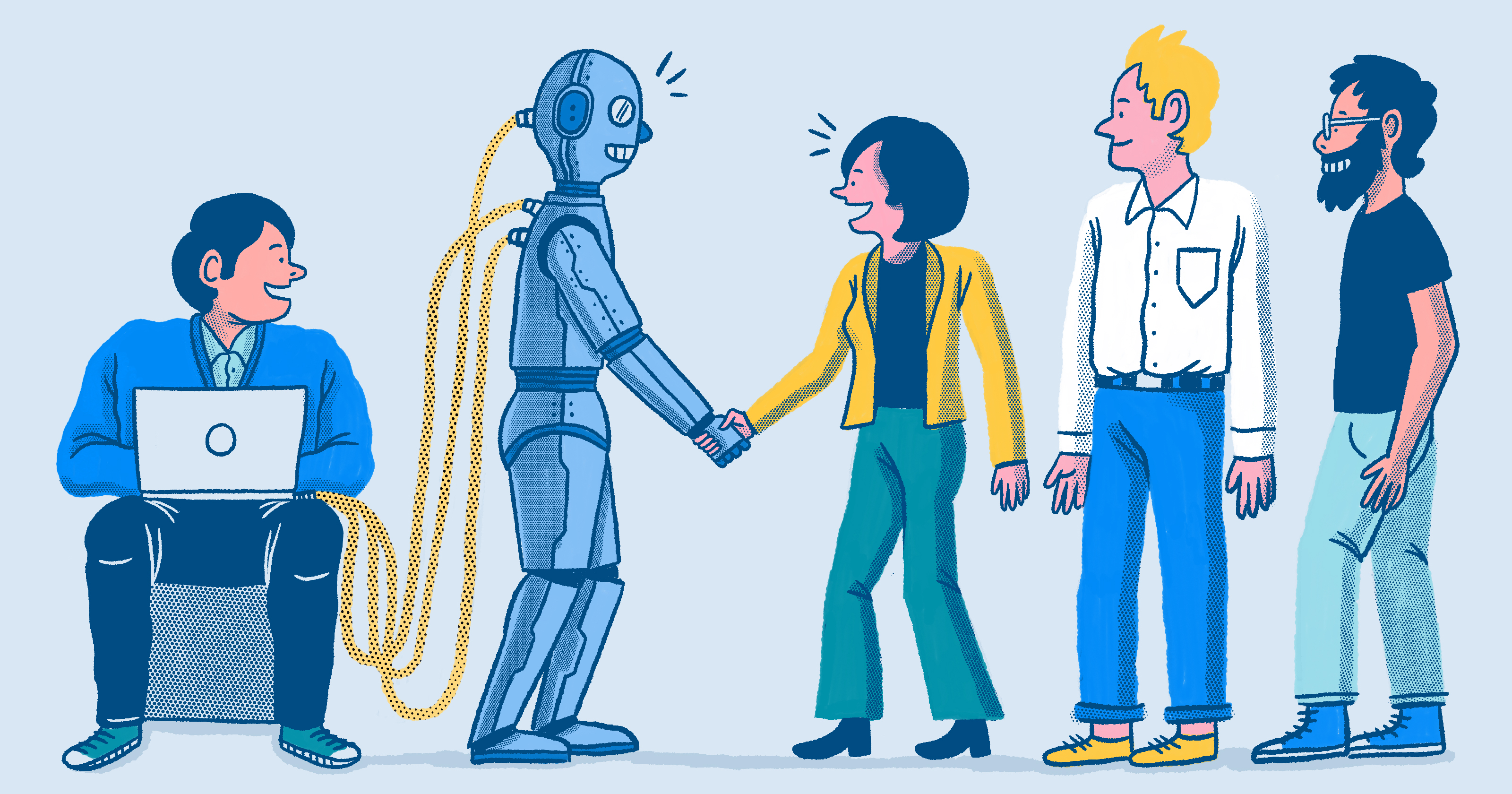 B2B tech marketers have been innovative in the ways they attract leads. Over the years, there's been an explosion of white papers, events, webinars, free trials, ROI calculators, research reports, etc. in the B2B tech scene.
Yet, a perennial problem remains largely unsolved.
Most of marketing's hard-won leads don't get enough follow ups from the sales team. In fact, sales reps ignore about half of the leads they get from marketing. This is not entirely sales' fault. Sales often has no time to sift through thousands of leads and identify the genuine potential buyers. As a result, many leads end up forgotten and untouched. Marketing is left frustrated about spending hundreds of thousands on campaigns, but with little tangible business results to show.
To resolve this, some marketers use marketing automation or lead scoring to qualify leads. But these tools do not identify different types of buying intent well (not interested, speak again next quarter, interested, etc.). So, potential sales opportunities still fall through the cracks due to misjudgement.
Using AI to solve marketing challenges across the B2B tech industry
AI sales assistants are a type of conversational marketing software that identify qualified leads and hand these leads off to sales reps. They are capable of having back-and-forth email conversations with thousands of people at one time.
Based on the lead's replies, AI sales assistants can determine the lead's buying intent and respond accordingly. When a lead is ready for a sales conversation, AI sales assistants route them to a (human) sales person. Some AI sales assistants also give marketers full visibility into the outcomes of their qualified leads e.g. whether they have met with sales.
When implemented right, AI sales assistants can help marketers turn more of their qualified leads into actual customers.
Here are some of the ways B2B companies have used AI sales assistants to increase their marketing ROI:
Ensure seamless post-event follow ups
According to EXHIBITOR, 98 percent of exhibitors collect sales leads at trade shows. However, less than 70 percent have any formalized plan or process in place for how those leads are followed up after the show.
That's a massive waste of leads, after all the trouble taken to do event marketing! Following up should be a top priority if you want to close many post-event sales. According to Marketo, the first vendor to email leads after events gets a three times higher click-to-open rate than the third vendor.
With AI sales assistants, it is possible to initiate conversations with your event leads at scale. You can get your AI sales assistant to send a thank you email with a value-add, like this: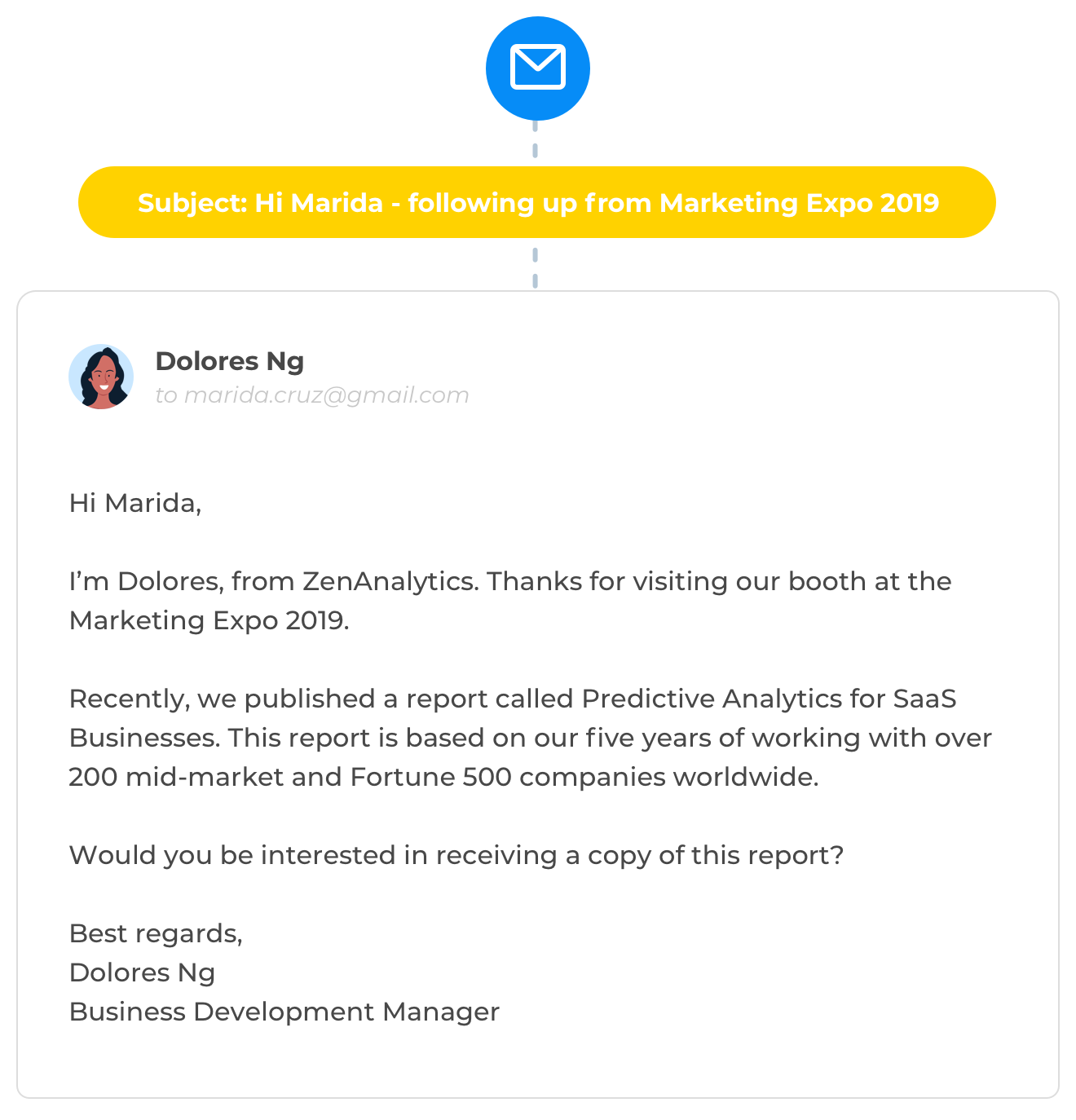 Turn free trial users into paid users
Many Software as a Service (SaaS) businesses use free trials to attract leads. But not everyone who signs up for free trials become paying customers. Many of the leads remain undecided or give no indication of their interest to continue. Unfortunately, businesses often do not follow up with their leads on their trial experiences. As a result, these leads turn cold and end up forgotten in CRMs.
AI sales assistants can reconnect with your leads and ask if they are interested in learning more about the product. When a lead is ready to upgrade to a paid version, the AI sales assistant will route the lead to the sales team to follow up.
Here's an example of an email that you can send to free trial users: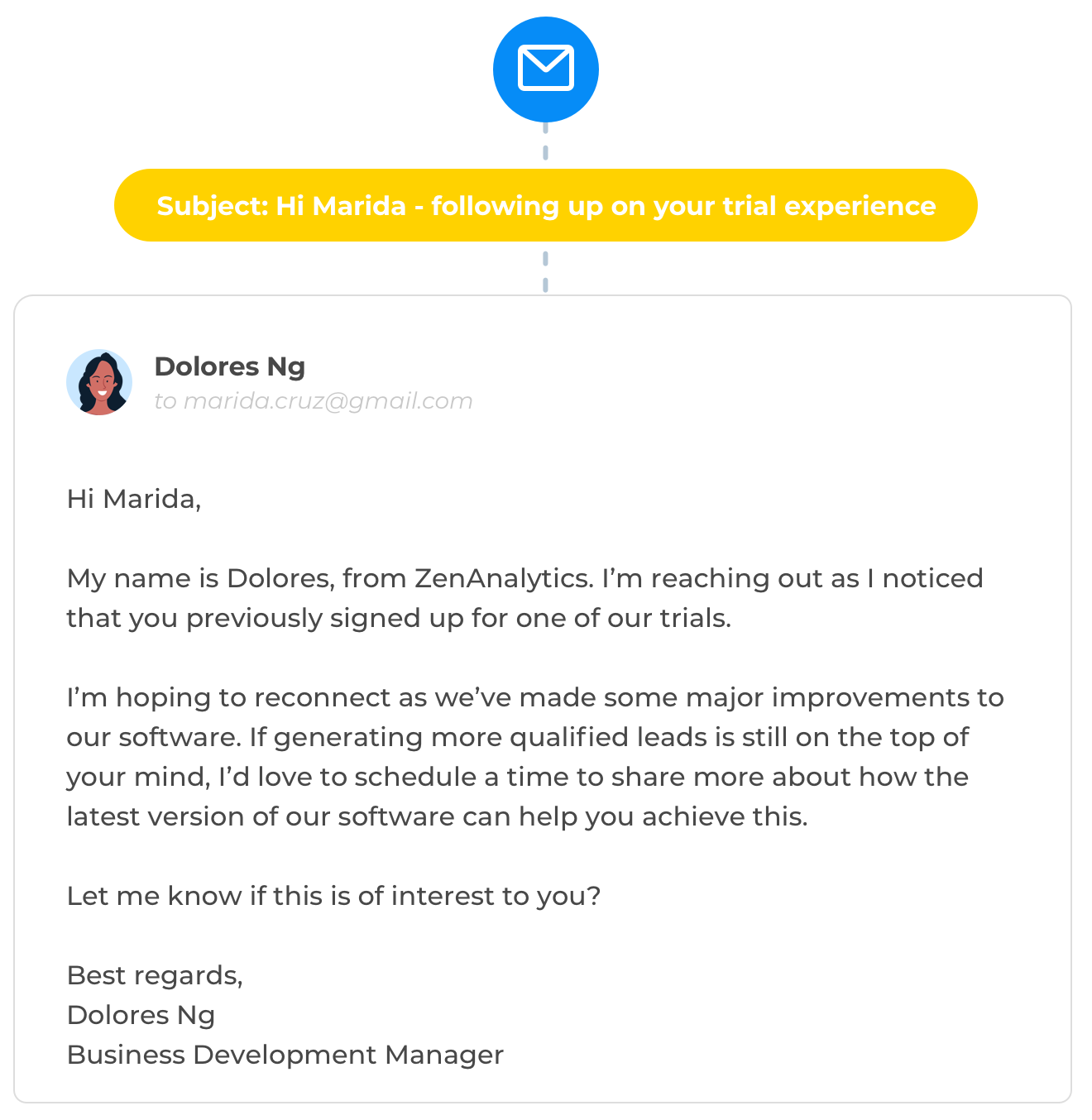 Leverage on content offers to get more qualified sales meetings
Content marketing is great for attracting leads. Especially when you have a great content offer like a well-researched report, or solid case studies.
But not every lead who downloads a content offer is a potential customer. Some just want the free content offer for their own research purposes, while others are tire-kickers who'd never buy. Unfortunately, many B2B tech companies don't have an effective way of qualifying their leads and identifying the genuine potential buyers.
AI sales assistants can follow up with anyone who downloads a content offer and ask if they'd like to learn more about the business. Here's how a post-download follow up email might look like: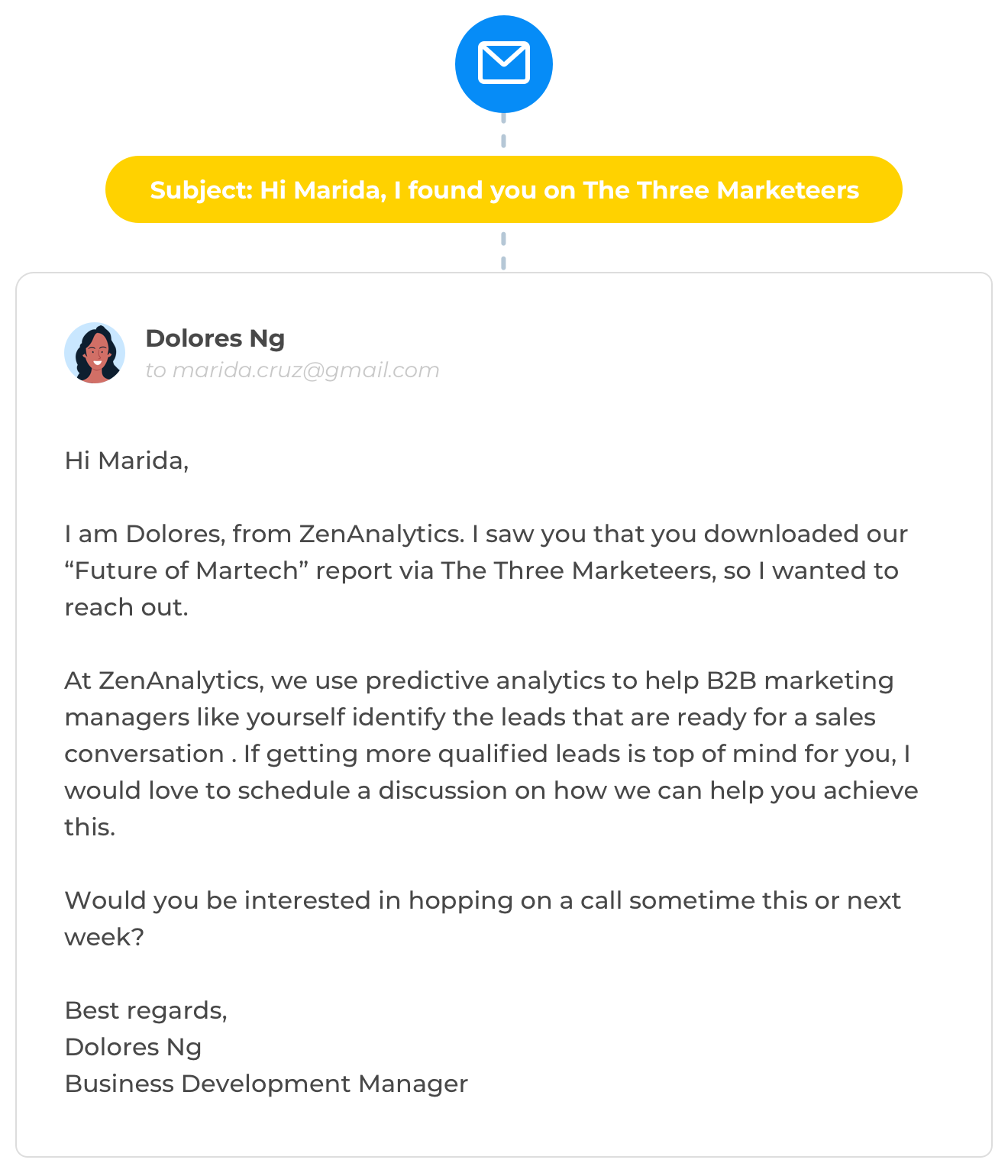 Using AI sales assistants to close the sales-marketing gap
Today, marketers in many organizations face greater pressure to demonstrate impact on revenue growth. It's no longer enough to generate a lot of leads. No, marketing needs to show how many of these leads eventually became sales opportunities or customers. Those are the metrics C-suite cares about.
But it's hard for marketers to do this when they have little control over sales outcomes. How does marketing ensure that all their leads get enough follow ups, until they are ready for a sales conversation?
This is where AI sales assistants can help. They will engage and qualify your leads at scale, identify the genuine potential buyers, and route these hand-raisers to sales. So, don't let your hard-won leads sit cold and forgotten in your CRMs! Use AI sales assistants to turn more of your leads into actual customers.
Request a demo today and see how Saleswhale's AI sales assistants can help you.
Originally published on 23 May 2019, updated on 18 December 2019