Martech | 12 minute read
Top 12 tips for event booth sponsorship success (most marketers bomb #10)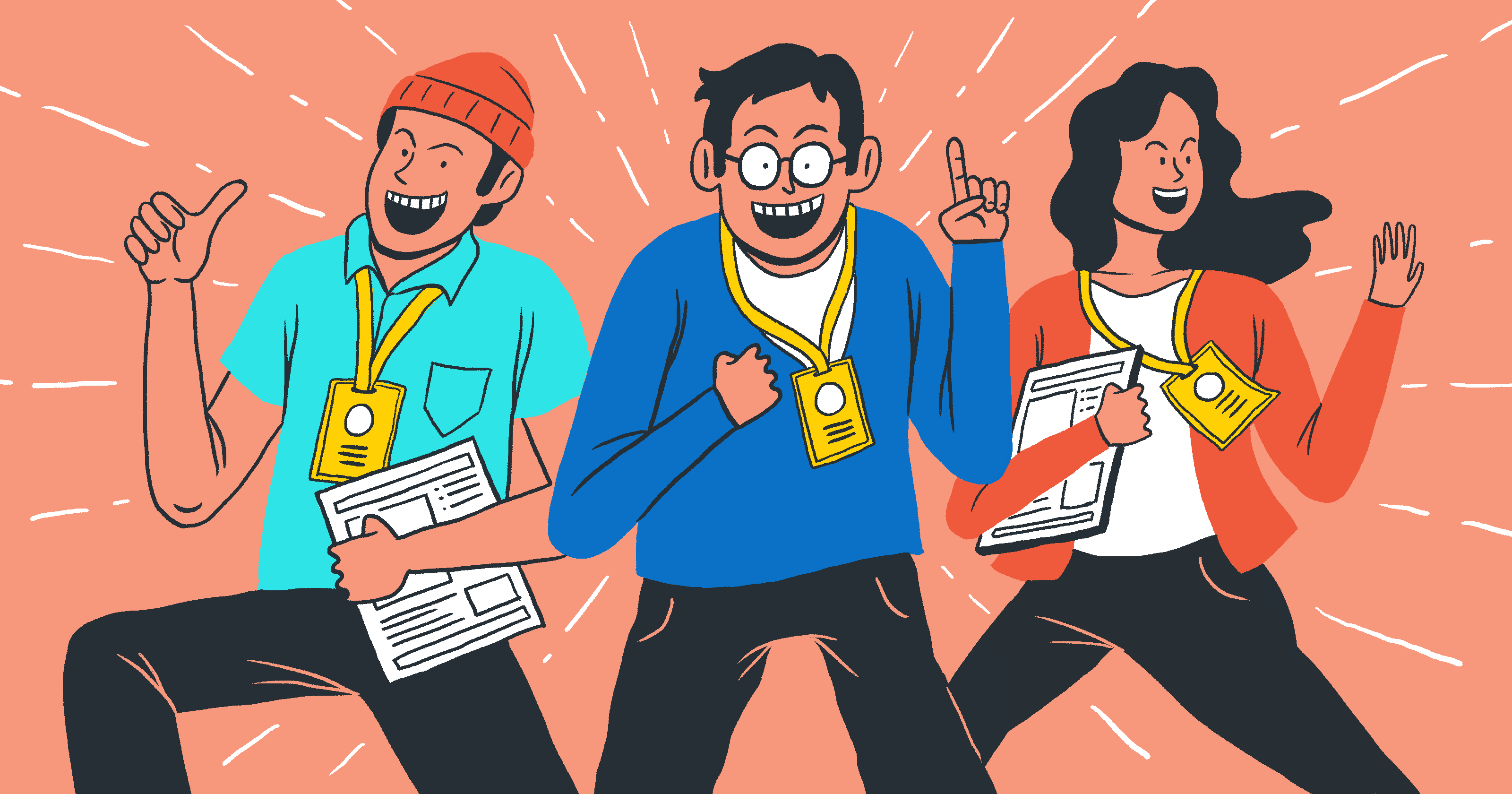 In a world where so much marketing happens on digital platforms, face-to-face interactions with prospects still matter. A lot.
Consider this:
According to Bizzabo, in 2018, 41% of marketers said that events are the most effective marketing channel over digital advertising, email marketing, and content marketing. That's a 32% increase since 2017.
Business leaders, too, believe in in-person events:
Bizzabo found that 84% of Vice Presidents and C-Suite believe in-person events are a critical component of their company's success.
There is no doubt about the power of events. But events are tricky beasts, different from most marketing tactics.
There's the offline aspect: setting up an attractive booth, staffing, networking, and more. Then there's the online aspect. Social media promotions before, during, and after the event. Post-event email follow ups. Etc. Without careful preparation and coordination at every step of the way, it's easy to make costly screw ups. Even for veteran field marketers.
This guide can help. Here, we share 12 key tips for event sponsorship success. We look at what to do online and offline, as well as before, during, and after your big day.
What does success look like? Getting prospects excited about meeting you. Keeping them interested after the event is over. Most importantly, turning as many of your event leads into customers as possible.
---
---
Before the event
1. Think hard about which event to sponsor
Event sponsorships are not cheap.
A booth at a small-scale event could cost a few thousand dollars. Or up to a hundred thousand dollars for a booth at major conferences like Salesforce's Dreamforce.
No matter what event you sponsor, you need to show monetary returns at the end of the day. Most brands expect at least 2:1 returns, sometimes up to 4:1. Therefore, think hard about which event gives you the best returns.
Some important considerations:
What industry is this event representing? There are generic events which typically draw a larger crowd and have more fanfare (think Dreamforce and SXSW). But unless you have a larger budget, you may want to head to the smaller industry specific events where your target audience might be.
How many attendees expected? Large crowds mean that you can reach more people. More people means you'll need to staff up your booth to ensure you can engage with as many people as possible.
Who is attending? Is the event attended by the kind of people who are likely to be your customers? What are they titles and roles of the attendees? Are they decisions makes? Buyers? End-users? Who are you trying to go after?
Who are the other sponsors? The presence of other companies that are in your "space" or ecosystem is a sign that the event attracts your target customers. It also helps to snoop around to see if your competitors are also participating, and plan your sales pitches and conversations around them.
What do past attendees and sponsors think of the event? Verify how successful the event has been by reading the reviews and studying attendance trends. Even better if you can find case studies of how previous partners gained from sponsorships.
How much does the sponsorship package cost? Sponsorship is a business investment. What kind of tangible business value do you get from the sponsorship package? Is this value worth more than the asking price?
What goes into the sponsorship package? Related to the above point on value. Forget it if all the organizer offers is logo placements. Look for opportunities to engage directly with your target customers, such as email blasts before the event or presentation opportunities.
2. Get on stage if you can
Are you lucky enough to get invited to speak as a keynote speaker or panellist? Take it up if you have the chance!
If not, you might have to buy your way into one of the dedicated speaking slots. They don't come cheap. But these are great opportunities to showcase your expertise in topics that the audience cares about.
As you prepare to speak, remember to focus on educating your audience first. People are there to learn. No one likes a hard sell! You can sell a bit by mentioning your company or product, towards the end of your presentation (or where it's really relevant). Also, make your presentation as memorable as possible. Crack jokes, tell captivating stories, use props, etc. Presentations can be dry and boring, so make yours stand out.
Finally, don't forget to tell the audience where to find your booth (give actual directions from where you are speaking), so that they can learn more about your company.
3. Prepare for meetings as early as possible
Got a few prospects you want to meet, who will also be there at the event you're sponsoring?
Don't leave meetings to chance!
Hit them up a few weeks in advance. Ask for introductions, then explain why you want to meet and what's in it for them. If they agree, let them pick a time that works with their schedules. That way, you can travel to your event with little stress, knowing that you've locked down a few meetings already.
Conferences also typically give sponsors a handful of free passes for you to give out to your customers or prospects. Identify who you really want to meet to accelerate the sales process and invite them to the conference for free. Be sure to tell them to stop by your booth for a demo or a discussion on how to move things forward!
4. Role-play interacting with booth visitors
The people at your booth are the faces of your company. They are responsible for pre-qualifying your visitors, establishing relationships with them, and presenting your product in the best light. They should be friendly, helpful, and enthusiastic about your company's vision. Choose your team well!
Let's say you decide that you want your sales development reps, customer success managers, and engineers to be there. Everyone should know what their roles are, and how they will support the other team members.
How do you greet a booth visitor? How can your sales development reps qualify visitors effectively? When should the engineers step in to discuss the more technical aspects of the product? When and how should you then lead the most qualified visitors to see a demo of your product?
In the weeks leading up to the event, do a few role-playing sessions. Your team members should be able to explain your business in a succinct way. They should also know the answers to commonly asked questions by heart. Role-play different scenarios get everyone to practice introductions, demos and objection handling, and give each other feedback.
By the way, if you want more tips specifically on how to generate as many sales as possible from your event sponsorships, check out our eBook on event ROI.
5. Stand out and get noticed
Think about how your booth can stand out among a sea of booths.
Many brands that take part in events invest in beautiful booth designs and experiential marketing. They give visitors an unforgettable experience through games, role-playing, and other forms of interactivity. With a stand out booth, you will be able to attract lots of foot traffic and even media attention.
But what if you are a small bootstrapping company that can't afford anything fancy?
If you're game, pull off some publicity stunts. That's what SalesLoft did during one Dreamforce. Back then, SalesLoft was a new, 15-person startup. It hired a Marc Benioff impersonator and got five SalesLoft employees to be his "security staff". The idea was to attract so much attention that the real Benioff would show up at the SalesLoft booth. He did. Benioff took pictures with the fake entourage and tweeted about it.
6. Drum up some pre-event publicity
Are you thinking about making a major product announcement during the event?
You might want to reconsider.
Many other sponsors are probably thinking of doing the same, so it's hard to stand out in such a noisy environment.
Instead, begin drumming up publicity about a month before the event. Publish a series of blog posts about the upcoming event and product announcement. For example, write one about the new exciting features that customers can look forward to.
Run social media campaigns concurrently. Post teasers of the product. Publish behind-the-scenes footage of the team hard at work. Give everyone a glimpse of the swag (stuff we all get, or freebies) that you'll be giving out at your booth. If your sponsorship package includes social media mentions, leverage those!
If possible, newsjack. According to David Meerman Scott, this is "the art and science of injecting your ideas into a breaking news story so you and your ideas get noticed". But be careful! To pull this off without backfiring, you need to follow news related to the event closely, spot a good opportunity to put your message out there, get it approved on the fly, and then publish. With good timing and luck, your company could bask in lots of positive publicity even before the event starts.
During the event
7. Remember these basic booth etiquette
It's the big day. Arrive with your best attitudes and smiles! By this point, everyone should be pros in the pitch and FAQs mentioned in #4.
While the event is in full swing and your team is busy with visitors, don't forget to keep your booth clean and tidy. Drink lots of water.
One common mistake is having food and drink in front of visitors. Of course, your team needs sustenance, especially since they'll be up on their feet all day.
But not while visitors are checking out your booth. Imagine trying to demonstrate your product with one hand and a half-eaten sandwich in the other. Or frantically wiping sauce off your mouth, mid-meal, when you spot an approaching visitor. Or speaking to a prospect without knowing that there are bits of lettuce in your teeth. Your visitors wouldn't get the best impression of your company.
Instead, have staggered lunches and breaks for your team. This ensures that everyone has sufficient time to recharge, while ensuring that there's enough manpower to tend to visitors.
8. Network as much as you can
Salesforce's Dreamforce is not just a trade show. It's "four days and nights filled with networking opportunities — from the sessions to the keynotes to the parties to the casual meetings by the waterfall." Source: Dreamforce Twitter
Don't just stick to your booth!
Business opportunities can happen in all kinds of settings, from formal to fun. That's why good event organizers provide various opportunities for sponsors, speakers, and attendees to mingle.
Attend some of the workshops, sessions, and keynotes. Let your hair down (but don't get too wild!) at the parties, cocktails, dinners, and games.
By the way, networking is not just about talking to people who could be your next customers.
If an existing customer is going to be at the event too, you can arrange to meet them over food or drinks. Among the thousands of attendees, there are people who are looking for their next career opportunities. They could be interested in your industry or the kind of work you do. For all you know, you could meet your next superstar employee while chugging beers at the event after-party.
9. Go all in on social media
While the event is in full swing, why not let your social media followers in on the fun and excitement?
Live video is excellent for giving followers a real-time glimpse of something happening on the ground. Video your CEO up on stage fielding questions from the audience. Do an impromptu interview with your team member on their thoughts on their event so far. If you're bold, grab one of the distinguished guests and ask them for their opinions on industry trends. Live video can seem scary because everything, including bloopers, are captured on the spot. But people like it precisely because of its raw and unfiltered nature. It's more authentic, compared to the polished and PR-approved content that most brands put out there.
Also, try the stories function. These are photos and videos that disappear after 24 hours. Because of their ephemeral nature, stories are great for capturing candid and unpolished moments. So, if you're too nervous to try live video, use stories instead as you can edit them before publishing.
Finally, if there are event-specific hashtags, use them! That way, anyone following the hashtags can see your social media posts. If they enjoy the content you've been putting out, you might gain more new followers.
After the event
10. Never forget to follow up after the event
According to EXHIBITOR, 98 percent of exhibitors collect sales leads at trade shows, but less than 70 percent have any formalized plan or process in place for how those leads are followed up after the show.
That's a huge waste of leads, after all the trouble taken to prepare for trade shows! Sure, everyone is busy catching up with work after the event. But following up should be a top priority if you want to close many post-event sales. Did you know that the first vendor to email leads after events gets a three times higher click-to-open rate than the third vendor? So, if you want to remain top of mind, reach out to your leads fast, while they still remember you from the event.
But how do you follow up with hundreds or even thousands of event leads so fast?
If you use marketing automation, set up a drip email or lead nurturing campaign that starts right after the event.
If you want a more personalized approach (over standard drip emails), use an AI sales assistant to start conversations with leads at scale. Saleswhale, for instance, initiates one-on-one email conversations with every single event lead. It can read responses, determine the lead's sales-readiness, and respond accordingly. Since Saleswhale's emails are personalized (as opposed to an email blast), its emails get higher open rates.
Another advantage of Saleswhale is that it can ask for referral leads and auto-engage them. Think about it: not every lead that visits your booth is a key decision maker. Saleswhale can ask the lead who the right person is. Once it gets this referral lead's information, it captures and stores the new lead. Then it starts an email conversation with them.
11. Segment your leads before emailing them
Whether you use marketing automation or an AI assistant to stay in touch with your event leads, remember to segment them first. How you want to segment them (industry, company size, company type, etc.) is up to you. But don't email blast. Email blasts are impersonal, and thus more likely to be ignored.
Segmentation can be done during the event. If you have access to a lead capture tool, use it! Lead capture tools let you scan the badges of people who visit your booth, capture their basic details, and store the information in your CRMs. Some of these tools allow you to classify leads by industry or visitor type. Others go one step further by letting you customize fields so you can ask leads important qualifying questions and segment them accordingly.
Once you've segmented your leads, email each segment relevant and useful content. Do this as part of the lead follow ups mentioned in #8. For example, if you segmented your leads by industry, send each segment reports that are specific to their industries.
12. Quantify and qualify the results of your efforts
Here's the easiest way to figure out your event sponsorship ROI, according to Bizzabo:
First, calculate net value. For example, event-generated revenue, pipeline value, number of attendees etc. Then find out your net cost. That's whatever you spent on the event: travel, booth, labour, marketing collaterals, etc. Divide net value by net cost, then multiply by 100, to get your event ROI percentage.
Any event that doesn't give you a positive ROI should be canned. Double down on events that give positive ROI moving forward (e.g. bigger booth, better swag etc).
The slight problem with the divide net value by net cost method, though, is that it says little about event marketing attribution. That is, what if you want to show how much additional revenue your event sponsorship generated long after it is over?
Bizzabo has written about event ROI in detail, including the four fundamental models for tracking event attribution. The most accurate model (the W-shaped model), which accounts for multiple stages of the marketing funnel, is also the most complicated to implement.
By the way, don't forget to measure the qualitative impact of your event sponsorship. For example, conduct post-event surveys to find out how happy your booth visitors were. What about more "fuzzy" sentiments like brand awareness? You could track metrics like social media mentions and web traffic before, during, and after your event. But remember that branding is always a long game so its impact can take months or even years to show. It is not unusual at all, for instance, if someone saw your logo at the trade show, recognized it a year later, and then signed up to become a customer.
Conclusion
Event sponsorships don't have to be so hard
Events can be a huge pain to organize. They're expensive, time-consuming, stressful, resource intensive, etc. At the end, you need to show good returns on them.
But by following the 12 steps we shared, you can't go wrong in generating a respectable amount of brand awareness and post-event sales. It's all about preparing as early as possible and coordinating all the online and offline aspects well. Go forth and put your brand out there!
Want to convert more event leads into customers? Saleswhale can help! Learn more here.