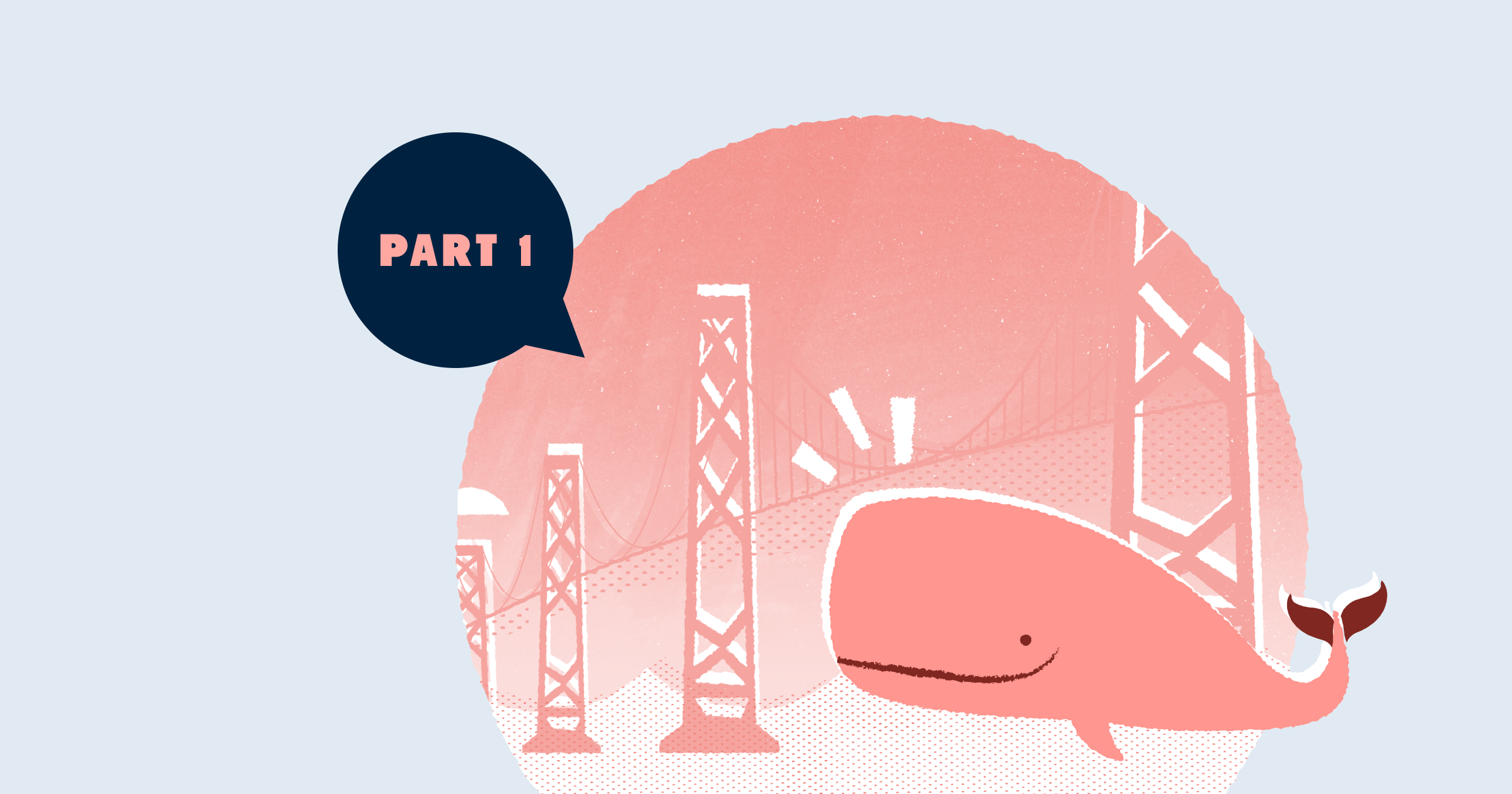 This is a tough post-mortem to write.
It's the story of how our largest ever marketing campaign flopped hard in terms of return in investment.
It's a story of an overly ambitious startup trying to make it big beyond their little city. It's a story of ambition, and gumption, that ultimately didn't pan out.
It's a story of our first ever trade-show sponsorship, Dreamforce 2019.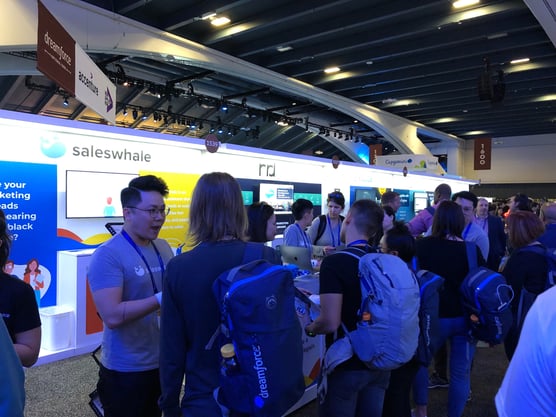 But first, let's turn back the clock to the very beginning. To the genesis of this idea.
Begin at the beginning, and go on till you come to the end.. then stop
It was a clear night in early July 2019.
I was sitting outdoors at a pub, nursing my mug of freshly poured beer.
A figure, clad in a black T-shirt, appeared in the distance and started walking towards me.
A small shot of adrenaline coursed through my veins. I started to enumerate the talking points I wanted to cover in my head.
The figure approached my table, and sat down. We exchanged small talk.
I asked him, "Have you given any thought on our offer, and which way you are leaning yet?"
I was speaking to Timothy, our current VP Marketing.
This was the culmination of a 3 month executive search. I was looking for a marketing leader to head up our non-existent marketing function.
113 candidates vetted, 14 candidates interviewed throughly.
And I finally found someone I was excited about. Now, it's time to find out if I would have to continue this indeterminate search.
The combination of a lack of sleep, adrenaline, and alcohol made time seem stretchy, giving it a putty-like characteristic.
After what seemed like many minutes, Timothy replied,
"Yeah, I've been thinking about it over the entire week. I'm actually leaning towards joining Saleswhale."
The rest of the conversation was a blur to me.
An augur of things to come
We spent 3 hours talking that night.
A particular conversation snippet that night stood out to me, however.
"How would you approach experimentation in your first few months? How much budget you reckon you will need to run these experiments?"
"I would want to test systematically and start small. Nothing crazy. Probably a few grand for each experiment. Don't worry, I'm not going to ask you for $100,000 to throw into a marketing campaign in my first few months."
I laughed.
A crazy decision
One week before Timothy was due to start at Saleswhale, I called him.
"Hey, you remember the joke you made about not throwing $100,000 into a marketing campaign your first month on the job? Yeah..."
I told Timothy that I had decided to sign us up to sponsor Dreamforce 2019.
You can read more about my thought process here.
At the time, we were signing up Salesforce customers at an accelerating clip.
We noticed that customers who integrated their Salesforce CRM (SFDC) instance with us saw a lot more value, and were much more likely to be successful with Saleswhale. And it was becoming increasingly obvious that we had to be plugged in to the Salesforce ecosystem.
Timothy replied me over the phone,
"Dude, you are out of your god damn mind. Most companies take up to 6 months to prepare for an event like this. We barely have 2 months left after we finish onboarding."
He let the conversation hang for a moment, then replied -
"But sure, if you think this is the right thing to do, I'm happy to take up this challenge."
The chance to showcase Saleswhale on a stage that attracted over 170,000 attendees to the largest software conference in the world.. was too much to resist. If we missed this window, we would have to wait till November 2020 for the next Dreamforce (which was just canceled).
And so, the race was on.
Spinning a hundred plates
We pulled together our Dreamforce crew, comprising of -
Timothy, Marketing

Sam, Customer Success

Thu, Product

Jezreel, Sales

Gabriel, CEO
We spent many late nights and weekends in the office planning for the event.
A lot of the groundwork, the execution of the hundreds of tasks and minutiae needed to pull off such a feat, fell on to Timothy's plate.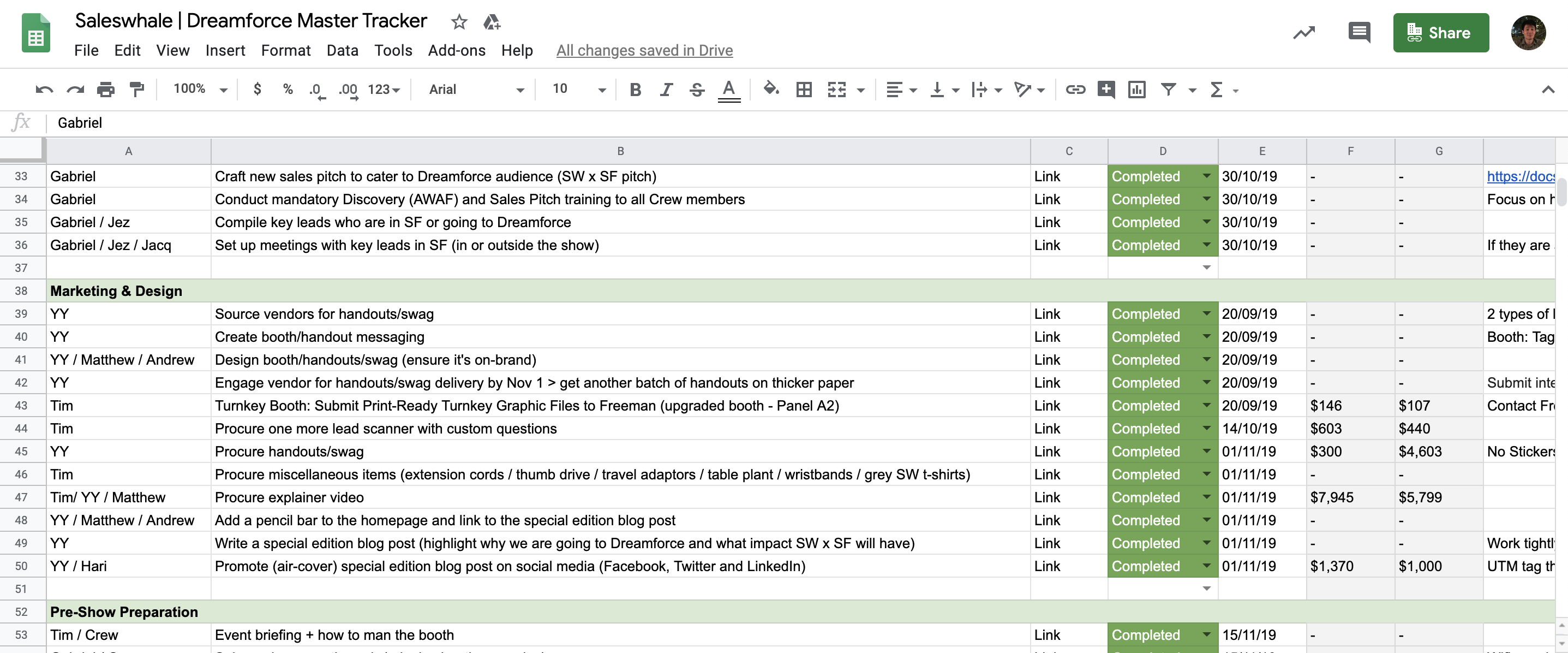 He was barely one month into the new job.
But he took it like a champion, and executed with a steady hand and ruthless efficiency.
I remember feeling awed by how many plates he managed to keep spinning in the air - without dropping any of them, trying to squeeze 6 months worth of planning into 2 short months.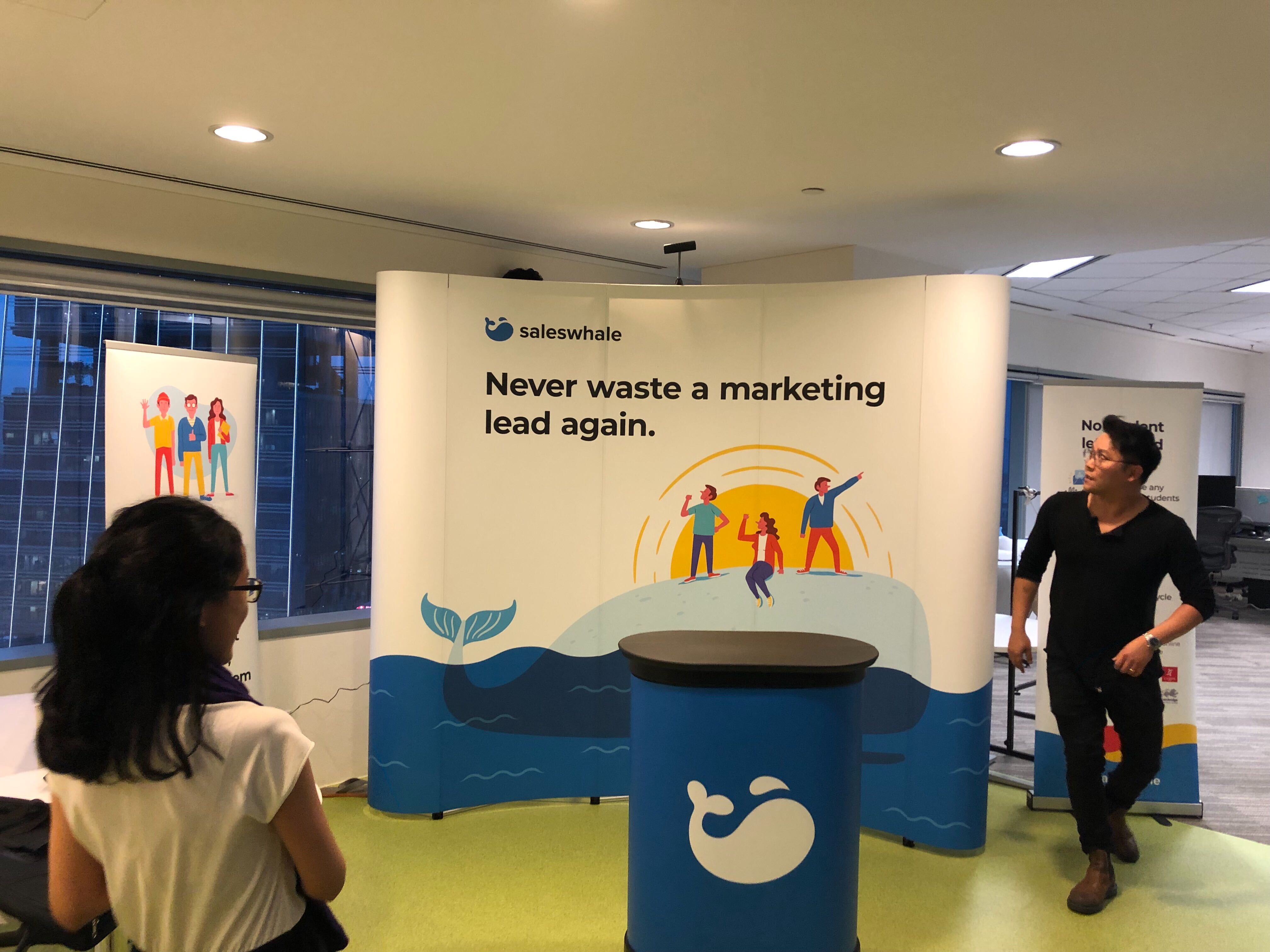 We planned to release our new feature, Reveal, at Dreamforce too.
The product and engineering teams also started to pull late nights, trying to make the release date.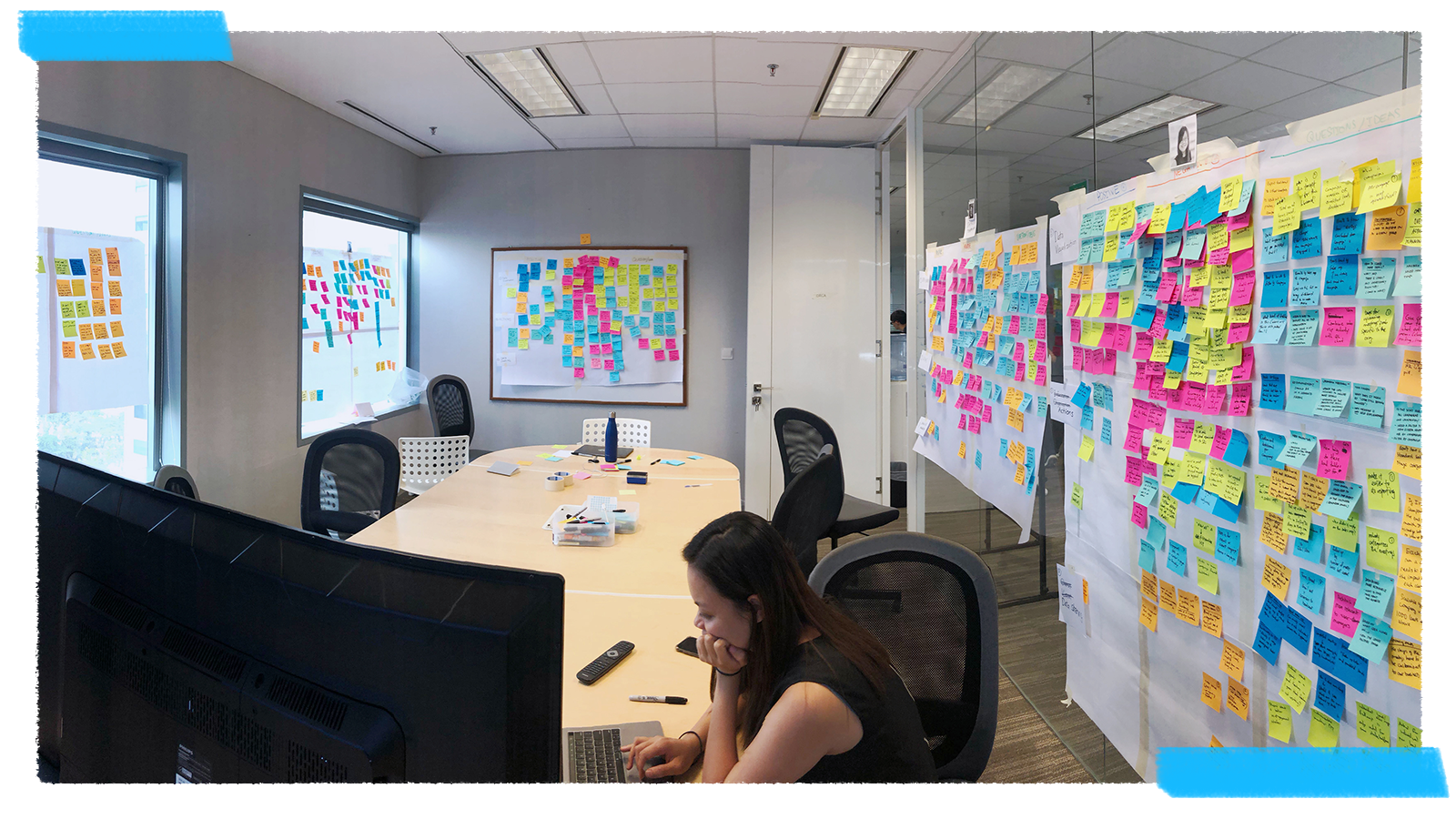 When the Dreamforce crew emerged from our conference "post-it notes cave" late at night, we would run into the engineering team hard at work.
We would nod in acknowledgement when we saw each other -
"Dreamforce?"
"Dreamforce."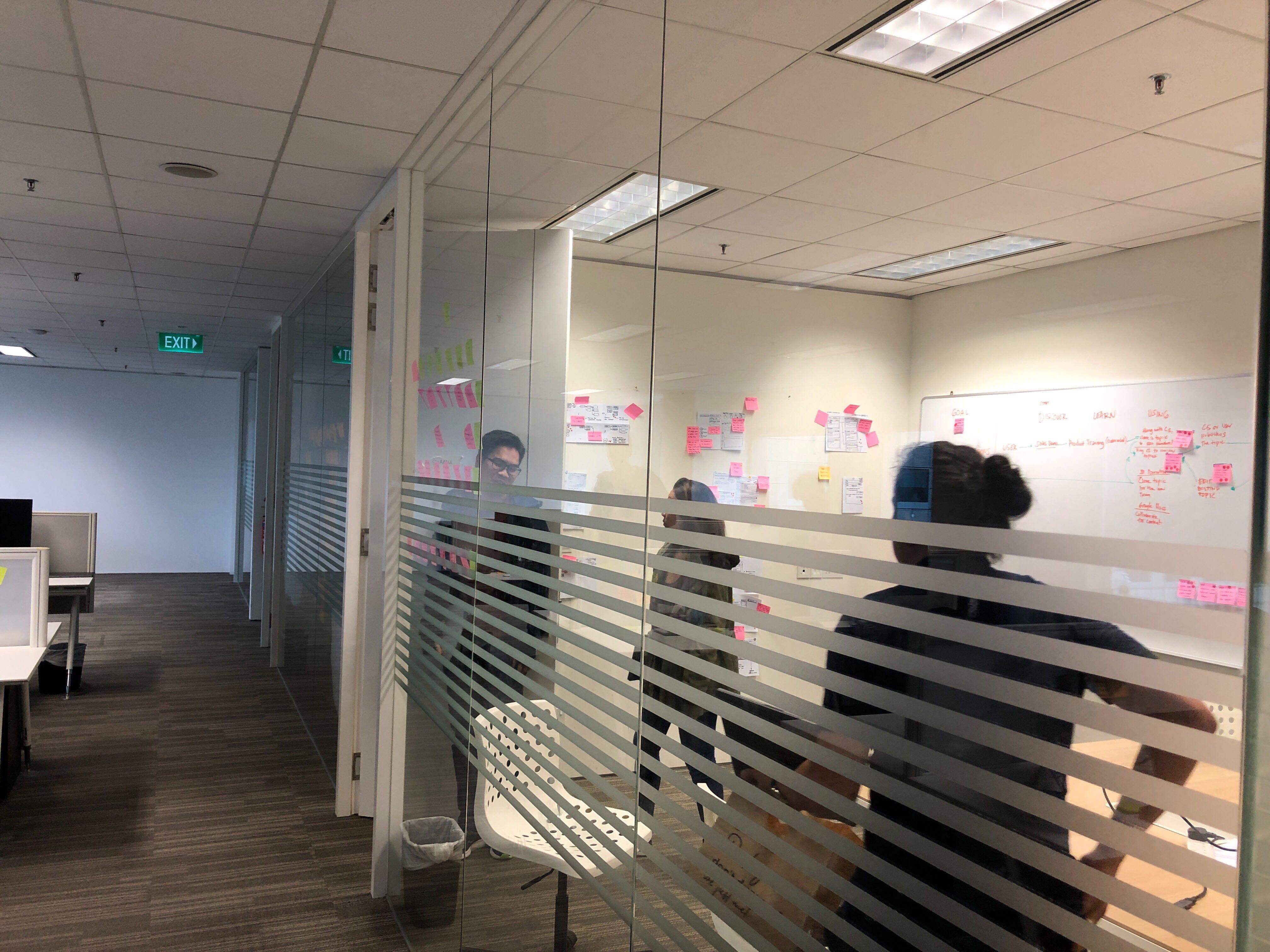 We managed to settle all the logistics planning 2 short weeks before Dreamforce was due to start.
A breakdown of the costs
It was our largest ever marketing investment.
All in all, we spent $90,699 to sponsor, and staff our booth at Dreamforce.
Here is the cost breakdown:
Navigator-tier booth sponsorship fees: $69,550

Additional lead scanner: $440

Flights for 5 team members down to San Francisco: $6,000

Accommodation, food, transportation for 5 team members: $9,000

Handouts, collaterals and swag: $4,603

Booth graphics: $107

Producing Saleswhale explainer video (to play on loop at our booth): $5,799

Running "air-cover" ads on LinkedIn: $1,000
We were hoping to break-even on our Dreamforce investment within 6 months after the event.
If we were able to close at least 5 annual contracts from deals sourced from Dreamforce, we would have covered the cost of the event, and then some.
Failing which, we figured the second-order investment in our brand, and relationships forged with Salesforce ecosystem partners and customers would continue to pay dividends down the road.
We didn't really know what to expect. It was our very first major event.
The rubber meets the road
On the 17th of November 2019, I packed my luggage, and boarded a 17-hour direct flight from Singapore to San Francisco.
To be continued...
UPDATE - To read Part II, click here.