Marketing Strategy | 10 minute read
Our $90,000 mistake - and why I would do it all over again in a heartbeat: Part II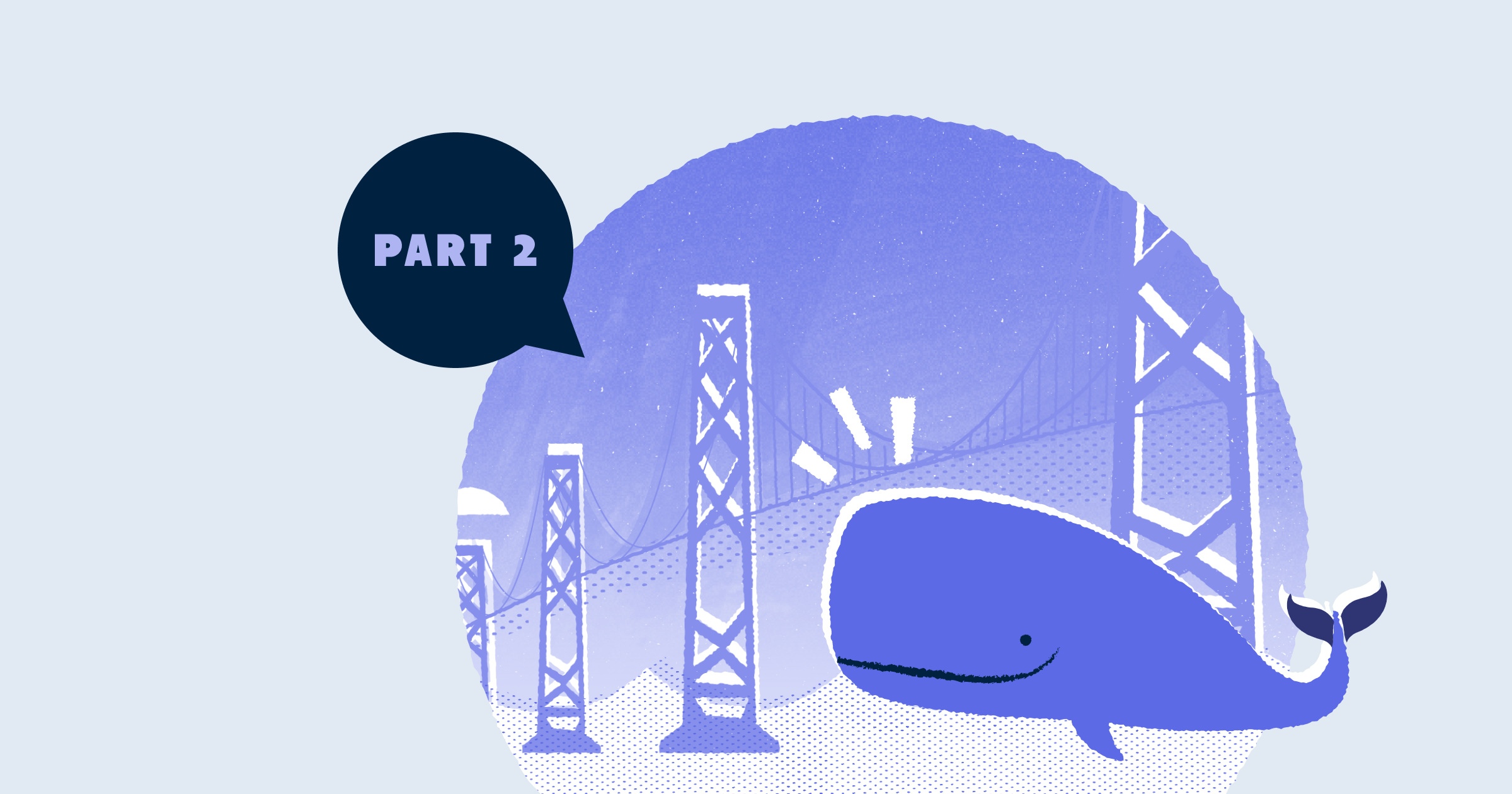 This is Part II of a series. You can read Part I here.
Part II
I woke up at 7 a.m. - only half-rested due to the jet-lag.
I stood at the balcony, and took in a deep lungful of the crisp, cool breeze.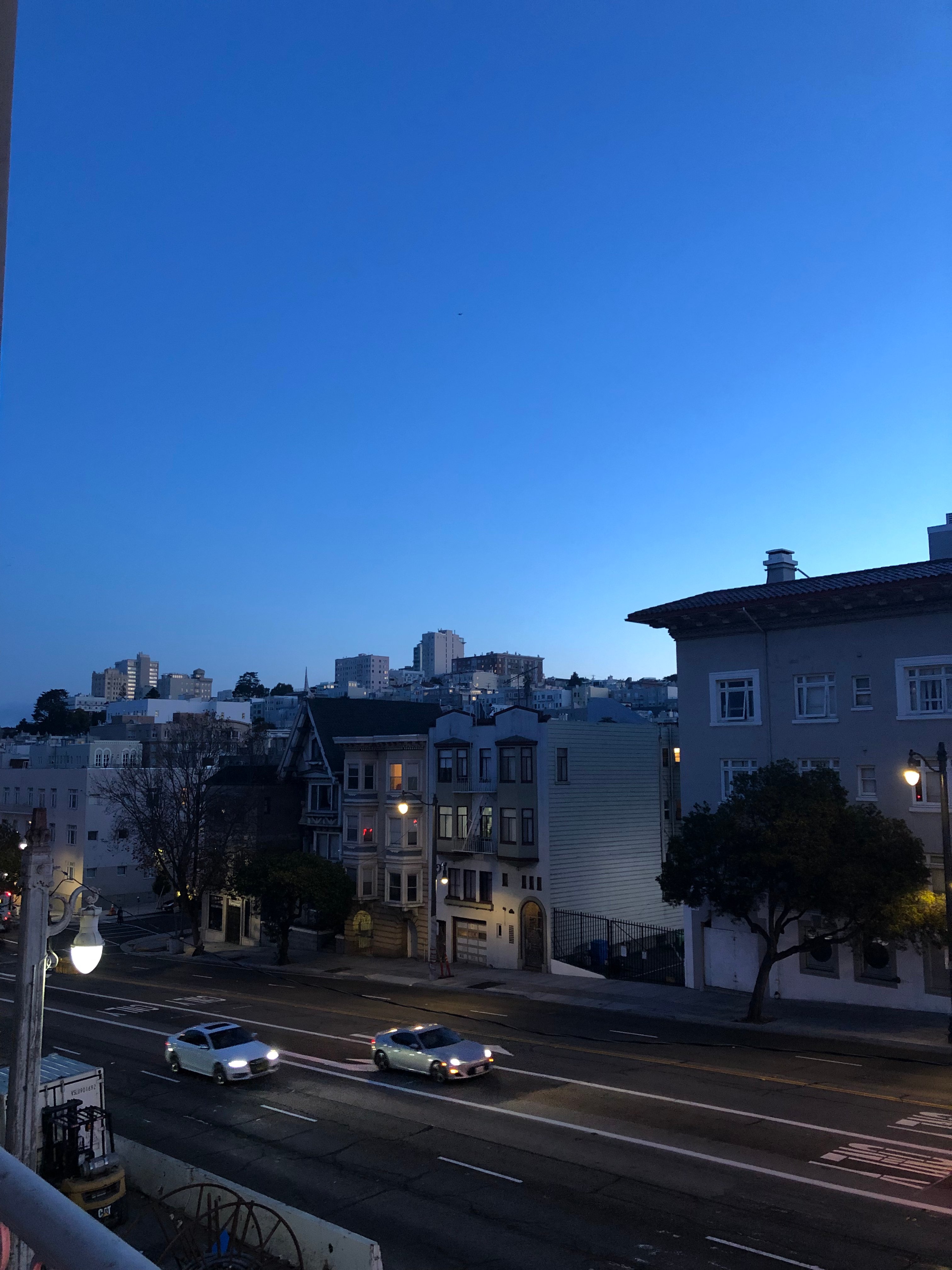 As the city slowly came to life, I went for a short walk around the block.
Major sections of the city were closed off because of Dreamforce. In less than 3 hours, more than 171,000 people from around the world would descend upon the city of San Francisco - putting major strain on the city's infrastructure.
Walking on the empty streets... during the twilight immediately before sunrise, it felt like being in the calm before the storm.
Dreamforce begins
After grabbing a cream cheese bagel from my favourite hole-in-the-wall, I made my way down to the Dreamforce Campgrounds.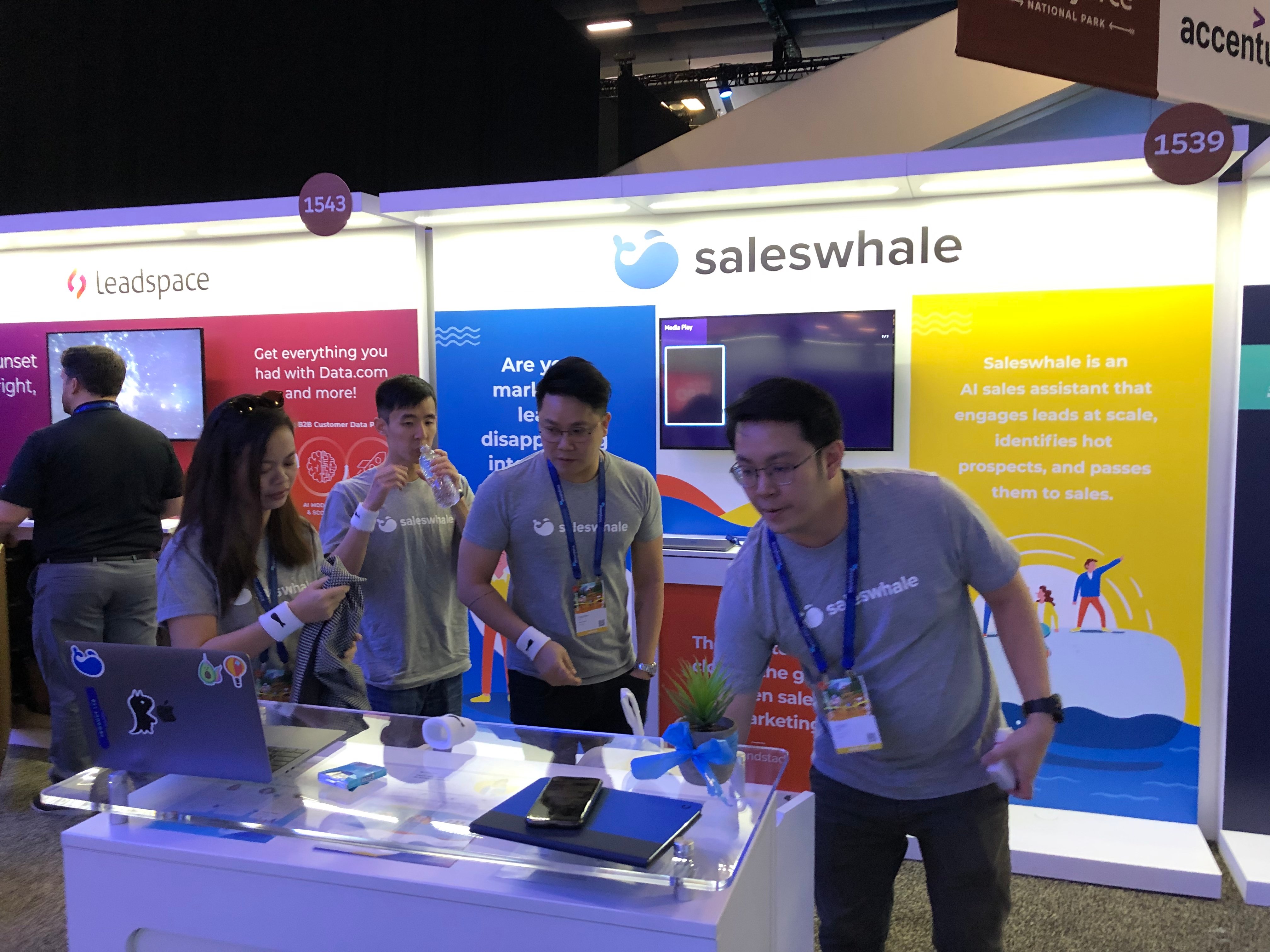 Most of the team was already hard at work prepping the booth inside the Expo when I arrived.
We had some time before the Campgrounds opened at 9 a.m. for the registered attendees.
You could sense the nervous energy in the air from the fellow exhibitors. Dreamforce was a substantial investment for most, surely. And we were in the final moments before the Expo opened.
Like stale air building up, you could almost taste the invisible question that was hanging over our fellow booth exhibitors -
"Would the next 3 days be worth the investment in time and money?"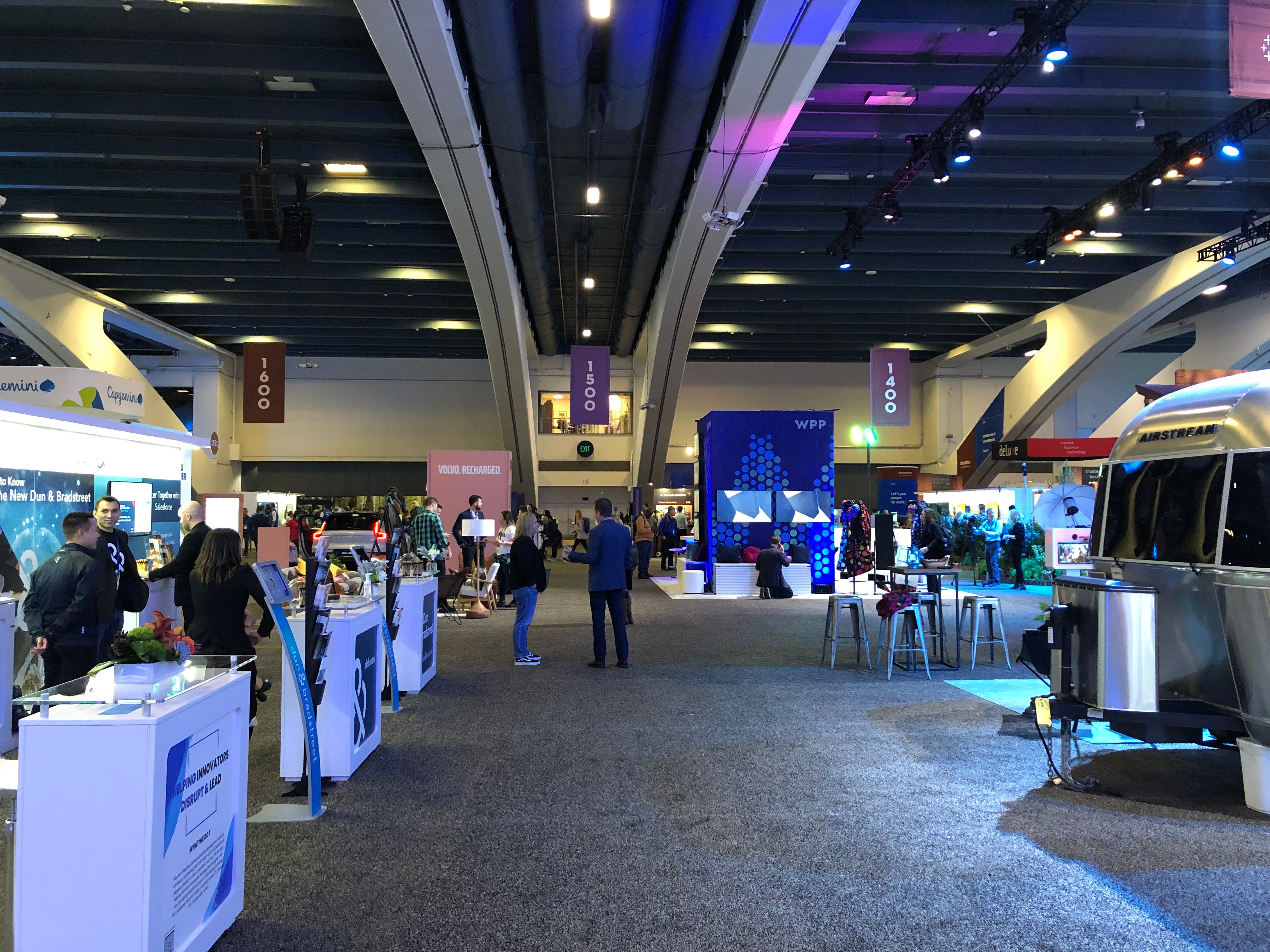 Beginning with the end in mind
While waiting for the Campgrounds to officially open, we huddled together and re-iterated our goals.
The goal was to break-even from Dreamforce by closing 5 annual contracts within 3 months of Dreamforce.
Working backwards, this means at least 25 demos (assume 20% demo to closed-won).
And we would need 300 leads collected over 3 days - around 100 a day (assume 8% lead to demo conversion rate).
Hence, we would need to hustle hard for these leads.
Unbeknownst to us, there were many things wrong about this assumption, and mode of thinking, which I will share more about later.
Opening the Campgrounds
A large crowd was already amassing around Moscone Center.
Ushers, private security, police officers and traffic marshals were hard at work, trying to prevent the crowd from spilling in.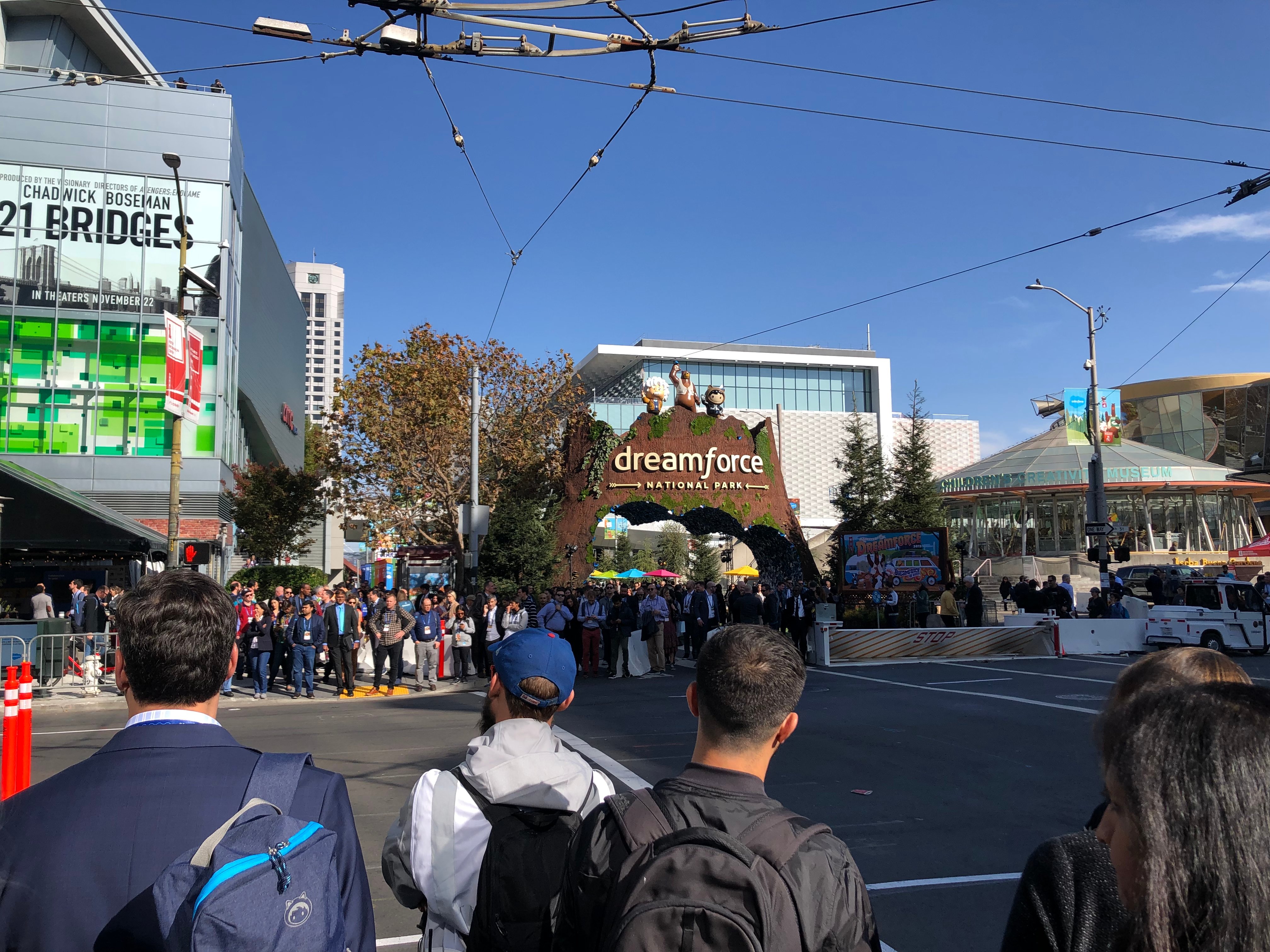 At 9 a.m. sharp, the Campgrounds officially opened.
The crowd started to surge in, like a huge body of water, flowing into various buildings and attractions.
We were located at the Customer Success Expo at Moscone South.
Thankfully, a large portion of the crowd drained into the Customer Success Expo.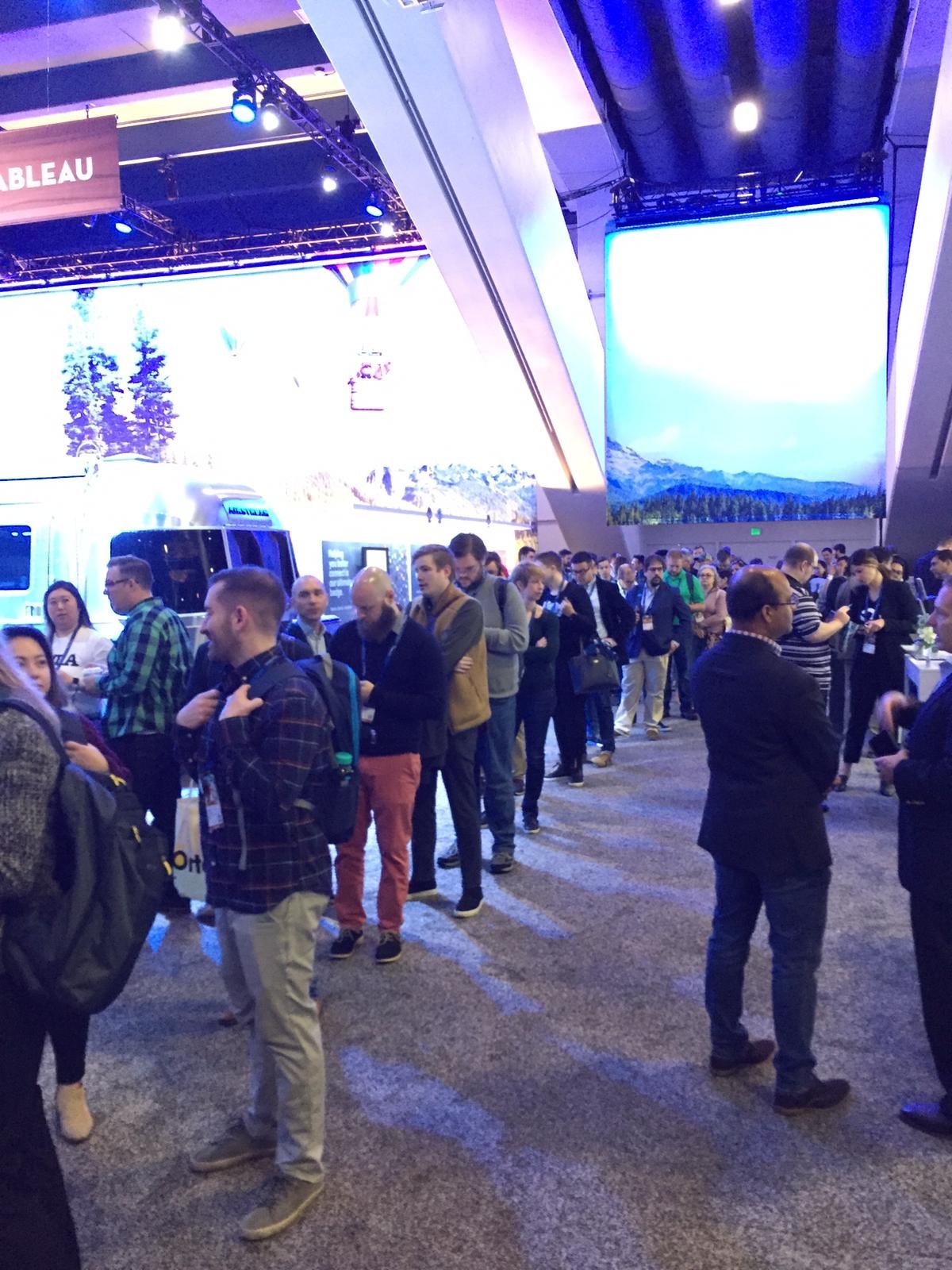 Gone fishin'
There's something peculiar about people who visit trade show expos.
They are simultaneously curious, and shy.
Some would stand at the peripherals of your booth, craning their necks in, giraffe-like, trying to catch a glimpse of your software demo.
Some would walk quickly, at double-time, past you, trying not to catch your eye - for fear of being accosted. But you catch them scanning your booth rapidly, and perhaps grabbing a brochure or two along the way.
As booth exhibitors, it felt like trying to place a hoop net in the path of a river, hoping to catch unlucky fish that happened to swim into it.
Luckily for us, we had rehearsed, and prepared for exactly this.
Crazy "Pitch" Asians
We were not going to wait around passively for people to swim into our booths.
As a group, we stood around 4 to 5 feet apart from each other, facing in the direction of traffic. Whenever someone made eye contact us, we would walk purposefully, and decisively up to them.
The opening statement was pre-rehearsed, "Hi there! Have you heard of Saleswhale before?"
95% of the time, the answer would be, "No I haven't. What do you guys do?"
And that would be a tactical segue for us to launch into our 15-second elevator pitch of what Saleswhale does.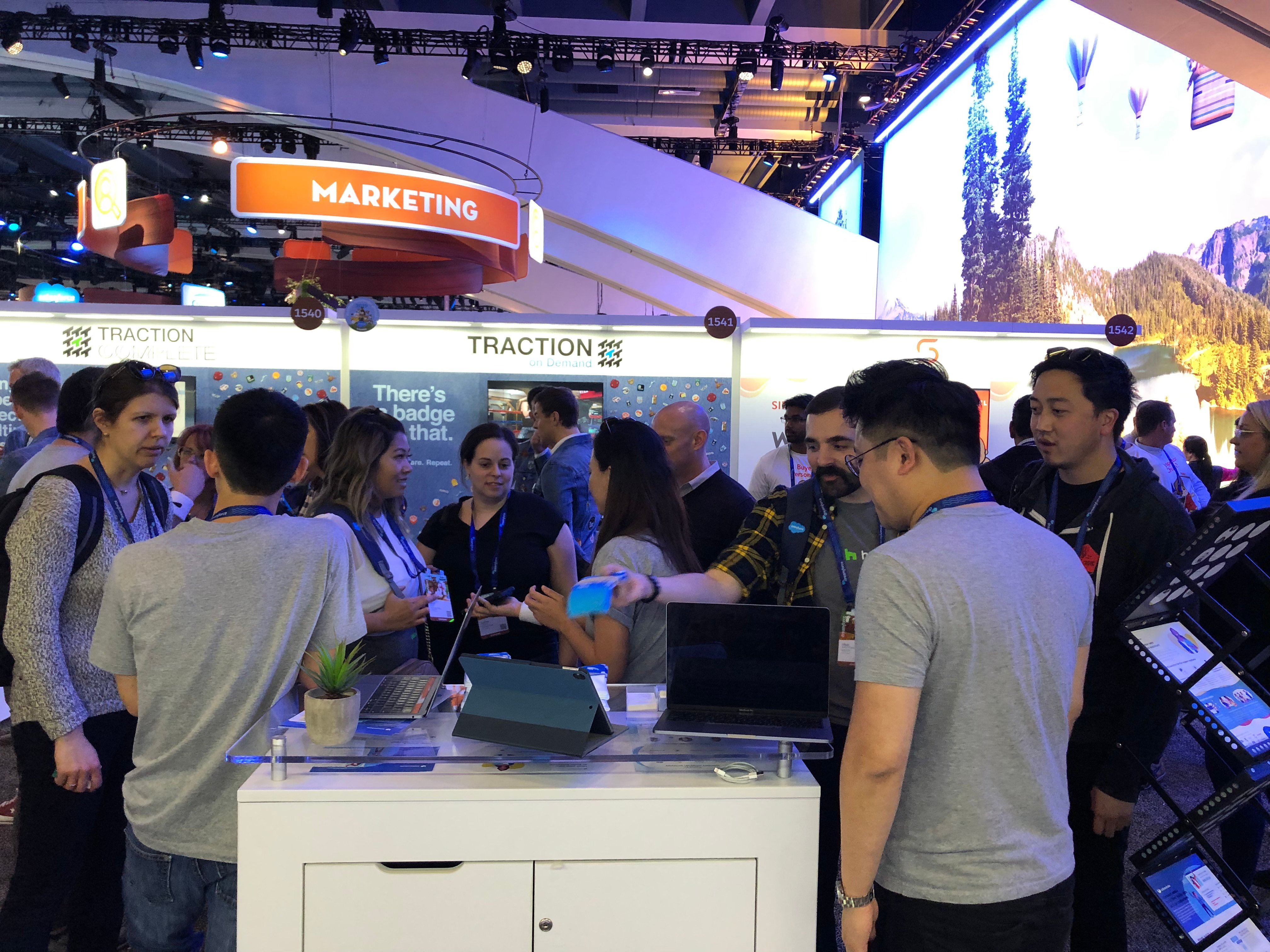 This was a surprisingly effective tactic.
And to the annoyance of the booths around us, we began to suck in traffic in an expanding radius - like a whirlpool. (eventually, an usher did come over and tell us to stop accosting and snatching people from other booths).
Catch and release
We would quickly qualify the prospects after our elevator pitch.
"What do you do?"
"Is this a problem you face at your company?"
If there was a fit, and they were interested to find out more about Saleswhale... we would push them to the back of our booth for a 5-minute demo conducted by either myself or Jezreel (Sales).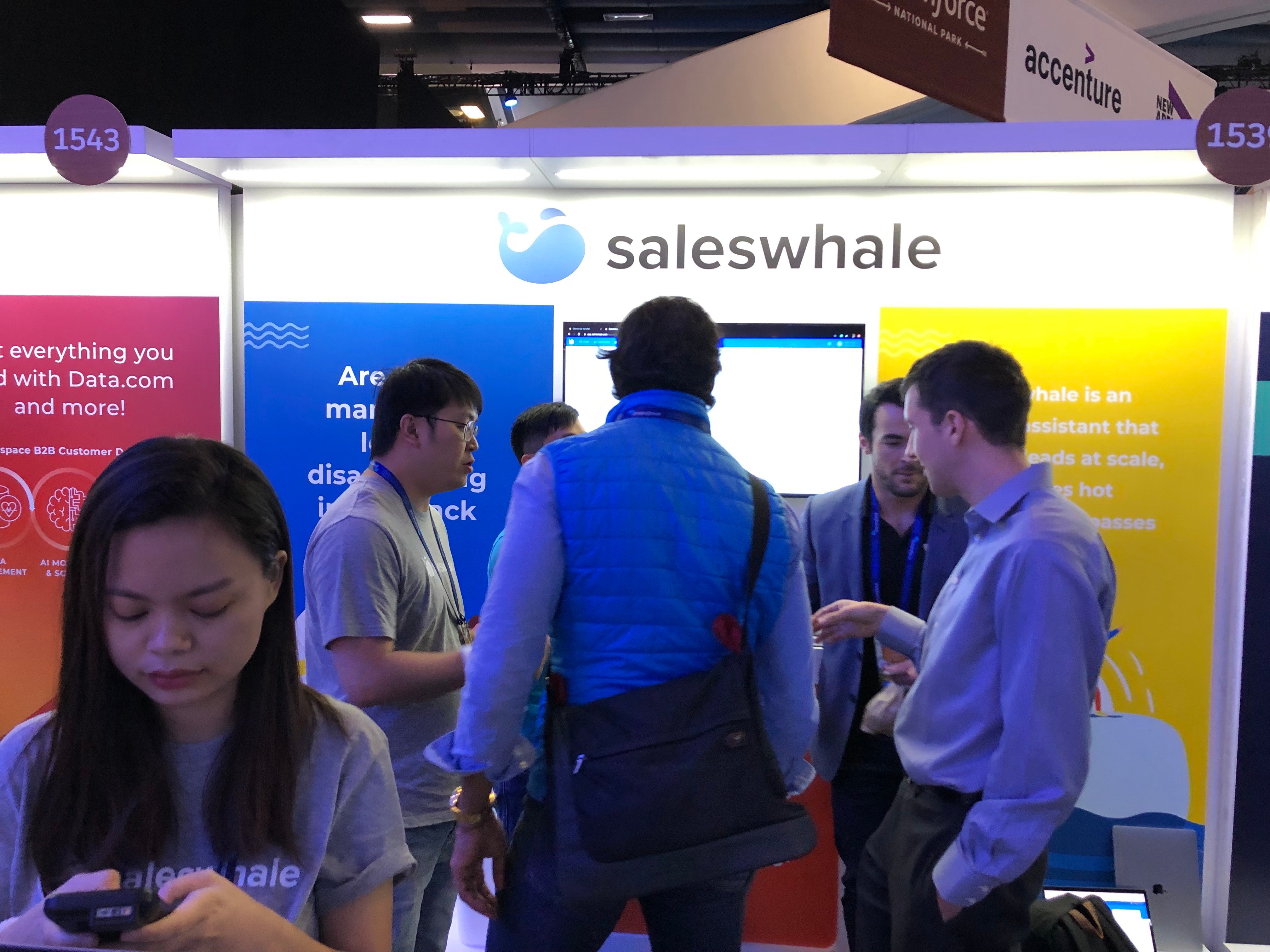 We operated like a well-oiled factory line.
The outward-facing team members focused on qualifying high-potential prospects. And our Sales team focused on prospects with demonstrated intent and fit.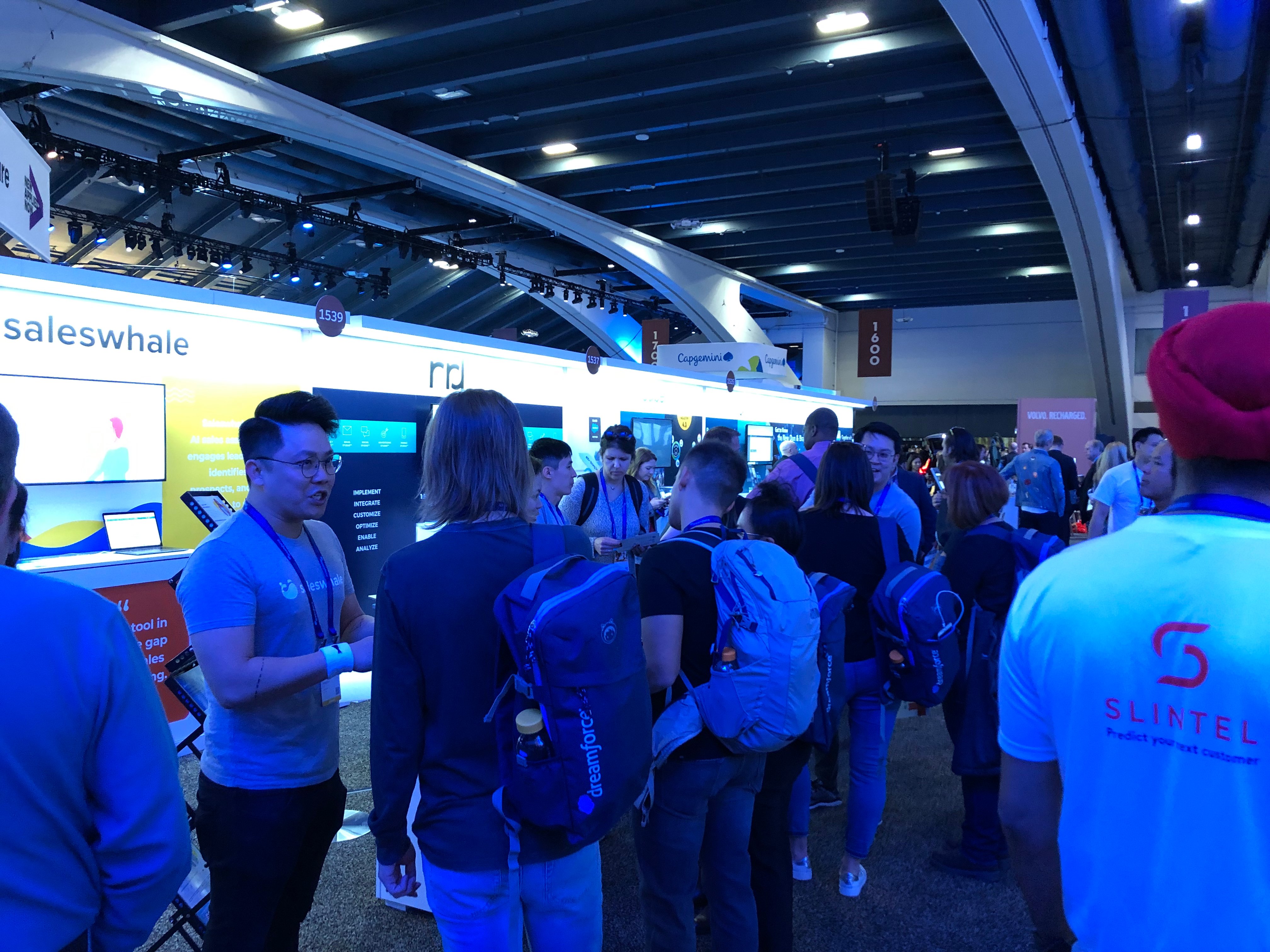 Sock-madness
We brought some swag. Plush Saleswhale-branded socks, for qualified prospects who sat through a 5-minute demo.
Before long however, word started spreading through the Campgrounds that Booth #1539, Saleswhale, had awesome socks.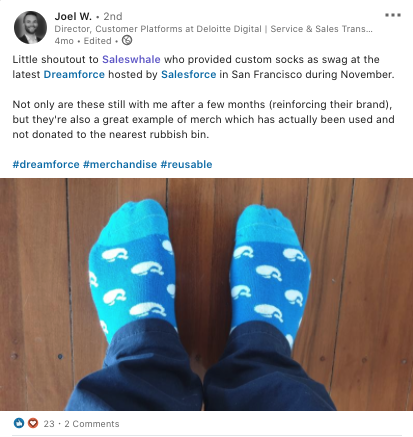 And we started to get an increasing stream of people crowding around our booth asking for our socks.
"I saw the socks my colleague got from you guys. They are awesome and I want a pair too!"
People started to manoeuvre past our team members to heist our socks, which were laid out neatly on a table.
A few enterprising burglars even brazenly opened the cabinet at the back of our booth and escaped with fistfuls of socks.
I remember returning from the washroom, surveying the carnage, and asking Sam,
"Were we... were we.. just mugged? Where are all the socks?!"
It was maddening, and amusing, trying to keep a crowd that was frothing at the mouth, at bay.
Getting our mini-brand out
Our booth was consistently packed from opening to closing.
As mentioned above, my biggest fear heading into Dreamforce was that our booth would be a ghost town. That we would be left standing around, twiddling our thumbs.
Thankfully, due to the combination of eye-catching booth design by our talented design team, word-of-mouth from the sock hunters, and our aggressive and energetic booth staffers.. there was never a lull period for us.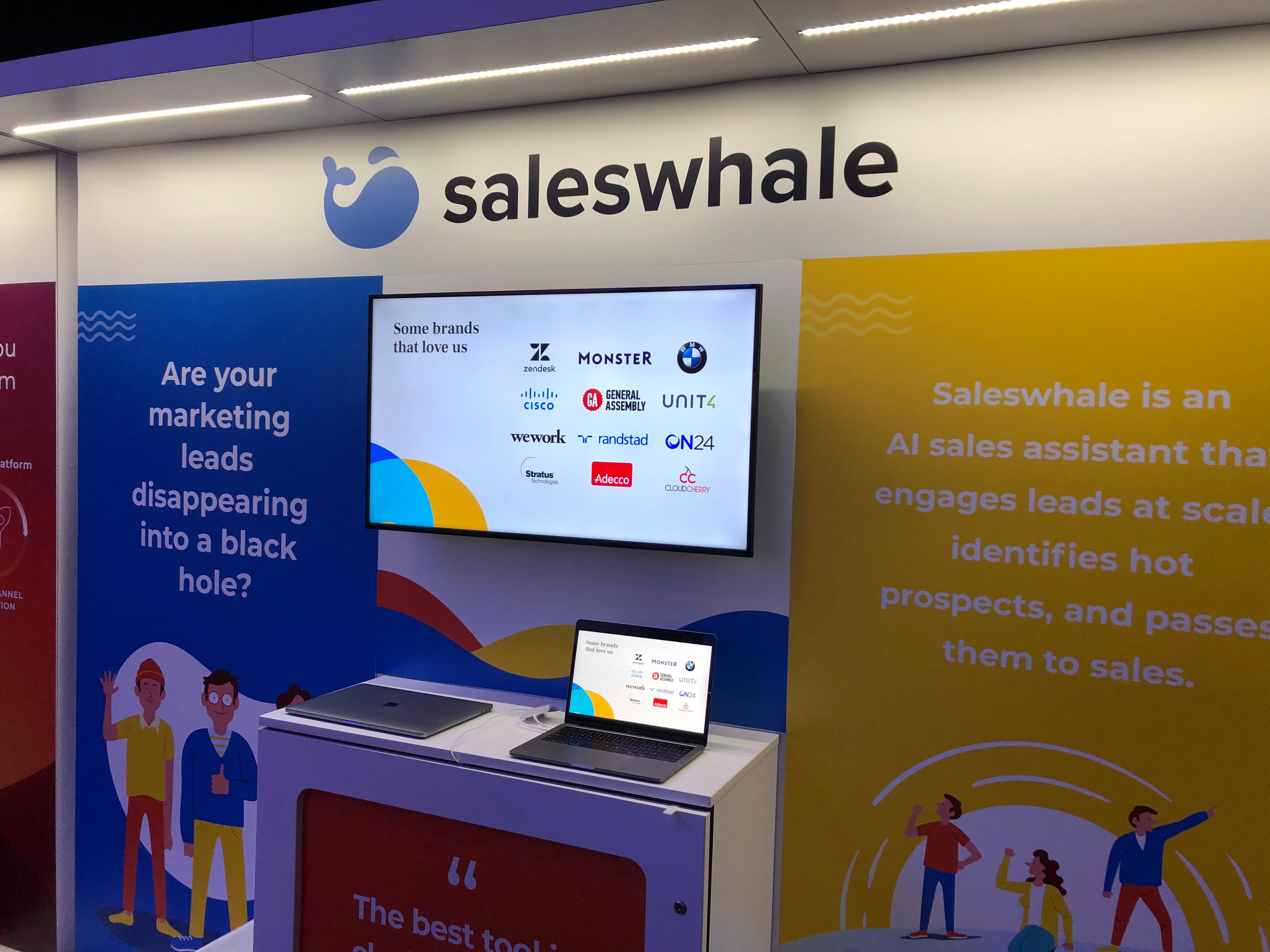 This was in stark contrast to some of the booths around us.
They had almost no traffic. Whereas we were grappling with crowds two and three deep, surrounding our booth.
We saw some of their booth staffers playing with phones or chatting amongst themselves due to the lack of foot traffic.
This created a bubble of negative energy, that seemed to further push people away from their booths.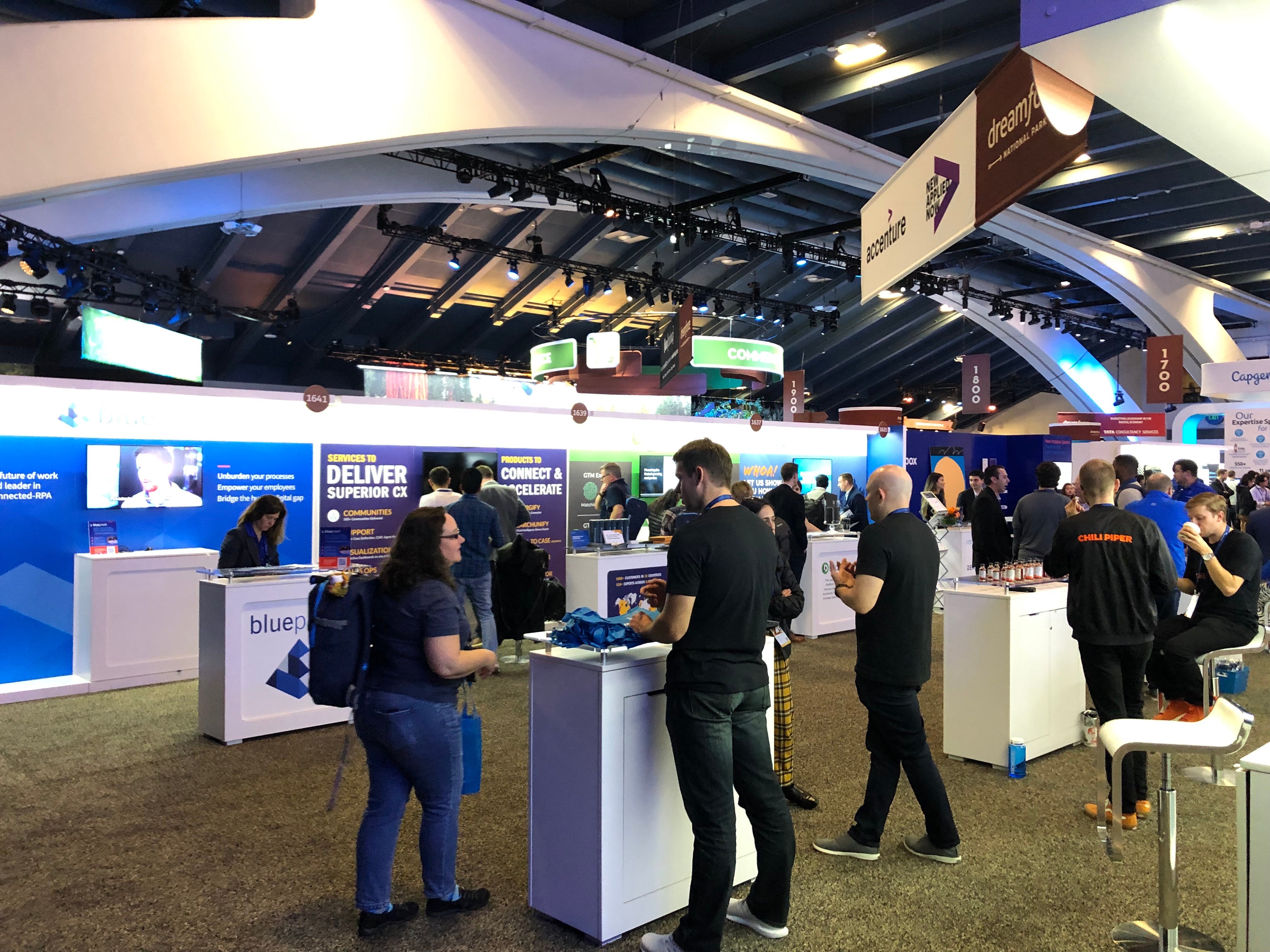 Three rules for booth staffers
We had instituted rules internally for our team members staffing the booth before hand -
(a) No playing with devices at the booth
(b) No eating or drinking at the booth
(c) Do not crowd amongst ourselves and chit-chat internally. It intimidates the people walking by. Spread out, maintain eye-contact with people, and smile happily (some of us ended up looking like creepy psychopaths... but that's besides the point)
Giving our incumbent a run for their money
Some of the most intoxicating conversations were with people who have heard of our largest competitor. As the incumbent in the space, they raised close to $100M in total funding.. but were getting long in the tooth.
"Wow, we didn't know that you guys existed. For the longest time, we thought that the only game in town was [Incumbent]. You guys look like a more modern and robust version of them, with much better UX."
The SVP Product for Salesforce Einstein (an AI product by Salesforce), Marco Casalaina, also dropped by our booth.
He told us that he was glad that a preppy new competitor was emerging to give our incumbent competitor a run for their money. More competition is always better for the customer.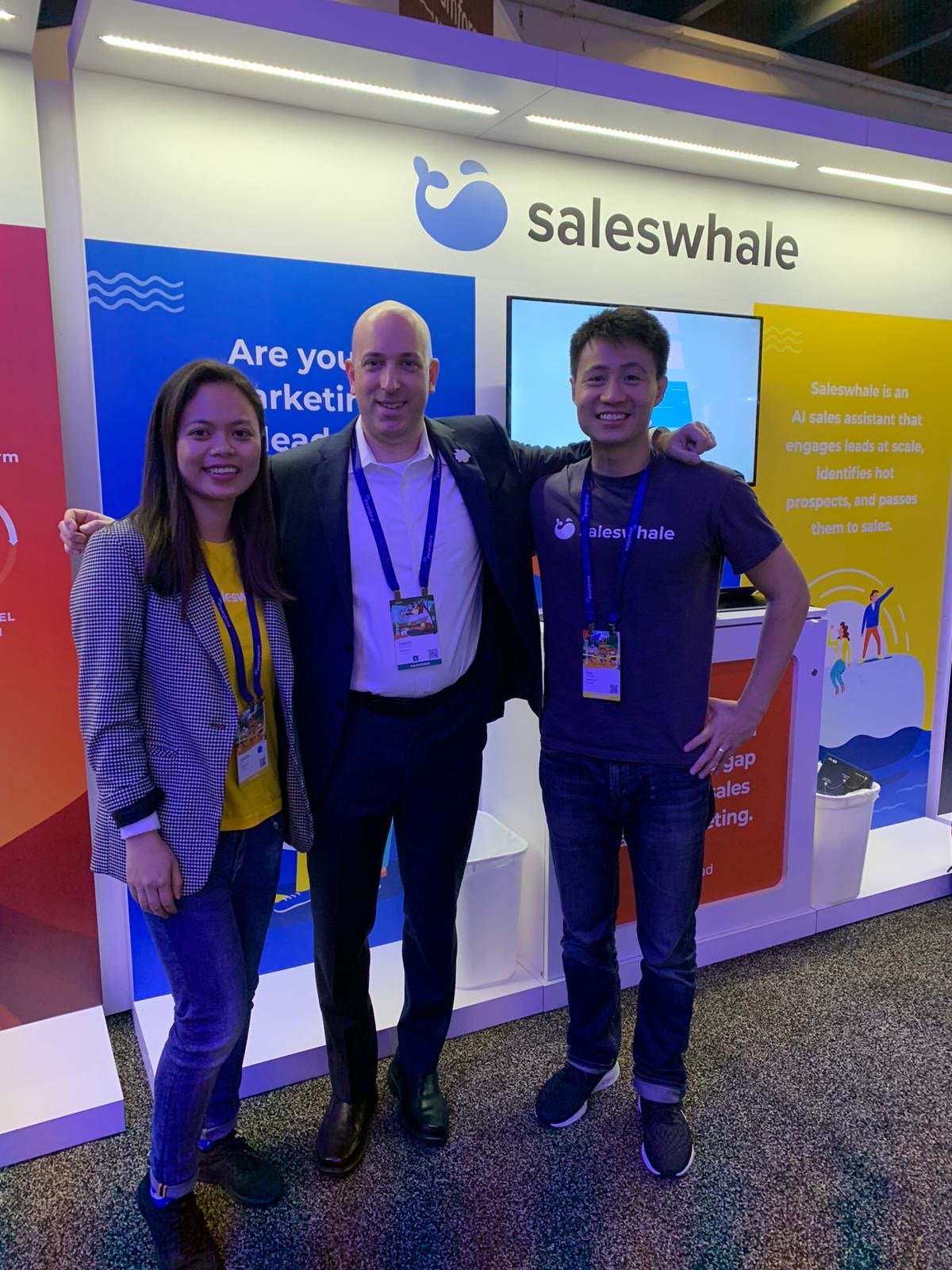 We managed to engage with customers of our competitors, and offered them to test-drive our product at our booth.
After putting up with "old-school enterprise software" for so long, you could almost see the delight in their eyes as they interacted with our demo.
Many of them told us they will be including us in their purchasing process towards the end of their renewal period with the incumbent.
A few of them even wanted to start the process to evaluate our software with their teams immediately after Dreamforce.
We were putting our tiny startup on the map of potential customers.
The thought of making our incumbents sweat, even a little, for their next renewal cycle... instead of enjoying a walk-over like they were accustomed to - was tremendously satisfying.
Soaking in the rest of the Campgrounds
I walked around the Campgrounds when I was off booth-duty.
Major roads between the Moscone buildings were closed-off. Artificial grass was laid over the roads, and bean bags, and picnic tables littered the Campgrounds.
A live band played in the background, and vendors offered free food and drinks in exchange for a badge scan.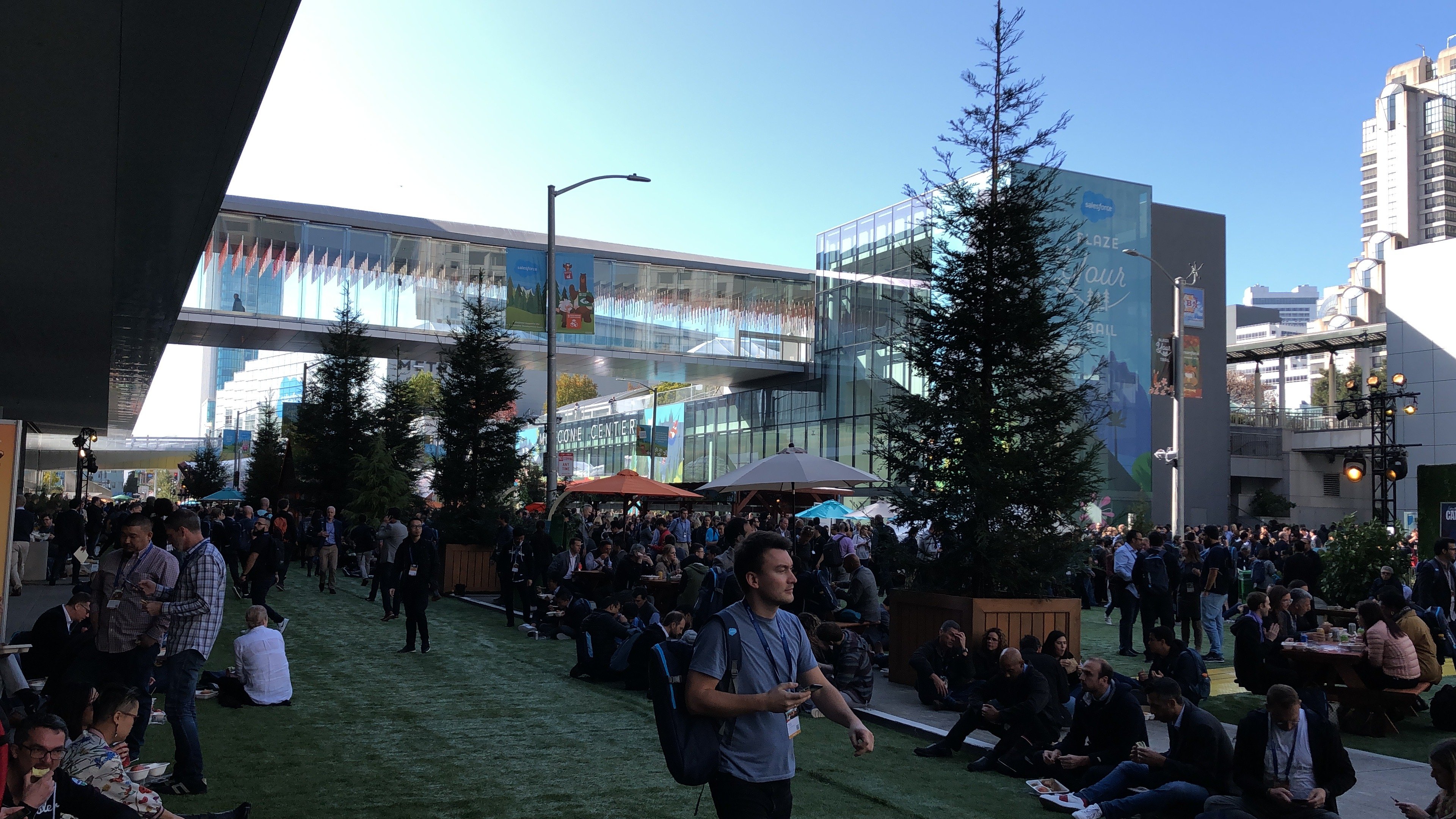 The atmosphere gave me a buzz.
The entire city was transformed into one giant carnival for enterprise software buyers.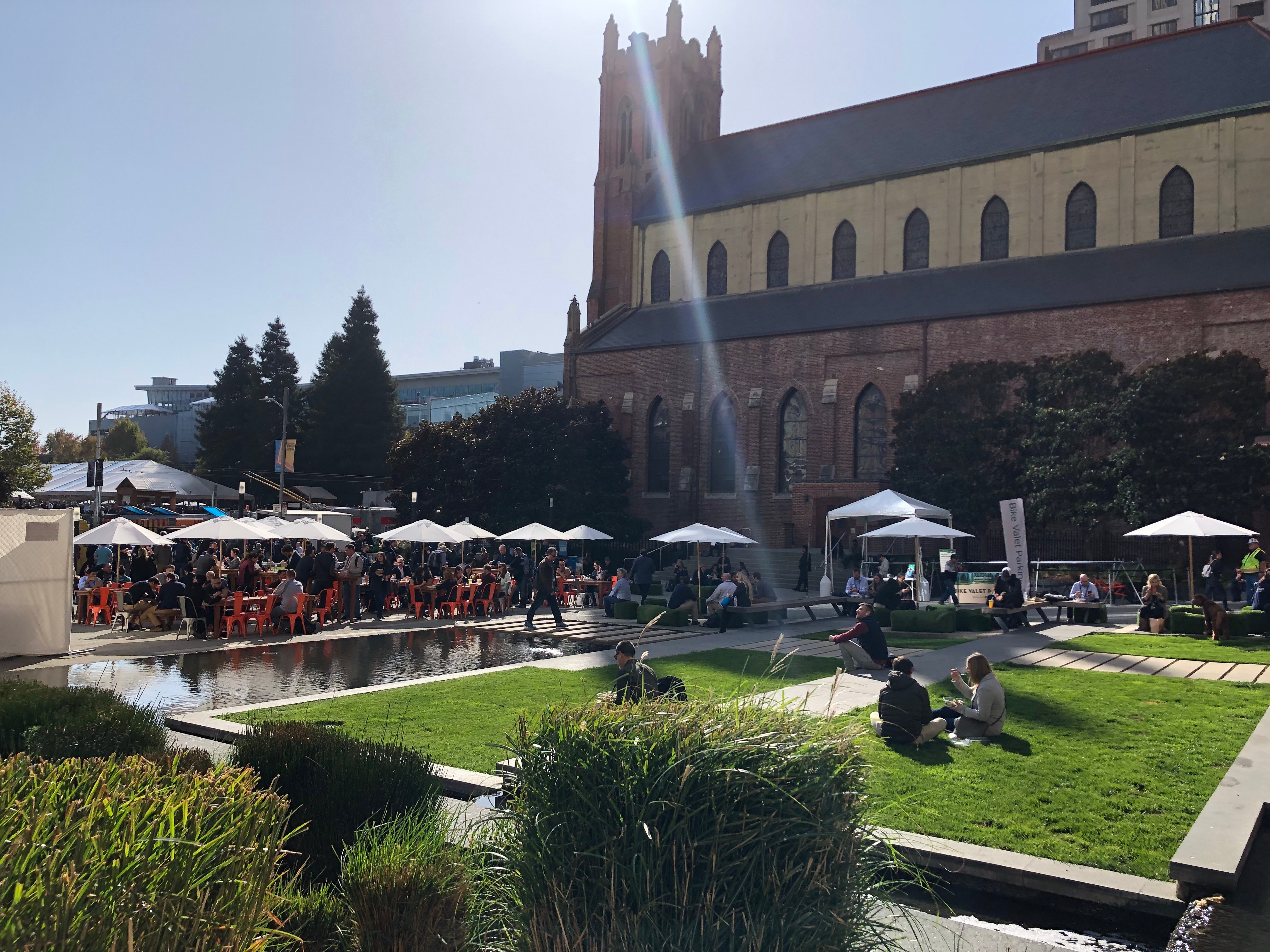 Entire restaurants in the city were booked out by software companies to host customers and prospects.
Dreamforce 2019 was larger in scale and scope than any conference I've ever experienced before. It was surreal.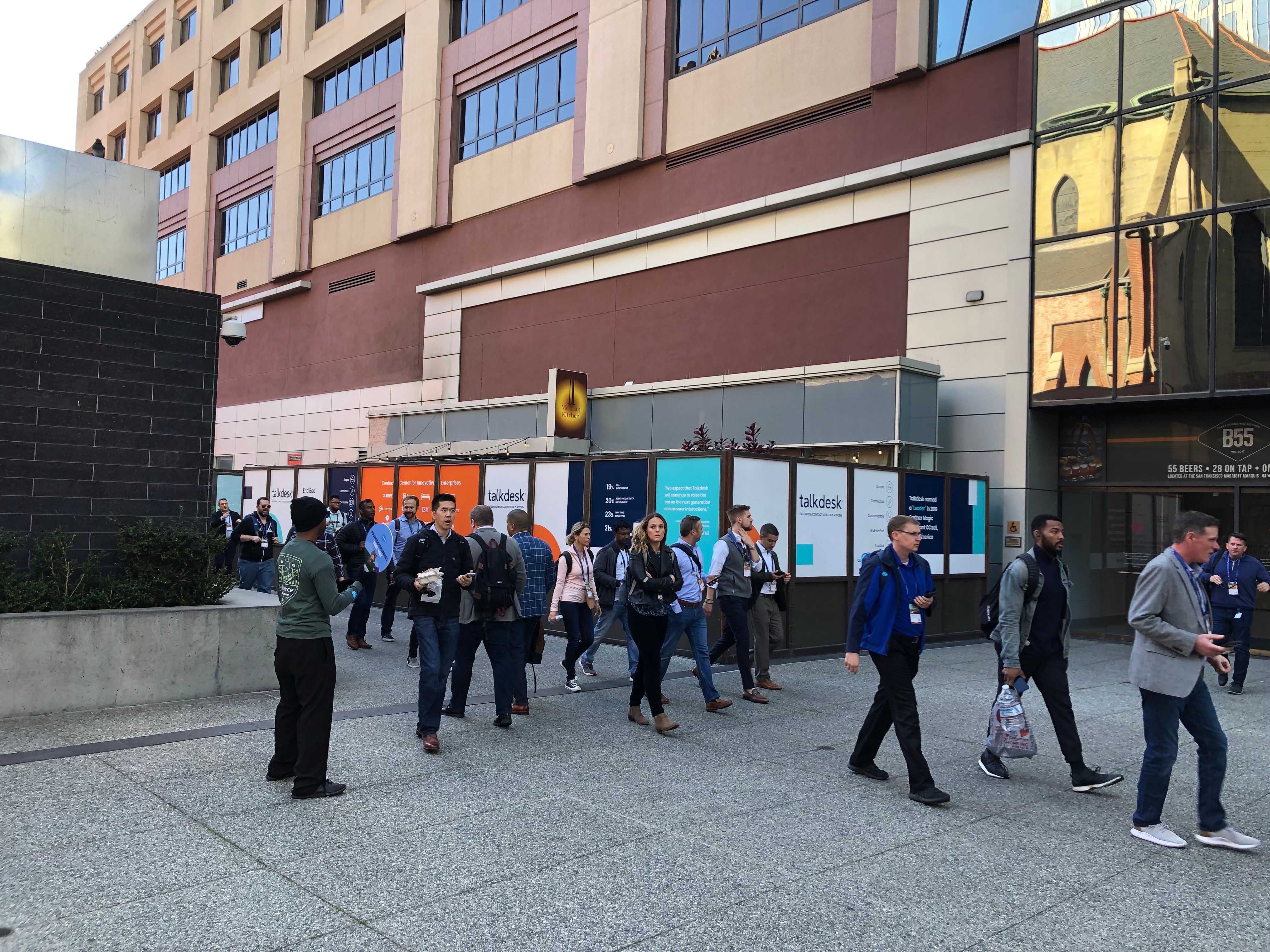 End of the first day
With the dying light, the Campgrounds closed to registered visitors at 6 p.m.
The first day of Dreamforce finally came to an end. We huddled together in the Expo, and did a tally of the number of leads we collected.
255 leads.
On the first day.
This was far beyond what any of us expected. The original target was 100 leads a day - and we exceeded this quota by more than 2 times.
Sam, in his usual cheeky and competitive fashion, went around to ask our fellow booth exhibitors about their haul for the day. Most averaged around 30 - 50 leads for the first day.
Perhaps naively, we were high-fiving each other as we packed up our booths.
The after-party after the after-party
After the Campgrounds closed, the city-wide parties and fringe side-events started.
Many software companies were organizing parties at booked-out pubs and restaurants. Free food, free drinks and free entertainment.
The price of admission? A badge scan, of course.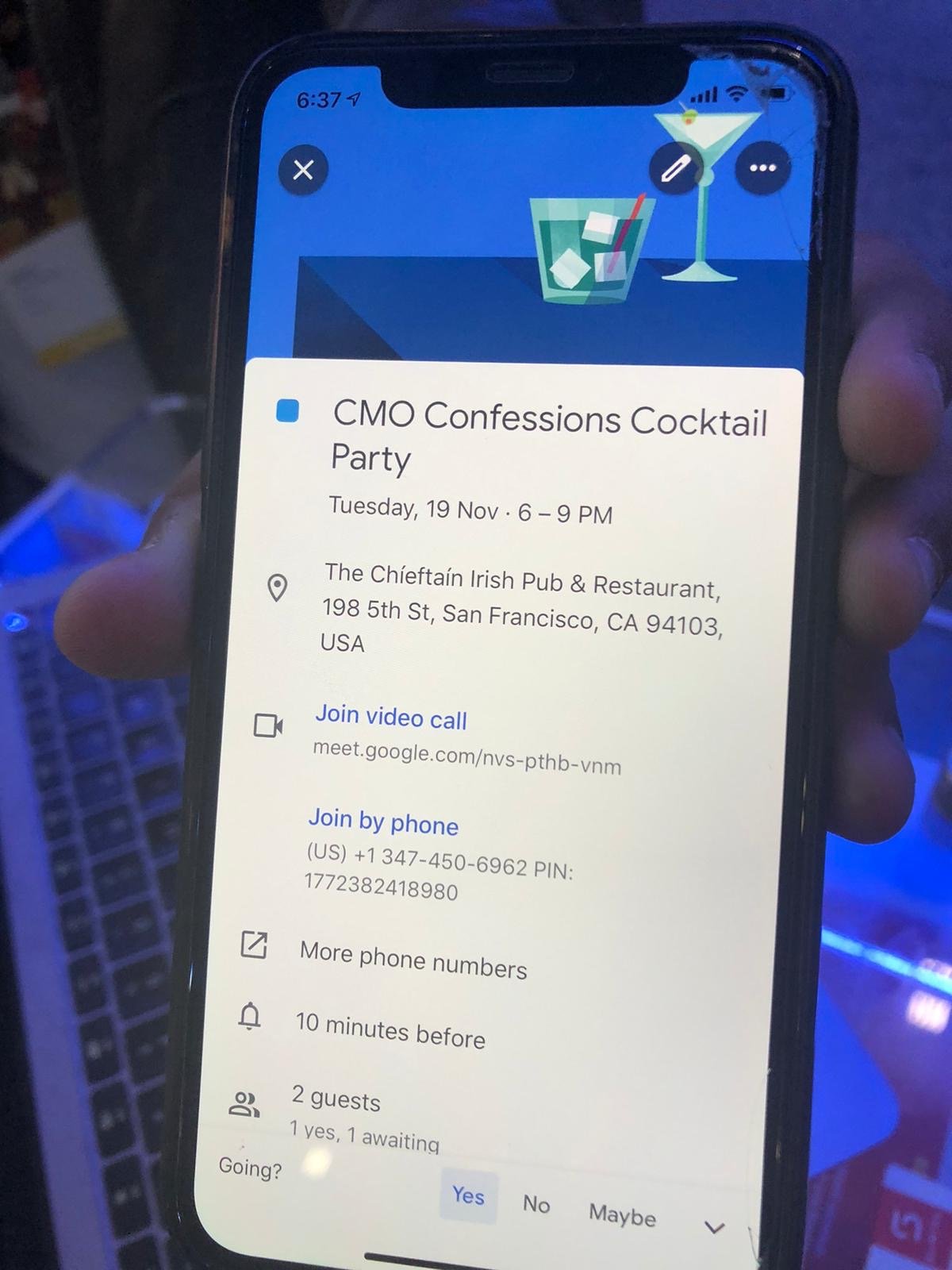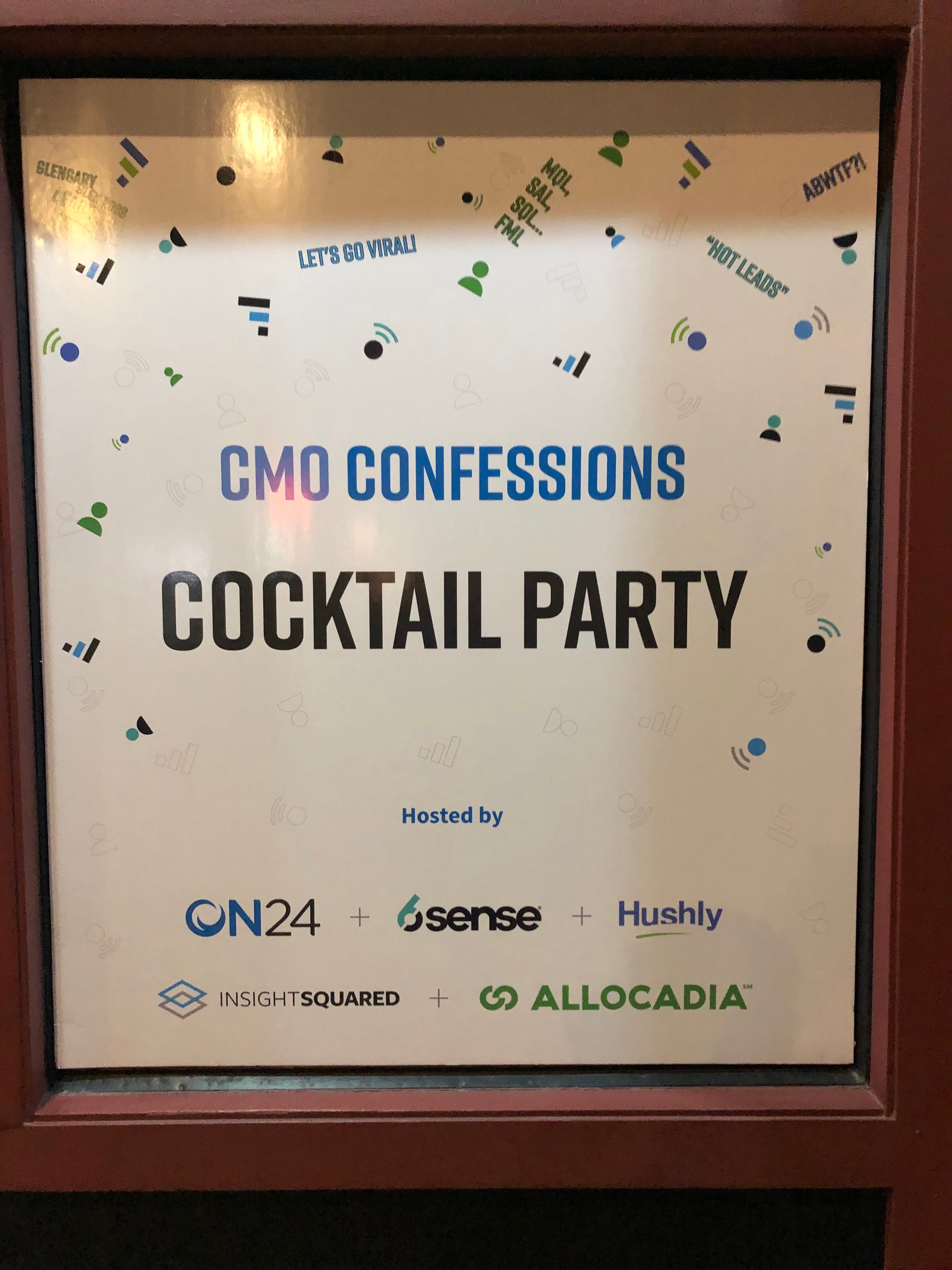 We hopped around from pub to pub.
I remembered having super geeky conversations with new acquaintances about the intricacies of marketing & revenue operations, Salesforce's API, intent-based marketing, best practices in demand generation and sales development, the pitfalls of Marketo versus Pardot...
I was in geek heaven.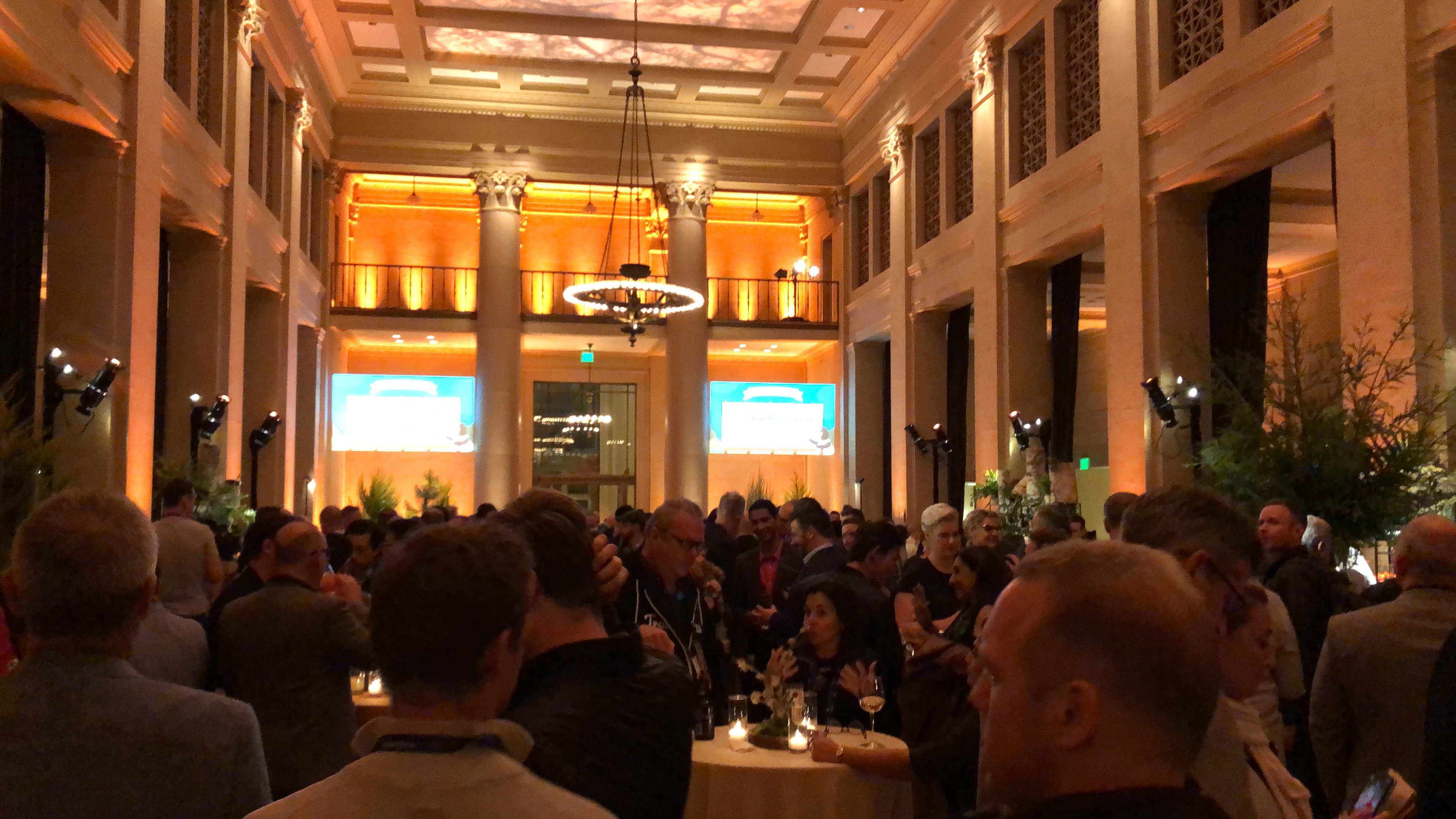 We bounced to Tableau's event at The Masonic... because we heard that they invited Macklemore to perform live!
It was a little weird, but awesome, to attend a live concert that interspersed data analytics and rap lyrics.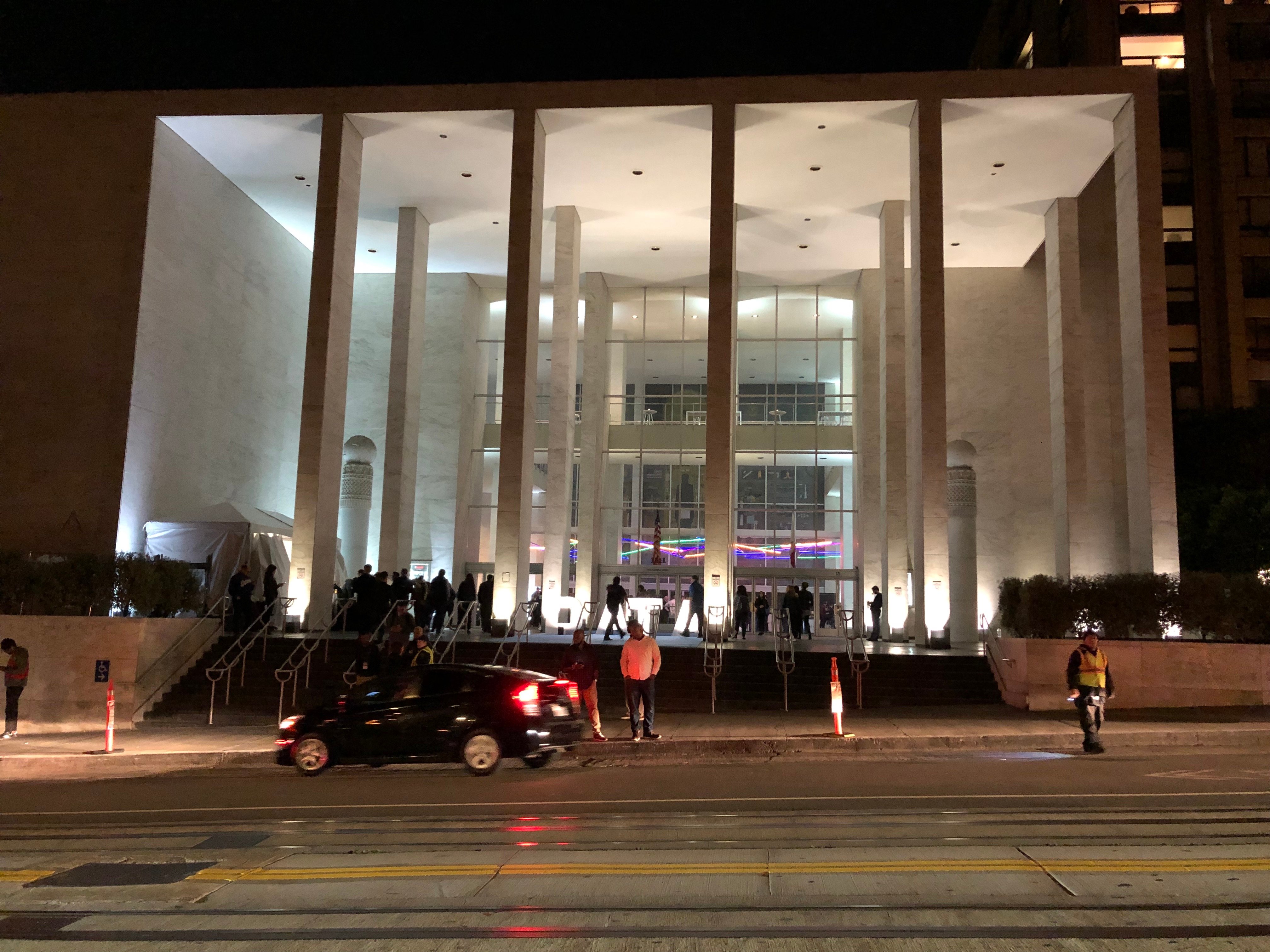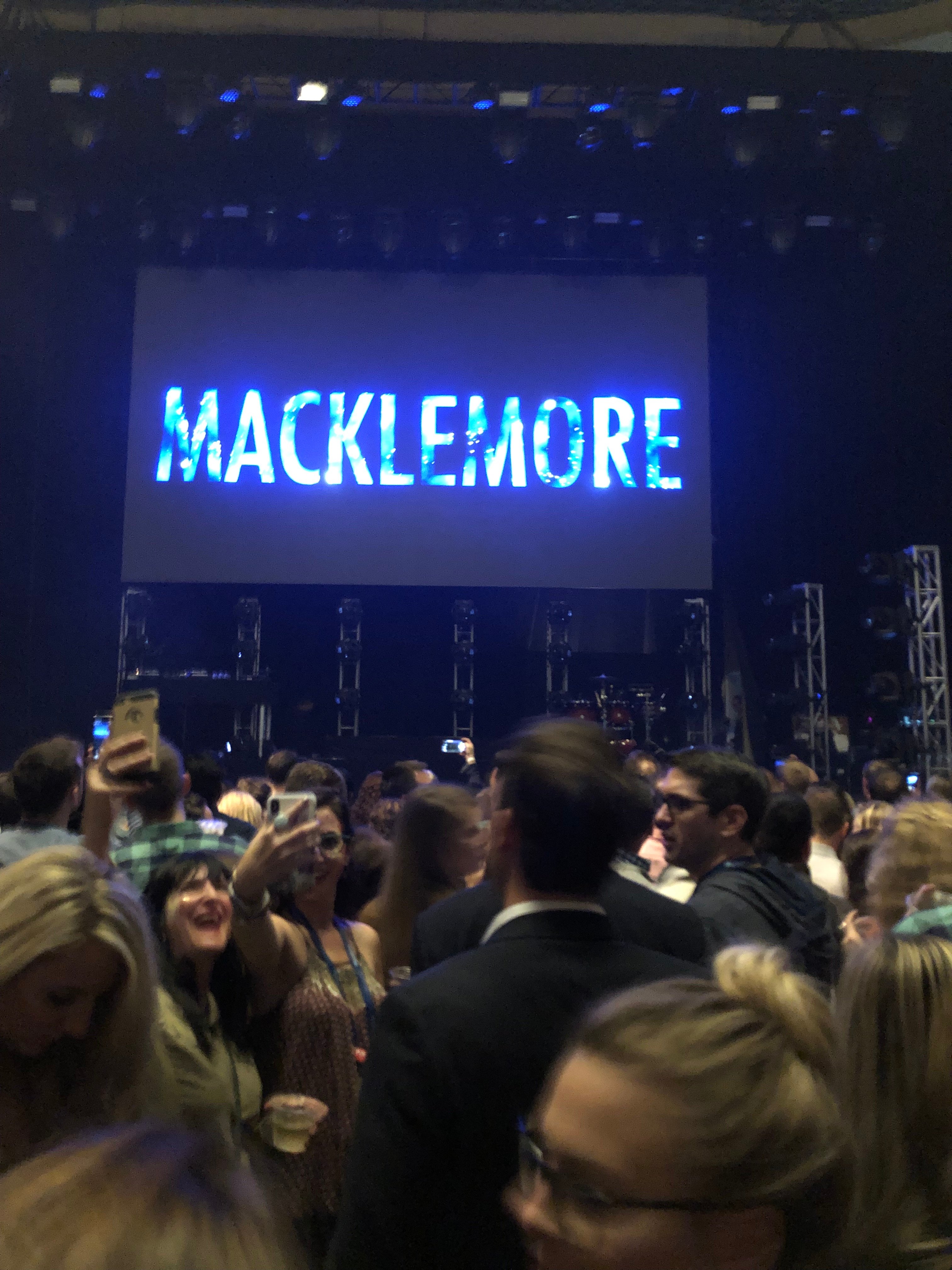 Dreamfest 2019
What is Dreamforce, without the one and only Dreamfest?
This year, Dreamfest was held at Oracle Park - a venue with a capacity of over 41,000 seats - and Fleetwood Mac would be headlining.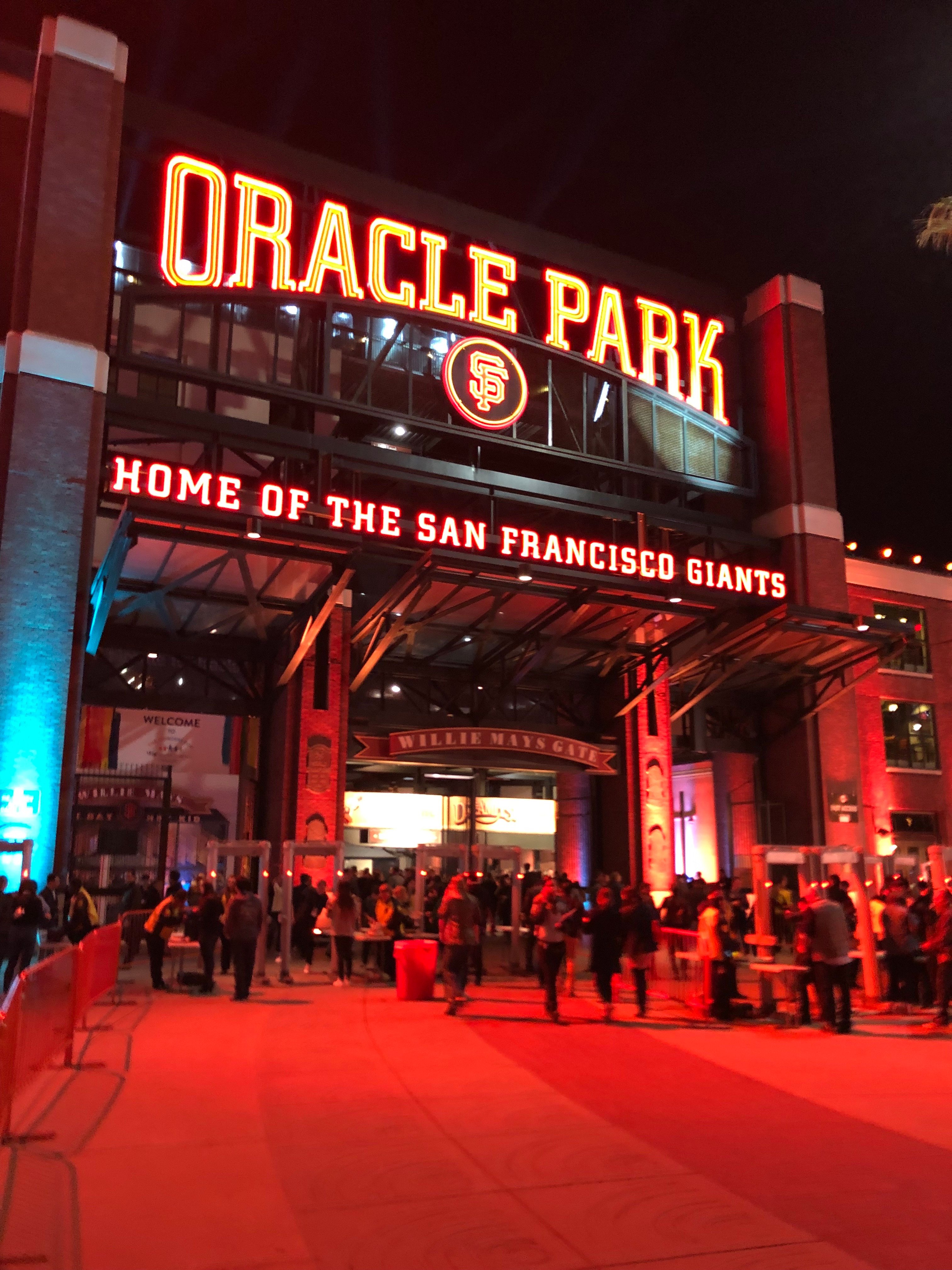 The venue was almost filled to capacity, and the crowd stretched as far as the eye could see.
We grabbed hotdogs, and free beer, and sat in the chilly fall weather waiting for the performance to start.
The atmosphere was electric.
Fleetwood Mac burst on to the scene, and I was captivated by incredible live renditions of "The Chain" and "Free Fallin'".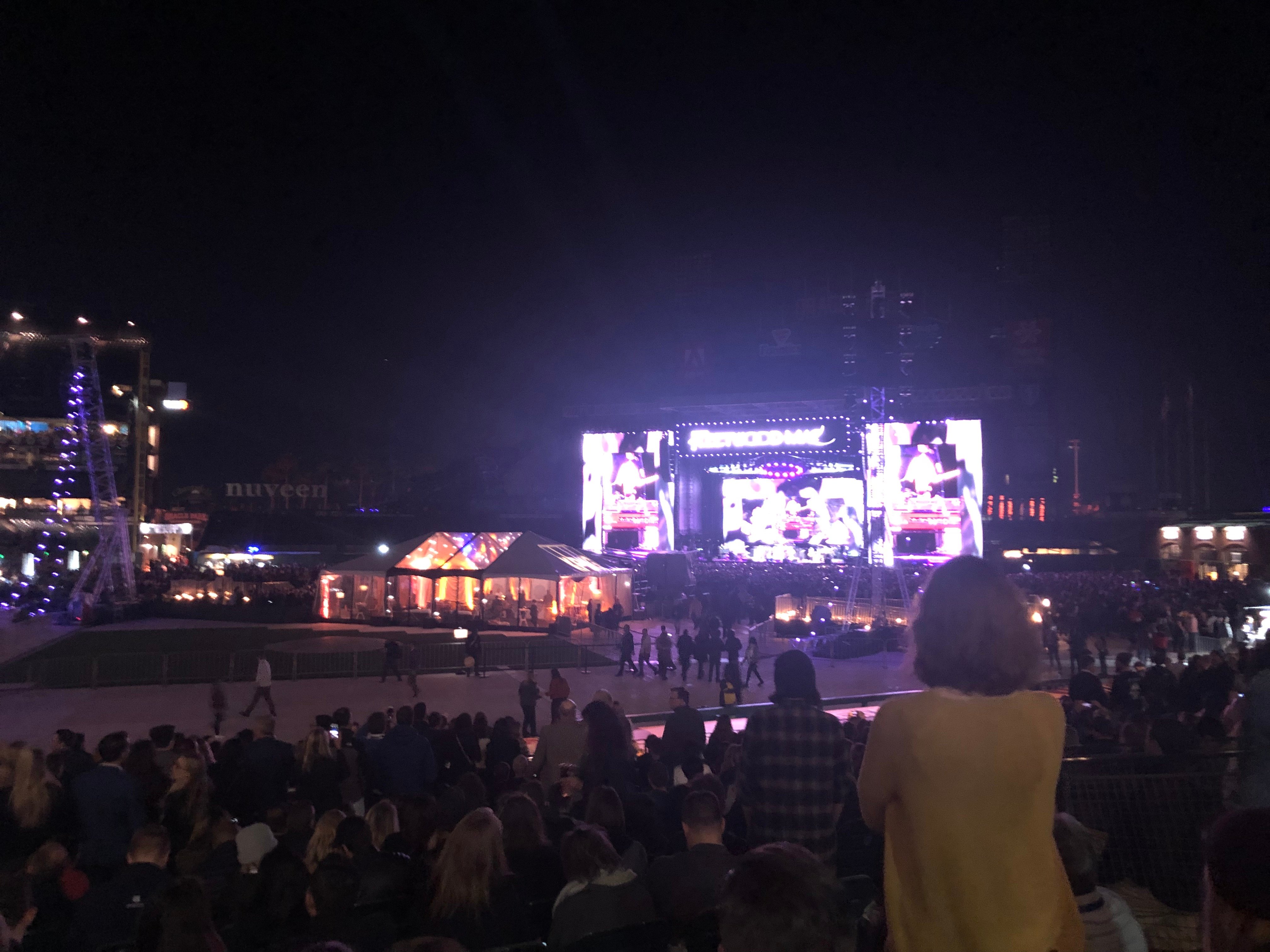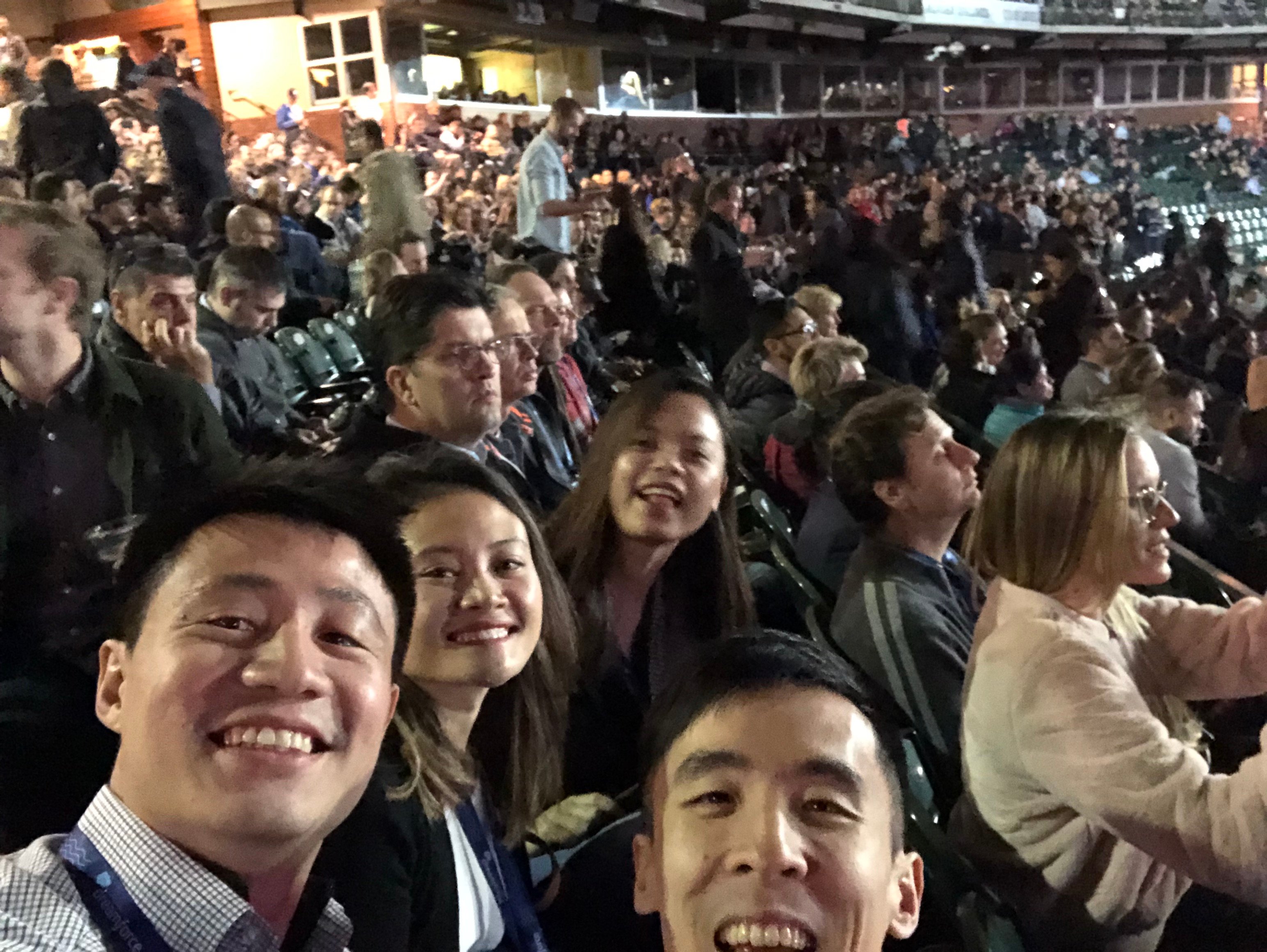 Dreamfest 2019 was a sight to behold.
I feel almost wistful writing this now in the age of COVID - knowing that it will be a while before large-scale live events are allowed to resume.
Dreamforce comes to an end
I wouldn't bore you with the details of the remaining 3 days of Dreamforce.
Basically, the routine for us was -
Wake up really early in the morning to prep the booth;

Do demos from morning till evening (many of us ended up with a hoarse throat at the end of the day);

Party till late into the night;

Rinse and repeat
We did manage to catch a glimpse of Marc Benioff on the last day, though -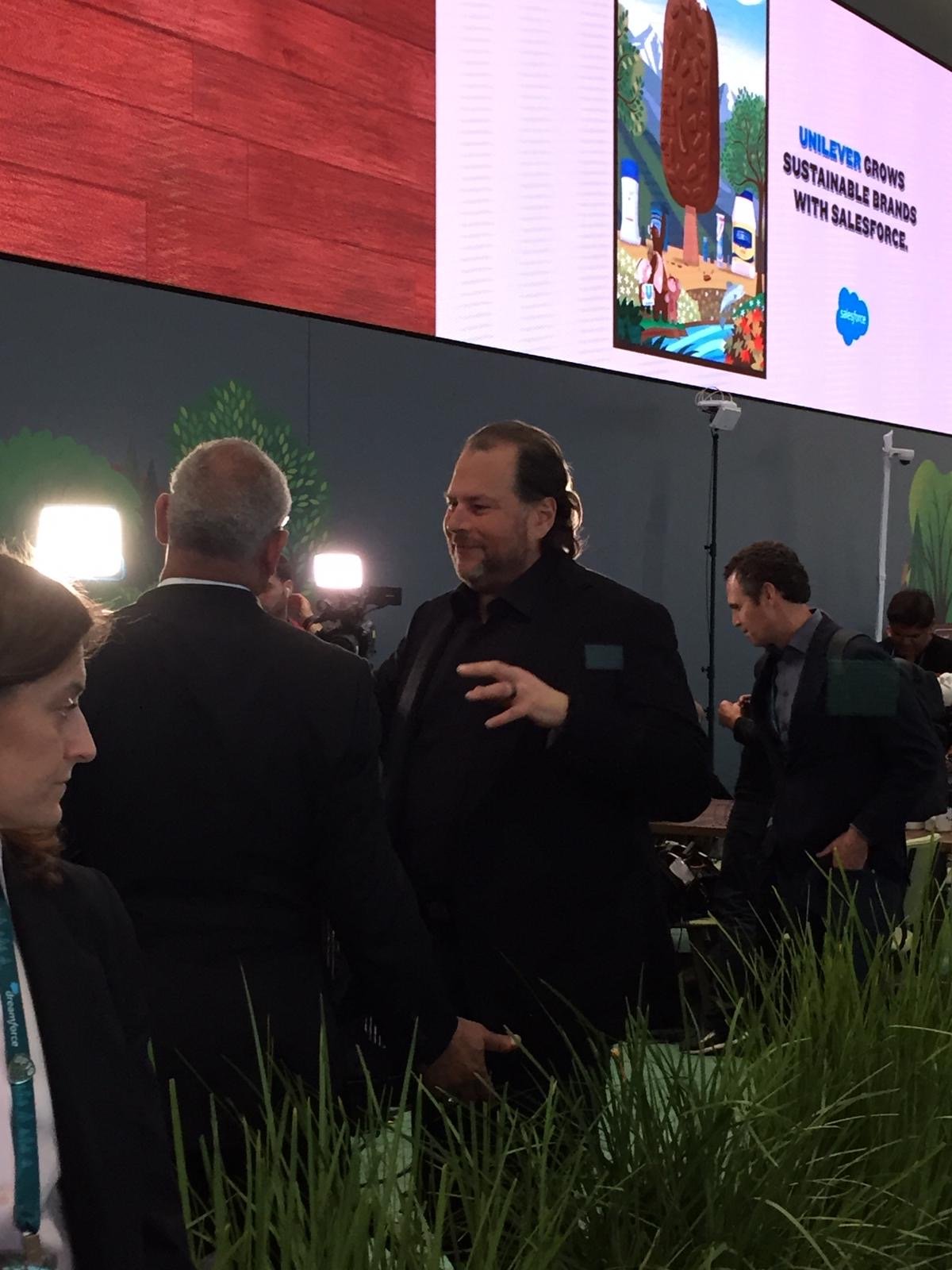 Tallying the count
From a lead generation perspective, Dreamforce 2019 was a blow-out success for us.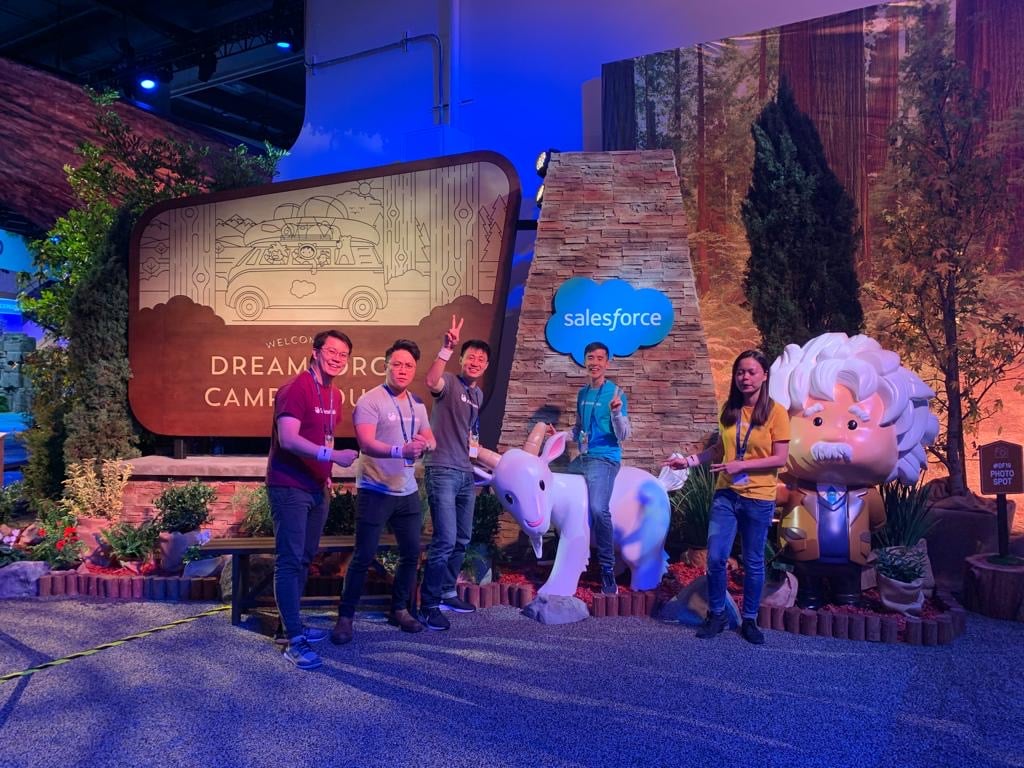 The original goal was to generate 300 leads.
We managed to generate 668 leads in total at the end of the 3 days.
We were all excited to hand this batch of leads to our sales team for them to follow up on after the event (this is where the premonition music would start playing..)
So, what went wrong?
Why were we not able to recoup the cost of our investment?
And what would I have done, if I had the chance to do things all over again?
Stay tuned for the third, and final, instalment of our Dreamforce tale as I conclude this post-mortem.
To be continued...
To be notified when Part III comes out, subscribe to our blog here: