AI assistant | 7 minute read
The Rise of the Enterprise AI Workforce in 2019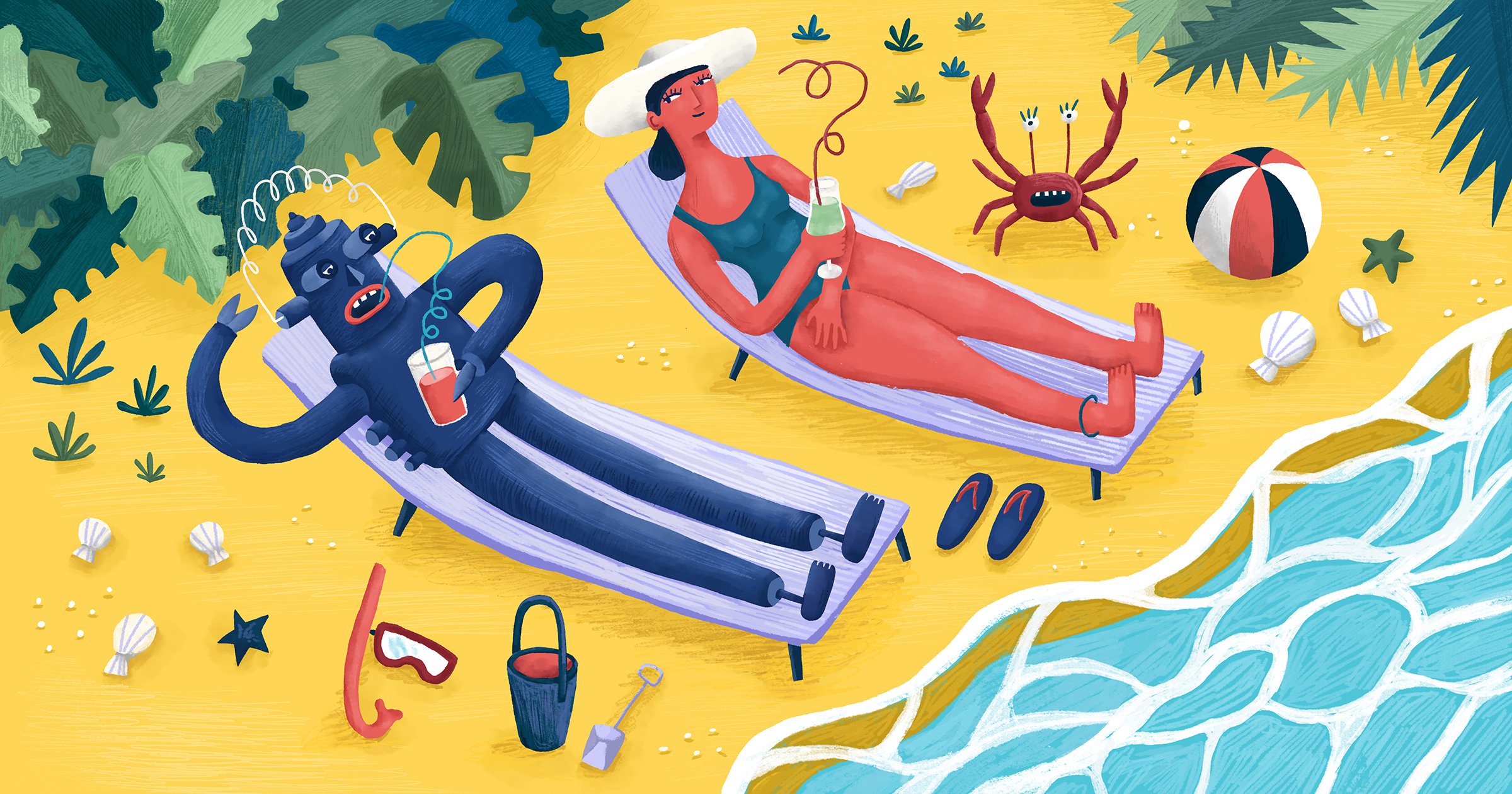 What would the future of work look like in 2019 and beyond? We are entering a new age of enterprise automation fuelled by digital workers, or enterprise AI assistants.
Enterprises are automating an increasing pool of tasks that were previously done by human workers.
Forrester reports that 40 percent of companies will employ artificial intelligent digital workers next year, and roughly 10 percent of all jobs in the U.S. will be eliminated by automation.
By 2021, Forrester predicts, AI digital workers will be doing the equivalent work of nearly 4.3 million humans worldwide.
This will have profound and wide-reaching implications, on not just the future of work, but on what it means to be human as well.
The following questions have been raised by researchers and legislators:
Is AI going to take over our jobs?
Are we going to be obsolete?
How do we ensure the responsible and ethical use of AI in the workplace?
How do we build social safety nets for the displaced?
How do we interact with our new non-human colleagues in the workplace?
Before we get too far ahead of ourselves, it's important to clarify that we are not talking about sentient, general AI workers that are capable of deep philosophical discussions or organizing libertarian ideal revolts.
These only exist in the realm of science fiction.
Well, for now anyway.
What's real is narrow, pragmatic AI
What's real, however, is narrow, pragmatic AI that augments human intelligence, automates decisions and processes, and personalizes customer experiences.
Many researchers believe that enterprise automation may drive up unemployment rates in the short-term. The low-hanging fruit, such as rote tasks and jobs requiring low digital skills will be the first to be automated away.
But in the long-run, enterprise automation will contribute to a better employee experience, by taking rote tasks off human workers' day to day work.
Human teams will be able to focus more on innovative, creative, and high impact work, while AI helps to automate mundane and repetitive tasks.
Let's look at one such technology trending right now: Robotic Process Automation (RPA).
What is Robotic Process Automation?
Robotic Process Automation (RPA) involves the automation of transactional, rules-based tasks.
RPA robots are capable of interpreting and triggering responses, and communicating with other systems, to perform a vast variety of repetitive tasks. In the business context, they free employees up, so that employees can focus on higher value tasks like strategy, planning, and creative work.
Life without RPA
Imagine that you have to submit daily P&L reports, consisting of more than a dozen individual reports.
These reports are reformatted representations of raw data.
The other departments in the company must import these raw data into Excel spreadsheets or legacy systems.
The compiled reports also have to be manually edited and combined for submission to the front office for a final review, before delivery to the company's home office for analysis and discussion.
This process is inefficient, time-consuming, and boring. Also, the manual composition of multiple reports can cause many errors and inaccuracies in the final P&L report.
Life with RPA
Imagine now that that you have a robot that is triggered each work day.
It automatically populates the report data, validates it, and generates the final report. The robot then emails these reports to the front office for review, before uploading them directly into the head office's web application.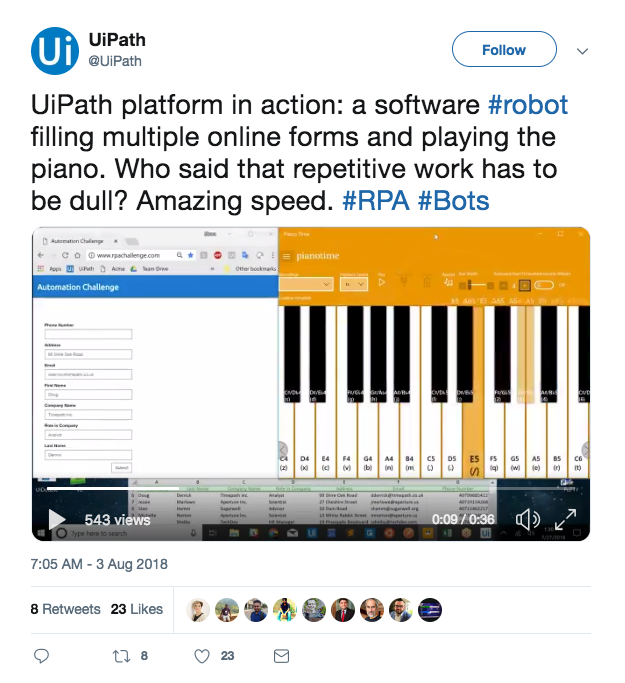 Behold, the power of a UiPath robot!
This is not science fiction. It's actual AI technology that has already been implemented in enterprises.
Transformation isn't always sexy
Data entry, updating legacy systems / ERP, and invoice reconciliation may sound pedestrian.
But think about the millions of human workers worldwide who spend hundreds of hours doing this, day in and out. Think about how many man-hours could be saved if RPA took over all that work.
This is why a startup called UiPath was able to raise $225 million at a $3 billion valuation after growing to $100M in annual recurring revenue in just 21 months.
One of UiPath's investors, Rich Wong, a general partner at Accel, proclaims that UiPath is just the beginning of a new wave of AI technologies deployed in the workplace.
This is the beginning of a wave of AI technologies that will proliferate across the economy in the next decade.
UiPath was able to grow so explosively because the appetite for enterprise automation today is huge. They are working with customers such as NASA, Airbus, Hewlett-Packard, and many more.
Enterprise automation startups like UiPath are taking off today, in spite of talks of the next AI winter, because these companies are offering solutions that drive real business value.
AI-based automation might just be one of the most significant shifts in the enterprise world over the next decade.
The Next Big Shift
Box's CEO, Aaron Levie, argues that AI could be as big a shift in our working lives as the PC revolution.
We are finally at a point where computers can do things on our behalf, says Levie, who purports that this shift could change everything about how we interact with technology at work, creating huge opportunities for those with the foresight to invest in AI now.
We, at Saleswhale, believe this too. Our vision is that humans will work alongside bots & other AI employees in the future. Every company will have an AI workforce, just like how PCs are ubiquitous in offices today.
Second-order return on AI investment
The compelling reason for companies to invest in digital employees go beyond return on investment.
Automating your enterprise drives productivity, and allows you to reduce your reliance on headcount. This allows you to pay your people higher, give them more benefits, and reduces turnover.
AI and automation increase second-order efficiencies, which enable organizations to grow without adding additional headcount and management complexity.
The main benefit of having narrow, specialized AI take care of chores that no one misses doing, is that you free up the humans who used to do those mundane tasks to do more valuable work.
Senior Vice President, Business Development of Randstad Sourceright, Blaise Habgood was able to free up his business development team to do higher-order work for their clients by leveraging on Saleswhale's AI sales assistant:
Saleswhale has effectively added a team of sales people to Randstad Sourceright. Its clever marketing has increased our client engagement with new and existing contacts, allowing my Senior Business Developers to spend more time creating great solutions for our clients.
By having AI and humans work together, and play to the strengths of each other, Randstad was able to drive higher productivity and employee happiness.
Interested in using AI to get more sales-ready leads? Request a demo of our AI sales assistant today!
But what about us humans?
The New York Times ran an exposé recently on the hidden automation agenda of corporate executives and CEOs.
In public, many of these executives ruminate about the negative repercussions of AI and automation. But in private settings, they are racing to automate their workforce to stay ahead of the competition, with little consideration for the impact on their workers.
People are looking to achieve very big numbers," said Mohit Joshi, the president of Infosys, a technology and consulting firm that helps other businesses automate their operations. "Earlier they had incremental, 5 to 10 percent goals in reducing their work force. Now they're saying, 'Why can't we do it with 1 percent of the people we have?'
In the age of A.O.C, it's understandable how the push for automation creates greater societal stratification, and quite possibly exacerbate inequality.
Yet, there is no stopping the freight train of automation bearing down on humanity, powered by corporate shareholders and their executives' fear of disruption from competitors.
The choice isn't between automation and non-automation," said Erik Brynjolfsson, the director of M.I.T.'s Initiative on the Digital Economy. "It's between whether you use the technology in a way that creates shared prosperity, or more concentration of wealth."
Through the looking glass
Ultimately, each society will have to think about how they will provide a social safety net for their displaced workers.
In an utopian scenario, maybe one day, when automation and artificial intelligent workers displace human workers on an unprecedented scale, most of us will subsist on universal basic income, and we can collectively reap the benefits of increased prosperity and productivity.
If there's anything to worry about then, it's probably a loss of sense of purpose. Research by Gallup shows that 55% of workers get their sense of identity from their jobs.
If jobs get automated away, then what else will give our lives meaning?
Something to ponder, as we hurtle into an AI-driven future.
Originally published on 24 January 2019, updated on 18 December 2019