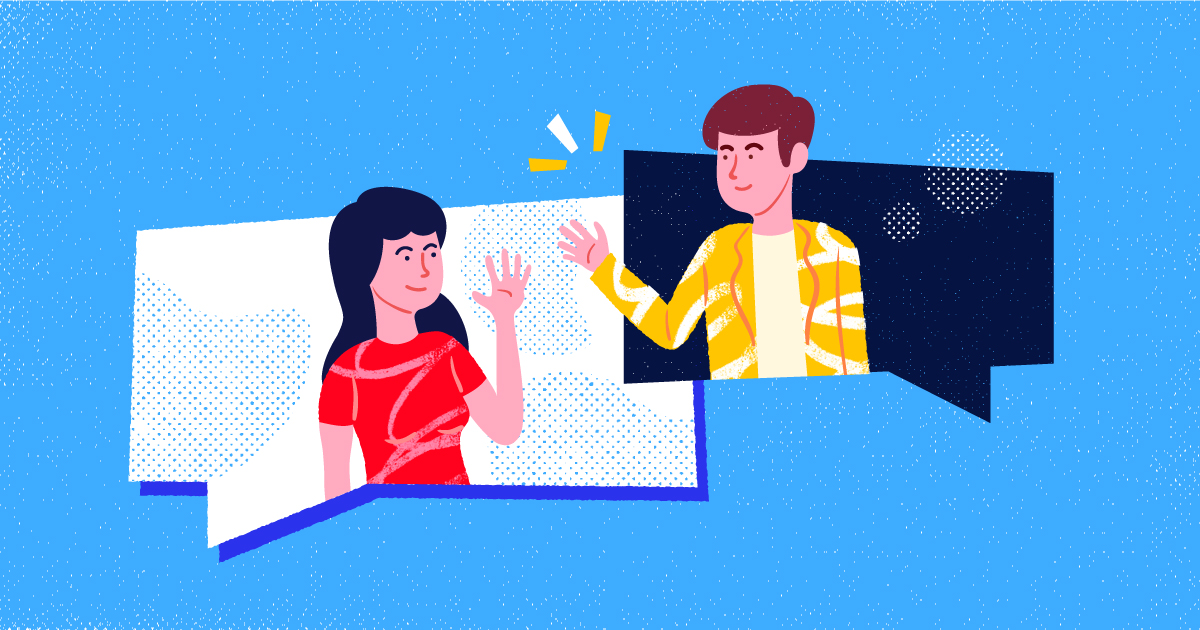 A few months ago, I decided to reach out personally to a few "stale leads" in our database to audit our processes and manually check if our automation systems were functioning normally.
Imagine my surprise when I received more than a handful of email responses like looked like this -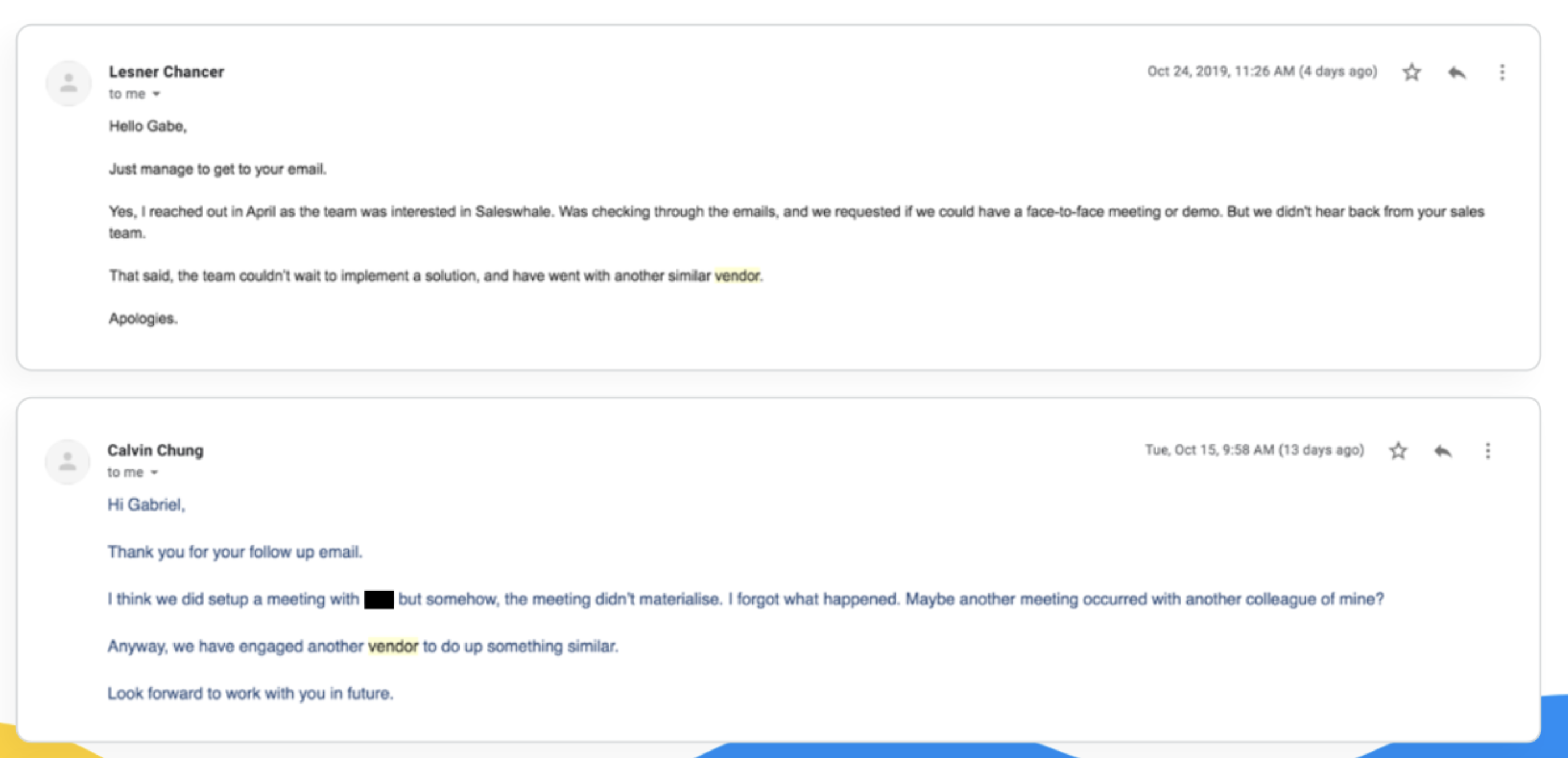 In case you can't read it clearly... the first email:
"Yes, I reached out in April as the team was interested in Saleswhale. Was checking through the emails, and we requested if we could have a face-to-face meeting or demo. But we didn't hear back from your sales team.
That said, the team couldn't wait to implement a solution, and have went with another similar vendor."
And, the next email:
"I think we did setup a meeting with [redacted] but somehow, the meeting didn't materialise. I forgot what happened. Maybe another meeting occurred with another colleague of mine?
Anyway, we have engaged another vendor to do up something similar."
Ouch.
A series of unfortunate events
Here's what happened:
1. An inbound lead came into our funnel, got a meeting, and was passed off to a Sales Rep.
2. Our platform seemed to be a great fit for the prospect, but they weren't able to schedule a meeting with the Sales Rep for whatever reason (it happens!).
3. Four months later, we learned that they purchased from a competitor, and we totally missed the boat.
We discussed this internally with the Sales team and Marketing team.
There were lots of frustration, a hint of finger-pointing - but ultimately no tractable way (which doesn't require tons of admin work) to solve it.
The conundrum
I reached out to a few friends who are marketing and sales leaders, and asked them, "Am I crazy, or incompetent, or does this happen to you guys as well?"
To my relief, they validated that this experience was not isolated to us. Lots of marketing and sales teams were also stuck in this same conundrum. And it's a huge frustration.
The nurture gap
There's even a term coined for it. It's called the "nurture gap".
You see, most companies make nurture (following up with leads) everyone's responsibility.
The nurture gap is a hole in the sales funnel between the marketing team and the sales teams, at the moment of lead hand-off.
And the reason why it's such a tough problem to solve: diffusion of responsibility. Or in simpler terms, when everybody owns something, nobody owns it. And nobody has a direct interest in improving the process.
Marketing Leader: We managed to get the lead into the funnel, so we did our part.
Sales Rep: They didn't respond to our initial outreach, which meant they were not ready to buy, and we have higher-value things to do than to chase down stale and dormant leads.
Fair enough.
Marketing is not equipped to nurture leads in a 1-to-1, human-like manner, to adequately break this cycle. Sales teams are able to do it, but they are too expensive, too busy, and too unwilling, to spend time on anything other than chasing down hot leads and closing open deals. Well, the good sales reps who are good at prioritisation and focus, anyways.
It's all fair. But.
This seemed crazy to me.
After decades of advancement in marketing technology, and sales processes, we are still stuck with an archaic yet intractable problem.
This is where I decided to do something about it.
Re-imagining a solution to the nurture gap
We spun up a new Innovation product feature team, and tasked them with doing the necessary user research and interviews to scope out the problem, and imagine how an ideal, automated solution to this problem could look like.
The result? A new Saleswhale product capability called Reveal.
Reveal enables marketing and sales teams to get full visibility into lead outcomes. Combined with our core platform, which automates lead engagement, qualification and conversion at scale, we were able to prevent sales opportunities from slipping through the cracks again.
It's a really simple mechanism, but extremely tedious and laborious to do manually (trust me, I tried!)
1. Saleswhale reconciles dormant leads by enumerating through each of the Sales Reps calendars. We are able to quickly automatically filter out qualified leads which didn't have meetings scheduled, versus those with meetings booked.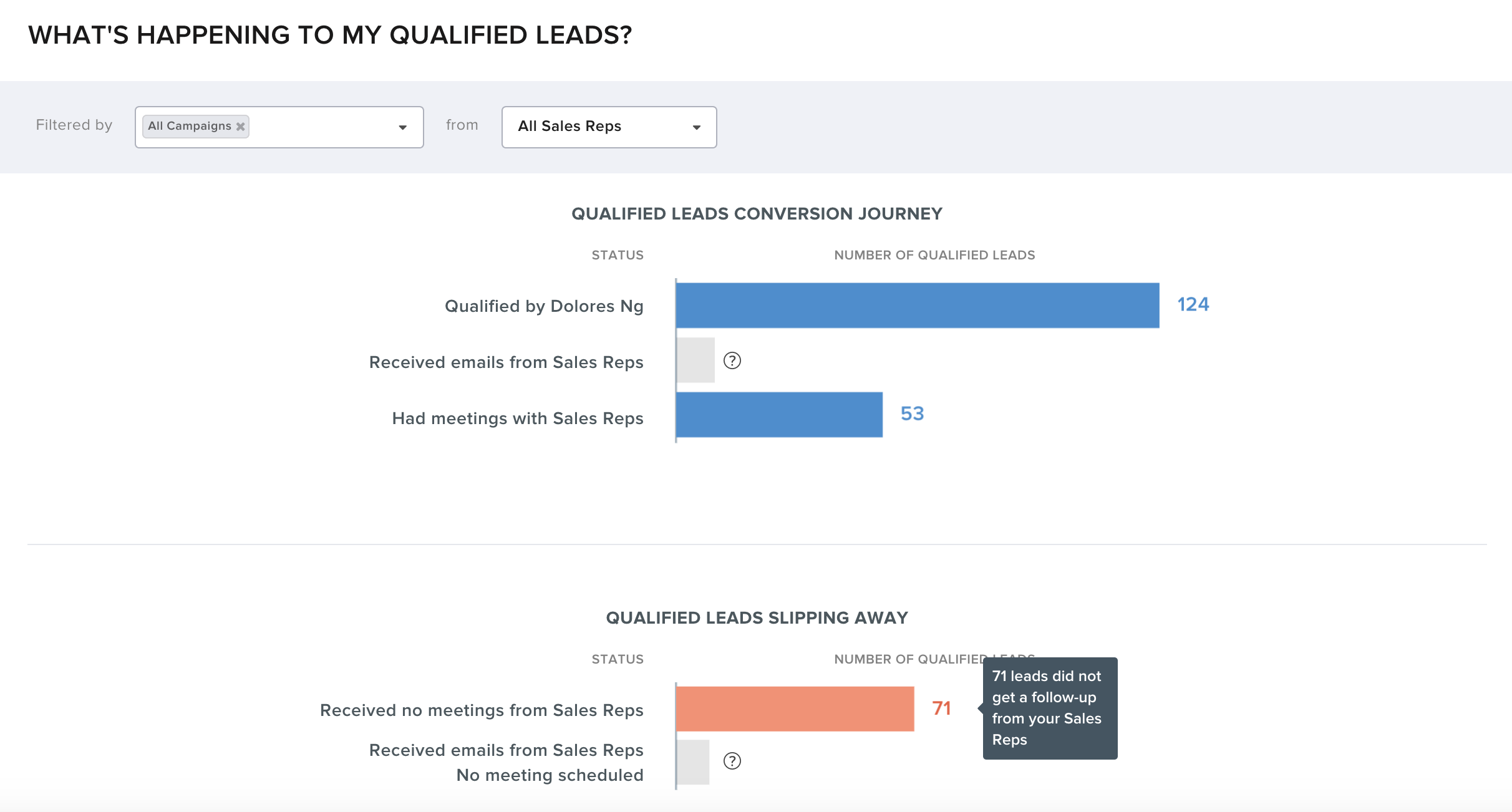 2. We were able to drill into each Sales Rep, to see the individual distribution.

3. We were able to drill in again to see exactly which leads received no follow-ups, and when was the last activity.

4. And lastly, schedule automated nudges to the Sales Reps to remind them to follow up...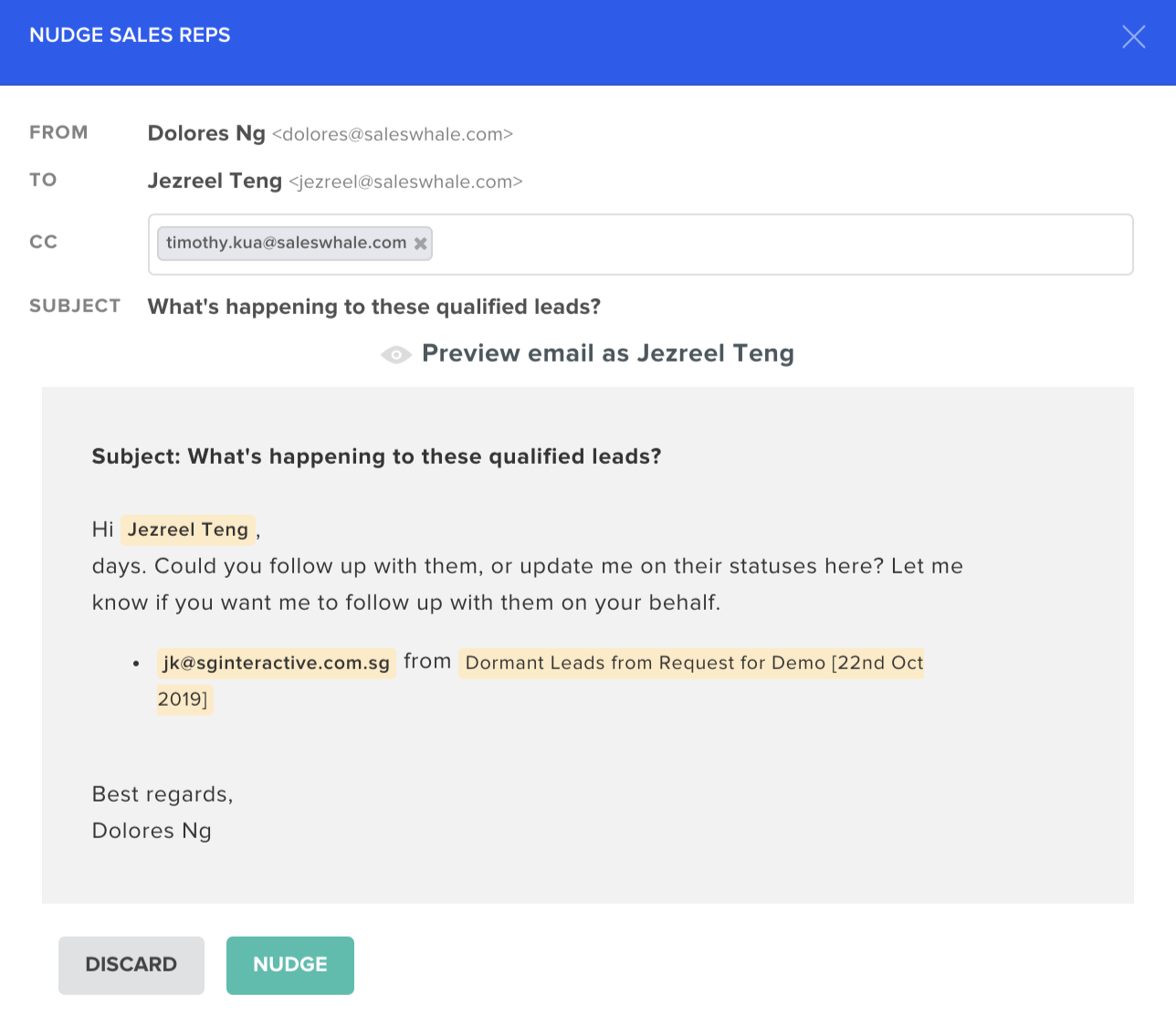 A pretty straightforward solution (with some clever engineering behind the hood).
We rolled it out internally to our sales teams to try it out.
Guess what - by the end of our internal rollout, our sales reps LOVED IT!
Turns out that missing out on hot opportunities costed them money too; and they were glad for an intelligent, automated solution to remind them to follow up on qualified leads.
Conclusion
The world of marketing and sales is changing fast, due to AI and automation. And as revenue leaders, we must continue to innovate and evolve.
By leveraging the latest automation technology to drive more efficiencies and reduce laborious work for our sales and marketing teams, we were able to drive 1:1 follow-ups and bridge the "nurture gap" across large amounts of leads that would otherwise slip through the cracks.
If you are a marketing leader, sales leader, or revenue operations professional that is interested to find out more, check Reveal out here.