Use Cases | 10 minute read
How to use Zoom webinar polls to drive more sales meetings with Saleswhale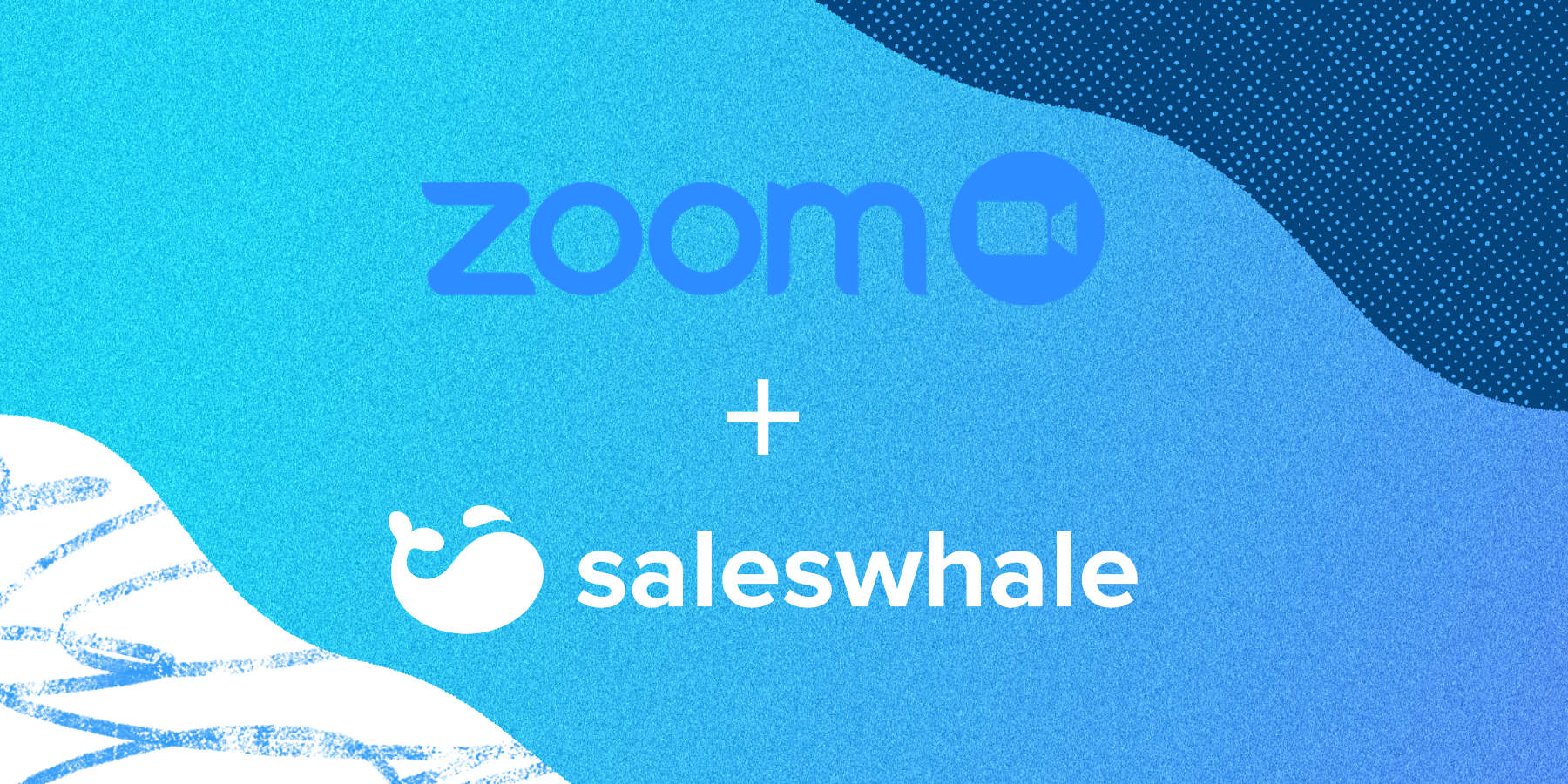 One of the most popular use cases for Saleswhale is post-webinar follow ups.
Unfortunately, it's incredibly easy to send the same staid, ineffective messaging to all your webinar attendees.
In this tutorial, I will show you how to use Zoom webinar polls, Saleswhale, and Salesforce (optional) to optimally convert webinar and virtual event attendees into sales-ready meetings.
Some of our customers have seen webinar attendee to sales meeting rates as high as 18% (!) by following this playbook.
Let's dive in.
Contents
Introduction
The whole premise of this use case is to segment your webinar attendees beyond firmographic and persona signals.
You want to tease out your prospects' pain points and proximate intent, so you can tailor their Saleswhale lead journey.
Why segment your leads?
Marketers generate 760% more revenue from segmented email campaigns. [1] You want to make sure that you deliver the right message, to the right audience, at the right time.
How to use webinar polls to segment leads
You want to run at least two polls in your Zoom webinars meant to generate demand.
A pain-point gauge poll

A proximate intent poll
Pain-point gauge poll
The goal of the pain-point gauge poll is to allow you to map the value proposition of your product/service to the pain-points of your attendees.
For example, if you were a fraud prevention software vendor, you can set up the poll as such:
What is your top fraud prevention challenge in 2021?
Reducing chargebacks

Promotion abuse

Legitimate

customers getting falsely declined

Increase in account takeover attacks (ATO)
Proximate intent poll
The goal of the proximate intent poll is to subtly look out for leads with buying intent at the moment.
An example of such a poll, usually deployed towards the end of the webinar, looks as such:
Is getting better at identifying legitimate buyers from fraudsters a strategic priority in 2021?
Setting up your webinar polls in Zoom
You can create the polls in Zoom under Webinars -> My Webinars -> Your Webinar -> Polls/Survey at the bottom of the page.

Click on Add at the bottom-right of the screen, and you can create your polls. Do not check the Anonymous? check box, as this would redact the names and emails of the participants.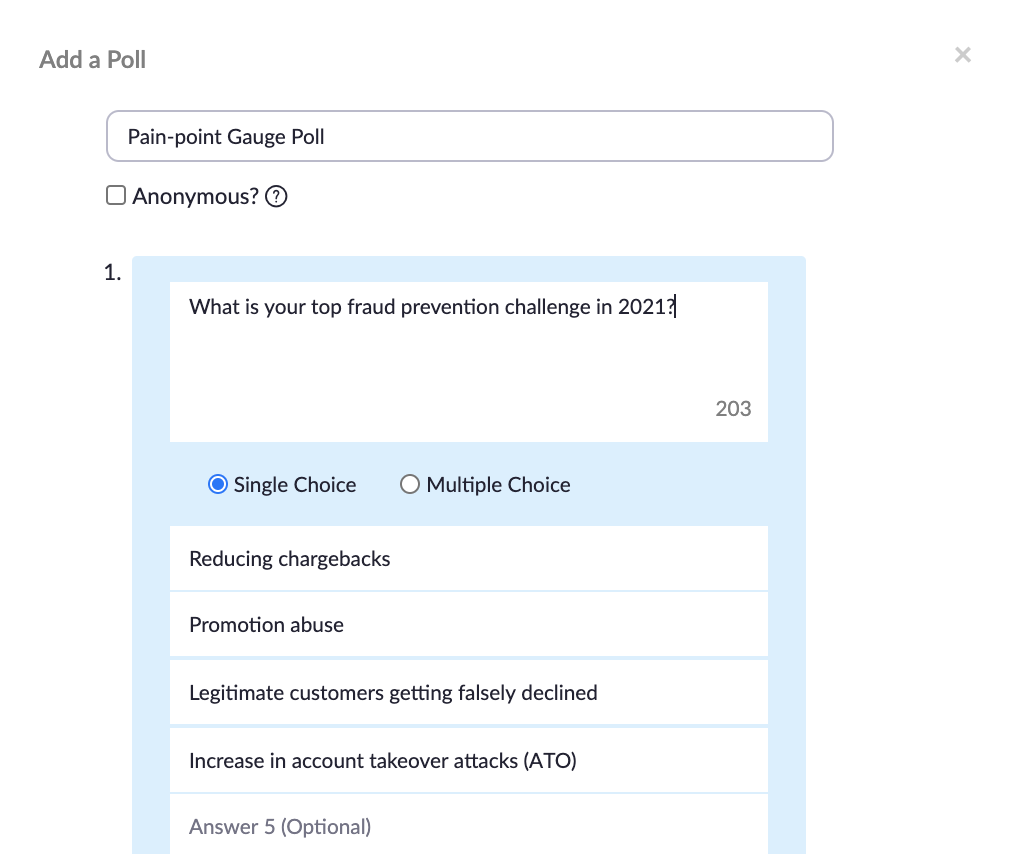 Launching your polls during the webinar
You can launch your polls during the webinar by clicking on Polling at the bottom, and then Launch Poll.
You can select the relevant poll the launch using the arrows next to the poll name.
We recommend launching the pain-point gauge poll within the first 10 minutes of the webinar, and the proximate intent poll towards the last 10 minutes of the webinar.
Downloading a report of the poll results
You can download the poll results as a CSV file under Account Management -> Reports in Zoom.
In a separate post, I will share with you on how you can automate the process of integrating your poll results with Saleswhale via Zapier.
Putting it into context
Here's a visualization of the first part of your lead journey for this use case: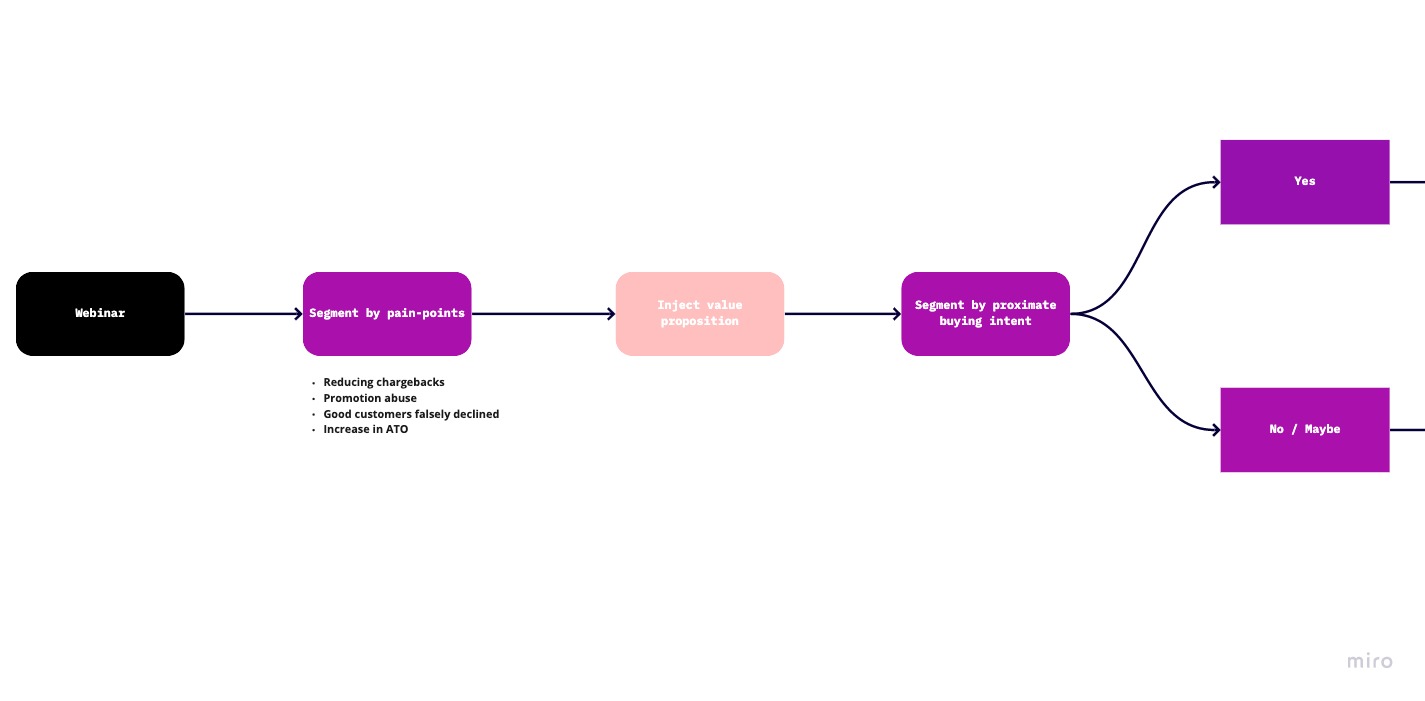 Handling high-intent leads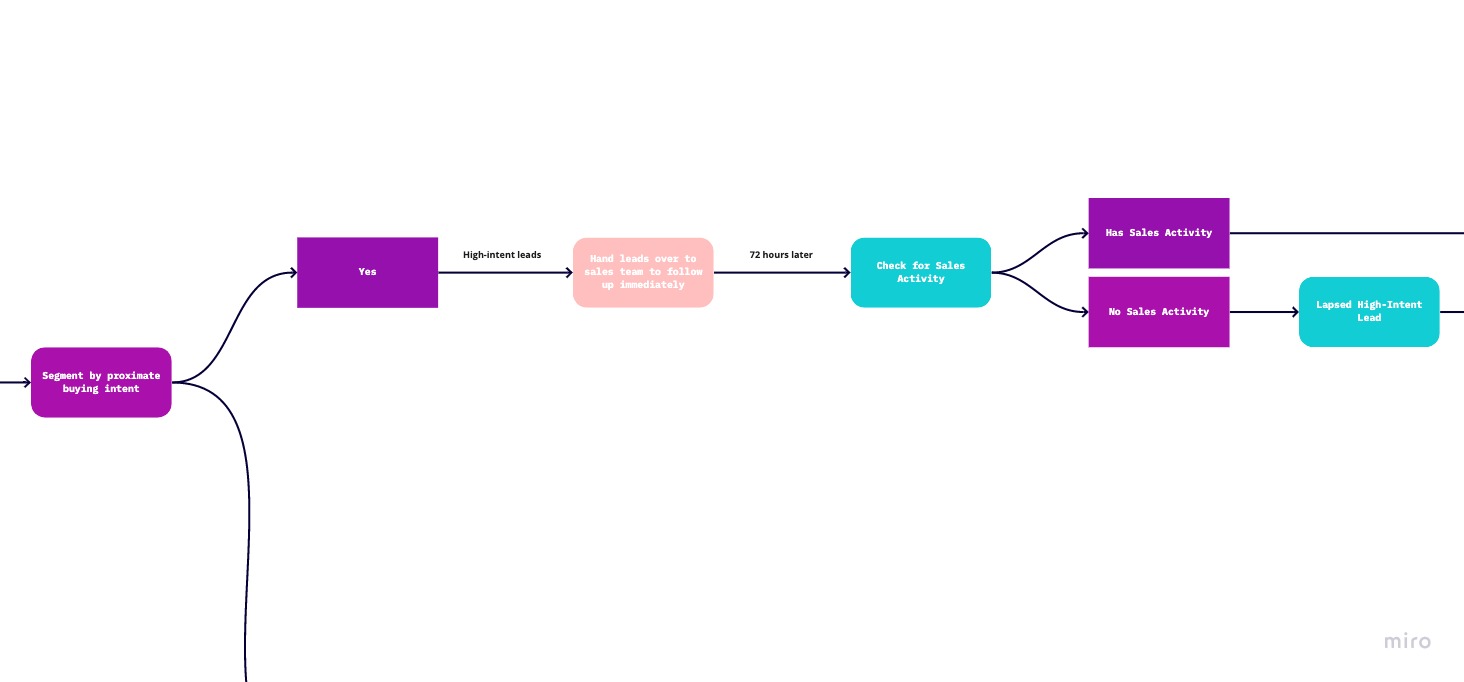 Upon getting your poll results, the first step is to segment out all of the leads who answered "Yes" to the proximate intent poll. (e.g. "Is getting better at identifying legitimate buyers from fraudsters a strategic priority in 2021?")
You want to get these leads across to the Sales team for high-touch, human follow-up immediately.
Typically, we would give the sales team a service-level agreement (SLA) of 72 hours to follow-up with these leads.
After 72 hours, any leads that were not touched by Sales will be recycled back to Marketing.
We will cover more about high-intent leads touched by Sales, but did not convert to sales opportunities below.
Handling low-intent leads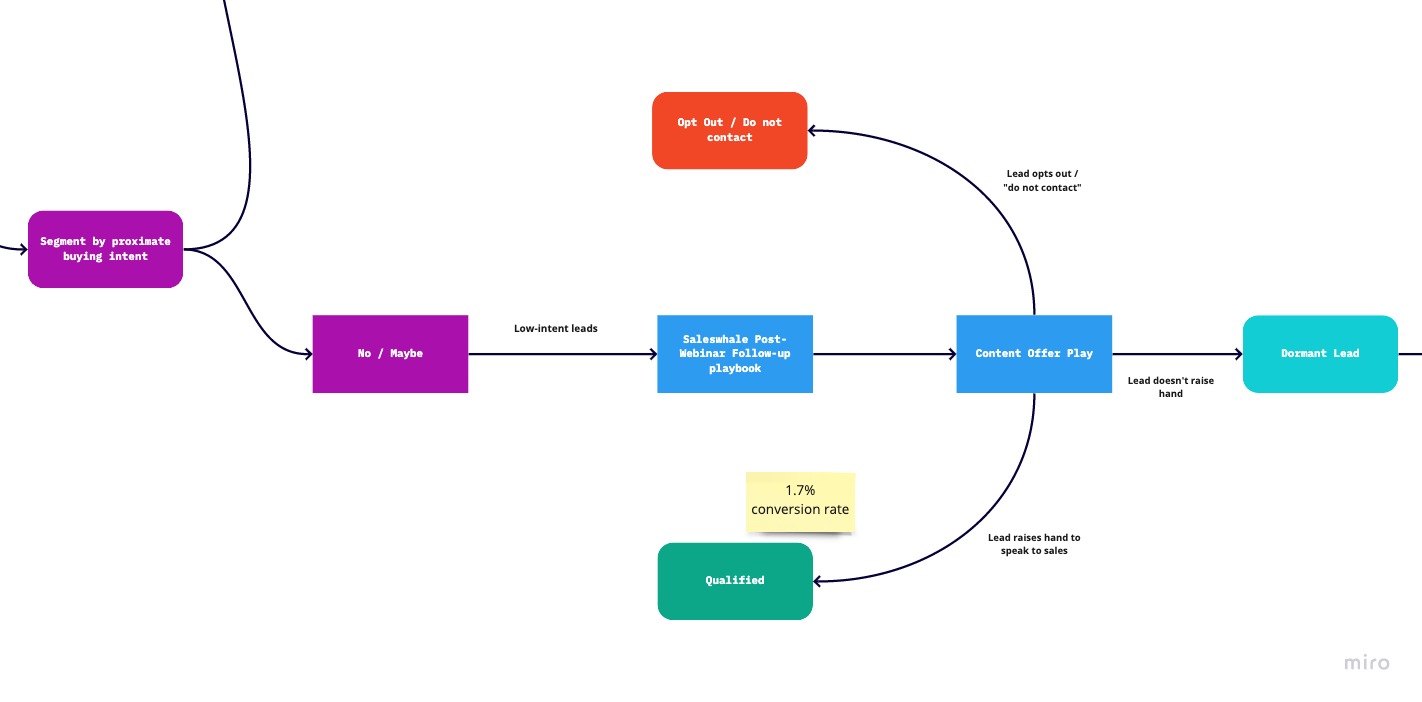 The leads that answered "Maybe" or "No" to the proximate intent poll are classified as low-intent, or low-propensity leads.
Common mistakes companies make:
De-prioritize reaching out to these leads because they are low-intent/ low-propensity

Spam them with thoughtless, canned, "salesy" SDR email cadences
Why do we not want to de-prioritize reaching out to low-intent leads?
Our data shows that 5.3% of these low-intent, low-propensity leads turn into qualified sales opportunities within a 6-12 months period, if nurtured properly.
Why do we not want our SDRs to spam them with thoughtless, 14-touchpoint email sequences on Outreach or SalesLoft?
Put yourself in the shoes of a webinar attendee.
Unless you are already actively shopping for a solution - your purpose in attending webinars is to educate yourself, and not to be hard sold to.
If your SDR team bombards these webinar attendees with desperate "sales-y" emails, you will simply annoy them, damage your brand, and incur huge unsubscribes / "do not contacts" from your hard-won leads.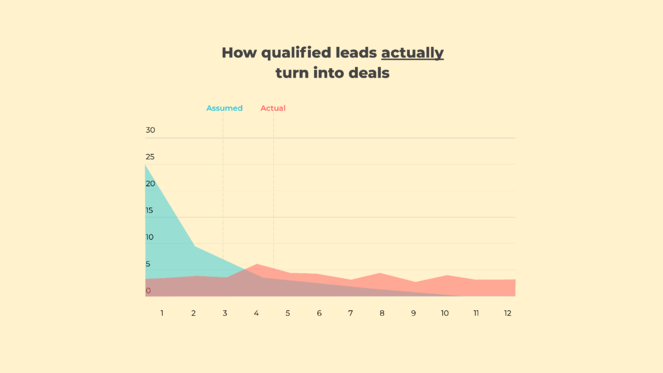 Patience is key here.
Introducing the Content Offer Play

Saleswhale has a Post-Webinar Follow-Up playbook that uses a specialized Content Offer Play purpose-built for this scenario.
The Content Offer Play is a less pushy follow-up mechanism for low-intent, low-propensity leads.
The approach is to reach out to a lead and ask them if they would want to receive a relevant piece of content.
If the lead gives permission to send them content (happens ~20%-30% of the time), the AI assistant will send over the PDF or link, let them marinate on the content for a bit, and then gently nudge them if they want to take a call.
Here's how a real, happy path, Content Offer Play looks like in action (Dolores is Saleswhale's AI email assistant) [2]: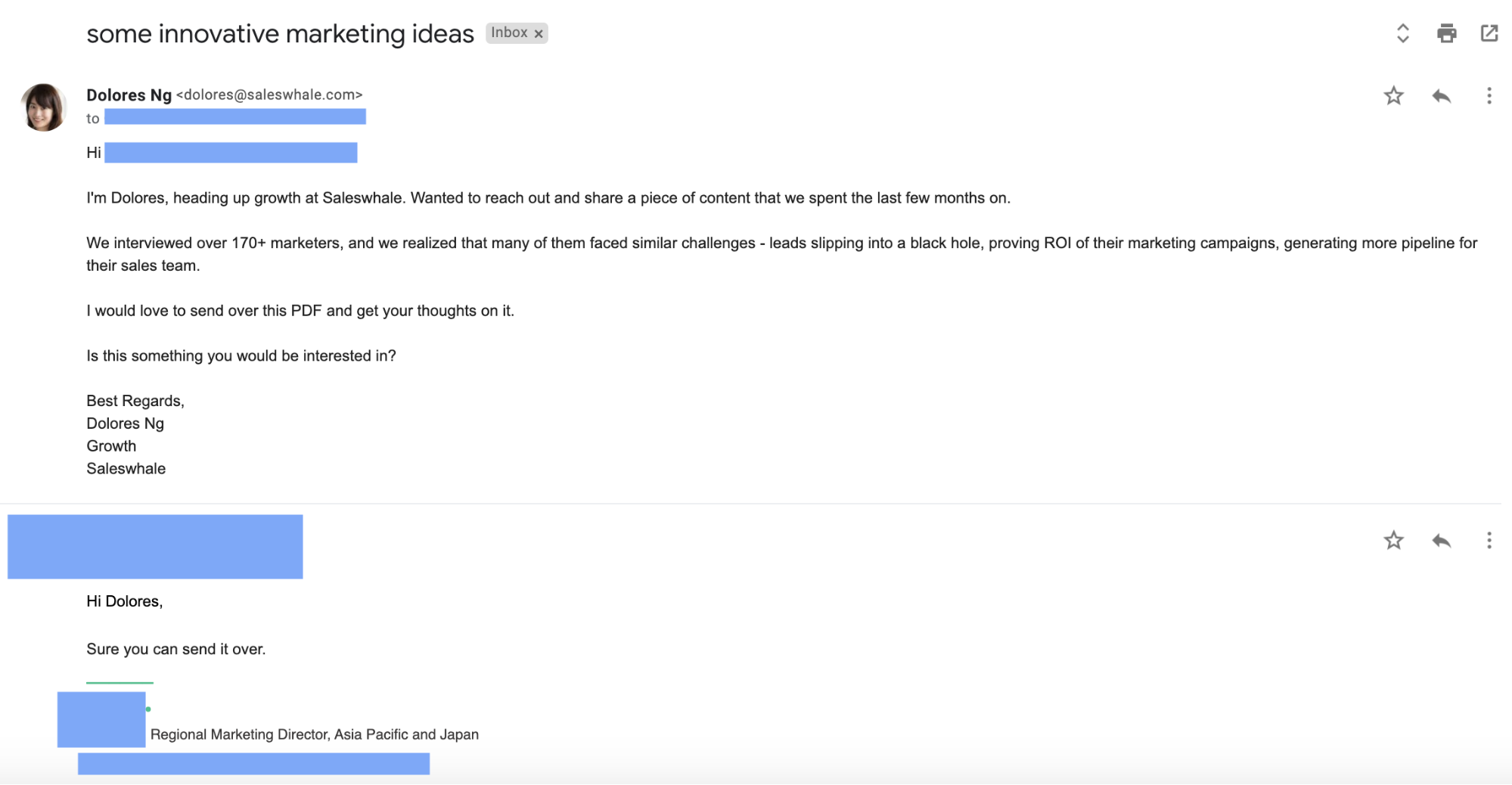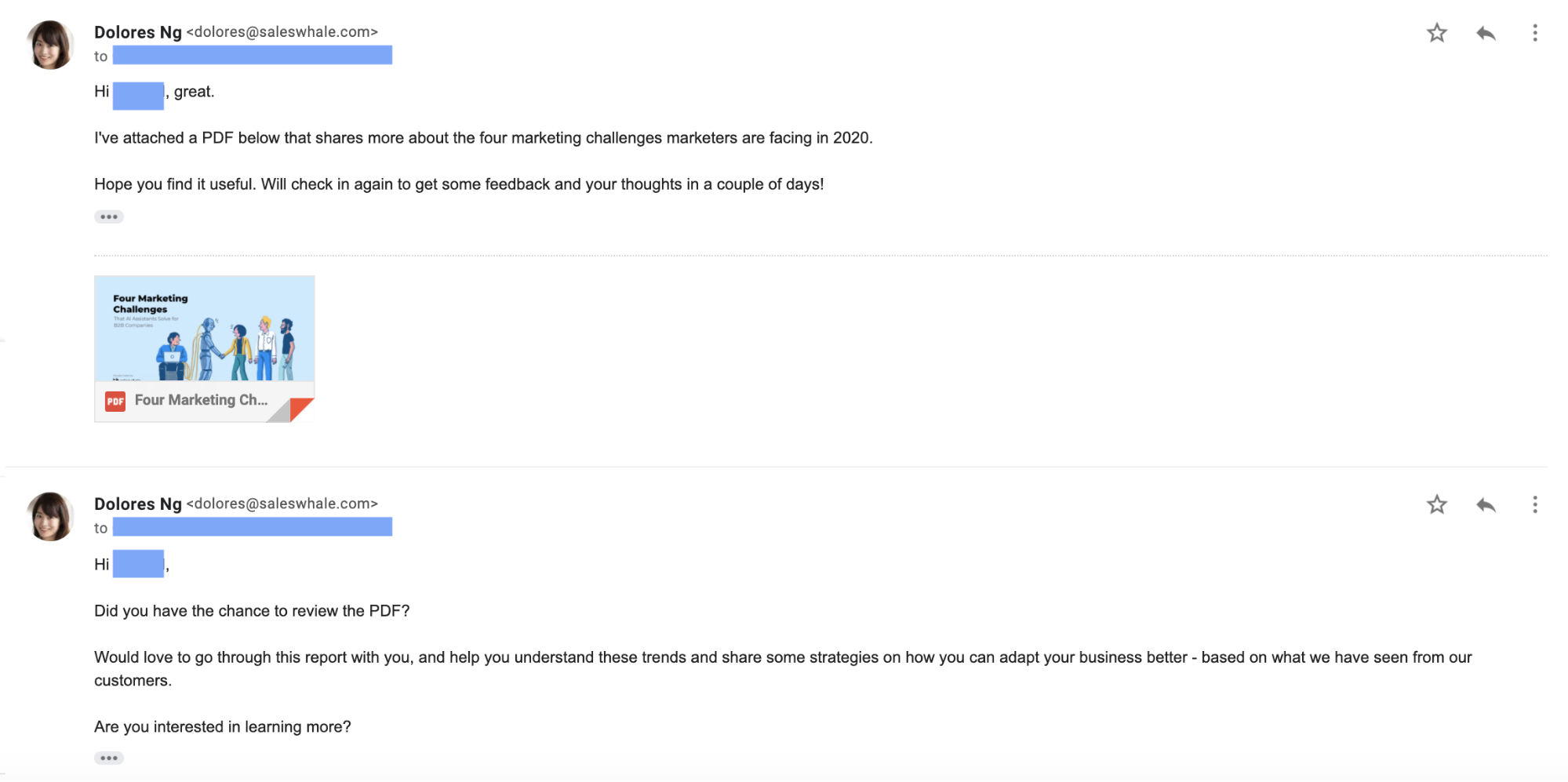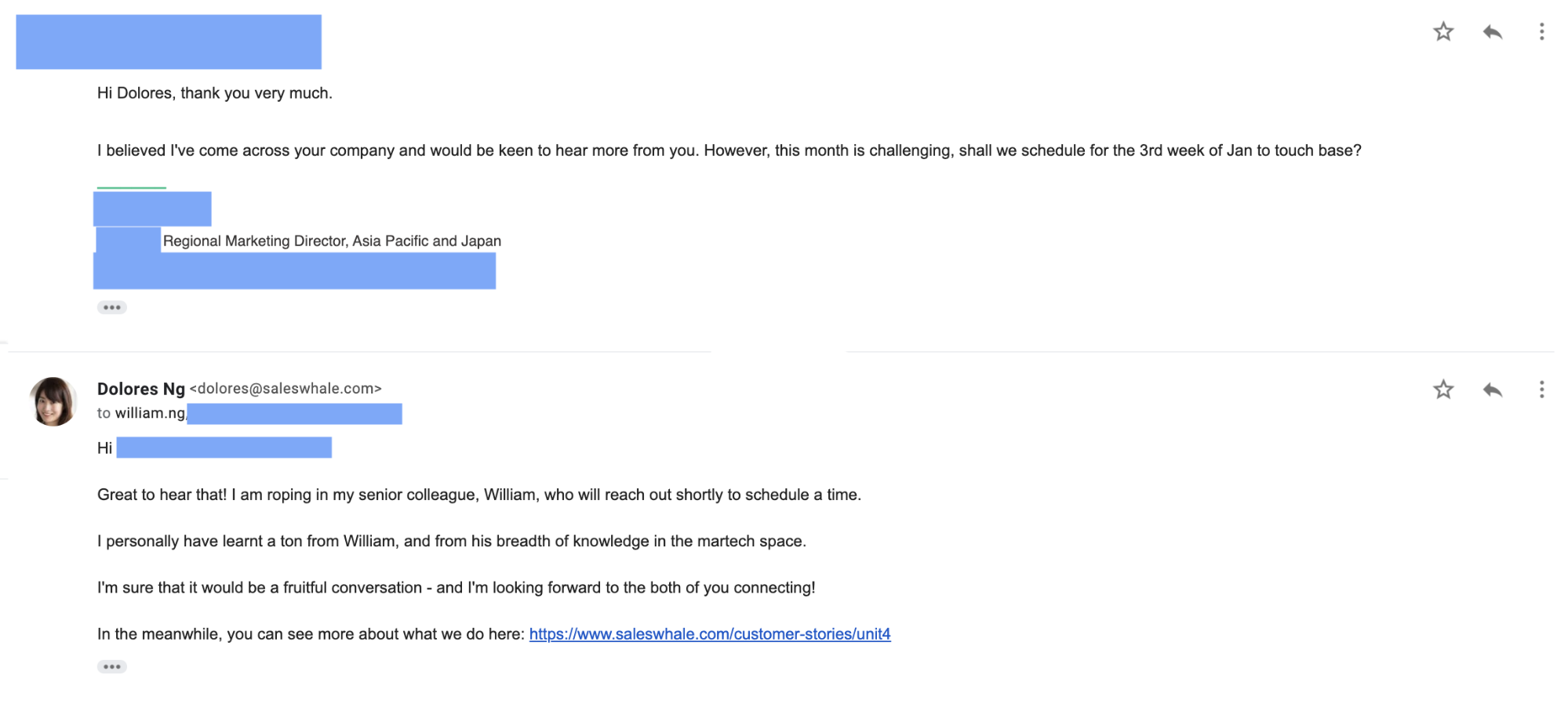 As you can see, this approach takes the long-view when it comes to lead engagement and conversion.
From our data, upwards of 20% to 30% of leads will agree to receive more information if the content offer is compelling.
And out of the leads who agree to receive more information, 8% - 12% of leads will agree to take a sales call.
This means an aggregate 1.7% - 3.6% of the entire pool of low-intent, low-propensity webinar leads actually turn into qualified sales meetings for your sales team - on the first Content Offer Play.
We will be addressing the 96.4% - 98.3% of leads which did not turn into qualified sales meetings later on in this article.
Mapping value propositions to pain points

You want to create as many different campaign variations as you have discrete value propositions.
The messaging and content offers in these campaigns should map to the pain-points in your pain-points gauge poll.
Handling timed-out high-intent leads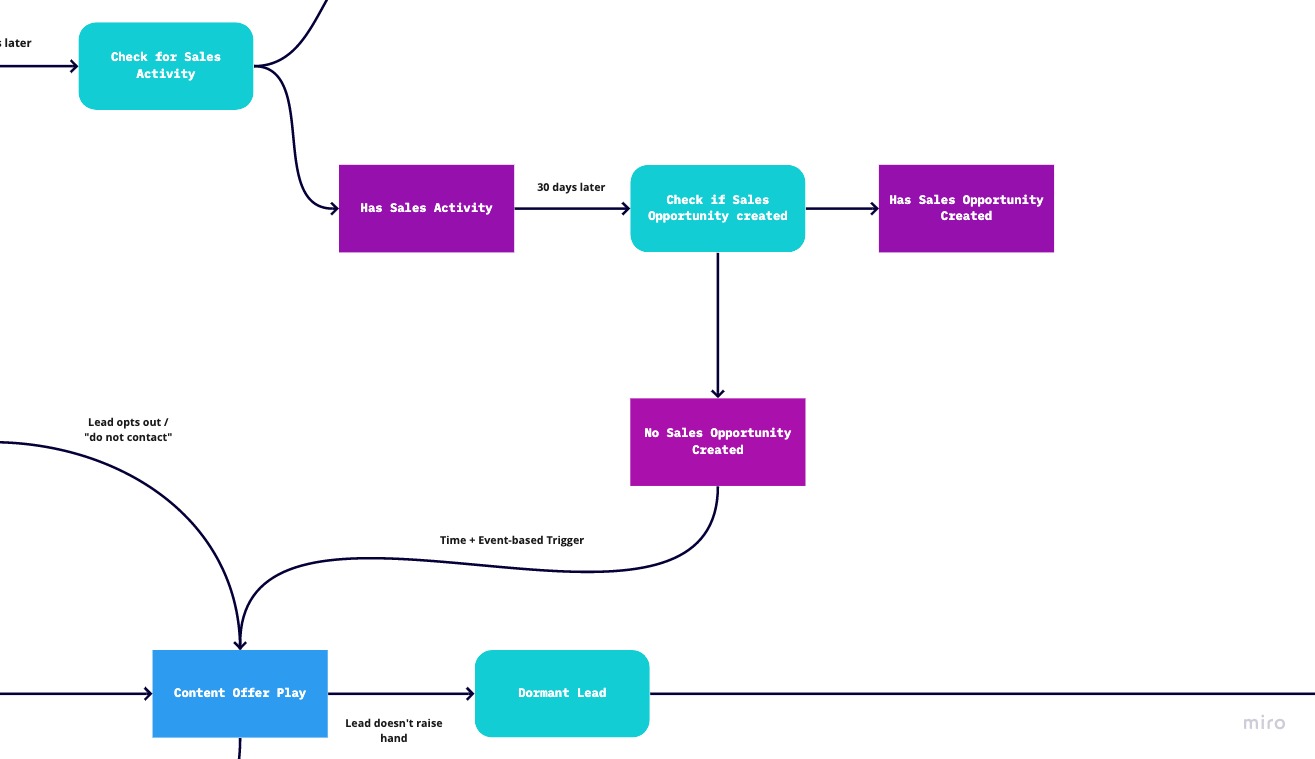 Timed-out high-intent leads are the prospects who raised their hands during the webinar during your proximate intent poll, were handed over to Sales who attempted to connect with them, but for whatever reason, were not able to advance to the next stage.
After a pre-determined amount of time (typically the median time it takes for a lead to advance), we would recycle these leads back to a Content Offer Play.
We are opt-ing for a softer approach because your Sales team already made a sales attempt to connect with these leads prior.
Doing a safety check on Salesforce - optional
If your Saleswhale instance is integrated with Salesforce, you can also run a safety check before recycling timed-out high-intent leads.
One way to do this is to use the Last Activity filter in Salesforce, key in type as Relative Date value LAST 30 DAYS. You want to make sure that your Operator is less than - because in Salesforce, greater than means "after when" when it comes to dates.
So if you want Last Activity more than 30 days ago, use less than, because it refers to dates before your
Greater than means after when it comes to dates, so if you want logins more than 30 days ago, use Less than, as that refers to dates before your desired criteria.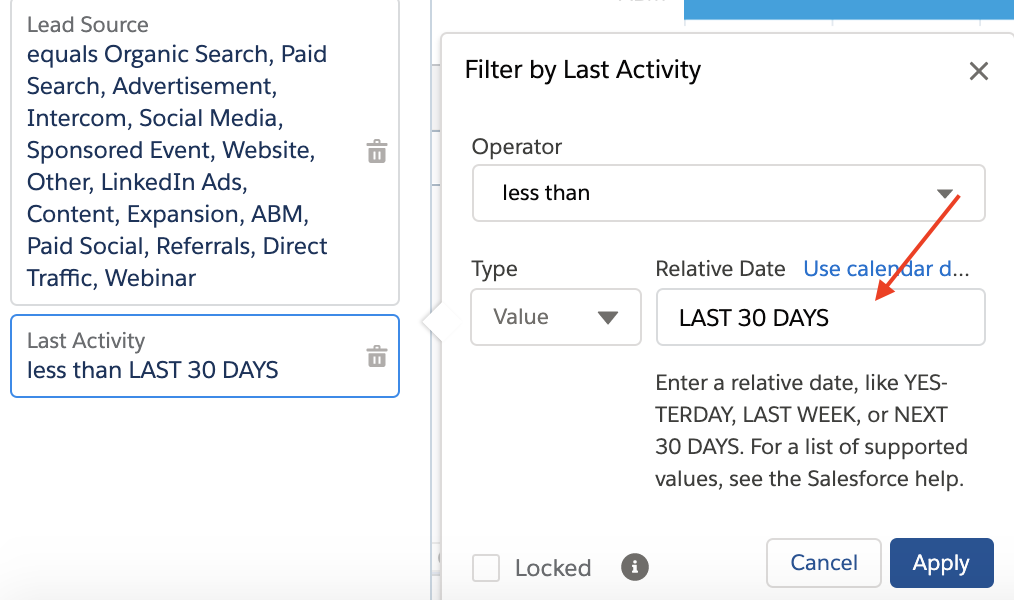 Leveraging Saleswhale AI capabilities
The secret sauce of Saleswhale is that our AI engine can parse and interpret responses automatically from your prospects.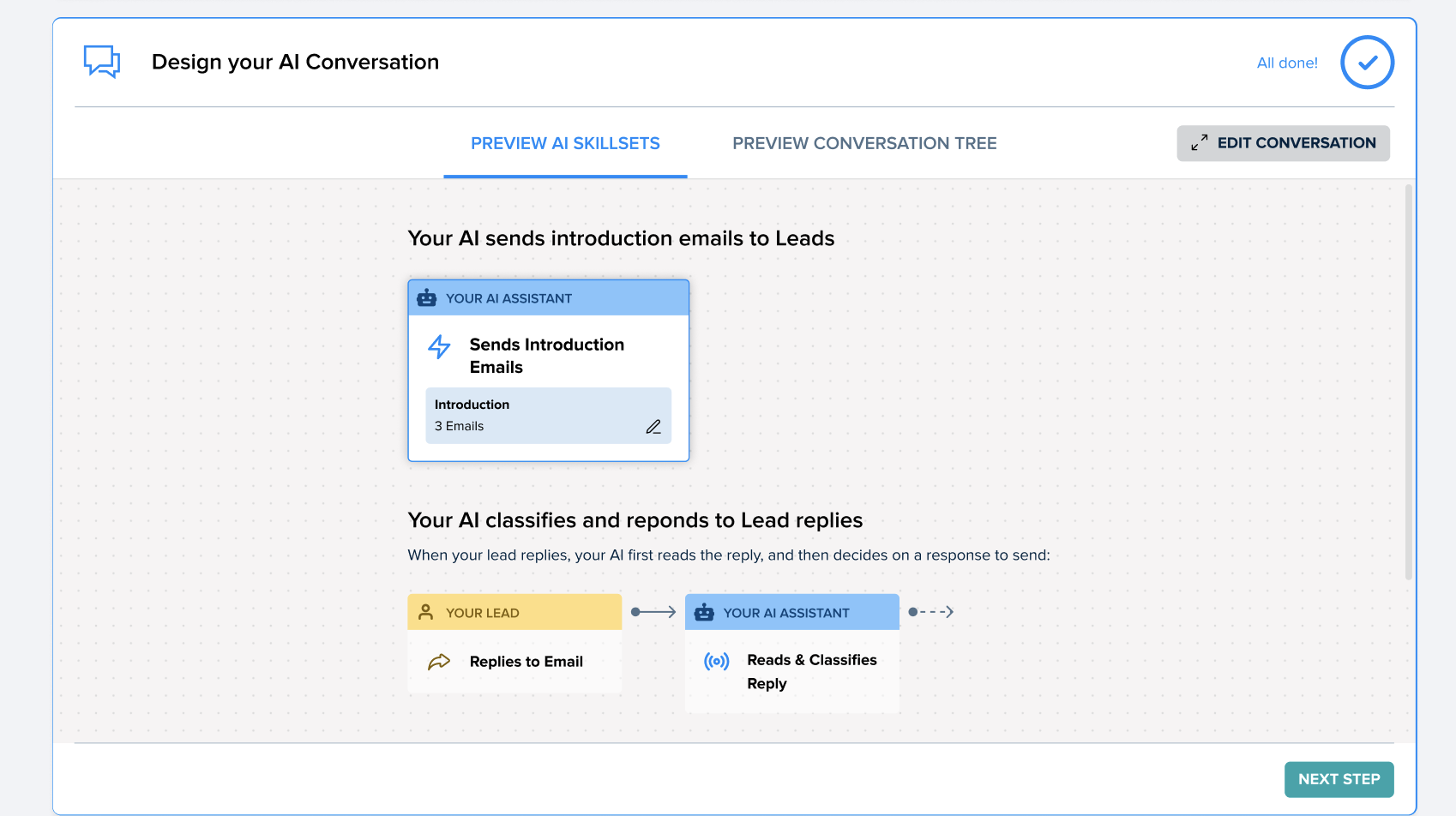 Trained on millions of email responses across hundreds of customers, we are able to interpret high-level response intents within ~95% accuracy.
For ambiguous or overly specific responses, which we don't have a 95% statistical confidence of predicting correctly, we flag the response for your team to review manually (Human Review).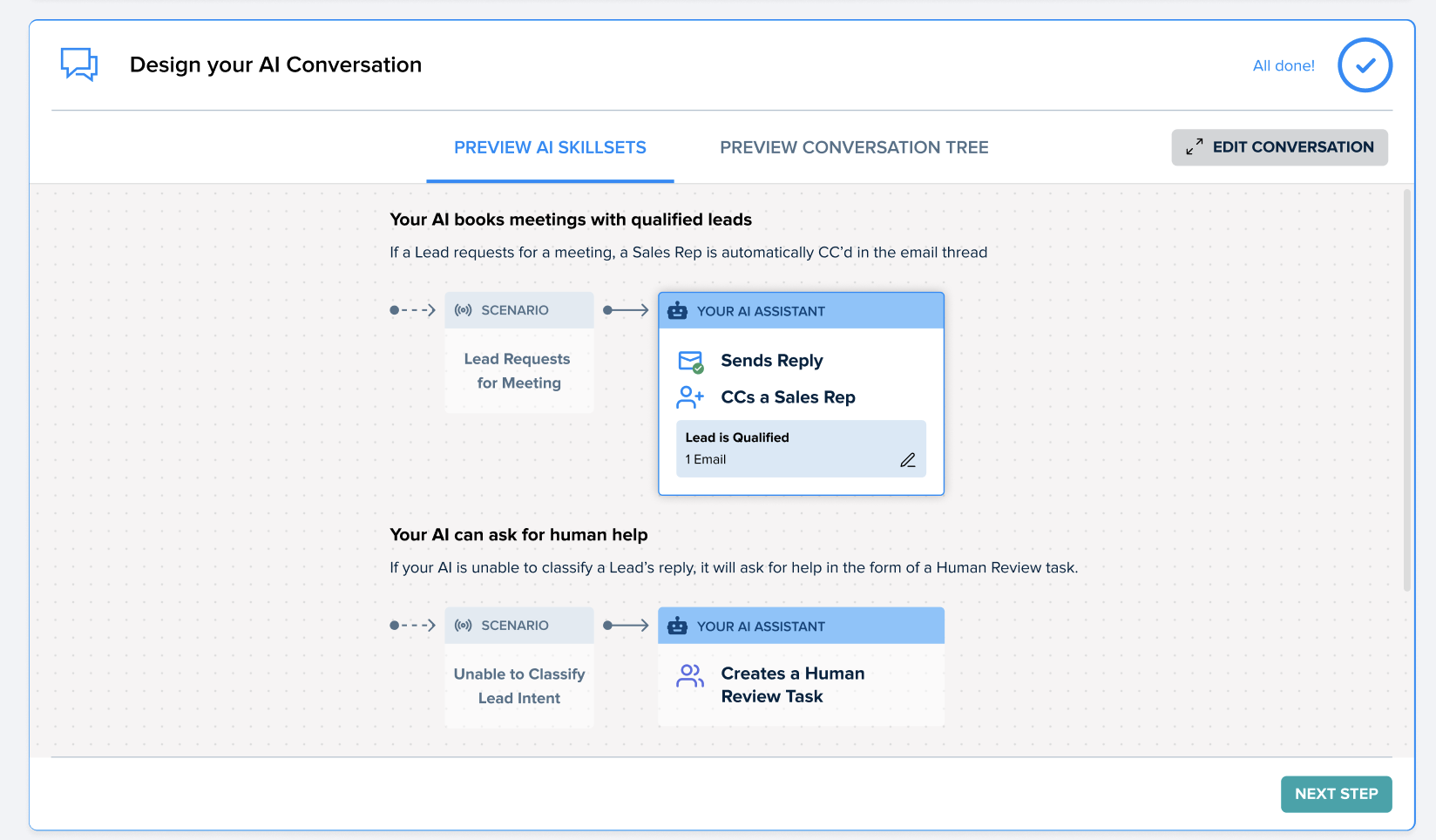 In this segment, I'm just going to touch on two scenarios where our AI can help for this particular use case.
1. Lead is not ready for a sales meeting now, and ask to be followed up with at a later date
2. Lead replies that they are not the right person
Lead is not ready for a sales meeting now, and ask to be followed up with at a later date

One of the skills the Saleswhale AI has is the ability to differentiate between a "not interested right now" and a "not interested, ever" response.
We are able to parse out when the lead wants to be followed up again - "next quarter", "next year", "15th of September" - and handle the process autonomously.
This is something that many human sales reps would not have to bandwidth to do, especially once the total number of queued follow-ups accumulate into the hundreds.
Lead replies that they are not the right person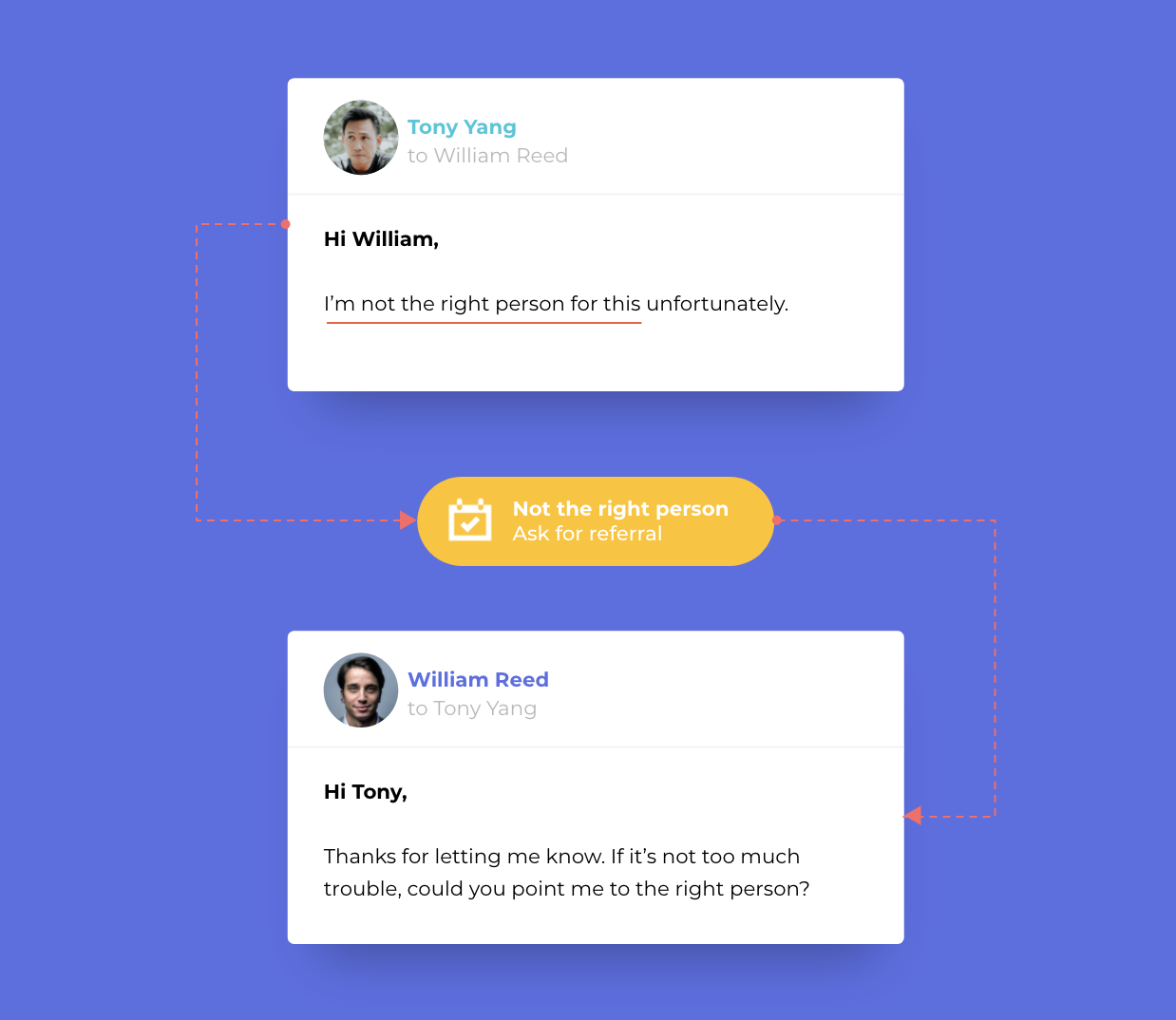 Another skill that the Saleswhale AI has is the ability (and gumption) to proactively ask leads for an introduction to the right person.
This doesn't work the majority of the time (successful referrals are in the single percentage digits) - but it is a low-stress, low-effort way to maximize each and every lead.
And it works automatically in the background if you choose to activate this skill for your AI.
Putting it all together

Here's how the entire lead journey from a webinar insertion point looks like when enrolled into Saleswhale.
It may look daunting and intimidating, but the Saleswhale platform abstracts most of the complexity and automates most of the follow-up actions.
Most marketing teams don't handle their leads to this level of precision, due to lack of human bandwidth or technology limitations. Hence, they miss out on a huge opportunity to increase marketing ROI yield, and make sure that no leads slip through the cracks.
Questions?
An analogy I like to use for Saleswhale - is it's like a spreadsheet. There are hundreds of use-cases, and you can use it as creatively as you want.
This is the first of a series of tutorials and use cases for Saleswhale. The idea is to spark your imagination by sharing successful use cases through stories of how other customers are leveraging Saleswhale.
I would love to hear your thoughts and comments. If you have any questions or clarifications needed, connect with me on LinkedIn here! I would love to hear from you.
[1] Source: The New Rules of Email Marketing, Campaign Monitor (2019)