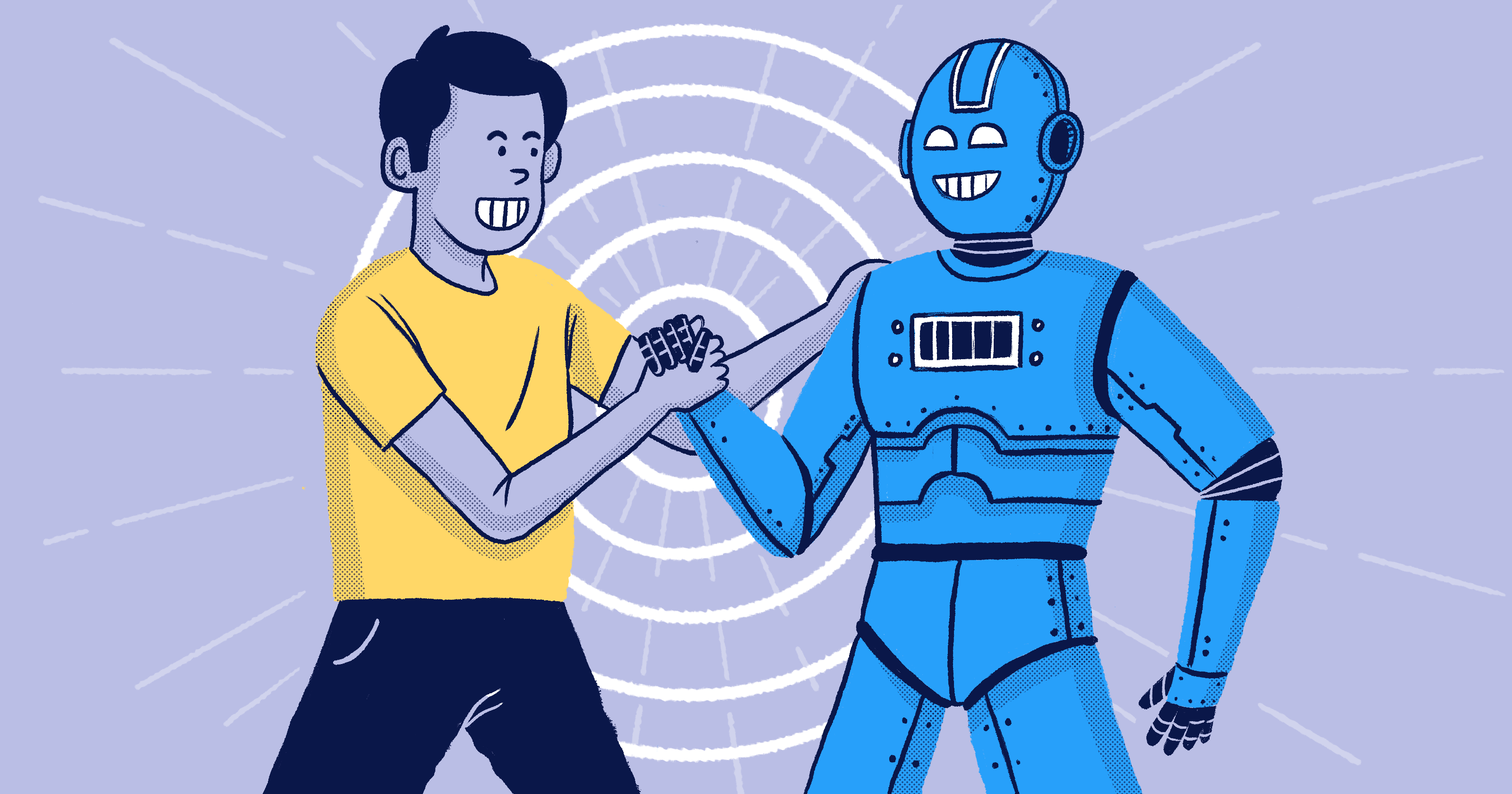 "There's a storm coming, Mr. Wayne. You and your friends better batten down the hatches, because when it hits, you're all gonna wonder how you ever thought you could live so large and leave so little for the rest of us." — Catwoman
Well, 2020 got off to an ominous start.
We began with layoffs at Digital Ocean, Zume, Mozilla, Atrium, Bose, Lime, AT&T, Intel, HSBC, Uber, Expedia, Wayfair,and LogMeIn.
The 30-year Treasury yield plunged to a record low, as global economic growth starts to slow down. The yield curve inverted last year—and yield curve inversion has been a reliable recession leading indicator over the last 50 years.
So, is a recession imminent?
Honestly, I don't know. I'm in the business of software, not speculation (leave that to the bond traders!).
But I do think that it's prudent to start preparing for the worst.
Winter is coming
At Saleswhale, even though we are a pretty small company (< 50 employees), we have already begun taking steps to slow down on hiring, streamline costs, and incorporate more automation into our business processes.
As CEO, I strive for two outcomes:
No mass layoffs. We would rather pull back on hiring now (and suffer some operational strain) than to run the risk of having to execute a huge layoff in the coming months
Weather the coming economic storm, and position us to rapidly capture market share when the downturn is over, by planning two steps ahead
I believe the most painless and strategic way to accomplish the above, is to strategically deploy AI and automation to augment our workforce. We'll use the downturn as a chance to slowly reduce reliance on throwing humans at operational problems.
After researching over 100+ companies globally on how they weathered the 2008 global financial crisis, here are four strategies I noticed they deployed:
Let's look at these strategies through the lens of AI and automation technology available in 2020.
1) Automate business workflows and processes
The first-order effect of slowing down on hiring and freezing headcount is operational pain.
Work creeps up on your existing employees, and soon enough, morale and productivity suffers.
Companies in 2008 began offshoring back-office work to lower cost cities. One approach to solving this in 2020 is to start turning over repetitive, rote, and/or high volume tasks to robots and AI workers.
Robotic Process Automation
Robotic Process Automation (RPA) is a technology that mimics human action on business processes. It automates mundane, repetitive, and predictable tasks, such as data entry, data compilation and comparison, updating expense claims, or processing invoice orders.
According to Deloitte, the fully burdened cost of an RPA robot is significantly lower than even offshore labor.
"With a license for a software robot likely to cost less than an onshore staff member or an offshore staff member, the commercial attractiveness of this approach is self-evident. There are non-financial benefits too, as robot-based process performance is designed to be more predictable, consistent, and less prone to errors as compared to a human process. Moreover, a robot workforce can typically be deployed in a matter of weeks. Once in place, new processes can often be assigned to them in days if not hours. Thus, RPA solutions generally have lower implementation cost, require shorter implementation time, and carry lower risk than large IT transformations."



—

Deloitte Research, Service Delivery Transformation
The leading vendors in the space include UiPath and Automation Anywhere.
Here's what a UiPath customer in the finance industry said,
"We had all this work that had to get done. A lot of it was not high value. All the higher impact-type work wasn't being done because the former consumed so much time. There are only so many hours in a work week, there are only so many federal employees that you have. We're not doing a hiring surge to offset that, so that's where RPA becomes a reality."
In this video, a UiPath robot reduces a loan reconciliation process from hours to minutes: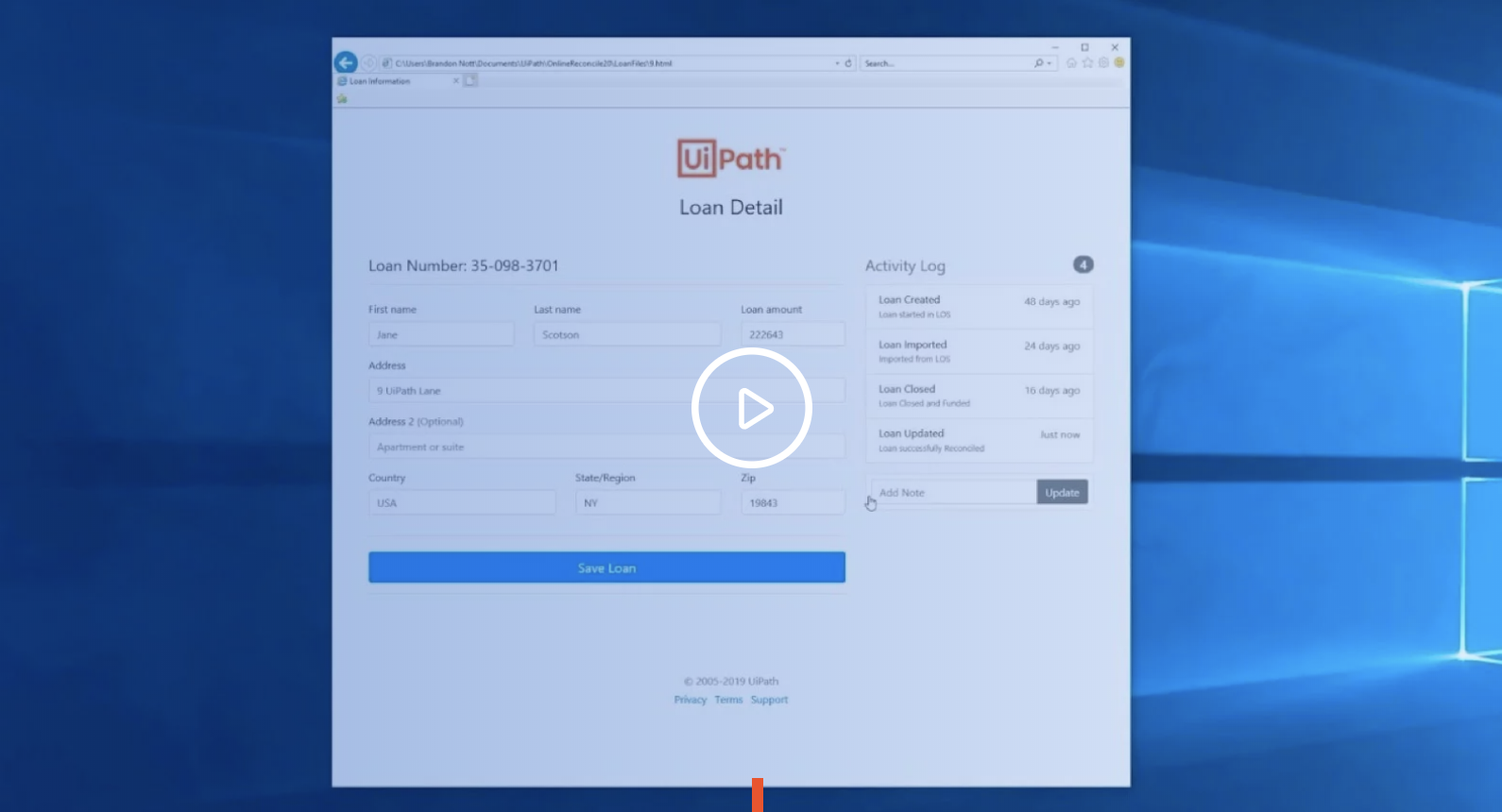 IT Support Automation
IT support and incident resolution exacts a heavy toll on companies in lost productivity, and in the case of consumer-facing services, lost sales.
PagerDuty reports that nearly one-third of departments affected by technical hiccups lose $1 million or more for each hour of downtime.
Moveworks uses AI to resolve IT and internal help desk tickets automatically.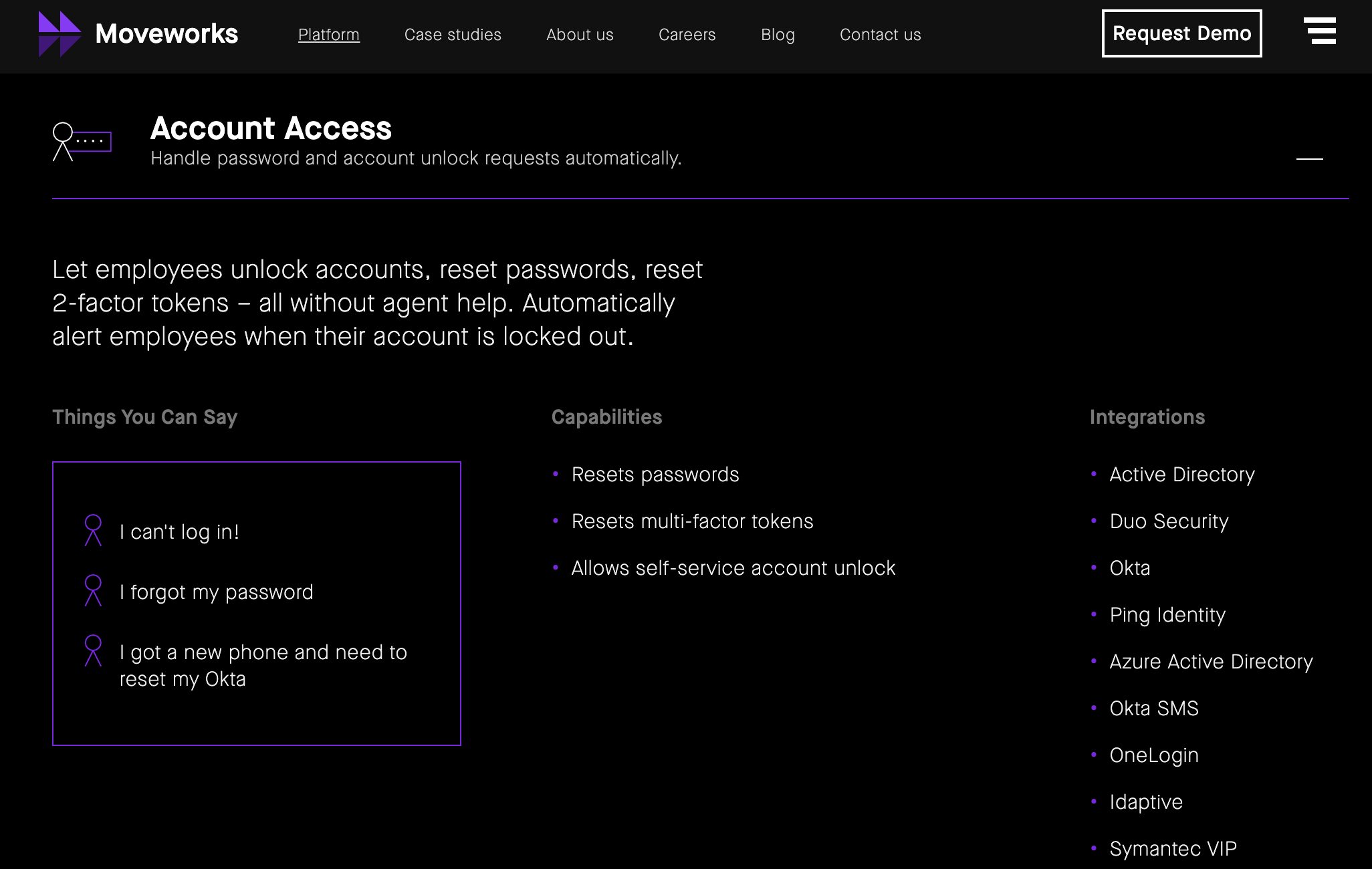 Basically, employees communicate via natural language on the issue they need to resolve, and the Moveworks integrated platform will remediate issues automatically.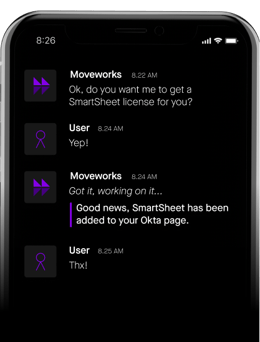 Wendy Pfeiffer, CIO at Nutanix, bought Moveworks when their workforce doubled from 2017 to 2019, causing a spike in IT requests.
When it comes to Moveworks, she effused,
"I was flabbergasted. It's one of the few times that a tool built for IT service management has such a positive and extraordinary impact. In IT, people's lives got markedly better, and the people that they were supporting were so much happier too."
Workflow Automation
The explosion in Software-as-a-Service (SaaS) and business software applications means that many companies now have to grapple with fragmented data and workflows.
For example, a single lead record can sit inside Salesforce (CRM), Marketo (Marketing Automation), Intercom (Live Chat), email inboxes, disparate spreadsheets, and a dozen other places.
If you are a marketing leader, you want to wire up and integrate all the different data sources. But often, IT and engineering resources are too bogged down to build these integrations in-house.
Here's a screenshot from Workato that shows the sheer number of applications businesses run on: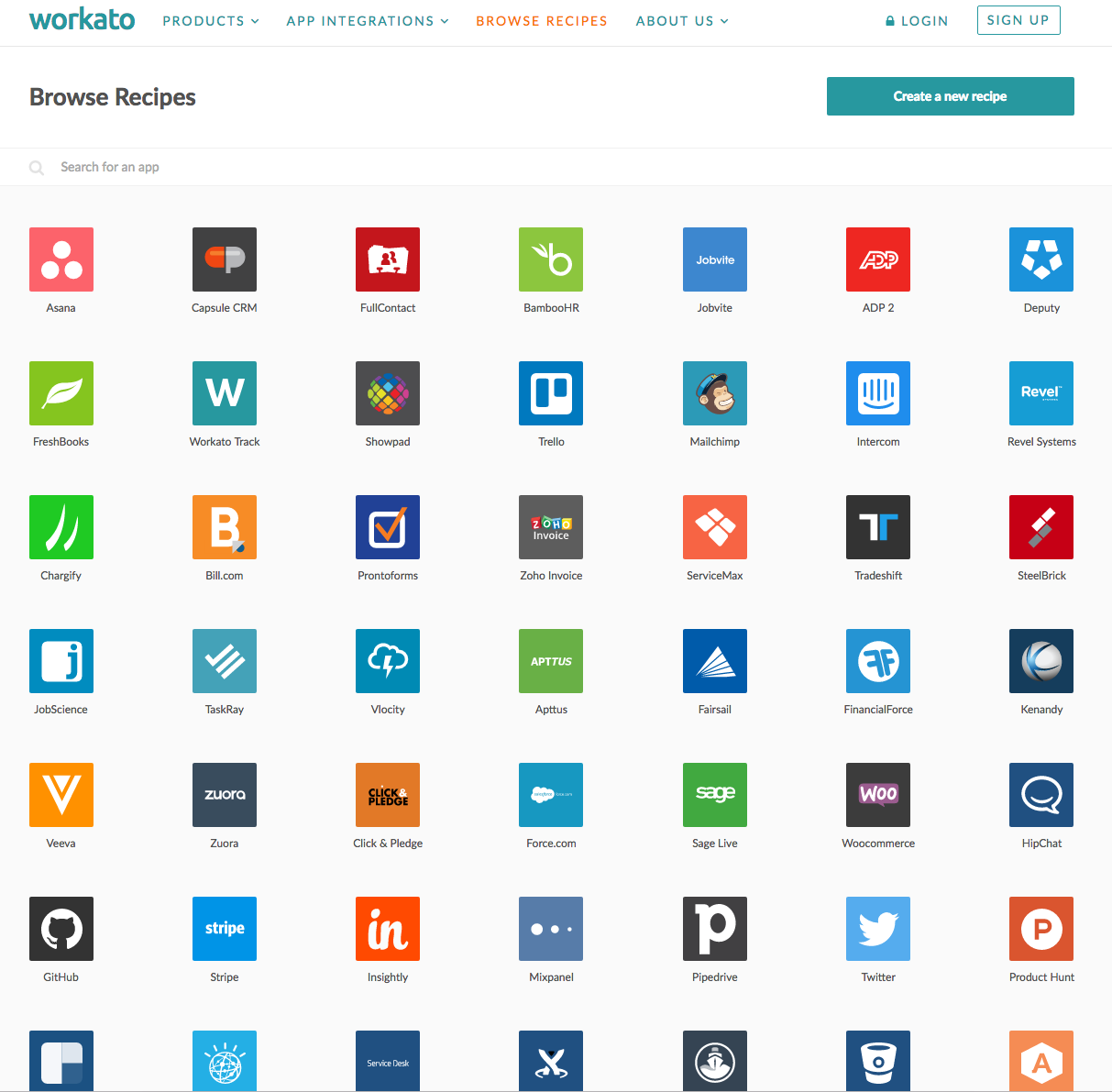 Workflow automation software like Workato and Tray.io use a graphical interface to allow even non-technical folks to integrate APIs between two or more applications.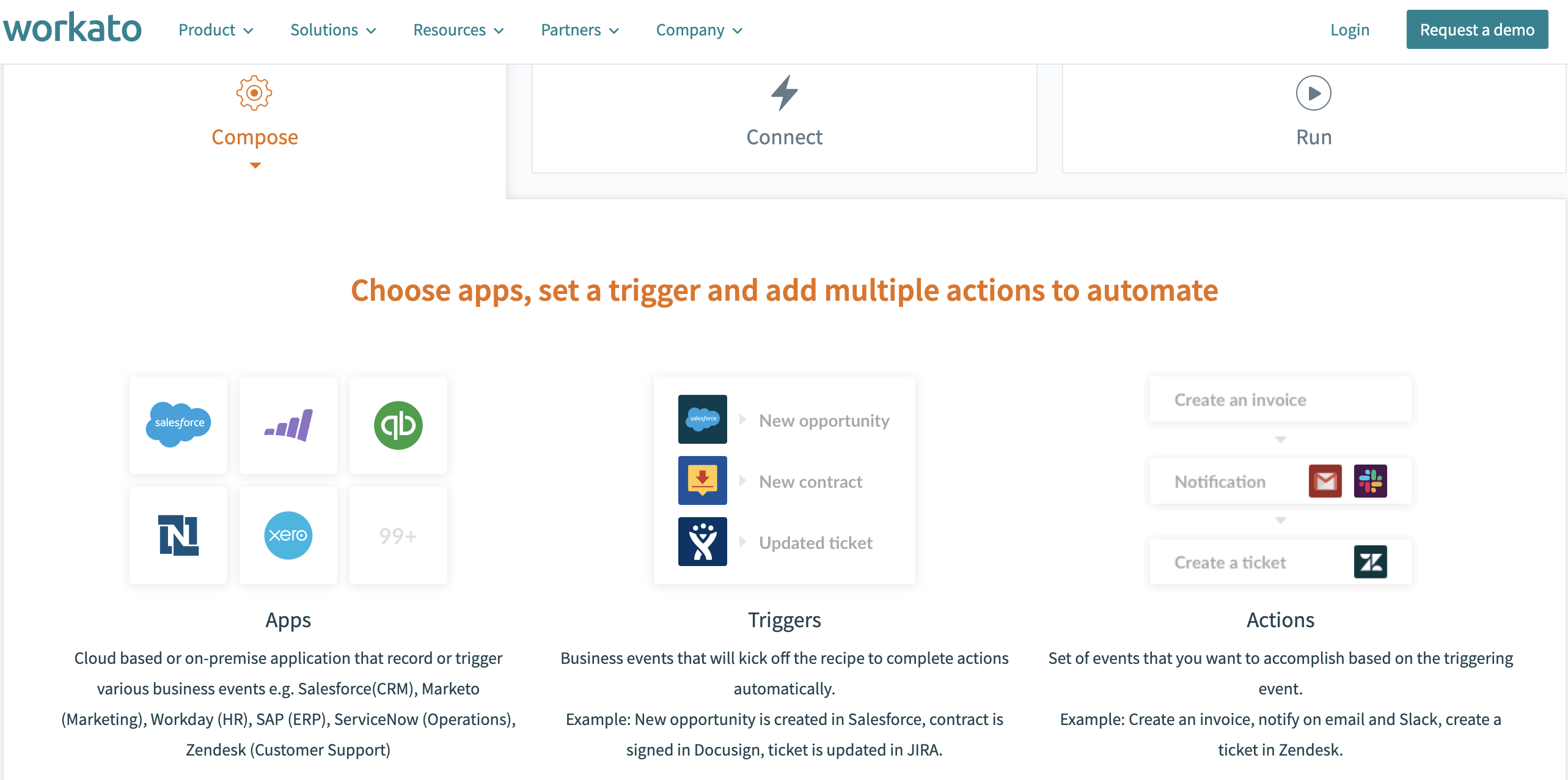 Once integrated, business users can orchestrate workflows and manipulate data across all their apps: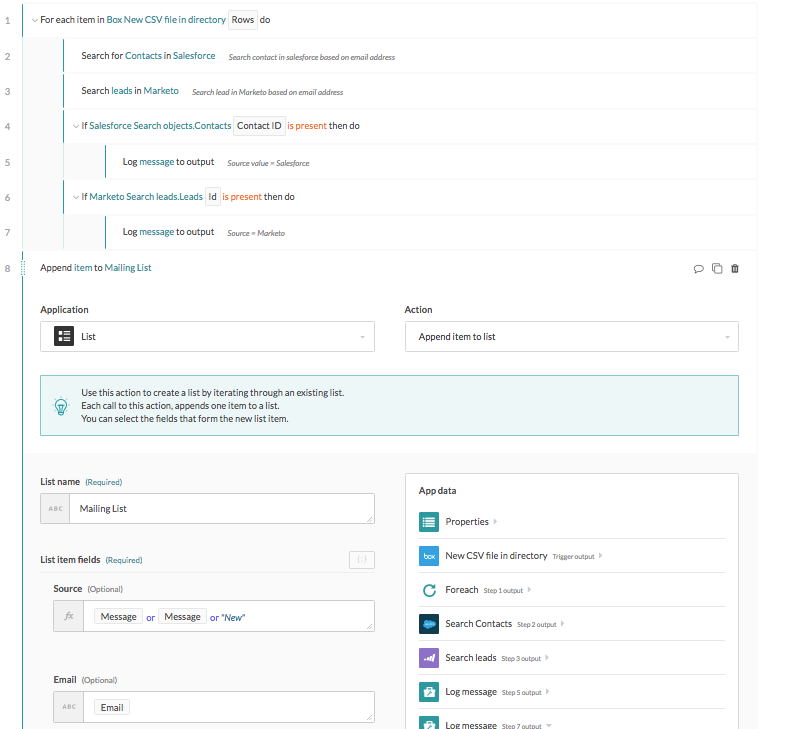 The CIO of Nutanix, a Workato customer, commented on the increase in workflow productivity,
"A year into implementing Workato automations, we have accelerated everything we do by 30 percent."
2) Diversify into customer segments that are recession proof
When a recession hits, certain industry segments will be hit harder than others. If you have a high concentration of customers in these segments, then you run the risk of going out of business together with them.
"I thought to myself: how could I have possibly prepared for this? How could I know that half our customers would go out of business when the dot-com crash came?"
—

Ben Horowitz, General Partner at Andressen Horowitz
Here's a true story of what happened to us at Saleswhale.
One segment of customers we sell to are trade show and event organizers, and their customers. We even spent months on a high-production quality event sponsorship ROI eBook to attract more customers from this space.
Then the global economy took a big hit earlier this month, and the events industry was one of the worst affected sectors. We had more than a handful of event customers call us to cancel their subscription.
We pulled our revenue leaders into a room, and decided to re-focus our business. For example, we decided to focus on (online) education and IT, as compared to discretionary or mini-luxury services, which are hit the hardest in a downturn.
Here are the AI and automation tools we use to identify customers in the above segments:
Marketing Data Providers
Collecting fresh and reliable business data is a crucial yet intensely laborious task for marketing teams. Traditional approaches include getting interns to do the grunt work, or offshoring to low-cost remote workers.
Even after the data is collected, it has to be cleaned, formatted, and segmented before it can be used.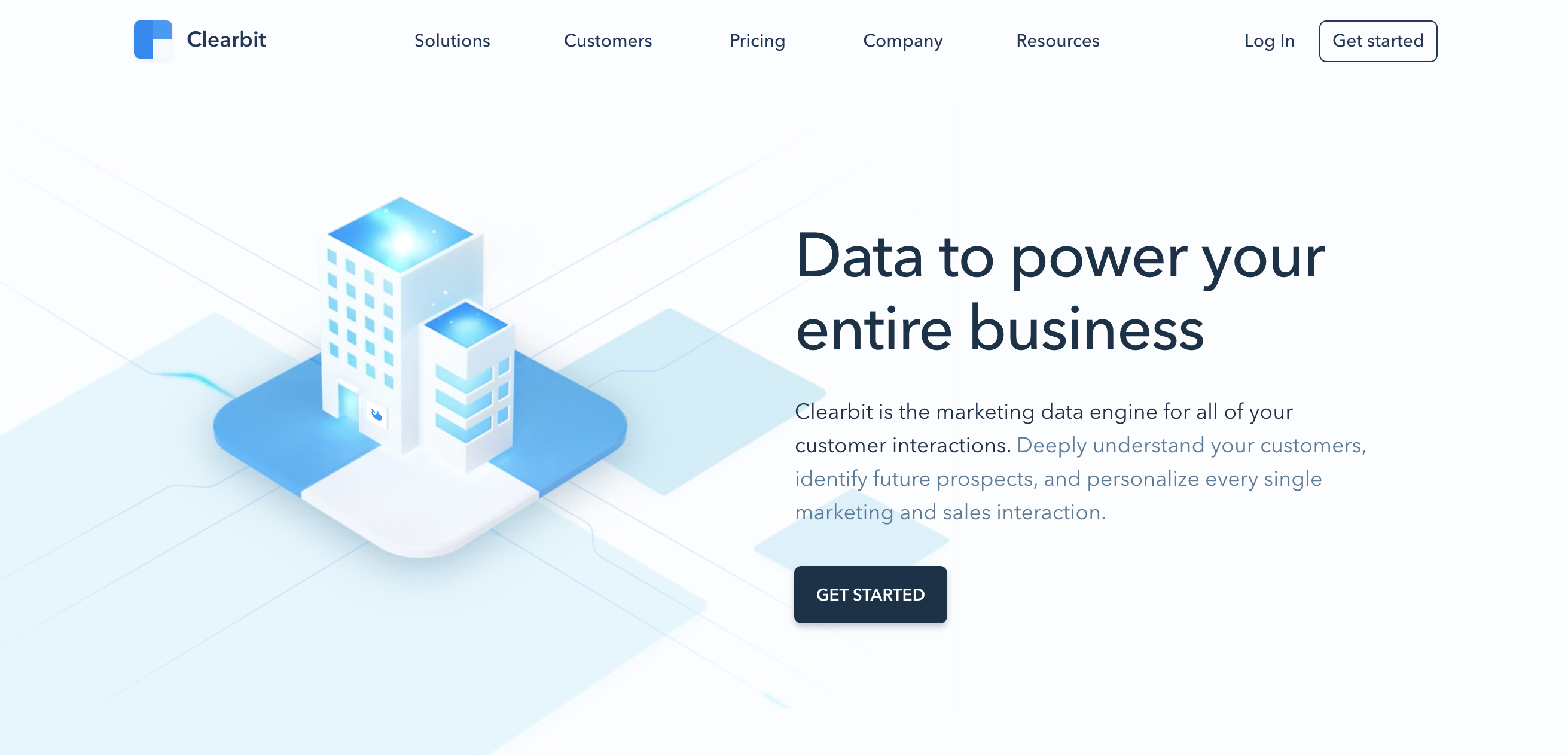 Marketing Data Providers like Clearbit and Slintel use AI to combine hundreds of public and private data sources, sorting through millions of data points from websites, to social presence, to legal filings etc.
Machine learning is used to clean and standardize the data into a usable format.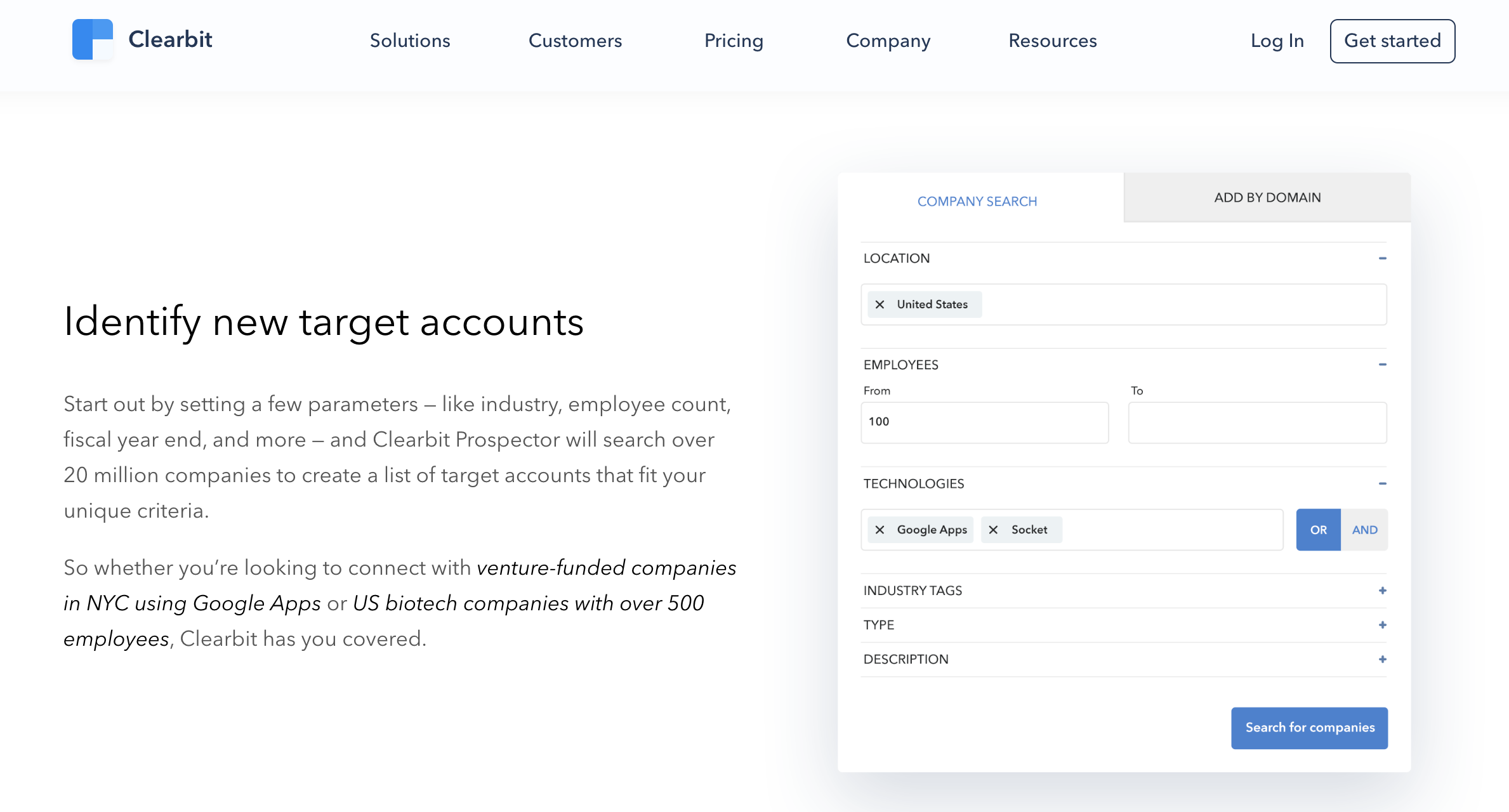 Clearbit allows you to set parameters like industry, employee count, and even technographics. You can search through over 20 million companies to create a list of target accounts.
This saves a ton of time doing research and compiling lists of target customers to go after.
Buyer Intent Data
Buyer intent data is a new breed of marketing technology that aggregates information about buyers to give companies insight into when certain prospects might be in the market for their products.
The idea is to pre-emptively catch customers when they are in the buying cycle for your service.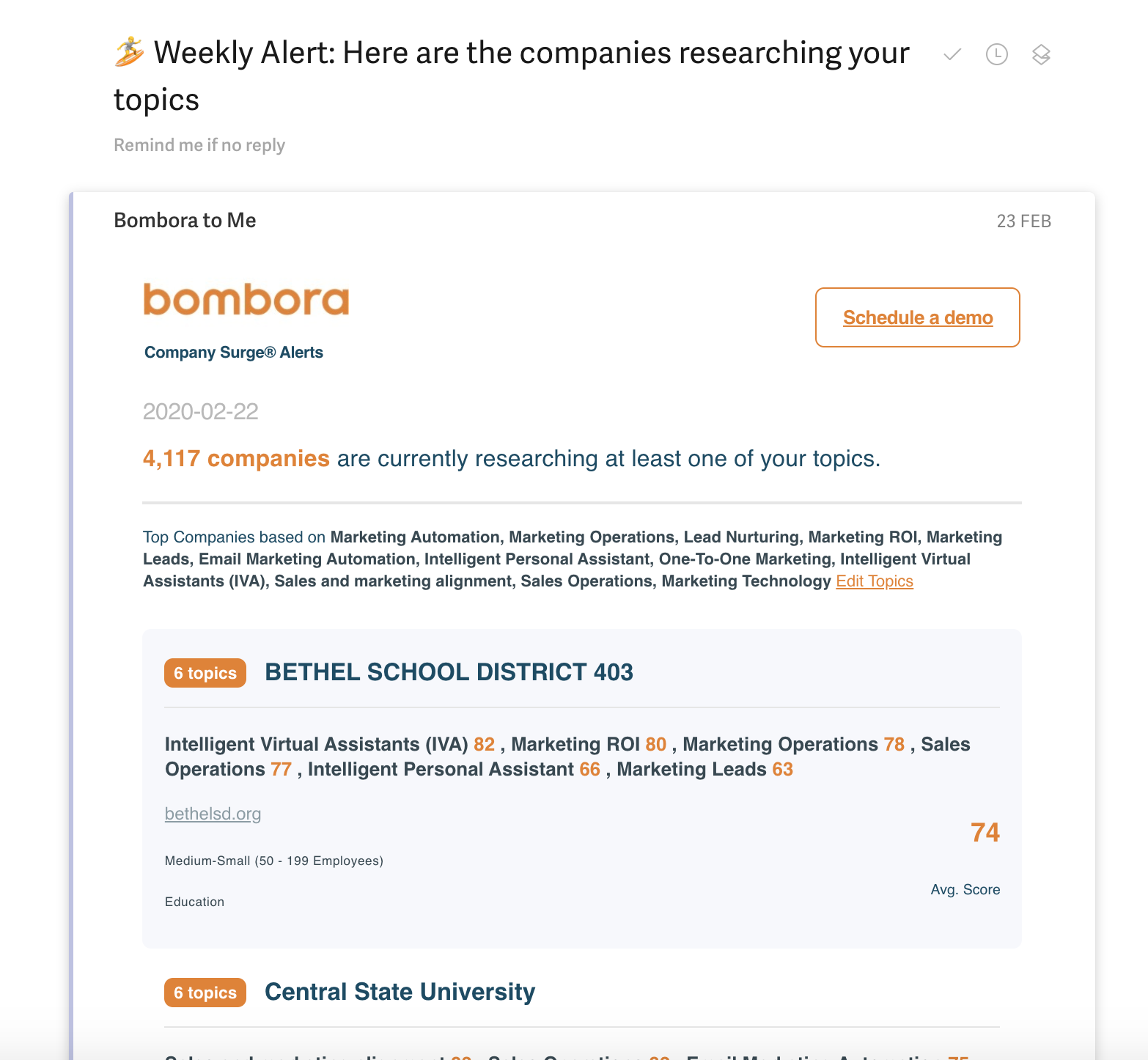 There are providers like Bombora, which use external intent data (also known as third party data), collected on publisher networks on the IP level, user sign-ups, or shared cookies.
They track the articles that a user reads, the content that they download, site searches, and use it to form a composite picture of intent.
For example, their data could show that people from FedEx are viewing articles and consuming more content about CRM software or CRM migration, which could provide insights into FedEx's intentions towards their current CRM vendor.
Sounds creepy?
Perhaps. But you cannot deny that this confers a significant competitive advantage to companies that leverage this data.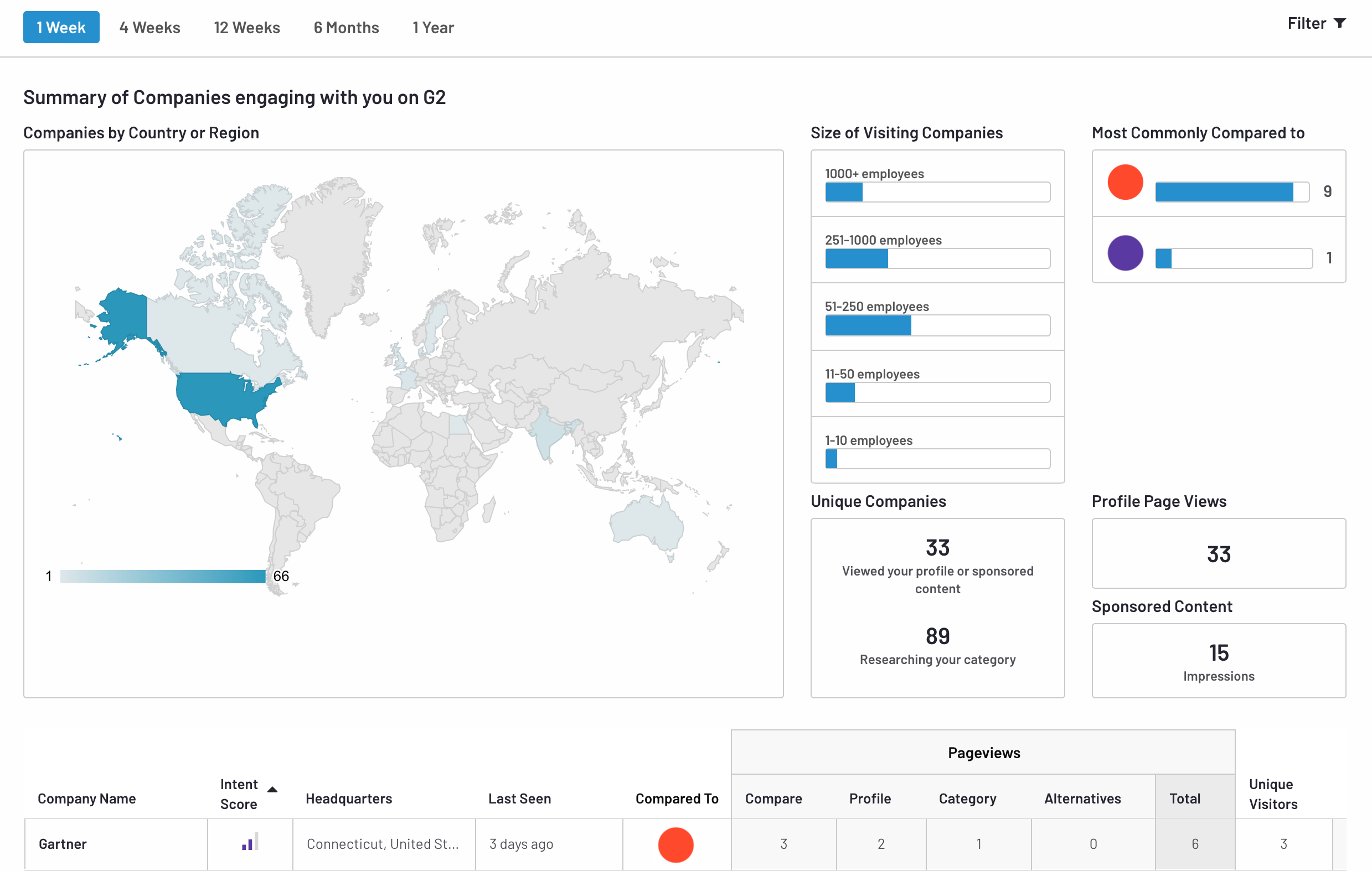 Less controversially, providers like G2Crowd Marketing Solutions track buyer intent through their interactions and visits to the various software categories on their website.
There are also tools like Leadfeeder, which insert tracking codes into your web page, and use IP data to reveal the names of companies that visited your website.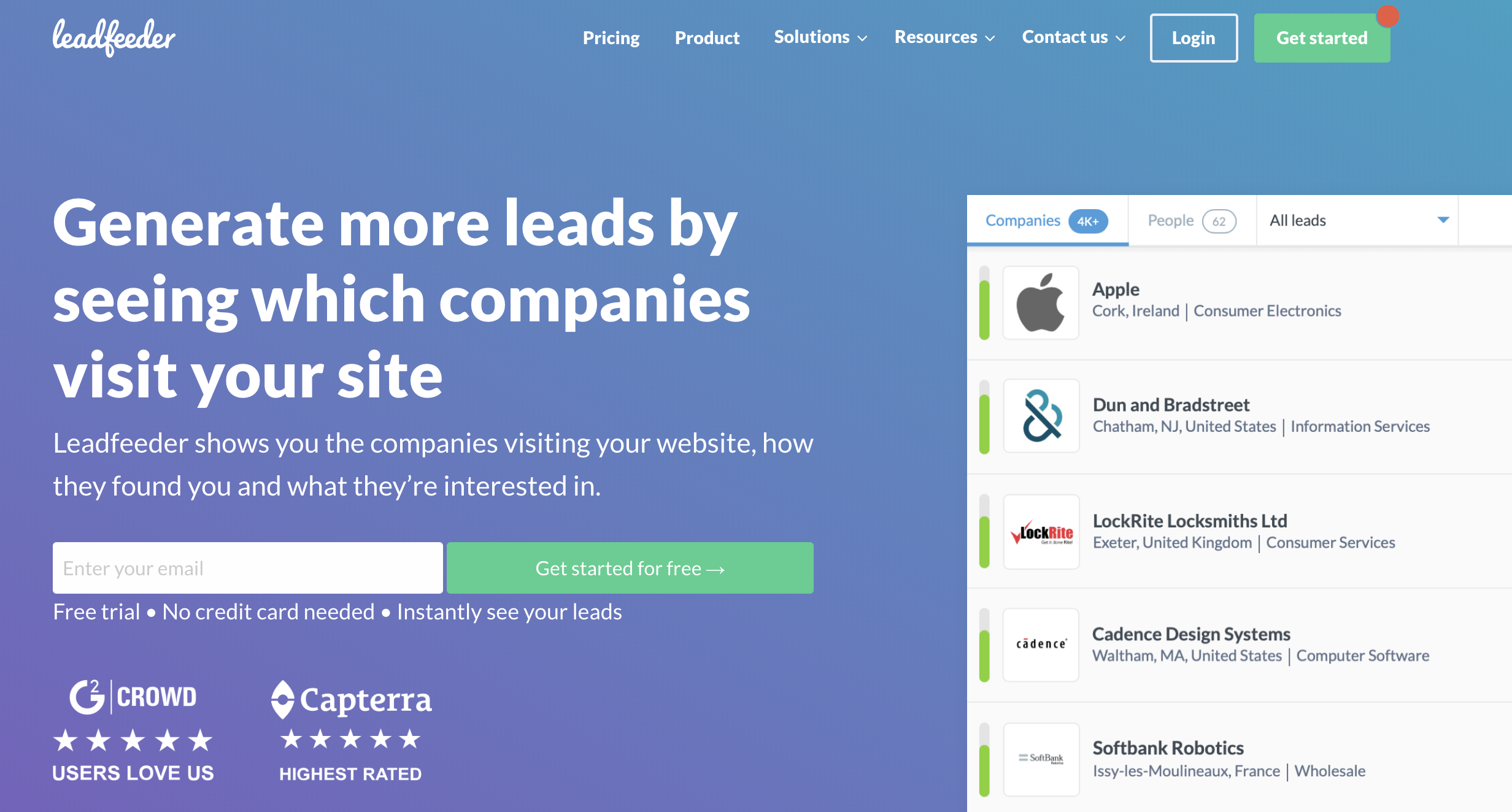 3) Look for new distribution channels
Bain & Company ran an analysis on nearly 3,900 companies during the last recession. They found that winners pulled away from losers, and substantially widened the gap in terms of profit and market capitalization during the last downturn.
One of the areas the winners excelled at? Aggressive commercial plays.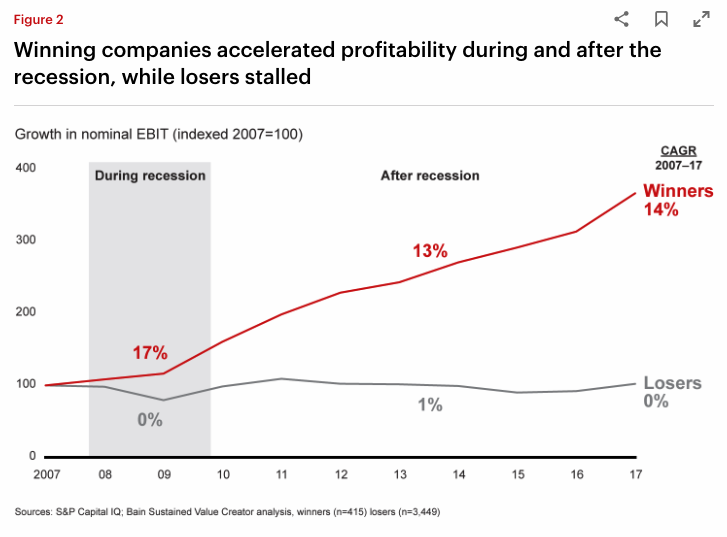 "The losing companies tended to follow a few recession dead ends. Some tried to slash and burn their way to the other side, under the misconception that extreme cost-cutting would be enough to survive the storm. They cut R&D across the board, scaled back on sales and marketing activities, laid off valuable talent and ruled out acquisitions."
Often, a company's reactive responses (laying off employees, slashing R&D, cost-cutting, etc.) has severe repercussions on their ability to recover after the recession.
"Companies that ranked among the eventual winners, by contrast, moved deliberately to capture opportunities before the recession. While they focused intensively on cost transformation, they also looked beyond cost. Think of a recession as a sharp curve on an auto racetrack—the best place to pass competitors, but requiring more skill than straightaways. The best drivers apply the brakes just ahead of the curve (they take out excess costs), turn hard toward the apex of the curve (identify the short list of projects that will form the next business model), and accelerate hard out of the curve (spend and hire before markets have rebounded)."
—

Bain & Company
The strongest companies went on the offense early while many of their contemporaries focused on survival and weathering the storm.
Looking two steps ahead, we realize that AI-powered technology, tools, and channels will offer tons of opportunity for forward-looking and bold companies to capitalize on the next recession.
Chatbots
Chatbots have seen a resurgence of late after going through a trough of disillusionment in the last decade.
Early chatbots were rule-based, following pre-designed heuristics, in a decision tree-like manner.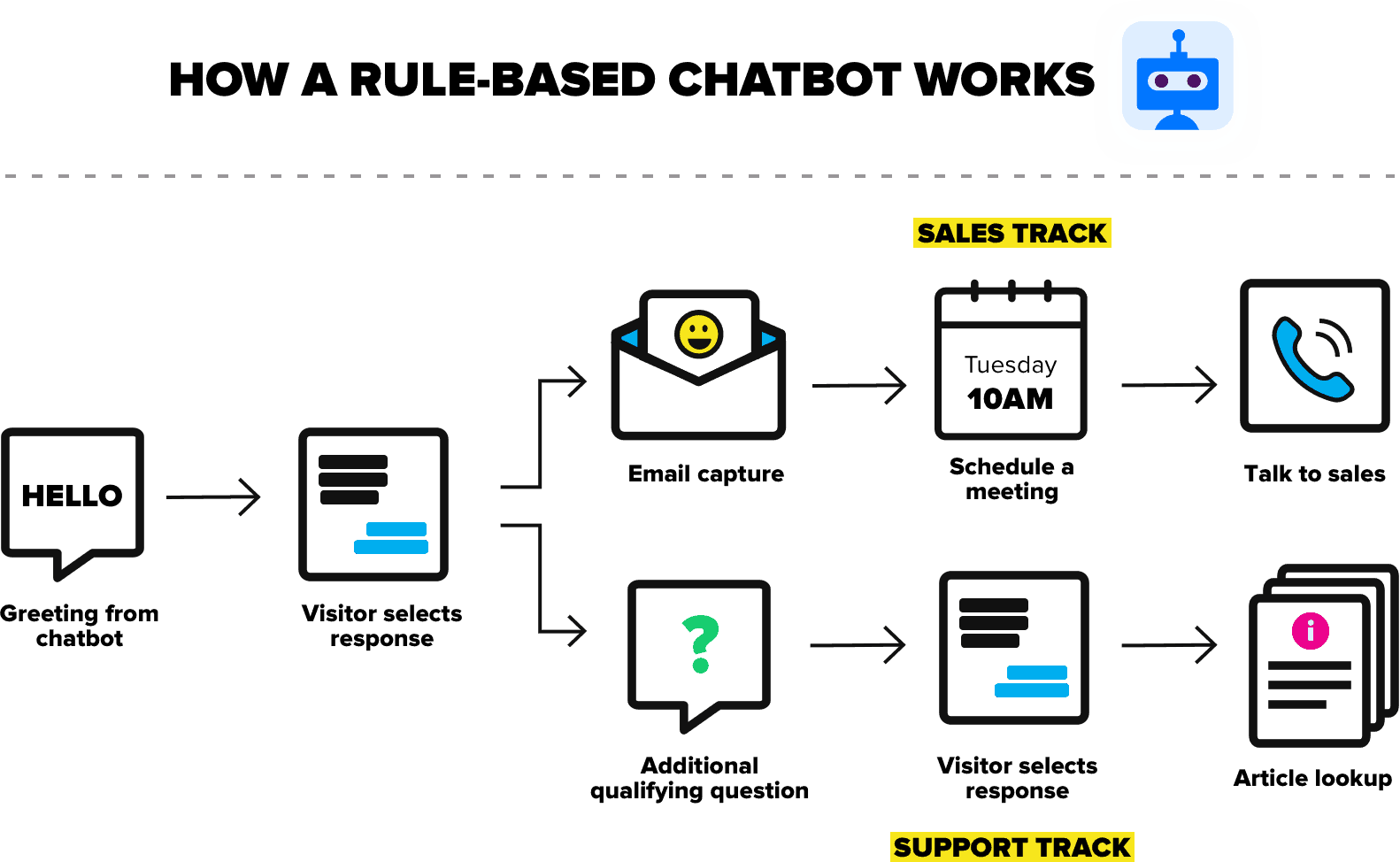 Modern chatbots leverage advances in AI and natural language processing (NLP) technology to work as a concierge for companies, when prospects arrive at their website. They can answer simple queries, ask qualification questions, and route customers to the right sales people, in real-time.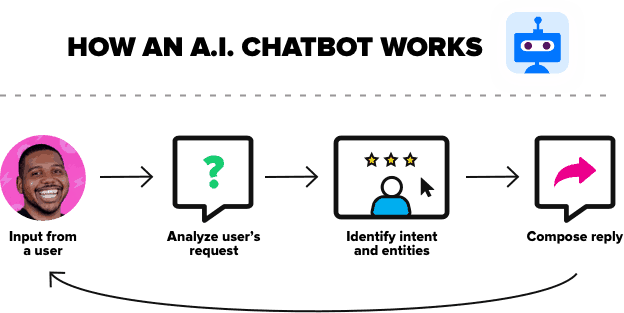 .
The main benefits of deploying chatbots are to increase website conversion rates and generate more qualified leads for the sales team.
The two biggest players in the chatbot space now are Drift and Intercom.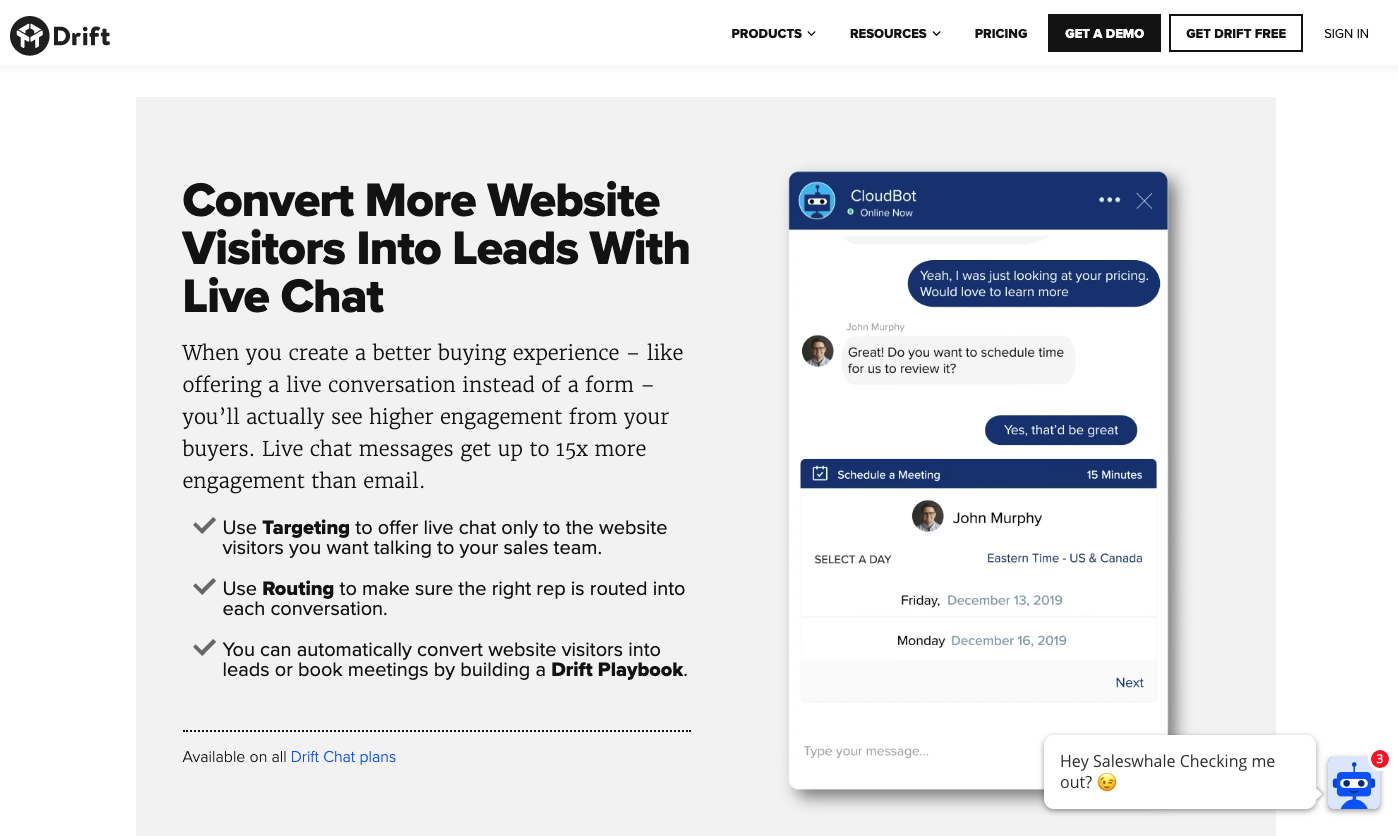 Drift customer Sean Howe of Bottomline said,
"Rather than waiting hours or days to respond to inquiries that might come through on a form, our sales team was averaging about 40 seconds to answer a visitor's question, which is pretty quick and unheard of," said Howe. "It's what can really set us apart when someone is researching our products and solutions and they end up in a conversation with a person vs browsing a list of features and benefits. Providing that human element of a real-time conversation on a B2B website could essentially be what sets us apart from our competition."
Predictive Account Engagement Platforms
There has been a shift in B2B marketing in recent years towards Account Based Marketing (ABM).
Modern ABM platforms allow you to reach your target accounts and the right decision maker personas wherever they are online. This allows B2B marketers to drive targeted advertising and personalized messaging that speaks to specific problems at unprecedented scale.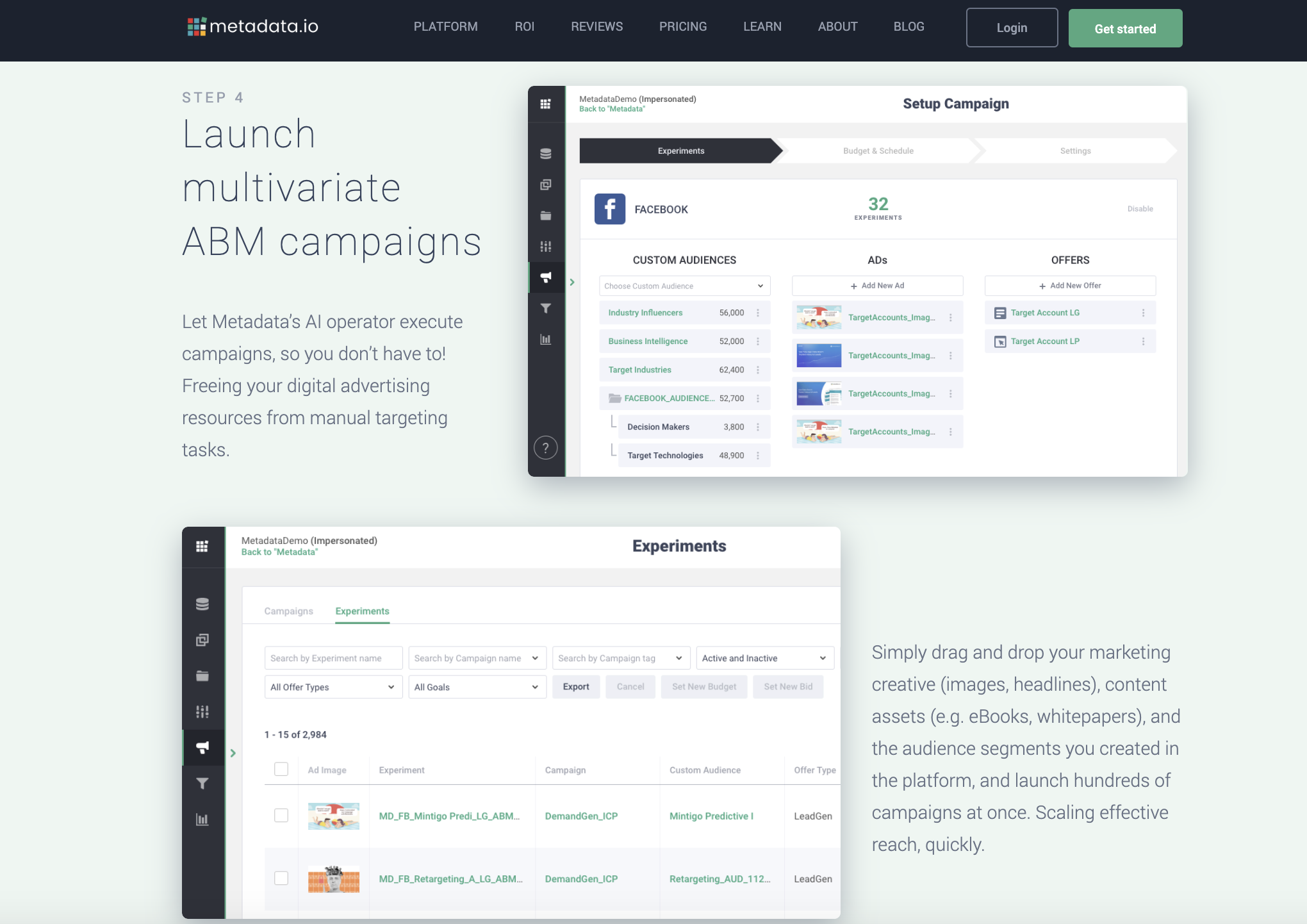 Some of the companies in the space include Demandbase, Metadata.io, Terminus, and 6sense.
Companies like Autodesk managed to align sales and marketing, and saw a 200% lift with using an ABM software like Metadata.io.
Metadata customer, Michael Smith of PluralSight said,
"Metadata is pivotal in executing our target account (ABM) focused go-to-market motion. Without it, I would be overwhelmed, and likely scaling an in-house team too early. Performance and feedback loops in B2B take time, and Metadata is a low-risk option to test and accelerate hundreds of your hypotheses. Engaging with a solution like Metadata became a forcing functional to build and optimize a lot of downstream workflows in our funnel, marketing automation, and sales processes. The direct and indirect impact of using them in our GTM motion is likely a 20x ROI."
AI Sales Assistants
AI sales assistants are tools that help marketing managers and sales people automate tasks using machine learning and artificial intelligence.
These tasks can include lead qualification and follow-up, scheduling meetings, data collection/entry, and predictive demand forecasting.
Saleswhale (that's us!) deploys AI sales assistants that qualify, engage, and convert leads at scale.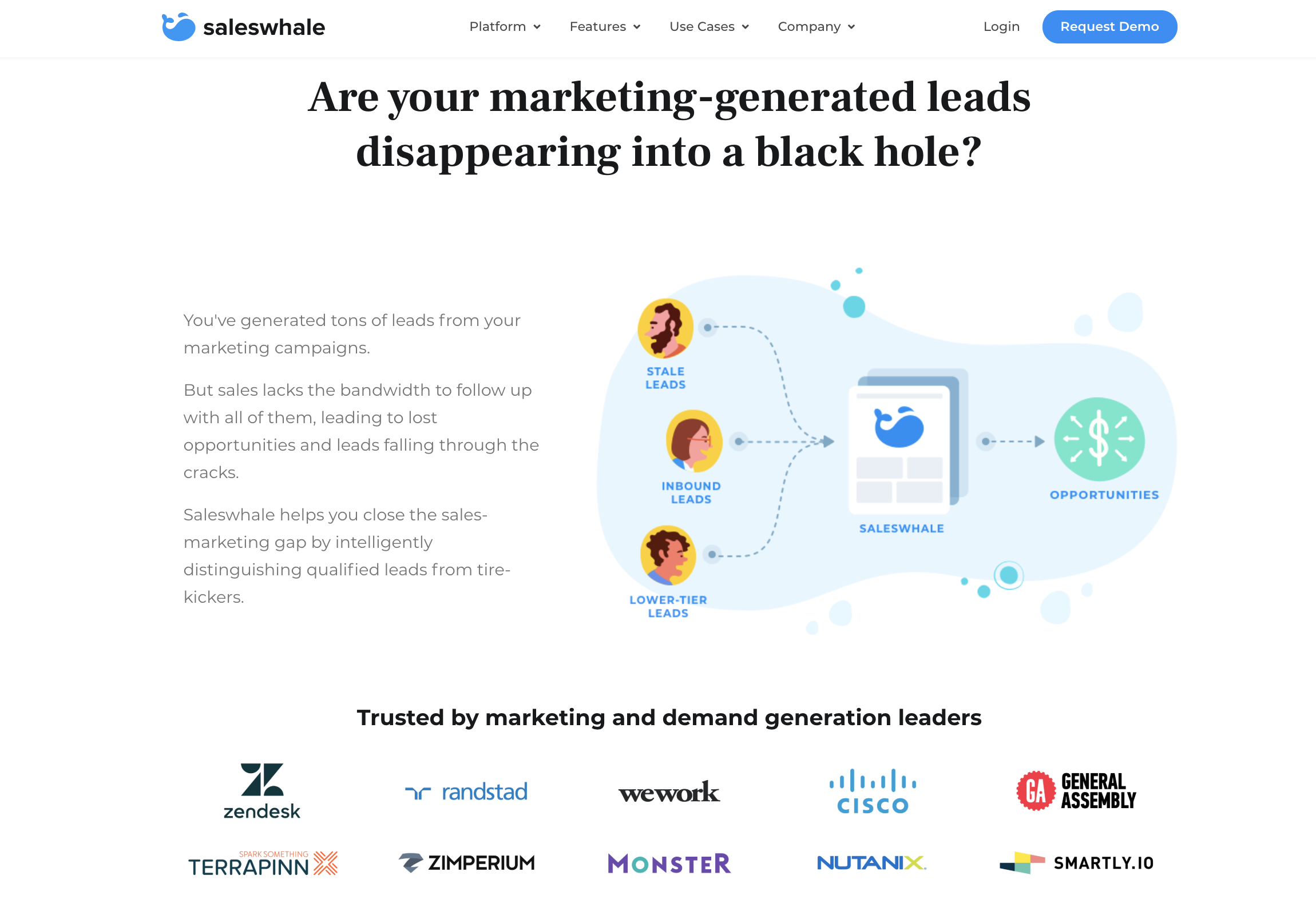 The idea is to reach out to dormant and stale leads that are languishing inside your CRM. These are leads that sales can't follow up with, because they don't have the bandwidth nor inclination to do so.
The AI works in the background to identify hand-raisers and high-intent leads that are ready for a sales conversation. When the AI finds a hot lead, it hands the lead over to sales.
Here's one complex workflow that can be completely automated with Saleswhale: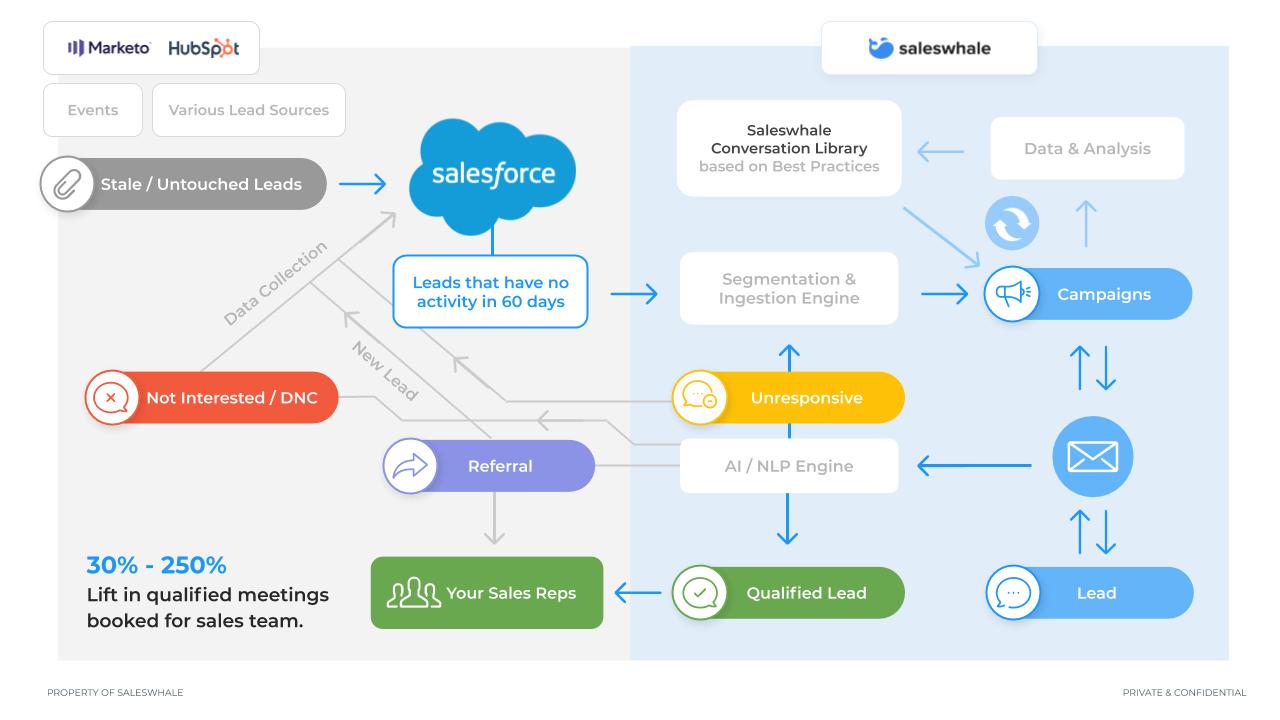 The result is usually a 30% to 250% lift in high-intent marketing qualified leads for your sales team. Without having to spend a single dollar more on paid ads. Lead recycling is a highly underrated process by most marketers.
Here's what Blaise Habgood, Business Development SVP at Randstad Group, has to say about Saleswhale: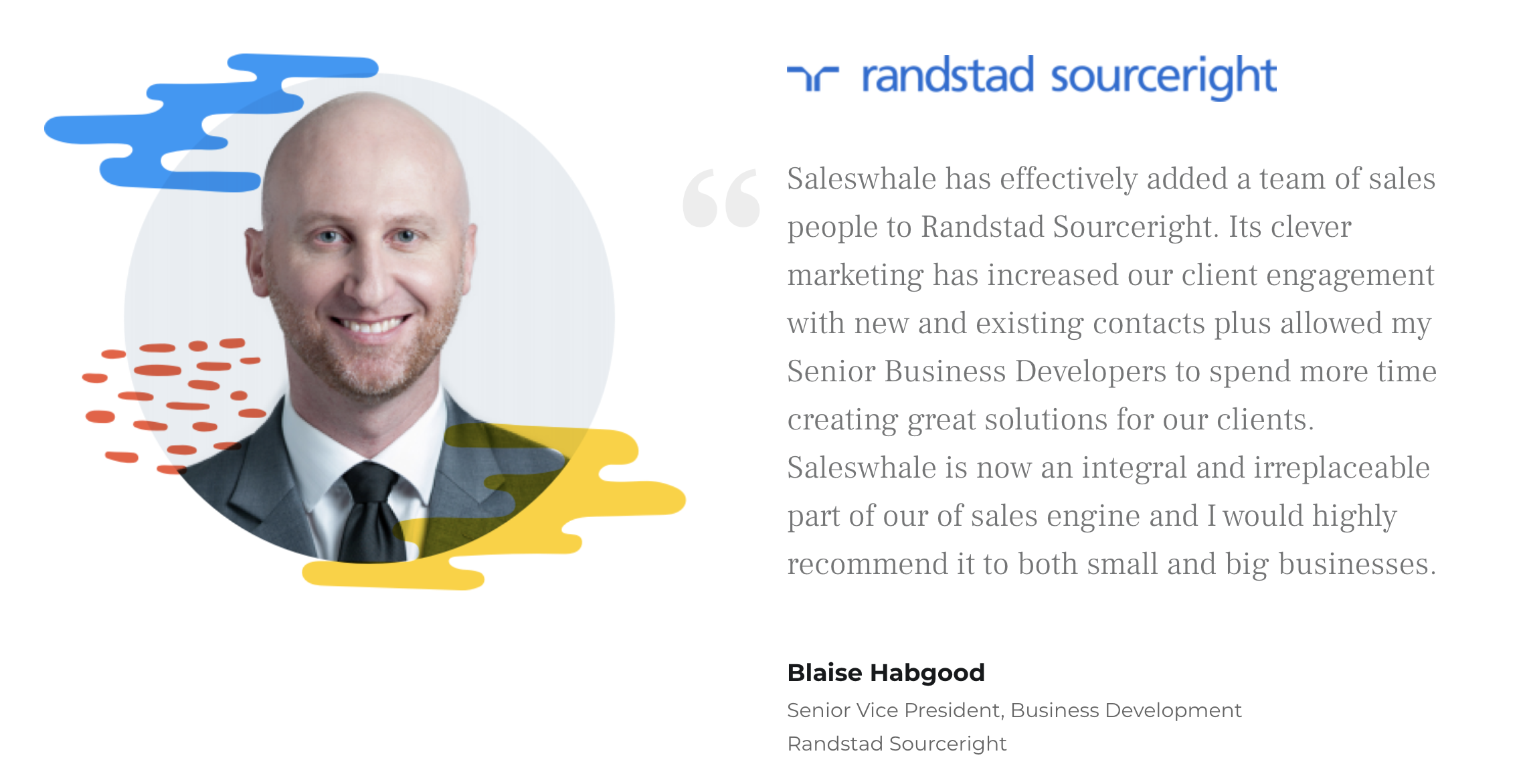 4) Increase revenue efficiency
When we talk to our customers in marketing and sales roles, we realize most of them struggle with cross-functional alignment and collaboration.
Sales and marketing work in silos, and rarely talk to each other.
This is counter-productive. Sales cannot close deals without marketing air-cover. Marketing doesn't have the insight to generate sustainable pipeline without the cooperation from sales.
How much is alignment worth?
According to SiriusDecisions, when an organization's revenue functions are aligned, it achieves 19% faster revenue growth, and 15% more profitability. Obviously, no company sets out to be misaligned, but legacy functional silos can be hard to break down.
Enter Revenue Operations, an emerging model.
Here's an infographic from Clari that explains the benefits of RevOps: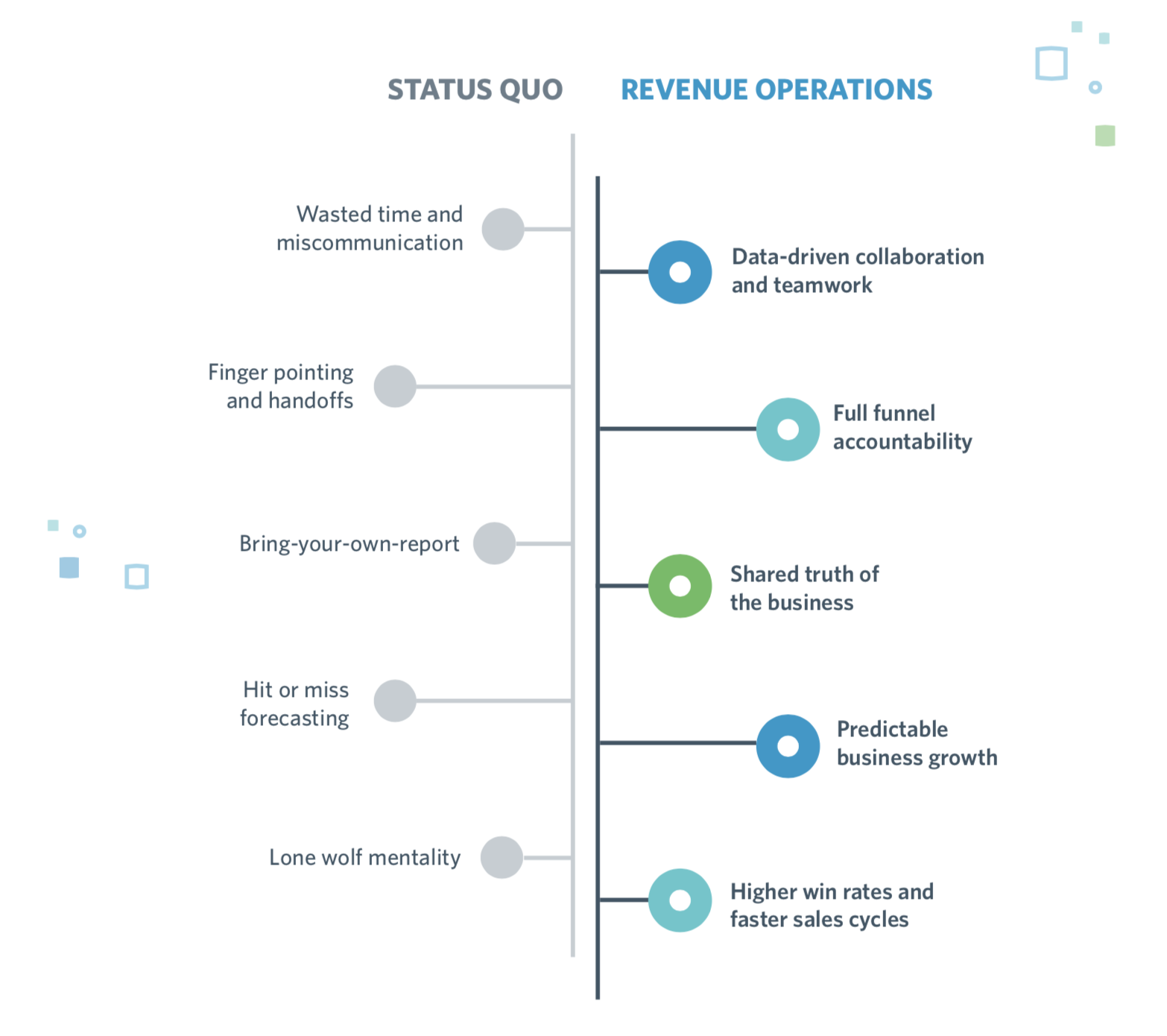 Revenue operations is the unification of sales, marketing, and customer success operations teams. Its goal is to align sales, marketing, and customer success to drive full accountability across the entire customer journey.
This was historically impossible to do, until technology that was capable of bringing together disparate data and giving actionable insights became available.
"Data is the foundation for a high-functioning revenue operations function. It must be consistent across the organization. With data as a foundation, this new Revenue Operations function is able to set common goals, align on metrics that matter the most, and establish a new baseline of trust and credibility."
—

Kerry Cunningham, SiriusDecisions
There's a really good (if lengthy introduction) to Revenue Operations by SiriusDecisions here.
Needless to say, making sure that your revenue engine is functioning at peak efficiency is crucial during a downturn.
Revenue Intelligence Platforms
There are two main players in the Revenue Intelligence space: People.ai and Clari.
People.ai is a revenue intelligence platform that ingests all the data that salespeople generate as they go about their work.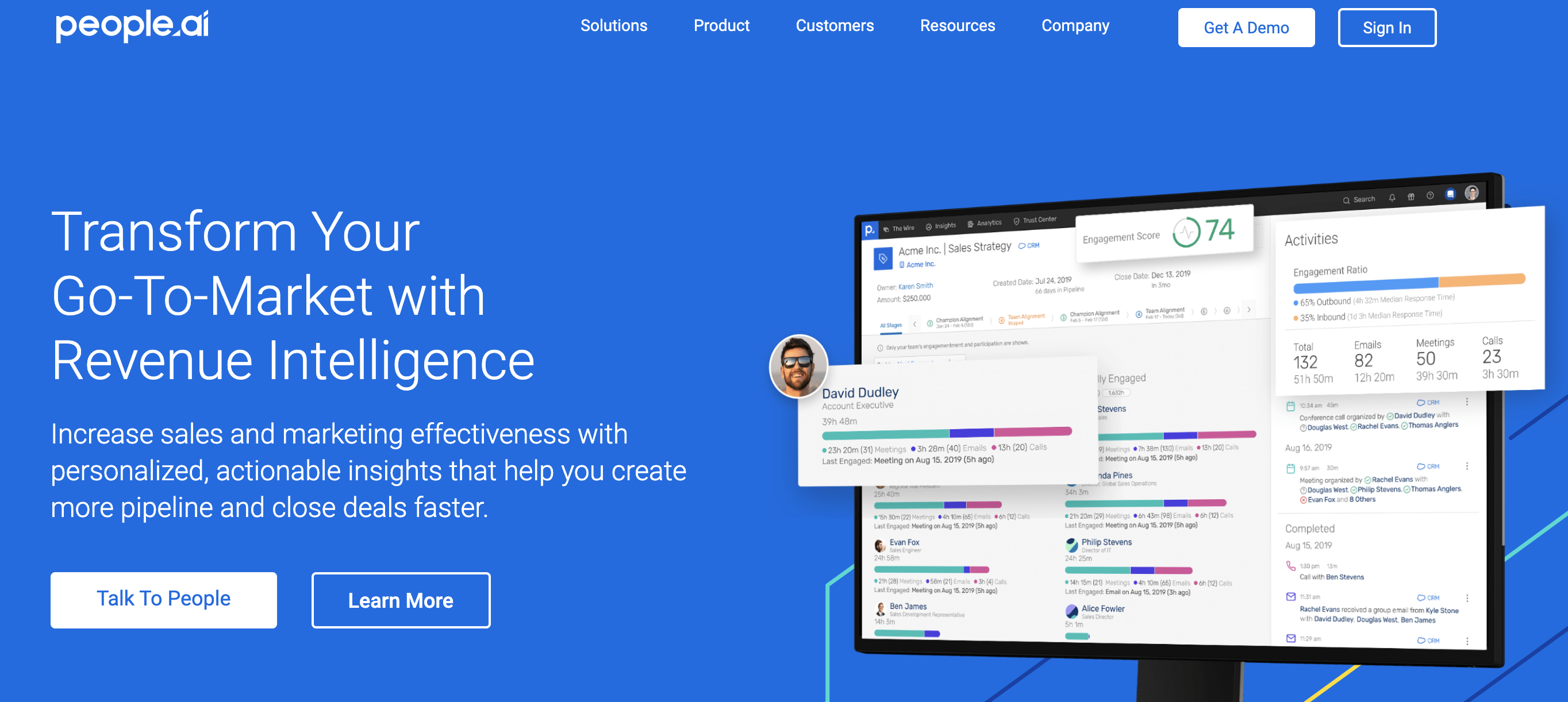 The platform then uses the data to provide insights and guidance to help them accelerate opportunities and close more deals.

People.ai also gives sales managers access to comprehensive data and recommendations on how to coach their sales teams:

Scott Holden, Chief Marketing Officer at ThoughtSpot, a People.ai customer says,
"People.ai is a game changer. It's the most exciting technology we've added to our stack in years. It automates manual data entry, increases sales productivity, and provides actionable intelligence across all our management."
Conclusion
The above 4 strategies mentioned above were commonly deployed by companies who weathered the 2008 recession.
The core principles are the same. The main difference is having more technology at our disposal in 2020.
If most of the technology I covered earlier seems new to you, it's perhaps a sign that automation and AI is evolving and maturing faster than you realized.
Which is OK. This is not a call-to-arms to buy all the latest shiny tools.
I've always been a believer of the mantra, "Strategy first, technology second."
Don't make your processes fit into the latest tool you want to use. Start by building a strategy. Then find the right technology which is fit-for-purpose.