AI assistant | 4 minute read
How An AI Sales Assistant Boosted Randstad's Lead to Meeting Conversion Rates Up To 79%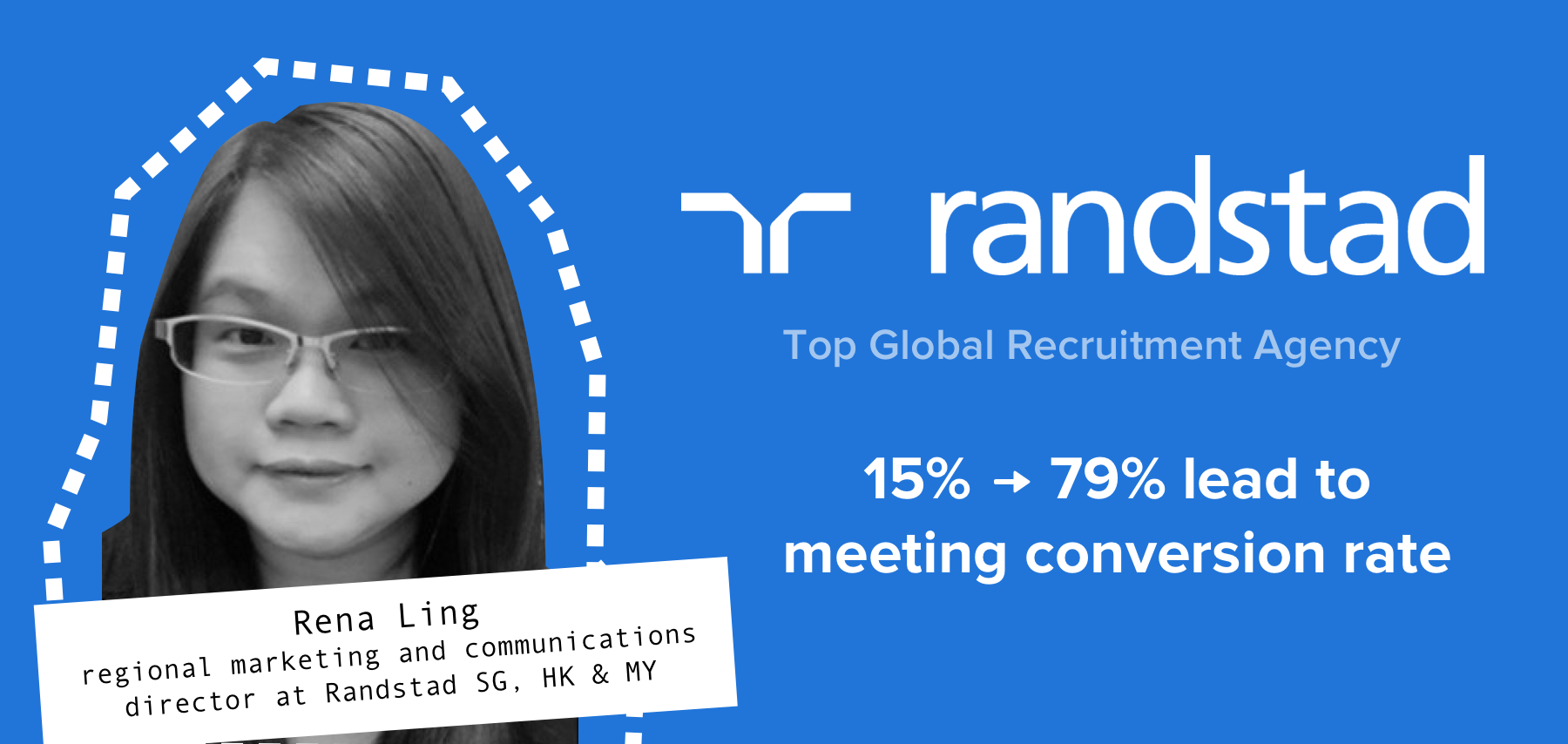 Randstad is one of the world's leading provider of recruitment and HR services, with operations in 39 countries, and representing more than 90 percent of the global HR services marke
To stay ahead of competitors, Randstad has recently launched a new brand promise, Human Forward. It focuses on "integrating superior innovative HR technology with the human touch of our professional and experienced people", shares Rena Ling, the regional marketing and communications director at Randstad Singapore, Hong Kong and Malaysia.
The company has also begun incorporating technology into their daily activities, making use of it in a way that produces "smart, personal and effective" experiences for their clients.
One of the areas they've smartly leveraged technology is in sales and marketing. The Marketing team in Randstad sees itself as both a sales enabler and driver, and uses a range of strategies, platforms and tools to generate quality leads for the business. This include social media marketing, advertising, events, inbound marketing, search, content marketing and email marketing.
Despite the marketing team constantly generating a large volume of leads, it doesn't always correlate to a corresponding increase in sales. Understandably, some of the leads are not quite ready to convert, are irrelevant, or are not in the market currently. The challenge is sifting out the qualified leads who are ready for a conversation, without burning out the sales team.
The challenge of follow-ups
"Faced with a large backlog of half-qualified or unqualified leads, the sales team will gradually drop off following up on each and every one of them," Ling explains. "The lack of consistent and regular follow-ups eventually leads to significant wasted sales opportunities."
Besides, it takes too much time to respond to and engage with every single lead, especially when the majority of efforts doesn't result in successful conversions or qualification.
"For some companies, the conversion rate from emails or calls to meetings could be as much as 15 to 1," says Ling.
For Randstad, it typically takes about six to seven back-and-forth exchanges to arrange an actual appointment with a lead who was "initially very interested".
The marketing director adds, "According to a recent research, only 2% of cold calls resulted in an appointment. You will be lucky if your sales reps continue to follow up, because most of them typically give up after two calls. The scarcity of time is also why many companies see a third of their leads' replies falling through the cracks and not being followed up on."
To maximize productivity and efficiency in sales, she knew that she had to leverage automation.
More than just email automation
She realised that many sales and marketing automation tools in the market only handle one-way communication with clients.
"With marketing automation tools, you send an email for the client to interact with - e.g. read the latest updates, click on a link, download a white paper, submit a survey etc. What follows after would be a rudimentary categorisation of such interactions into scores which may or may not be a good way to qualify a client's interest to meet or buy."
Then they discovered Saleswhale, which enables two-way, intelligent and contextual exchanges with potential clients. Ling describes it as having "an additional 'resource' working for their sales and marketing team".
She was able to see how a solution like Saleswhale could help to free up her consultants' time, and make sure every lead was engaged and religiously followed up with.
It was "a liberating discovery" to know the Saleswhale bot is capable of creating personalised conversations just like a human salesperson. More than just sending email follow-ups, it can pick up and analyse keywords, handle rejections skilfully, send relevant documents and information – and doing it all in a personable, polite tone.
If the AI bot assistant is unsure of what to do, it'll get help from a human sales rep, flagging the email for review. But it doesn't just sit back and do nothing. It learns and gets smarter over time.
"Saleswhale is not just an automated emailing tool – it's also a lead management platform," Ling remarks.
"Our strategy was to continue using our marketing automation tool to generate inbound leads, and then feed these leads through Saleswhale for follow-ups. Combining the power of a marketing automation solution with an AI assistant has allowed us to effectively maximise and qualify all the leads we have generated, resulting in more quality and relevant meetings for our consultants."
Impressive results
This intelligent email bot not only significantly increased Randstad's client engagement, but also their lead conversion. "This is one of the most significant measurements of success," says Ling.
"Where we used to see our cold and warm leads disappear into a black hole without regular follow ups, we can now re-engage all of them through the bot and push for a specific outcome, which helps the marketing team to gain better ROI on our lead generation, marketing spend and campaigns."
One of their sales goals was to reach out to the Top 75 employers from the Randstad Employer Brand Research, which put together customised brand reports for each company. Before the introduction of Saleswhale, they used Marketo, an automation tool that offers email marketing solutions, and the manual effort of their sales reps.
But they were only able to engage about 15 percent of those businesses. It didn't help that their database was outdated as well.
After deploying the Saleswhale AI bot to work alongside their team, they saw a mammoth boost in conversion rates – "ranging between 50 to 79 percent" – and secured a substantial number of meetings, reaching new heights of productivity. Randstad's operations in Malaysia and Hong Kong enjoyed similar success as well.
Outsourcing such tedious and admin-heavy tasks, such as lead follow-ups and conversions, allows Randstad to free up their sales consultants' time to focus on the prospects that really matter – people who expressed an interest to meet or work with Randstad on their new hires.
At the same time, the marketing team no longer has to check on individual consultants to confirm if every lead has been followed up on. "Saleswhale provides a comprehensive and real time report on all the leads we have engaged with, and the stages we are at for each of those leads," Ling says.
She goes on to add that they "take pride in the fact that we are the first recruitment company to work with Saleswhale – and have since extended our partnership across and beyond Asia Pacific."
And to top it all off, Saleswhale had every quality they wanted in a tech partner. Namely, a young, hungry and dynamic team who brings fresh ideas to the table, a local regional office, as well as a responsive and passionate client success and engineering team who are dedicated to improving the quality of their services and software.