Sales Tech | 9 minute read
The Anatomy of a Fully Automated Sales Funnel (+85 Tools)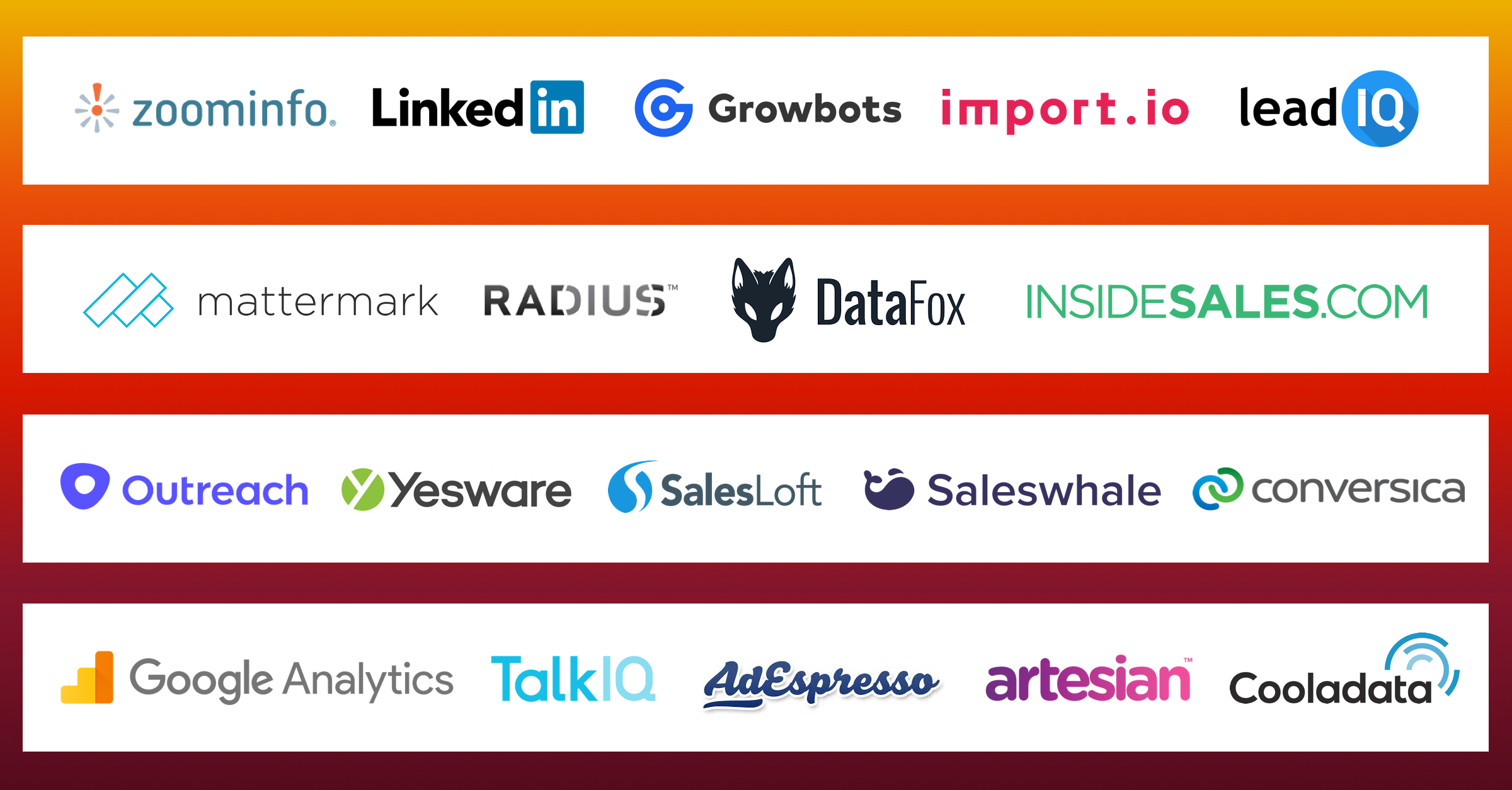 Road trips and knocking on doors used to be the hallmarks of sales. Nowadays, though, salespeople are more likely to be found tapping away on their computers and holding video conferences.
People say the Internet has made things easier for sales teams, but you know that's not the entire picture.
Salespeople still need to hunt, attract, track, and close customers - but before that, they need to find the relevant target amongst some four billion Internet users.
Not exactly a breeze.
You may have noticed your sales teams spending more time on manual tasks like emailing and filling out spreadsheets than on actual selling.
Perhaps they're taking significant amounts of time finding information on people, customers, and events; sending and following up on emails; or writing and targeting ads.
All these activities are crucial in moving potential customers down your sales funnel. But wouldn't it be wonderful if they could focus their time and energy near the bottom of the funnel - negotiating and closing deals - where having the human touch is truly vital?
That's why efficient sales managers (such as yourself) use tools and apps to automate the sales funnel.
Automating the sales funnel
These days, sales funnels incorporate both physical and online activities, and ideally allow for cooperation between marketing and sales teams. Your company's funnel may slightly differ from others', as you have distinct products, services, and market segments.
Let's first recall the common three parts of the sales funnel, no matter what labels you've given the actual stages:
Top of the funnel
Middle of the funnel
Bottom of the funnel
For this article, let's use the top-to-bottom stages of Prospects, Contacts, Leads, Finalists, and Clients.
Top of the funnel
Prospects
Just like a physical funnel, this is the widest part, which contains the most number of people. Prospects may have visited your website, been included in a cold call or cold email list, or visited an event that you organised. You and the Prospect don't know much about each other yet.
To find Prospects, you might have team members visiting online forums, competitors' sites, social media networks, blogs, and more. These sites help you find information on potential Prospects, industry players, and competitors' activities.
Here are some tools and websites you can use for prospecting (despite being commonly called lead generation tools, their main use is to point you to potential Prospects):
To speed up the prospecting process, sales teams can use web scraping tools. These can quickly build lists based on information from prospecting websites. While extracting massive amounts of data can take a person a week, a web scraping tool can achieve this in minutes.
For instance, if you're targeting startups with a certain amount of funding, a web scraper can gather the information you need from sites like Crunchbase. Or you might want to crawl Amazon for product prices and ratings.
Here are some user-friendly web-scraping tools for salespeople:
Middle of the funnel - Contacts and Leads
Contacts
Contacts are basically people your company has been in touch with.
Perhaps they downloaded an ebook from your website or followed your Facebook page. They may have answered your call, participated in a survey, signed up for your e-newsletter, or clicked on a link in your email. They may have arrived on your website using one of your target search terms.
At this stage, Contacts are simply getting to know your products and services, just as you are getting to know them.
The best sales managers take both immediate and forward-looking views when evaluating a Prospect's qualification to become a Contact.
They don't ignore Prospects who aren't currently classified as Contacts, but can possibly move down the funnel in the near future.
For example, if you're a recruitment firm specialising in young IT professionals, a university student in his third year of Computer Science studies can soon become qualified.
Remember, though, that it's not just you who's making decisions. At this stage of the sales funnel, prospects are also evaluating whether or not they need your product or service.
To help you sift out Contacts from your Prospects, you can use data mining tools. Here are some data mining tools and SaaS platforms to help automate this part of your sales funnel:
Leads
Most sales managers will have a set of tried-and-tested strategies for converting Contacts into Leads. Your team's techniques may include email and newsletter campaigns, event invites, and blog updates.
At this stage, you'd be keeping a close eye on their activities so you know once they begin considering purchasing your product or service, and thus become Leads.
The data mining tools listed above are also useful for identifying Leads, as they help you make sense of the information you've gathered. They allow you to predict which sales channels will work best with a given market segment.
After identifying Leads, you can then assess whether they are ready to begin receiving more solutions-oriented information, such as case studies. One way to do so is with the use of lead scoring tools. These include:
Another way of quickly sifting through these Leads to filter out the gems would be to engage them with email sequencing or two-way conversations to elicit a meeting or a call. Those who respond are usually ready to jump on a demo, or receive more solutions-oriented information.
Here are some lead engagement tools that will help you do that:
Of course, you can automate these qualifying and converting strategies as part of a CRM workflow - more on that later.
Bottom of the funnel - Finalists and Clients
Finalists
Finalists have become convinced that your products or services are a good option. Now you need to convince them that you really are their best choice.
At this stage, you'll have enough information about Finalists to be able to study their behaviour closely and apply effective strategies for conversion. This is where behavioral analytics tools come in.
Those that integrate with ad campaigns are even better, as they kill two birds with one stone by automating A/B testing, ad budget optimization, and ad placement.
Below are analytics tools and SaaS platforms that salespeople will find especially useful:
Clients
Those who are convinced, and purchase your solutions, become Clients. Congratulations!
At this point, a strategic sales manager will focus on keeping the ball rolling.
You want to delight Clients, retain their services, and gain repeat purchases or renewed contracts. Happy Clients will also recommend your product or service to their peers.
Bringing it all together
All the steps we've talked about are difficult work, especially when you merge physical and online sales and marketing channels.
The good thing is, there are also tools that can be deployed throughout the entire sales funnel, allowing you to seamlessly integrate each step from top to bottom.
Customer Relationship Management (CRM) tools
Let's face it, using CRM systems can be a pain in the neck when they're not set up to complement the sales process and integrate with other sales apps. Some also require a high learning curve, resulting in sales people using spreadsheets instead.
CRM systems are really helpful, though, which is why sales teams can't ignore them. Fortunately, with the growth of DevOps, CRM developers have been making it easier for sales teams to create and automate workflows.
With your CRM workflow, you track people's movements throughout the entire sales funnel. This includes following those who open your emails (and those who don't), click through to your website, and download your educational resources.
Information gathered from sales-driven CRM systems help you make predictions and adjust your strategies. Here's a list of CRM systems that are ideal for tracking movements across the sales funnel:
Workflow automators
You'll notice that there are certain task sequences that salespeople repeat again and again. And sometimes, you just wish you had an assistant to perform these sequences for you. This is where automators come in.
Tech-savvy salespersons use automators to perform repetitive tasks. Some examples include:
Sending yourself an email when certain keywords are mentioned on Sina Weibo
Automatically creating a new "follow-up" task on SalesForce whenever you add a new lead
Syncing with Google Calendar to automatically mute your phone when you have a meeting
The task sequences above are actual recipes on If This Then That, but there are other automator tools, too. Zapier, for instance, lets you connect your apps and create workflows. Mac users have Automator, which also allows you to build workflows for repetitive tasks, like changing multiple file names or showing a specific slide from Keynote or PowerPoint.
The sales activities listed above aren't the only ones that can be automated. There are apps that extract the most relevant parts of your sales calls, send Google Maps locations to clients who are visiting your office, and integrate with LinkedIn to send and track InMail.
Most importantly, you can use analytics software to understand and predict behaviour of people at different parts of the sales funnel.
Get all the help you can
With the wealth of tools out there, the key is to use solutions that best help you move people down your sales funnel.
After all, it's humanly impossible to be able manage all the different moving parts by yourself. You need all the help you can get.