Employee Spotlight | 4 minute read
Saleswhale employee spotlight: Andrew Abogado, Product Designer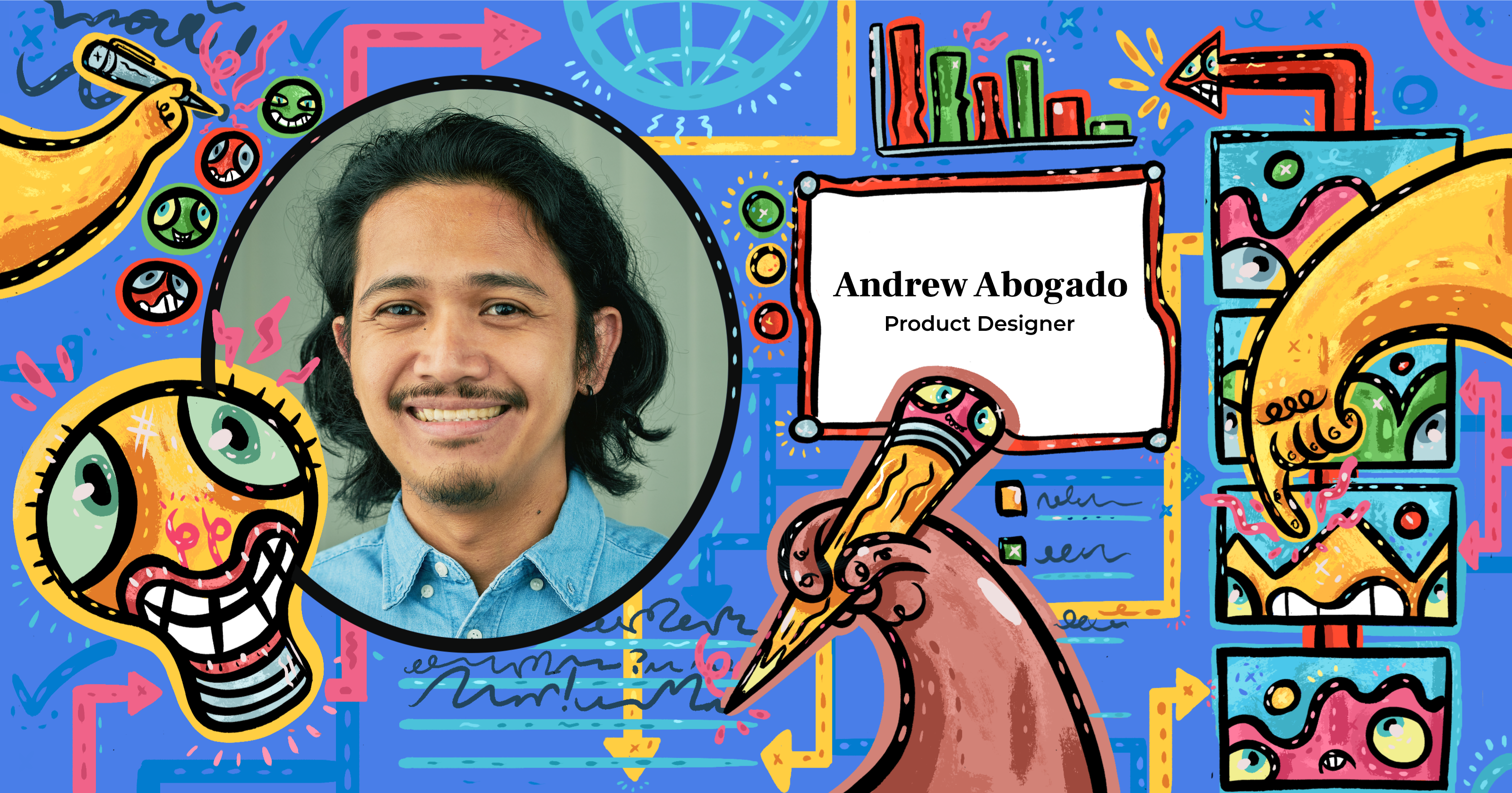 Meet Andrew Abogado. Andrew moved from the Philippines to Singapore in 2010. He worked at various companies, from digital agencies to tech startups, as a front-end developer.
Then in June 2017, Andrew joined Saleswhale. He was the second employee to come on board after Kelvin.
Today, Andrew is still at Saleswhale, working as a product designer. His main role is to build new product features and improve existing ones.
Trusting his gut and joining Saleswhale
Andrew joined Saleswhale when the company was a super early stage startup. It's a position he's all too familiar with.
"I've had experience working for companies that started from the ground up in the Philippines. Back then, I wasn't aware that they were startups," he recalls.
In Singapore, young, venture-backed startups drew Andrew's attention. He was interested in working with smart people and solving big problems despite having limited time and resources. These constraints, he says, helped him fast-track his growth and speed of learning.
"When Ethan Le, CTO of Saleswhale and my ex-colleague at Viki, invited me to join, I got excited. Saleswhale was an early-stage startup with a promising idea in the B2B and AI space," he says.
Andrew adds that Saleswhale's leadership was crucial in his decision to join the company. The co-founders had three pillars that he believes are vital in a startup.
(Saleswhale) has a tech person (Ethan Le), a product person (Venus Wong), and a hustler (Gabriel Lim). It's a dynamic trio which I believe is a great composition to run a successful startup. I followed my gut feeling and told Ethan I was in, he explained.
While Andrew had concerns about joining Saleswhale, its newness was not one of them. He reasons that joining any company always feels scary, more so when it's a startup.
"I guess one of my concerns before joining Saleswhale was if the company ran out of runway and still couldn't find product-market fit. Without product-market fit, it's hard for the company to progress with new initiatives, let alone raise another round of funding," he explains.
But the excitement of learning and growing with the company outweighed these issues.
As a front-end designer, Andrew created the HTML, CSS, and presentation JavaScript code.
"I touched presentational code to build client-facing interfaces for Saleswhale," he recalls. "I also learned and introduced a few things to facilitate product workshops and identify product scope, validate ideas, and foster collaboration."
But Andrew notes that his initial job description was only a formality, as his first few months at Saleswhale had him working on a variety of tasks.
"I have to wear multiple hats to get the job done. That includes UI coding, product design, customer discovery, and even brand and identity development," he explains.
As Saleswhale grew, Andrew's tasks and responsibilities gravitated towards strategy.
"I've been coding less and have been doing more product design activities. These include understanding product requirements, researching the problem and solution phase, providing solution sketches, wireframes, lo-fi or hi-fi mock-ups until prototype, and validating with users," he says.
Living out Saleswhale's culture from day one
Andrew says Saleswhale's culture revolves around three core values:
Rigor
Transparency
Radical candor
He also emphasizes the importance of transparency in the company's small and close-knit team.
In Saleswhale, processes are transparent. There are one-on-ones with co-founders, weekly company stand-up meetings and monthly town halls. Everyone knows where we are heading as a business and as a company, he says.
Andrew adds that Saleswhale's meritocratic culture and belief in empathy have allowed the company to be what it is today.
"Camaraderie, teamwork, and dedication to improving allow Saleswhale to achieve its goals," he says. "It's what I enjoy about our culture."
Andrew feels a sense of reward working with driven people from diverse backgrounds.
"What matters most is working with amazing, hardworking, and skilled people," he says.
While Saleswhale has gone through many ups and downs, Andrew still believes in the company's culture and vision.
Hitting a certain scale in business and teams is already a great learning experience for me. I can't get that with any other company with rigid processes and hierarchies, he explains.
Looking to Saleswhale's future
As more people join Saleswhale, Andrew believes they need to work harder and smarter to stay cohesive.
"In the beginning, I could talk to anyone. But as the company grew, new functions emerged, making it a bit challenging to stay in touch with everyone," he explains.
In response to this issue, Saleswhale created ways for people to communicate more. These include Donut sessions (casual one-on-ones with Saleswhale staff), Friday lunches, Slack chats, and meetings.
"These activities allow us to stay connected, be more efficient, and ignite serendipitous moments at work," Andrew says.
He also believes Saleswhale can eventually become a leader in the conversational marketing space. "I want us to reach other use cases where AI sales assistants make sense. It could be scheduling meetings or even entering the B2C space. Who knows," he says.
For the team, Andrew is excited to double or triple its size across functions with a mix of specialists and generalist team members.
"That's the dream," he says.
Life during downtime
Outside of work, Andrew travels with his wife when the opportunity presents itself. "Whether it's a short weekend getaway or an annual vacation, we use these moments to recuperate from our daily routine," he says. "We still have a lot to fill our bucket list of places to visit."
He is also passionate about fixed-gear bicycles, or fixies.
"It's a fun and thrilling activity. What fascinates me is that people look at it as something too risky," he shares. "There are risks involved but they're calculated. As you ride, your senses are heightened for dangers and that allows you to look ahead and be more attentive."
Interested in doing what Andrew does? Consider joining the team by checking out our list of open roles.
Originally published on 3 April 2019, updated on 18 December 2019