AI assistant | 4 minute read
How Saleswhale's AI sales assistant helps to drive enrollment and engagement for education clients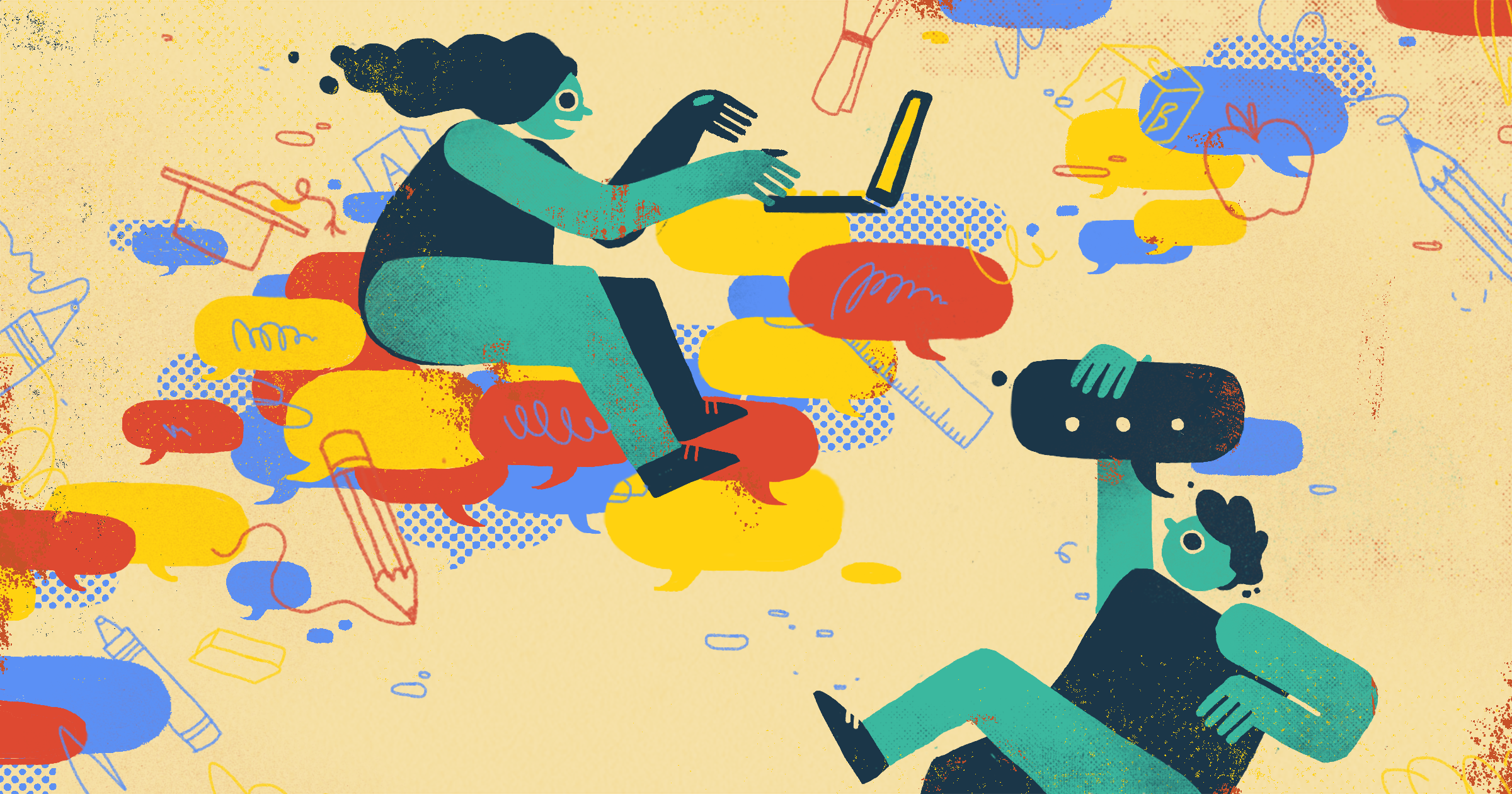 Since 2016, our AI sales assistant has helped over a hundred companies with their lead engagement and qualification. On average, our customers see an increase of 30% to 250% in qualified sales meetings booked for their sales team.
All this might sound too good to be true.
How would an AI know what to say to leads in order to help them?
How does it qualify a lead?
Can it really understand humans?
We'll demonstrate using examples of conversations between our AI sales assistant and leads. In this post, we'll focus on how she helped our clients in the education industry improve their lead engagement and qualification.
Key business challenges across the education industry
For many of the schools we've spoken to, they receive a lot of inquiries but are unable to respond to them all. This is because most admissions teams are resource-constrained and wear several hats. So they find themselves up to their necks with applications, inquiries, and other ad-hoc tasks, especially during enrollment seasons.
Another challenge is that prospective students can take a long time to decide to enroll. Many of them are top-of-the-funnel leads that come from sources like school tours, free workshops, and events. These leads require more nurturing and follow up, sometimes over months, in order to get them interested in enrolling. But this is not something that resource-strapped admissions teams are able to do for every lead. So they end up focusing on the people who are most eager to enroll, while leaving the rest on the backburner.
Using AI to solve business challenges in the education industry
Unlike an admissions team, our AI sales assistant can have two-way conversations with thousands of people at one time.
She can follow up with every person who ever contacted your school, from long ago or just in. But why stop at engaging prospective students? Some of our education clients have used their AI sales assistants to delight current students, by recommending relevant courses.
Re-engage prospective students who previously indicated interest
"The best feature Saleswhale provides that is hard to replicate with a human salesforce is the ability to provide timely, tailored follow ups to large volumes of leads. We find many leads respond on the 3rd or 4th attempt and this is something which is difficult to replicate on mass with a busy sales team." ~ Jonathan O'Brien, Regional Admissions Director, General Assembly APAC
Over time, many prospective students fall through the cracks and end up forgotten. Schools end up with massive backlogs of old leads that no one knows what to do with.
These leads are actually a gold mine of enrollment opportunities. Our AI sales assistant could reignite relationships with people who have previously expressed interest, by re-connecting with them over email.
In General Assembly's case, we got an AI sales assistant to reach out to 10,000 of their old leads. After several months of email exchanges, she managed to uncover more than 600 interested prospective students.
Here's a sample conversation example that shows how our AI sales assistant would have reached out to a lead that had expressed interest in enrollment: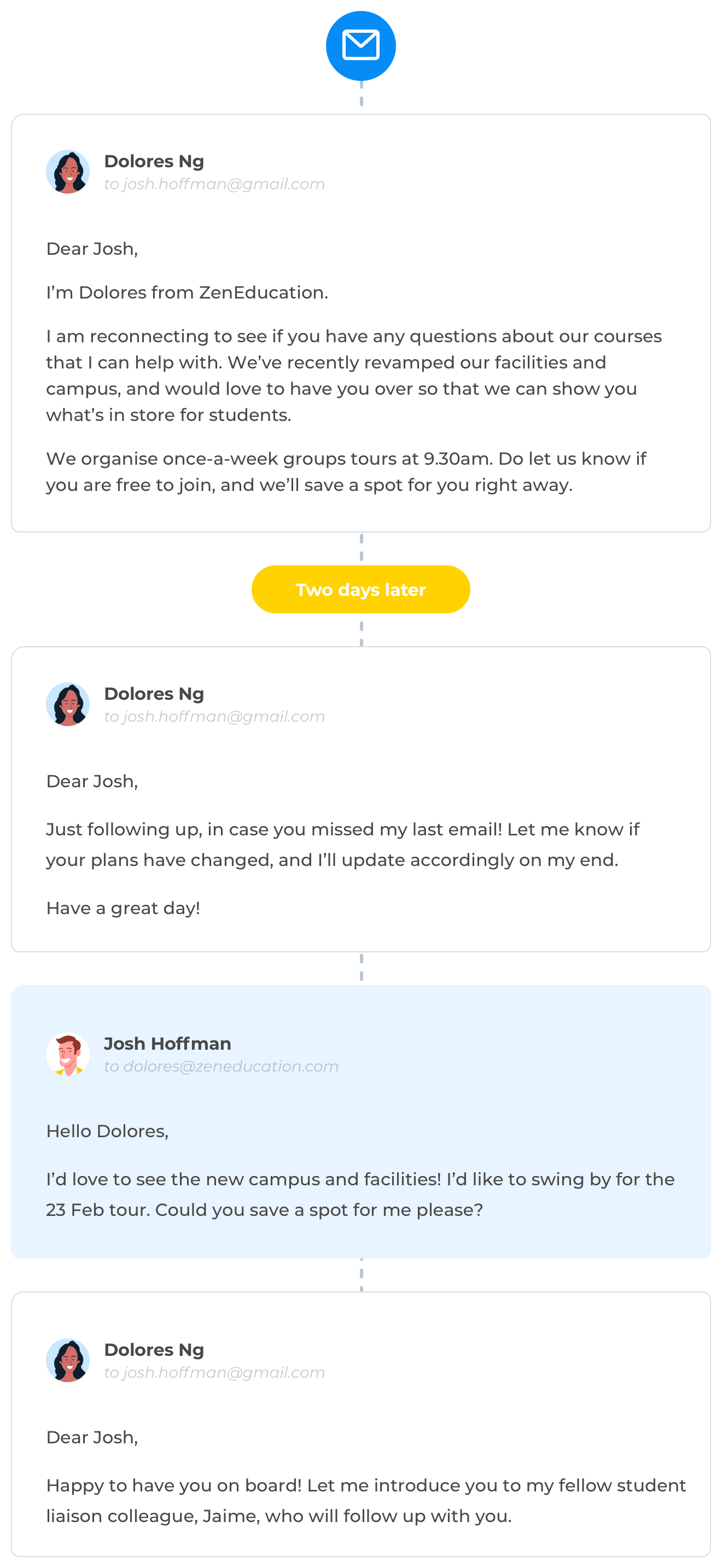 Interested in using AI to get more sales-ready leads? Request a demo of our AI sales assistant today!
Prompt and personal response to every inbound lead
"Our Saleswhale AI assistant has enhanced the efficiency of our lead nurturing process significantly. With a 44% response rate which is incredibly high, we have managed to save over 300 hours of work across 2 campaigns." ~ Bipasha Minocha, Group Brand and Marketing Director, EtonHouse
Besides reaching out to old leads, our AI sales assistant can also ensure that all your fresh new inquiries get prompt personal attention. EtonHouse's AI sales assistant supports parents by following up with those who made online inquiries. Thanks to her, EtonHouse can be sure that no parent's query goes unanswered, even during busy seasons.
Some of our clients attract top-of-the-funnel leads by organizing free classes, talks, or webinars. Our AI sales assistant can follow up with these participants to see if they are interested in enrolling for full-time classes. You can see how she does it in this sample conversation:

Interested in using AI to get more sales-ready leads? Request a demo of our AI sales assistant today!
Retain more existing students through cross-sell and upsell
"(We) consistently see our Saleswhale bot's emails opened 2 to 3x more than emails sent using other tools." ~ Padro Ang, Senior Associate, Marketing & Communications, The Learning Lab
Students today have many courses and workshops to choose from and it can be hard for them to decide. Our AI sales assistant can recommend them courses that will deepen their knowledge of a subject, for example, an intermediate class that follows a beginner class. Or cross-sell a complementary course, such as a search engine optimization class to go with a content marketing class.
The Learning Lab's AI sales assistant checks in on parents and asks about their children's' tuition experiences. She also gives parents a heads up about other Learning Lab programmes that are relevant to their children.
This sample conversation example shows how our AI sales assistant would nudge a customer towards additional programmes that they might find beneficial:

Interested in using AI to get more sales-ready leads? Request a demo of our AI sales assistant today!