Martech | 4 minute read
How to Succeed with Marketing Automation in Asia? Stop Comparing.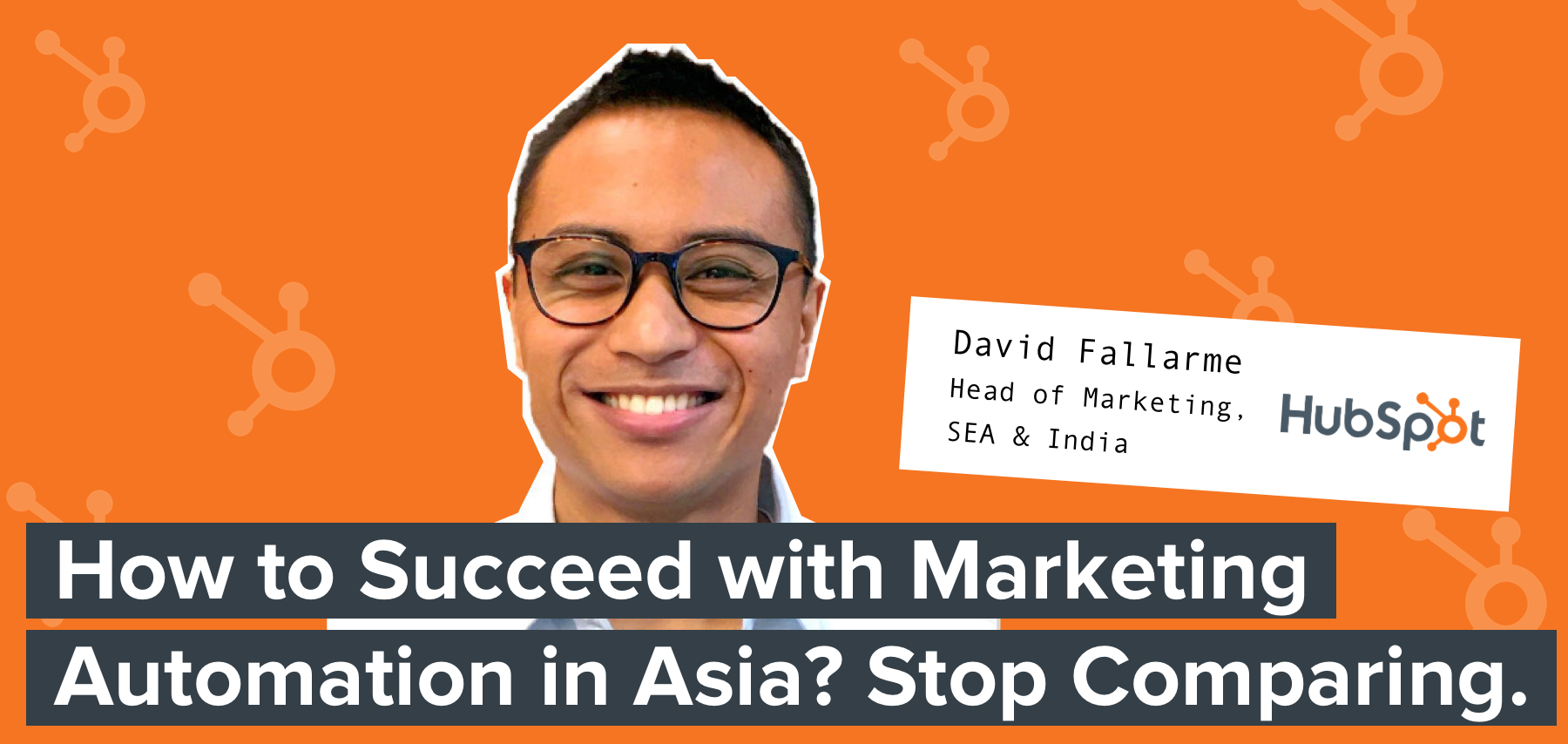 The weird thing about marketing automation: if it's executed very well, it's almost invisible and you can't tell it's being done to you," says David Fallarme, who leads marketing at HubSpot Southeast Asia and India.
Unfortunately, this lack of visibility means marketers face an uphill task when trying to set up their own marketing automation programs. This is particularly so in Asia, where we tend to guard our trade secrets tightly.
Having consulted with many HubSpot customers around the region, however, David has seen his fair share of marketing automation programs across Asia.
His advice to marketers in this region? Stop comparing.
East vs West no longer
There is a prevailing opinion that marketers in Asia are "behind" on digital, as compared to those from the West.
Truth be told, many of us have taken our cues from Western countries, such as the US and Europe, for a while now. However, increasingly it's becoming clearer that what works somewhere else, might not necessarily work in this part of the world.
David doesn't think that it is "useful to obsess about comparing ourselves to our 'US counterparts'."
"For one, it's becoming less and less the case that Asian companies have true US counterparts," he explains. "Also, we should focus on what works properly in our context instead of comparing to other regions."
He uses the example of email nurture sequences - "a staple of marketing automation as we know it today" - to demonstrate this.
"A tactic like this might work perfectly well in the US, UK, or ANZ, but might fall flat in some emerging economies in Southeast Asia, where business is done more via messaging apps, or even in China, where some industries are done totally by phone calls."
Take for instance WeChat. Known as the "App for Everything", the Chinese use it for anything from making store payments to splitting lunch bills. Boasting some 963 million monthly active users, there's no equivalent app in the Western world.
To be sure, marketing automation would still be extremely useful in these cases. However, you'd likely come up short if you look to the West for answers in these areas.
"In fact, I think a lot of marketing automation innovation will come from Asia over the coming years," David says. "I haven't seen anyone nail marketing automation in a chat app yet, but I'm betting we'll see some exciting uses out of Asia in the near future."
Adoption of marketing automation in Asia
Generally speaking, David believes that marketing as a whole - including marketing automation - has improved a lot in this side of the world.
"Facebook and Google have grown their presence here, which accelerates the uptake of marketing best practices in the region. The tech ecosystem is maturing as well," he says.
A small, telling example of how marketing automation is on the rise in this region: "the increasing reach of retargeting."
"A few years ago, it was pretty much only the large ecommerce retailers doing it. Now, it's smaller SaaS companies all around the region," David explains. "This means access to marketing tools is increasing and sophistication is increasing."
In 2016, a report released by Econsultancy found that 51 per cent of marketers surveyed were already using some kind of basic marketing automation. No doubt that number has increased now - but by how much?
Like David mentioned in the introduction, marketing automation done well is practically invisible. For marketers looking to understand what's going on in the industry, here's what David recommends: "uninstall your ad blocker and start opting in for lead forms."
"Actively seek out experiences where fellow marketers are likely to put you in some kind of marketing automation sequence, and see what happens," he continues.
It would be wise to then create a 'swipe file' to house all these marketing automation examples, for future reference.
When marketing automation "fails"
According to HubSpot's State of Inbound 2018 report, 42 percent of marketers surveyed were tasked with proving the ROI of marketing activities over the next 12 months.
Faced with the pressure to rapidly prove a return on investment (ROI) from their marketing efforts, marketers have a tendency to jump from one "trending" tactic to another in search of a quick win.
The problem with this is that marketers end up attempting to force adoption - a key reason why they fail to properly implement marketing automation, according to David.
"This is the classic mistake of having a solution, then looking for a problem, when a better place to start is 'having a problem, then look for a solution'," he explains.
Instead, he advises that marketers identify the weak spots in their current marketing processes, then find a way to automate and bridge that gap.
"Focus on the points in your funnel where you as a marketer feel the most pain, then look for solutions around that," David adds.
"There are a zillion automation solutions out there - it's tempting to sign up for them - but don't go crazy. Try to solve one big problem at a time, then find the automation tools that will help you get there."
Keen to learn more about marketing automation? Follow David on his blog The Marketing Student or Twitter.