Sales Tech | 5 minute read
How Rainforest QA Doubled Their Revenue with a Collaborative Sales Culture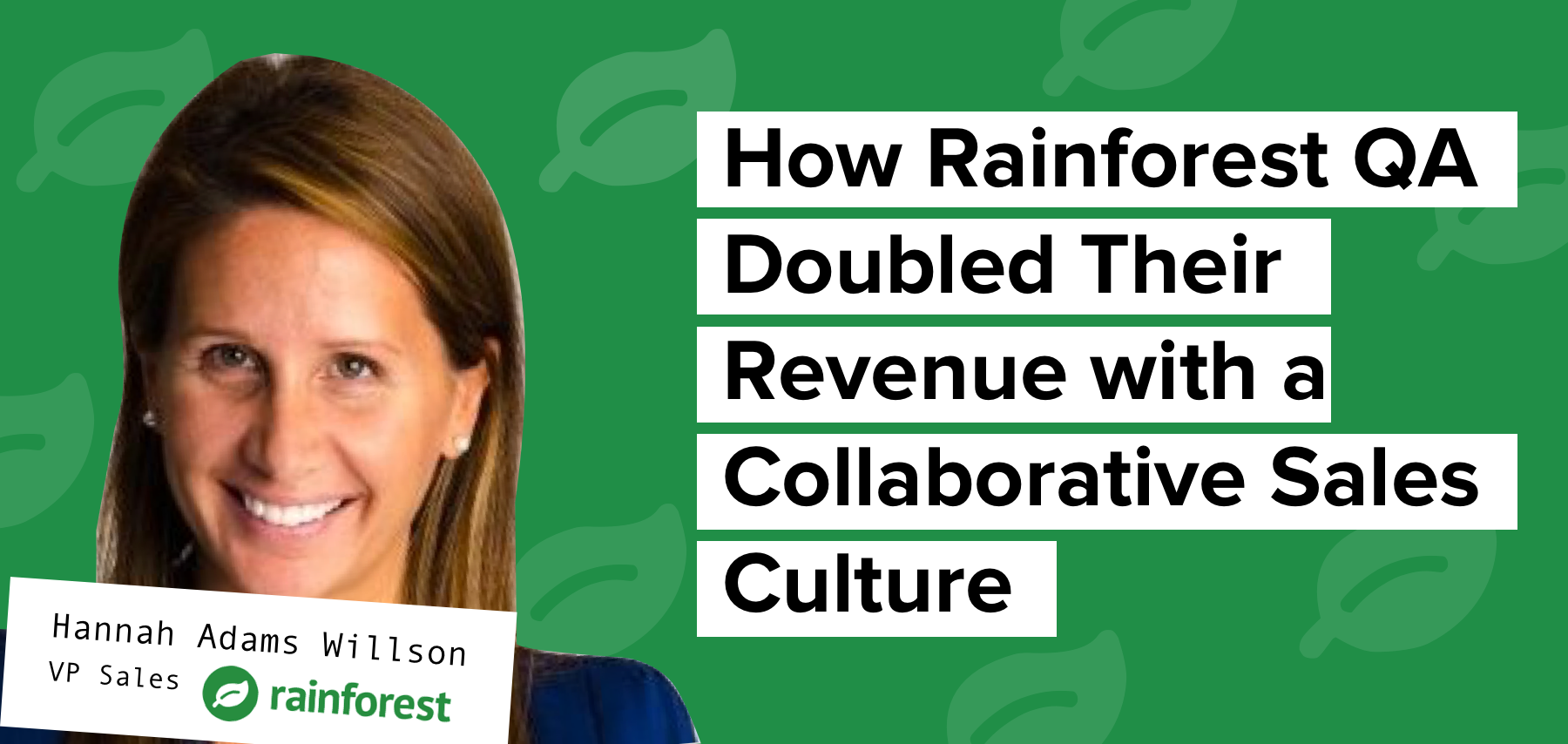 With the advent of technology and specialisation, sales processes have changed drastically over the last 10 years. Specialisation allows sales teams to be much more effective, but also comes with the baggage of additional complexity.
In bigger organizations, with multiple teams divvying up the sales funnel, this gets even trickier. Such was the situation that Hannah Adams Willson, VP of Sales at Rainforest QA, faced when she joined the company a year ago.
Rainforest is a QA (Quality Assurance) as a Service company, whose mission is to enable software development teams to deliver bug-free software and ship quality software at lightning fast speed.
Imagine today that you run an e-commerce company. You have millions of customers around the globe interacting with your website from disparate browsers and devices. You have hundreds of product categories that needs to be updated with the latest inventory in real-time. On top of that, you maintain an iPhone app, an Android app and a mobile-responsive website to serve your customers on-the-go.
Every time your software development team pushes code to production, you need to run regression tests of the above permutations to make sure that nothing breaks. At this scale, mistakes are extremely costly in terms of both opportunity cost and consumer trust.
This is where RainforestQA comes in, with their algorithm-managed 60,000 active, crowd-sourced testers - to help your development team ship code with the peace of mind knowing that any bugs will be caught before they are shipped into production.
A sales-focused organization
For Hannah, a typical day at work would see her communicating and coordinating with several sales functions, such as account executives (AE), sales operations, sales development representatives (SDR), and customer success (CS) teams.

Here is how their their sales funnel is structured:
Sales Development Representatives (SDRs) are the first point of contact, who generate leads and set up meetings with prospects. They do basic qualification, and sift out prospects who are a fit with Rainforest's solution.
The qualified leads are then routed to the Account Executives (AEs), who then do a discovery call - "to really understanding what the customer needs are from a Quality Assurance (QA) perspective," Hannah explains.
During this stage, there may be a series of calls scheduled with prospects to give custom demos, so that each stakeholder can "see the ins and outs of the Rainforest technology, and evaluate if it is going to work for them."
The combined size of their SDR and AE teams accounts for almost 30 employees. They are broken up further into two groups - a group which focuses on small-medium business (SMB) companies and the other group taking care of mid-market and enterprise companies.
SDRs and outbound prospecting contributes to most of their sales pipeline. The marketing team provides air-cover and generates a significant number of marketing qualified leads (MQLs) monthly.

Technically challenging
Clearly, there's a lot riding on the sales team to deliver. And because Rainforest QA has quite a unique offering, this adds another level of difficulty for them.
Rainforest focuses on offering QA solutions. Specifically, they provide QA as an API, such that application testing seamlessly integrates with the development workflows of companies.
Naturally, many of their potential customers are technology leaders - CTOs, VPs of Engineering, and so on - who demonstrate a "higher degree of wanting to see and understand how the technology works," explains Hannah. "You can't just skim over details from a technical perspective."
As such, AEs need to be well-equipped with the relevant technical knowledge as well.
"If you can't answer questions convincingly and thoroughly, you'll lose credibility as an AE. Therefore, AEs must be very sharp when it comes to answering technical questions and addressing concerns."
"There are some companies we just can't work with, given the nature of our technology" Hannah adds. These companies are usually filtered out by the SDRs, who conduct background research in the early stages and "make sure they have a web or mobile product we can test on."
Always be caring
This organisational knowledge is passed on through an onboarding process put in place by the People Team, which includes a video series on QA featuring senior members of the Rainforest team.
When it comes to sales-specific onboarding, most of the training is peer-led. "There are many opportunities for AEs to meet each other and listen in to each other's calls," she says. "AEs who have been here for longer will often join the newer AEs' calls to help them."
In fact, almost every call has more than one AE on it, adds Hannah. "AEs will think about what skills are needed for each particular call in advance, depending on the executive or company they'll be speaking with, and they ask their teammates to join accordingly."
According to her, this collaborative sales culture is a key reason why Rainforest QA was able to double their gross new annual recurring revenue.
Even though each member of the sales team has their own individual quota, they're constantly "jumping on each other's calls to help their colleagues," says Hannah. "We strongly believe in our company value of 'Always Be Caring,' for both customers and teammates. And we recognize people who are both hitting quotas and caring for their colleagues."
When you consider the competitive and individualistic nature of the sales function, the collaboration RainforestQA has managed to accomplish with their sales team is simply incredible.
Apart from that, the introduction of monthly quotas and rigorous deal reviews with AEs has also contributed to their strong sales growth, she adds.
Standing out
The next problem that Hannah wants to tackle: how to do "highly targeted and customized prospecting, in a scalable way".
She worries about this because she personally receives 20 to 25 emails from sales vendors everyday "which all look the same" - sales automation at its worst. "I'm afraid that when we reach out, our outreach may get lost in the volume of emails CTOs receive everyday," Hannah explains.
As such, balancing the "quantity-quality equation" is now the next big quest in her sales journey.