AI assistant | 7 minute read
How different industries use AI to delight customers and improve business processes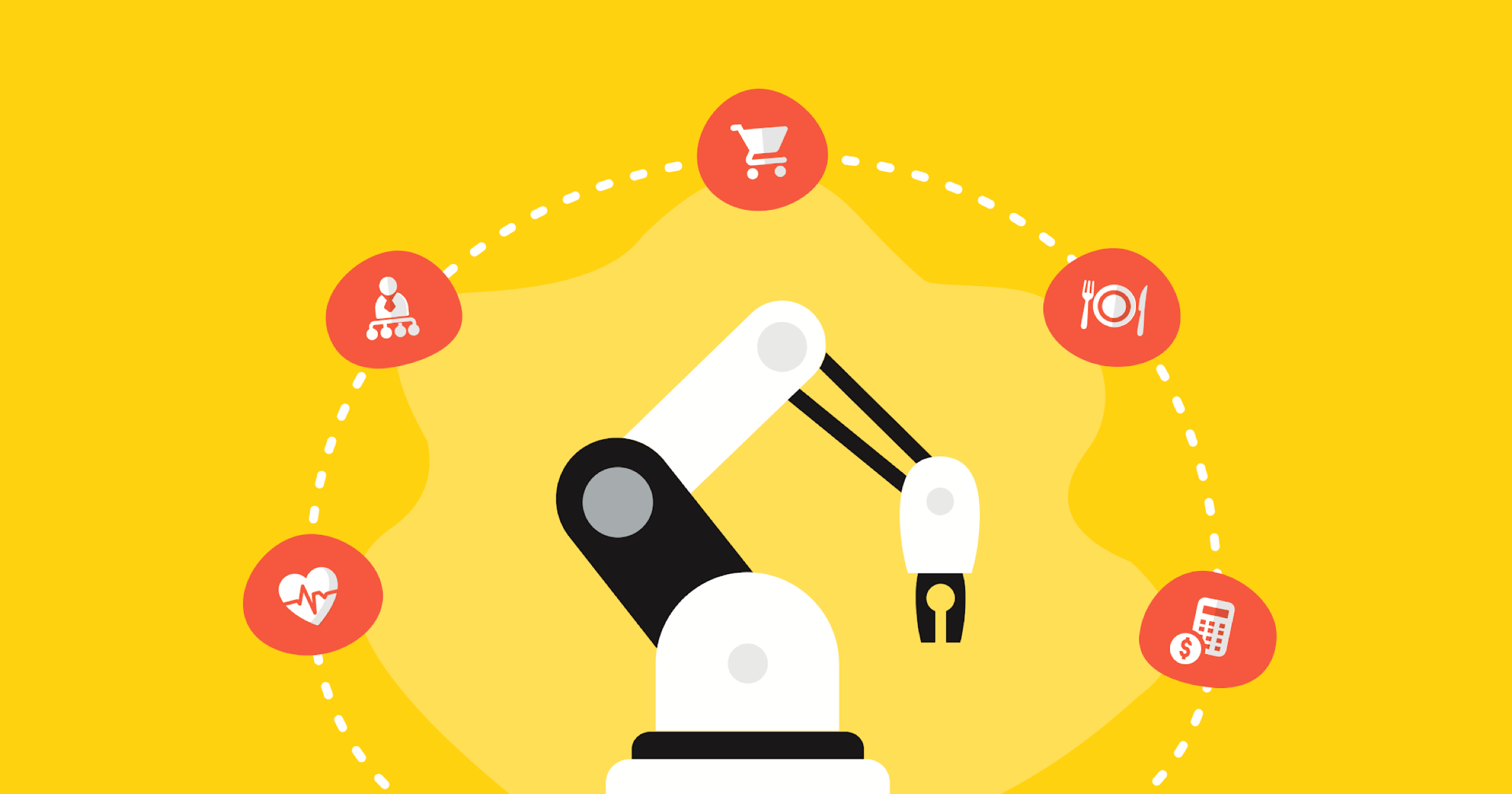 These days, artificial intelligence appears to be everywhere. We experience it at home (smart home devices) and on our phones (personal assistants). We rely on Google Maps to show us the way and Google Translate to understand languages we don't know.
At work, AI's application to business problem solving is growing rapidly. AI has potential use cases in perhaps every industry and business process, from backend to customer-facing tasks. In fact, 70 percent of companies surveyed by Tata Consultancy believe that by 2020, AI's greatest impact on businesses will be in functions outside of IT.
Here, we'll take a look at how AI has been used across various industries to improve efficiency, quality of insights, and customer satisfaction.
But be warned: AI is not suitable for every company! There are some key considerations you need to make before you adopt AI for your business.
AI use cases across different industries
1. Healthcare
Image from Ask NHS app store
Britain's National Health Service (NHS) teamed up with Sensely, a digital health startup, to create a virtual health assistant app called Ask NHS.
Patients use the app by talking to Olivia, a nurse avatar. They can check symptoms, get medical advice, and book appointments. If necessary, Olivia can arrange for a call back from a nurse to discuss symptoms in greater detail.
For NHS, the app is an excellent alternative for patients who need urgent medical advice, at any time of the day. Ask NHS has also helped to reduce the workload of general practitioners and emergency departments, allowing them to focus on more complicated medical cases.
Thanks to the positive user reviews and good results, Ask NHS is now being deployed across more regions in the UK.
2. Recruitment
Image from Saleswhale
Global recruitment firm Randstad had a lot of stale leads in their database. It would be too much work for their sales team to follow up with every one of them and filter out those who were willing to talk sales.
So, they turned to Saleswhale, an AI startup that helps businesses engage and qualify leads.
Saleswhale set up an AI sales assistant that would follow up with every lead and qualify them. The AI could have two-way conversations, analyse keywords, handle rejections skilfully, and send relevant documents if the lead requests for it. All done in a personable, polite tone. Once a lead confirms interest in meeting with Randstad, the AI then routes them to the relevant Randstad consultant.
Thanks to Saleswhale's AI, Randstad's lead to customer conversion skyrocketed by up to 79 percent. Randstad's consultants are also happy that they can concentrate on closing deals with leads that are sales-ready. Since then, Randstad has rolled out the AI to its Malaysia, Hong Kong, Australia, and USA operations.
Want to learn more about how Saleswhale's AI sales assistant can help your organization get more qualified leads too? Request a demo.
3. Retail
Image from Sephora
In November 2017, cosmetics retailer Sephora launched an app on Google Assistant to enable voice-based shopping. The app helps customers book beauty services and suggests podcasts by beauty influencers.
The previous year, the company launched a bot for Facebook Messenger. According to Facebook, the bot shortened the process of booking makeup services by five steps, and increased booking rate by 11 percent.
Sephora also uses Color Maps, an AI-powered application that matches makeup with customers' skin tone based on the user's photo. It then searches through the company's inventory to recommend products for the shopper. This function is integrated with Virtual Artist, Sephora's augmented reality app that shows customers how they'll look with a product on.
4. F&B
Image via TopBots
Starbucks is a leader in using data and AI to drive marketing, sales, and business decisions. One of its latest initiatives is incorporating a bot, My Starbucks Barista, into the Starbucks app.
Customers order and pay for their food and drinks by speaking to the bot. The bot can understand customization requests—for example, it comprehends that "tall hot mocha no whip" means a tall hot mocha drink sans whipped cream.
"The Starbucks experience is built on the personal connection between our barista and customer, so everything we do in our digital ecosystem must reflect that sensibility," said Starbucks CTO Gerri Martin-Flickinger. "Our team is focused on making sure that voice ordering within our app is truly personal."
5. Financial services
Image from BlackRock
BlackRock, a wealth management firm handling $6.3 trillion of clients' assets, uses AI to improve financial wellbeing.
One major aspect of financial well-being is the ability to understand financial risk. To help investors manage financial risk better, BlackRock built an end-to-end risk management platform called Aladdin. Aladdin uses applied mathematics and data science, which are the building blocks of AI, to crunch massive quantities of data and uncover risks.
For example, Aladdin can monitor more than 2,000+ risk factors each day, from interest rates to currencies. It can also perform 5,000 portfolio stress tests and 180 million option-adjusted calculations each week.
Thanks to Aladdin, BlackRock and its clients have gained a clearer picture of risks, enabling them to make more informed financial decisions.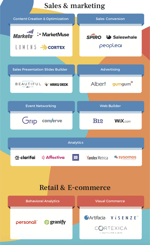 If you're keen on exploring the different types of AI available in the market, we've created this infographic on AI tools for different industries. Download the infographic here.
Want to add AI to your business? Not so fast
First, you need to be clear about what problems you want AI to solve. Ask yourself:
What are my team's repetitive, predictable tasks?
What low-value tasks take up a huge amount of time?
Where do bottlenecks occur?
What insights do I need to improve business decisions?
What are our customers' top reasons for service dissatisfaction?
Even if you are sure about what you want AI to help you with, you can't get started without large quantities of good quality data.
AI systems are trained on data—so they'll only be as good as the learning materials are. If, for example, a significant number of sales leads have provided false information on your lead generation forms, their data will skew your analytics insights. AI also needs to be trained using massive data sets. Analyzing and predicting weather patterns, for example, requires information on daily weather that stretches back for years.
Finally, you can't ignore business ethics. If you're going to adopt AI, you'll need to put in place measures to mitigate risks and make ethical decisions. For example, since your AI needs a lot of data to operate, your company must create a data quality standard. You'll need to train staff in internal data privacy guidelines, different platforms' data policies, and different countries' data protection laws.
AI in business: where to from here?
It's hard to say for certain.
As AI grows smarter and more connected, businesses will find that they have more opportunities to understand their customers and give them more value.
Businesses will also find that more and more kinds of work can be automated. Already, as seen in Randstad's case, staff work alongside an AI assistant that takes care of a lot of grunt work. Will AI one day level up and take on more higher value tasks like strategy too?
At the same time, concerns about AI's implications on business are rising. What will be the impact of AI-enabled automation on the workplace? How much control should businesses retain over their machines' decision-making processes? How do we ensure that AI always acts in line with businesses' core values?
So much to think about, as we hurtle into the future!
Interested in using AI to help your organisation get more qualified leads? Request a demo.