Martech | 6 minute read
Forget Ads. Here's Why B2B Companies Should Consider Automated Referral Programs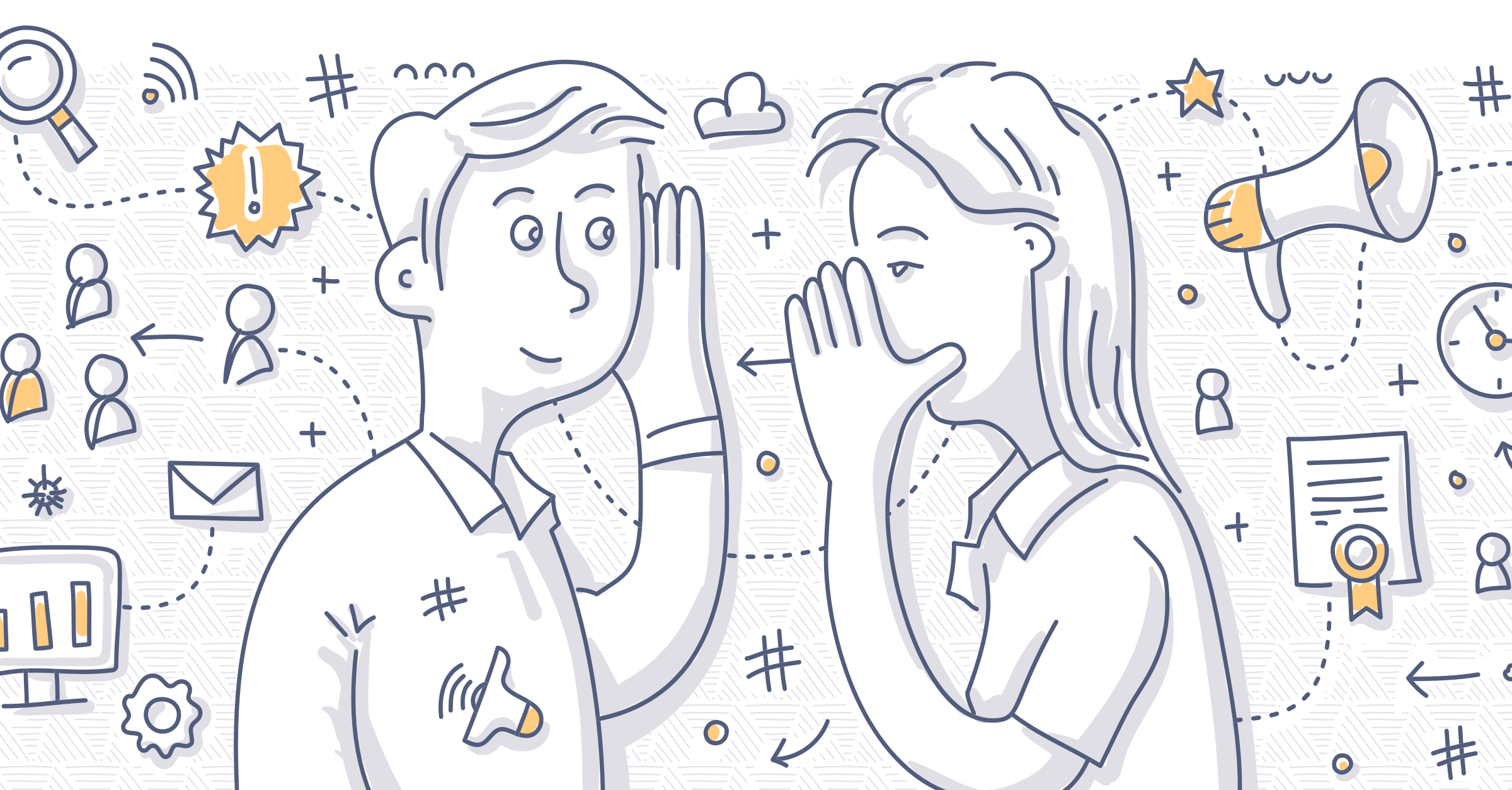 At any given moment, our senses are continually being bombarded with sensory information.
As I sit at a cafe writing this blog post, for instance:
I'm listening to smooth jazz being played over the radio;
Smelling the fragrance of fresh waffles being baked;
And tasting bright and mildly acidic flavors of my cold brew coffee.
Not to mention processing the information required to pen these words, too!
As such, in order to focus on the important events happening around us, we become selective with our attention. This causes us to "tune out unimportant details and focus on what really matters."
Unfortunately for marketers, advertisements tend to fall in the former category of "unimportant details." According to Nielsen Norman Group, this phenomenon is known as banner blindness: a tendency to "ignore page elements that they perceive (correctly or incorrectly) to be ads."
Why does this happen? Simply put, people choose to ignore advertisements because they don't trust them.
Win their trust
On the flipside, Nielsen also found that 92 percent of consumers trust recommendations from friends, says Si Quan Ong, content marketing manager at referral marketing startup ReferralCandy.
"Only 33 percent trust online ads," he adds.
According to McKinsey, word-of-mouth:
Is the primary factor behind 20 to 50 percent of all purchasing decisions
Generates more than twice the sales of paid advertising in categories as diverse as skincare ad mobile phones
Influences every step of the consumer's journey
As such, creating a referral program should be at the top of any marketer's priority list.
"Referral programs are simply an amplification of what is already existing - your word-of-mouth. If customers like you, they will spread the good word to their friends," Si Quan explains.
So, shouldn't happy customers already be spreading word of your great product or service of their own accord?
Most likely not, Si Quan says. According to research conducted by ReferralCandy, only 29% of them are actively telling their friends about you.
And that's where referral programs come in.
Referral programs, he explains, are "the tool that encourages these customers to tell their friends more about you."
The starting point: a great product
Many business owners and marketers tend to think of referral programs as a "magic tactic" - just set it up and customers will come streaming in.
Si Quan is clear that referral programs are "not a gimmick, neither is it surefire."
The ingredients for a successful referral program, he continues, is your product. "If your product is great, and you provide a great experience, your referral program will be successful," explains Si Quan. "If it isn't, a referral program can't help."
To be sure, referral programs are as close to being fully automated right now as they can possibly be.
When you use a referral program tool like ReferralCandy, for example, elements such as the signup, referral emails, referral link generation, landing pages, the discount and payment delivery options are all built-in by default.
"All you have to do is to activate it, upload your brand essentials, and you're ready to go," says Si Quan.
Elements of a successful automated referral program
Broadly speaking, Si Quan talks about three elements that any successful referral program needs to have.
The most important element, by far, would be the incentives. "The entire point of a referral program is to incentivize people to share or refer their friends to your store," he explains.
It's important to pick an incentive that is meaningful for both referring customers, as well as the friends that they are referring.
One of the factors to consider would be the frequency of which your customers might purchase something from you. If your product is something customers would purchase only once in a while, then it doesn't make sense to offer discount coupons, which incentivize repeat purchases. A cash incentive might work better in this case.
The messaging behind your referral program is also essential. "This is the big idea behind why people should share about your referral program," says Si Quan. He explains:
"For example, Thrive Causemetics donates one of their products to a woman-in-need for every cosmetic product bought (the one-for-one model popularized by TOMS). This gives their customers a greater sense of purpose for sharing - it's not only to earn extra rewards, but to help other women in need."
Finally, you need to actively promote your referral program.
"One of Airbnb's biggest mistake in their referral program when they first launched was that they didn't raise awareness for it," says Si Qian. Even their own staff, he adds, didn't know they had a referral program!
Some ways to promote your referral program include posting regularly about it on your social media platforms, and sending smart email reminders to your advocates.
B2B referral program examples
The most well-known referral programs, such as those created by Dropbox and Airbnb, tend to be consumer-facing. So do they actually work for B2B companies as well?
According to Si Quan, the answer is a resounding yes - and he has the examples to prove it.
"Once again, the success of a referral program depends on the product, brand, and consumer experience," he explains. "A referral program will be effective for any company - regardless of whether it is B2B, or B2C - that have achieved success in those areas."
The data checks out. According to a report released by Amplifinity, three out of four B2B buyers engage peers on buying decisions, and 80 percent of buying decisions rely on direct experience or peer influence.
Si Quan points to successful B2B referral programs run by Google and Booker. Both are relatively straightforward processes that reward referring customers handsomely.
Google awards referring customers with either US $15 (for the G Suite Basic plan) or US $30 (for G Suite Business plan). In sum, they can earn up to US $3,000 per domain, which is pretty attractive.
Booker goes one better with four different reward tiers in their referral program.
The more you refer, the more you earn per referral, which can go up to US$500, plus another 30 percent of residual income if referred customers renew their subscription.
In fact, one might argue that referral programs are even more relevant for B2B companies, since the value of every business referral is typically worth far more than that of individual consumers.
It makes sense, then, for companies to emulate the aforementioned referral programs and be more generous with incentives, since the return-on-investment is potentially far greater.
Future of referral marketing automation
While referral programs are largely automated today, most of it still relies on the initiative of the customer to make it happen.
If they're not on your website, reading your emails, or browsing your social media pages, your customers are probably not thinking of your brand, much less considering if they should recommend it to their friends.
Out of sight, out of mind, as they say.
As such, Si Quan thinks the next step of referral marketing automation lies in surfacing referral opportunities to customers.
Most referrals fail to happen because people fail to recognize referral opportunities," he explains. "So, the future of referral marketing automation would help people recognize opportunities and suggest making the referral to their friends.
He uses a hypothetical scenario where you're a fan of a particular headphone brand, such as Jaybird:
"Let's say one of your friends posts on social media saying something like, "man, my headphones suck." You should get a prompt somewhere, such as Facebook Messenger, that asks you if you want to refer Jaybird X3s to him."
Given the level of technology and amount of data we have access to today, such a feature might not be too far away.