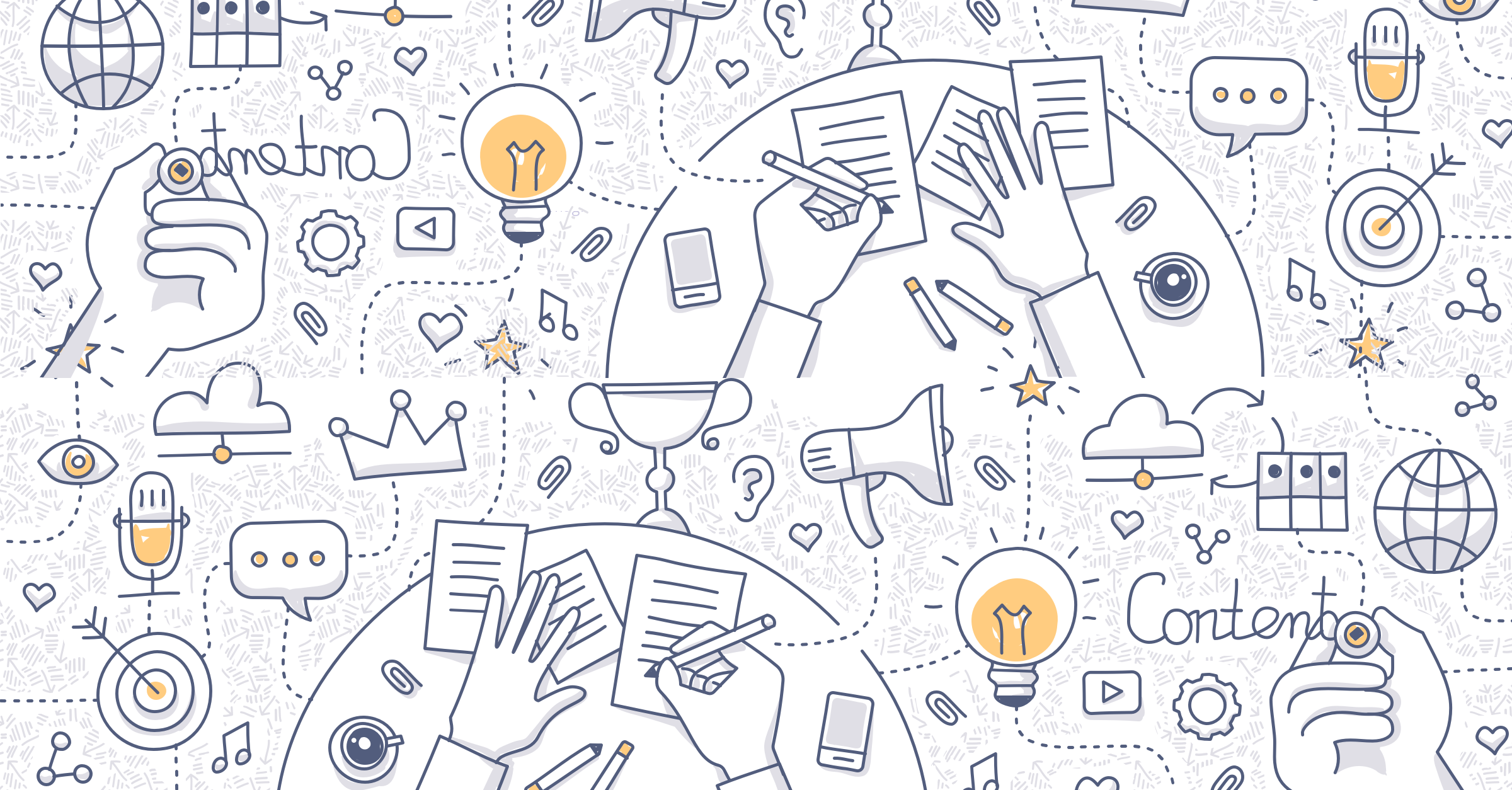 When people talk about content marketing, blog posts are naturally the first thing that come to mind.
According to Hubspot, 53 percent of marketers say blog content creation is their top inbound marketing priority.
However, while they are certainly one of the most common type of content that marketers employ, there are many other options that can be used to engage potential customers.
Relevance is key
You might be wondering, why the need to test and experiment with other content types when blog posts can do the job?
The answer is twofold. On one hand, at least half of your buyers will go through at least three to five pieces of content before engaging with your sales representative.
On the other, different content types work better than others, depending on where in the sales funnel - the journey the customer goes through leading up to the purchase - they are at.
For example, for a first-time visitor to your website who's still at the "awareness" stage, it doesn't quite make sense to send them a case study. At this point, they are still finding out more about the problem(s) that they have, and they're unlikely to want to know more about your product or service just yet.
In other words, in order to engage your potential customers well, you'll need to produce multiple pieces of content that are relevant to them at each stage of the sales funnel.
However, a report released by Content Marketing Institute and MarketingProfs in 2015 found that 65 percent of marketers were still not clear what content is effective, and what isn't.
To help you out, here are some content ideas for each stage of your sales funnel that you can experiment with.
Content ideas for your sales funnel, by stages
Awareness stage
This is the stage where you're trying to get potential customers to discover your brand.
Also referred to as the "top of the funnel," the awareness stage is where the buyer is trying to find educational content to help them understand their problems better.
The types of content that work in this stage are those that give good answers to the buyer, or meet their needs adequately.
1. Blog posts
Long live the almighty blog post!
A blog post can vary in length, but long form ones tend to do better on search engines, making it easier for them to be found by potential customers.
In this example, the post is informative in nature, designed to teach aspiring content marketers about the importance of using technology.
There might be a call-to-action at the end, but avoid making the sale here just yet. Instead, offer a downloadable (you'll see some examples further below) that can further educate the buyer on the solution they are looking for.
2. Whitepapers
A whitepaper is typically a comprehensive guide to a topic. It'll provide expert guidance and discuss the nuances of a particular area.
When writing a whitepaper it's important to address the issue as if you were explaining it to a complete newcomer. Try to throw in as many tips and tricks as you can so that you're considered to be an authority on the topic.
3. Ebooks
An e-book can be downloaded to read later on your Kindle or a similar device. It serves a similar purpose as that of a whitepaper, except that it is usually more visually appealing and attractive.
The standard practice is for users to input a valid work email address for them to receive the ebook, which can assist your sales team in following up with them as they progress down the funnel.
Those who download and read an ebook are typically high-value leads. He or she could well be a decision maker at a company you're aiming to target.
4. Educational webinars
A webinar is a presentation, lecture, or a seminar conducted online with either video or audio conferencing technology.
This helps you build new contacts and provide a level of intimacy that can't be reached with a white paper, blog, or ebook. There's no substitute to getting facetime with potential clients; humans are naturally wired to trust others they come in direct contact with.
Video conferencing can help in marketing your solution across the globe as anyone with an internet connection can tune in if they'd like.
Unbounce, for instance, used webinars to grow their registrations from 190 to nearly 3,200 - a 594% increase. In fact, they have a recording of a webinar that teaches people how to acquire customers through… webinars. Very meta, but you get the point.
5. Videos
A well-crafted video can lead to dual benefits of building your brand as well as establishing your credibility.
It also helps that platforms like Facebook are actively promoting videos in their newsfeed, so you'll be able to reach more people organically as opposed to having to invest cash in marketing spend.
Videos convey information more efficiently, and can help small businesses compete against some of the more established players in their field as they don't require a lot of money to produce.
6. Email newsletters
Once the buyer has opted to receive your email newsletter, it's important to continually engage him/her with relevant and interesting content.
Your newsletters can incorporate aspects like useful facts and figures, easy tips and strategies, and any other helpful or educational content.
It's important for them to come away feeling like they're now much better informed than they were prior.
Consideration stage
At this point of the buyer journey, your potential customers are aware of your brand, as well as all the other options available to them.
Now, they're in the process of conducting in-depth research about each possible solution in order to understand unique selling points and which one might be the ideal fit for their business.
Once your potential customer is convinced of the inherent need to invest in this aspect of their business, you have to start pitching to them in a manner that sets your product or service apart from the competition.
The types of content that will be useful at this stage are:
7. Case studies
A good case study will examine a real-world business problem, and the challenges required to surpass it. From there it should outline step-by-step how your solution was pivotal in overcoming these hurdles, and the strategies deployed each step of the way.
Here's a real world example of how a particular company achieved a tangible result. As you can notice, the content is now starting to become specific in nature, helping to solidify the initial interest.
8. Product webinars
A product webinar will differ from the webinar at the awareness stage, because it'll incorporate content around the product specifically as opposed to the niche in general.
Your marketing and product leads could help organize the webinar. Try to highlight the benefits of your product including a deep dive into its functionality and core solution but leave some time for Q&A at the end.
Bear in mind that if your audience poses questions about rival products, use it as an opportunity to include subtle hints about how your solution works better.
9. Demo videos
Product demo videos can be used to showcase key features about the product, and highlight their applicability.
Visual elements contribute to better information sharing and retention. Users can digest messages cogently which has the additional benefit of higher brand recall.
10. List of FAQs
An FAQ page should aim to address any lingering uncertainties that your customers might have. The last thing you want is for your user to call a helpline, as it wastes their time and eats up valuable resources at your company, too.
A thorough FAQ page should include all the possible questions you can think of. It should stem from your product team who have probably mapped out the onboarding process.
It also directly impacts SEO, and the right copywriting can help jazz up the brand.
11. Slideshare presentations
Unlike the boring PowerPoint presentations that made you fall asleep in school, SlideShare is accessed by millions, and can potentially help to present your product with strong visual elements.
SlideShare presentations tend to rank well on search engines, and the subsequent flow of traffic to the site will provide valuable referral links to your business.
12. Data sheets
A data sheet contains technical specifications of your product, and works best for B2B marketing.
This will help decision makers come up with a direct understanding of how your product is technically superior to others out there. This is important - no amount of jazzy marketing can conceal a product that doesn't match up to its competitors.
Conversion stage
Congrats! Your marketing strategy has worked to the point that the buyer is just a step or two away from opening their wallets and filling out credit card details.
You're just a few steps away from convincing that potential customer to make a purchase. Said customers are probably looking for social referrals or other proof that the product is as advertised.
What's going to help convince them?
13. Product reviews / Testimonials
Both product reviews and testimonials are great examples of "social proof." This is an important facet of marketing, because it leverages a psychological phenomenon that tends to rely on the feedback of others to determine a personal decision.
For example, do you ever go to the movie theatre before checking reviews and IMDB ratings? It's fairly uncommon - that's because we're hardwired to trust recommendations and rely on what others have to say.
14. Free trials / Live demos
At this stage your customers want affirmation that their decision to trust your brand is the right one. Here, you can consider interviewing past happy clients, or even encouraging them to host product demos on your behalf.
Your marketing should also include clear and coherent descriptions of your product, and show how it's uniquely different from competitors as well as its key advantages.
Retention stage
Acquiring customers is hard and expensive. Once you've convinced them to make a purchase, it makes sense to do whatever it takes for them to stick with you. A happy customer will also refer other leads, driving down customer acquisition costs and helping your bottom line.
The last thing you want here is for your customer to feel abandoned, dissatisfied, or alienated. After all, they just invested a considerable amount of time in research and discovery before finally settling on your service.
To help make their lives easier, try to incorporate these in your strategy:
15. Help documentation
As they use your product or service more extensively, customers will increasingly come up against more issues that they need help with.
Make sure that they get the answers they need when they need them, or they might end up becoming so frustrated that they jump ship to another tool that does.
16. Follow-up emails
Doesn't the above email make you feel good about using the product? Sent at the right time, follow-up emails help give the company a human touch, and encourage users to keep identifying with the product.
It makes them feel important and that the company cares about their well-being. Or, in this case, productivity.
17. Product updates and announcements
The goal at this stage is for your customer to stick with you or to not cancel their subscription after the initial time period. Try to ensure that they feel important and aren't discarded just because they finally paid for the service.
Worth the effort
As you can see, there are many content ideas that you can use at various stages of the sales funnel.
Feel free to experiment and see what your particular audience likes!
But regardless of the content type you pick, always remember that relevance is key. As long as you offer your audience real value, they will definitely respond in kind. Count on it.
Want your marketing to get more qualified leads? Request a demo of our AI assistant here!