We are excited to announce release a new, highly requested feature - Bot Intervention.
In the past, whenever the bot is not able to handle certain responses, these responses go into Human Review. The email thread is forwarded to the account owner, who will reply using their own email address.
This workflow happens out of the Saleswhale app, which -
Creates an awkward handover process and breaks the illusion the AI assistant handling responses
Wastes the valuable data exhaust which allows the bot to learn and create conversation branches
Creates administrative overhead - you have to manually classify the engagement under Qualified, Not Interested etc.
Starting from today, you can now reply as your bot within the Saleswhale app and schedule automated followups for Human Review responses. This allows you to continue the conversation your bot started with the lead seamlessly, and allows you to manage the workflow within the Saleswhale app. More importantly, it lets Saleswhale capture the replies to the responses that your bot wasn't able to handle -- and use this data to train your bot to be smarter, so you get less Human Reviews over time!
New Human Review Workflow
Now, when a lead response gets classified as Human Review, you will receive an email notification. You can decide if you want to assign this email to your sales reps, or to reply as the bot.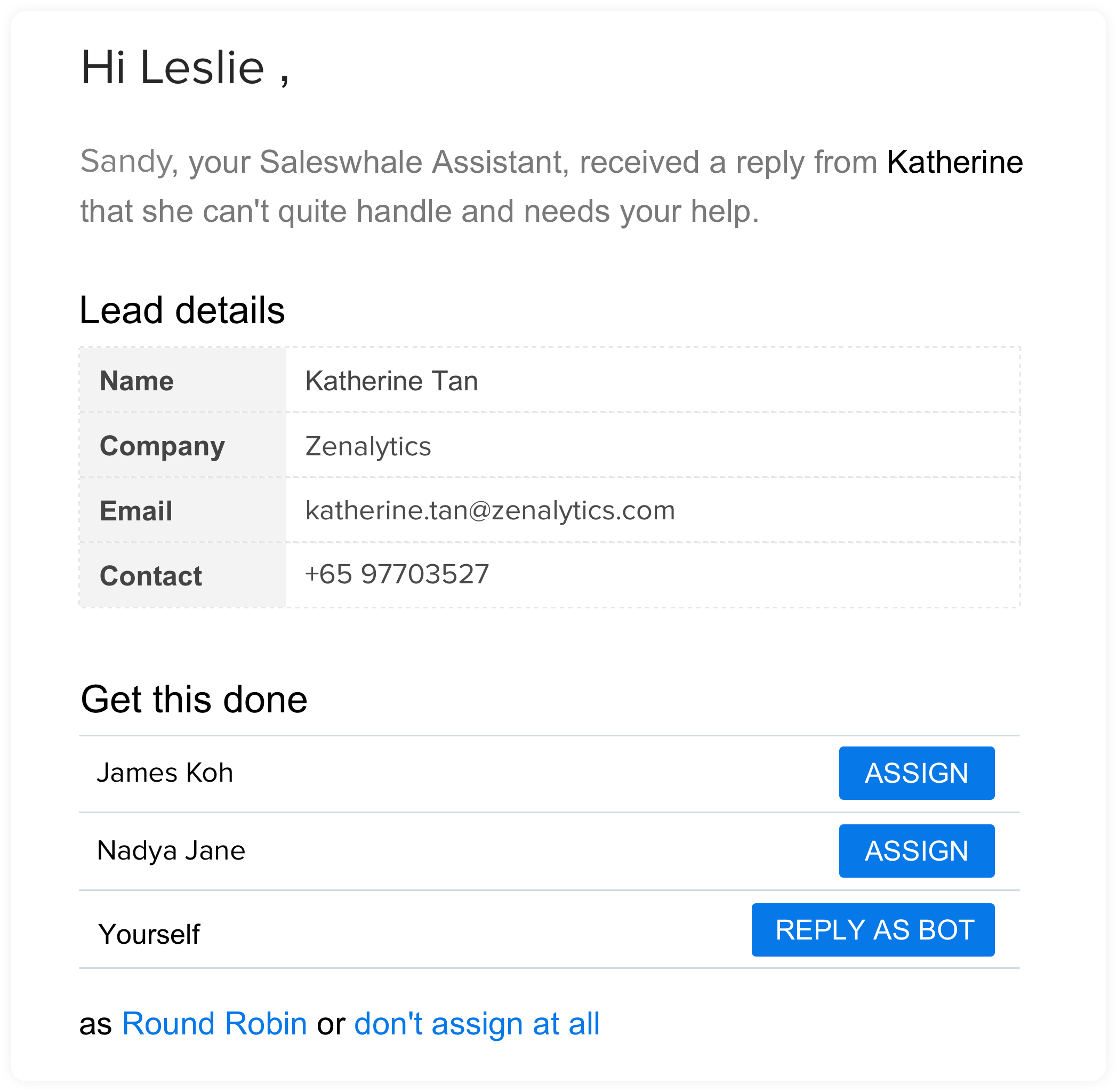 Reply As Bot
Selecting Reply As Bot brings you to an email client interface, which allows you to customise your reply to the lead. You can also schedule multiple touchpoints and customise your follow-up emails to be sent if the lead does not respond. You can also CC your sales rep in these emails.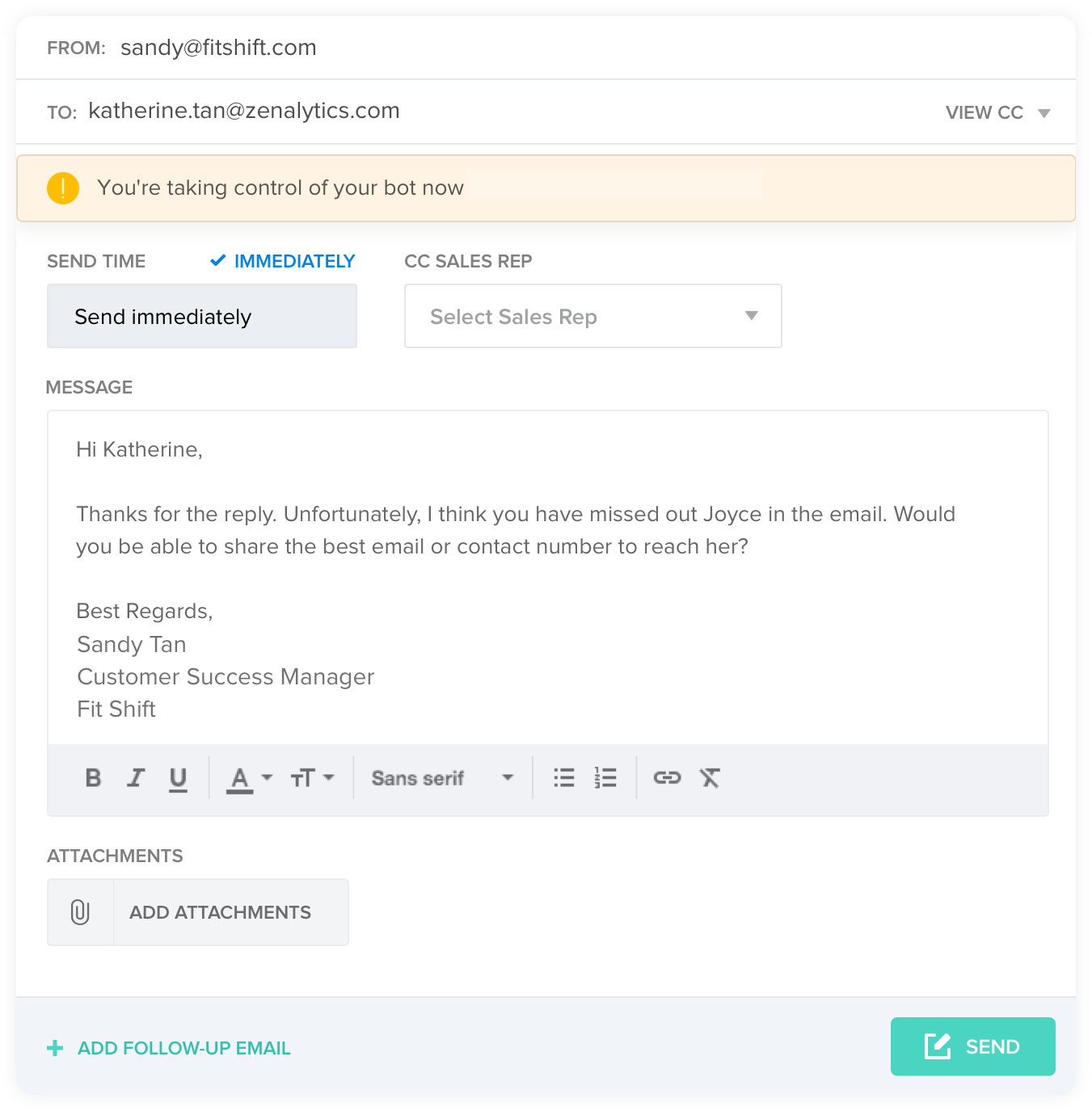 Finally, you will now be able to change the lead's status and assign it to your sales rep, once it is qualified.
Our Product Roadmap - Coming up next
1. Enhanced Salesforce Bi-directional Sync
Our vision for Saleswhale is for it to be fully automated and working silently in the background, engaging contextually with the leads inside your system of record.
We are currently working on an enhanced Salesforce bi-directional sync for our customers who use Salesforce as their CRM. Saleswhale will pull in leads based on pre-defined conditions, and automatically engage with these leads. All email interactions are logged into Salesforce as activities, and the relevant fields (status, custom data, sales rep assigned to etc.) will be updated automatically. We believe this will save you a ton of time, and further help make sure that no leads slip through the cracks.
2. Campaigns
The entire Saleswhale app is structured around Conversation Topics, and leads are enrolled into different topics in an continuous stream. Many of you have mentioned that you would like to be able to measure the ROI and segment your leads and results based on Campaigns. And we hear you!
Moving forward, Conversation Topics will still be the backbone of the app, but we envision that you will be spending most of your time inside Campaigns, which are discrete versions of Conversation Topics.
We hope you enjoy our new Bot Intervention feature! If you have any feedback, we'd love to hear from you below.